This is AI generated summarization, which may have errors. For context, always refer to the full article.
For years, conflict in resource management of municipal waters has driven the low income of municipal fisherfolk
Josiah Gupong is no stranger to the sea.
Before he became a security guard in Manila in 2015, he was a fisherman from Barangay Catabangan Proper in Ragay, Camarines Sur.
In July, he returned to his hometown with his wife and two toddlers after the couple lost their jobs. They became part of the millions of adult workers in the country who have been displaced by the coronavirus lockdown that is now the longest, if not among the longest, in the world.
According to a recent Social Weather Stations (SWS) survey, an estimated 23.7 million adults were jobless in September after a record high 45.5%, or an estimated 27.3 million jobless adults, in July. This figure is nearly half of the country's adult labor force.
After Gupong's 14-day quarantine, he was back to fishing as his temporary source of income.
"I'll go back to Manila to return to my [regular] work when the pandemic is over," said Gupong, who, before the pandemic struck, was a junior officer in charge of a mall's security force.
While he could earn as much as P600 from overnight fishing, the amount he takes home every day is not consistent.
"There are days that my take-home is only good for viand," he told Rappler.
Like typical small-scale fisherfolk (called municipal fisherfolk in the Philippines), Gupong doesn't own a fishing boat. He joins a group of municipal fishers who use basnig (lift nets) that are suspended below or beside a large outrigger boat.
About half of the gross sale from the day's catch goes to the boat owner, who spends for the operational costs. What's left is divided among 15 fishers, including him.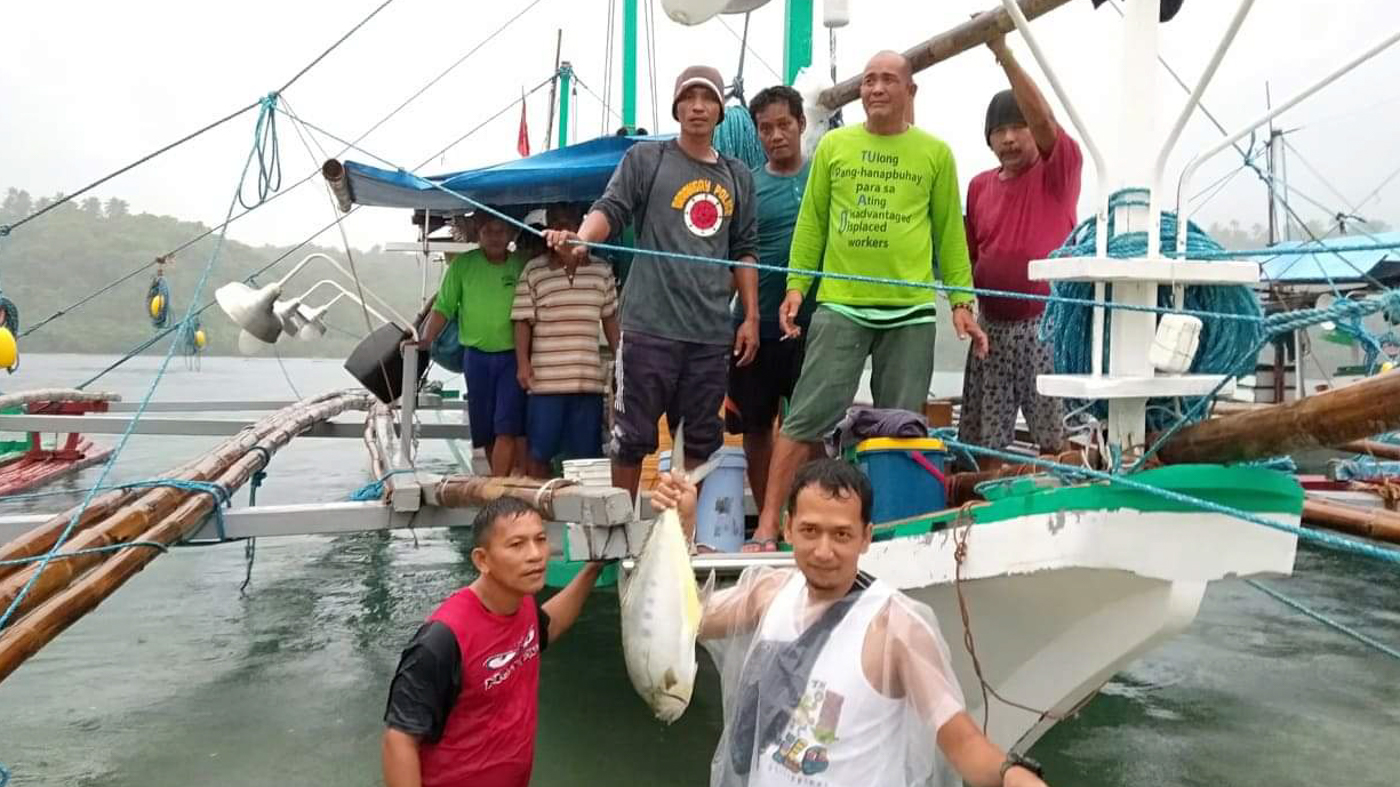 Such is the reality of the country's municipal fisherfolk who – despite being on the front line of providing for the Philippines' food needs and having a huge impact on jobs in ocean-based industries – belong to the top 3 poorest sectors in the country.
According to the Food and Agriculture Organization of the United Nations, "small-scale fisheries (SSF) contribute about half of global fish catches," and this contribution increases to two-thirds "when considering catches destined for direct human consumption."
According to Rommel Seronay of the Philippine Association of Marine Science, "Filipinos derive an estimated 45% of animal protein diet from fish and fish products."
With fish as a source of high-quality protein, fatty acids, and micronutrients, SSF plays a vital role in combating malnutrition and disease, and in assuring continuous access to staple food for people in many small islands and coastal communities like Gupong's. New evidence also shows that wild-caught fish may have more nutritional value than farmed fish.
Not only through this does SSF contribute to food security, but also through the livelihood it provides, allowing fisherfolk and fish workers along the value chain to buy other food essentials.
According to the Bureau of Fisheries and Aquatic Resources (BFAR), SSF employs a total of 1,692,748 in the municipal fisheries sector, 927,612 of whom are fisherfolk; the rest are men and women undertaking other activities in municipal fisheries.
For Gupong, the money he now earns from fishing somehow fits his family's basic needs since his kids are still young. His wife, who used to work as a saleslady in a mall where he worked, has started cooking kakanin for additional income.
While their combined daily earnings now are lower than the P1,320 they used to earn before, the importance of SFF at this difficult time cannot be understated, including for individuals who rely on it for a recurrent sideline or temporary work. And this has been true even before the COVID-19 pandemic.
Illegal fishing: Symptom of a chronic problem
Conflict in resource management of municipal waters drives the low income of municipal fisherfolk. Among its causes are the lack of clear policy direction, weak enforcement, and misplaced incentives, especially for developments that require sea use change with inadequate consideration for environmental and social sustainability.
The most persistent symptom of these chronic problems in the fisheries sector? Illegal commercial fishing.
"Illegal commercial and destructive fishing drastically destroys the productivity of our oceans, causing our country to lose billions in fishing revenues yearly, apart from heavily impacting the livelihoods of our artisanal fisherfolk," said Gloria Estenzo Ramos, vice president of international marine organization Oceana.
Blast fishing – according to the BFAR's data on the 2019 state of Philippine fisheries and strategic initiatives – is the biggest contributor and accounts for P4.96 trillion losses, followed by poaching, with P37 billion, and overfishing, with P9.45 billion.
Under the Local Government Code and the Fisheries Code of 1998 as amended by Republic Act No. 10654, local government officials have the autonomy to manage their respective marine resources together with BFAR. Both laws give preferential use of municipal waters to municipal fisherfolk.
However, being ill-equipped and understaffed make it difficult to monitor seaborne activities. This leads to weak fisheries enforcement, exposing municipal waters and resources to exploitation. In 2017, the reported violations jumped to 894 from 254 in 2016; and even during the lockdown, violations were rampant, with violations from various provinces such as Cavite, Masbate, and Cebu being reported.
"The most common violation recorded is the possession and operation of modified Danish Seine or hulbot-hulbot, which is prohibited under [the law]," according to BFAR.
For Romblon, Romblon Mayor Gerard Montojo, the continued presence of commercial fishing vessels (CFVs) in municipal waters is a message from "encroachers courageously claiming that the LGUs [local government units] cannot do anything about it."
Effects of weak enforcement
A study presented by research institute John J. Carroll Institute on Church and Social Issues (JJCICSI) and international nongovernmental organization Rare during a webinar held by fisherfolk organization Pangingisda Natin Gawing Tama (PaNaGat) Network showed that weak fisheries enforcement in 4 Philippine provinces has taken its toll on the economic and social lives of the municipal fisherfolk.
The lack of enforcement budget led to further deterioration of marine resources. The study added that while the motivations for municipal enforcement rules are clear, irregularities still happen due to the influence of stakeholders and the absence of regular scientific study of marine resources.
The study assessed the policy for commercial fishing in the municipal waters of Subic in Zambales, Pandan in Antique, Coron in Palawan, and Zamboanga City. These 4 LGUs have a total of more than 30,000 registered fisherfolk as of 2020.
The Fisheries Code does not allow commercial fishing vessels in municipal waters – areas that are 15 kilometers from the shoreline. Small and medium commercial fishing vessels can only operate at a minimum distance of 10.1 km from the shore if there is an existing local ordinance that allows them to do so.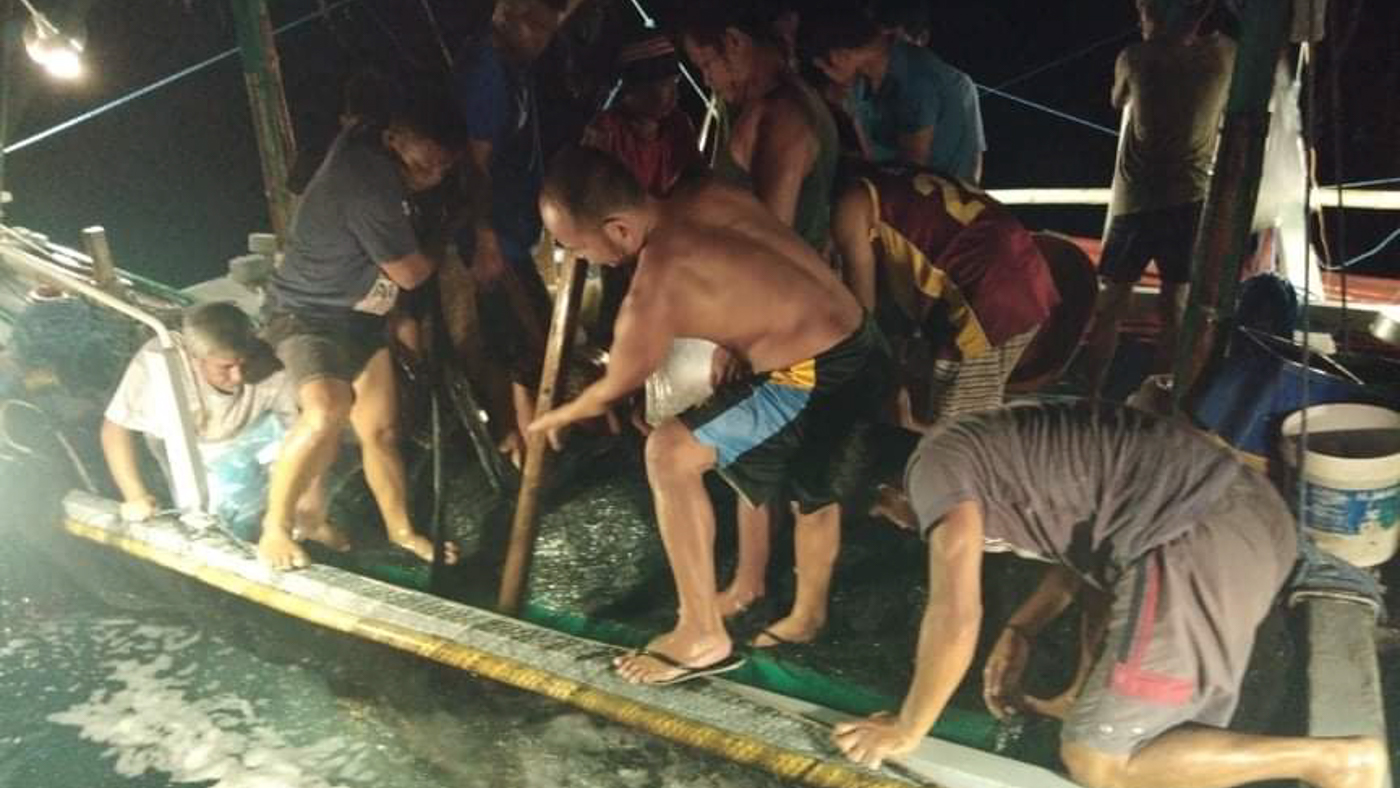 Reduced catch, lower income
Based on the JJCICSI and Rare's presentation of the study, captured fish was perceived to have already decreased in the past 10 years. This resulted in reduced income for both municipal fishers and commercial fishers, and more expensive and longer operations at sea to catch sufficient fish that would bring in some profit.
Back in 2010, fisherfolk in Subic could catch 150 kilograms of fish from a two-day operation. Today, that amount has been reduced to only 6 kilograms, resulting in a decrease in monthly income from P20,000 to P5,000.
Before, commercial vessels used to catch 5 boxes of assorted fish, but now it's down to two. Fisherfolk who were interviewed for the study attributed this to the entry of commercial fishing vessels in municipal waters, among others.
The 3 other municipalities have it worse, as fisherfolk in Zamboanga City now live in deficit. Their monthly income of P4,000 – much lower than the P10,000 to P12,000 they used to make before – is not enough for their P8,000 monthly household expenses. In Pandan, the fisherfolk already feel lucky to be able to sell 3 kilos of fish; in Coron, there are days when some fisherfolk report zero catch.
And given the limited movement because of the pandemic, these fisherfolk find it harder to do extra work to compensate for their fishing losses. In the past, fisherfolk from Pandan, Coron, and Zamboanga City found extra work in construction and tourism operations after spending the day at sea, or during the typhoon season. Now, they would have to rely solely on the day's catch for their livelihood.
In Gupong's town of Ragay, Camarines Sur, the same declining trend in fish catch is happening.
"The number of fish catches now is different from before, and there are types of fish that we haven't seen for quite a while now like kanduli (an edible catfish endemic to Luzon island) and two sardines species," said Gupong's father, Romeo, in a mix of Bikol and Filipino.
Elwin Mangampo, chairperson of the Lakas ng Maliliit na Mangingisda sa Bicol (Lambat-Bicol), said that the intrusion of commercial fishing vessels in the municipal waters ringing Ragay Gulf (consisting of Masbate, Sorsogon, Albay, Camarines Sur, and Quezon) "leaves us small fishers with little catch."
In April, fishers from Oas, Albay, reported spotting a taksay (ring net) boat in Barangay Cabmanaba. "This is illegal because the boat uses superlight and fine mesh nets with active gear," Mangampo said.
Another member of the group from Masbate, who asked not to be named, said a superlight can reach up to a kilometer. Every single fish this lighting tool reaches will be caught for sure.
"Imagine a CFV with multiple sets of superlight?" he added.
According to the Environmental Justice Atlas, "Decades of illegal fishing practices have decimated fish populations in Bicol," forcing fishers "to violate regulations more than ever, [from] catching increasingly smaller fish…and using ecologically destructive, illegal methods."
Improving enforcement
This problem extends to the whole country, as the fisheries production has been on a downward trend, posting a 12% decrease from 2012 to 2018, according to the Philippine Statistics Authority. Aquaculture has also started to surpass the fish production from capture fisheries (municipal and commercial combined) since 2014.
Yet fishing remains the main livelihood and food source for 70% of Filipinos who live in poverty in coastal communities – including Josiah Gupong and his family, who were among the more than 53,000 locally stranded individuals spread all over the country who had been either sent home or were still awaiting travel schedules via the government's Hatid Tulong Program as of June 2020.
The study by JJCICSI and Rare proposed the following recommendations to improve enforcement:
Complete delineation of municipal waters nationwide, complementing guidelines from the national government for allowing commercial fishing vessels in municipal waters
Establishing the Fisheries Management Fund from collected fines
Providing guidelines for vessel monitoring measures
The absence of these measures contributes to conflict, preventing LGUs from protecting the preferential rights of the municipal fisherfolk, and ultimately, the marine environment.
After all, the marine environment isn't only a key life support in many developing countries like the Philippines; it is also central to human well-being and a healthy planet, as it is crucial to the regulation of our climate and weather.
The League of Municipal Mayors of the Philippines' Romblon chapter has been calling for the urgent implementation of the law that requires all commercial fishing vessels to have a tracking device onboard.
Several more LGUs supported this call in an open letter last September. In October, the long-overdue Fisheries Administrative Order No. 266 that sets the guidelines for the monitoring of commercial fishing vessels was finally signed.
Will the income of municipal fisherfolk improve once tracking devices are finally installed in Philippine commercial vessels? To be continued. – Rappler.com
This story is produced in partnership with Oceana Philippines.