Comedy Manila's heavyweight champ reflects on comedy as his act of reclamation, mental health, and performing stand-up while sitting down
I've known Red Ollero for the greater part of my adult life, but Red has only known me about two months back.
In the social circles I occupy, I frequently encounter Red, the barrier between stage and seats often dividing us. I've watched Red as a comedian, a wrestler, and, one time, a guest speaker in a small advertising event at Makati's Salcedo Village. Nightlife-wise, Red is a man who doesn't make himself scarce.
If the world didn't turn out the way it's been for nearly two years now, it would've been a dream to follow Red across his multiple lives. I would have loved to see the nuances between Red, the heavyweight champ of stand-up comedy; Rederick Mahaba, his in-ring Casanova-esque wrestling gimmick; and just the Red Ollero underneath it all. But alas, a pandemic has changed the way we do things. And, part of me wonders maybe this is a reason why I'll finally be able to have a sit-down with this man about town.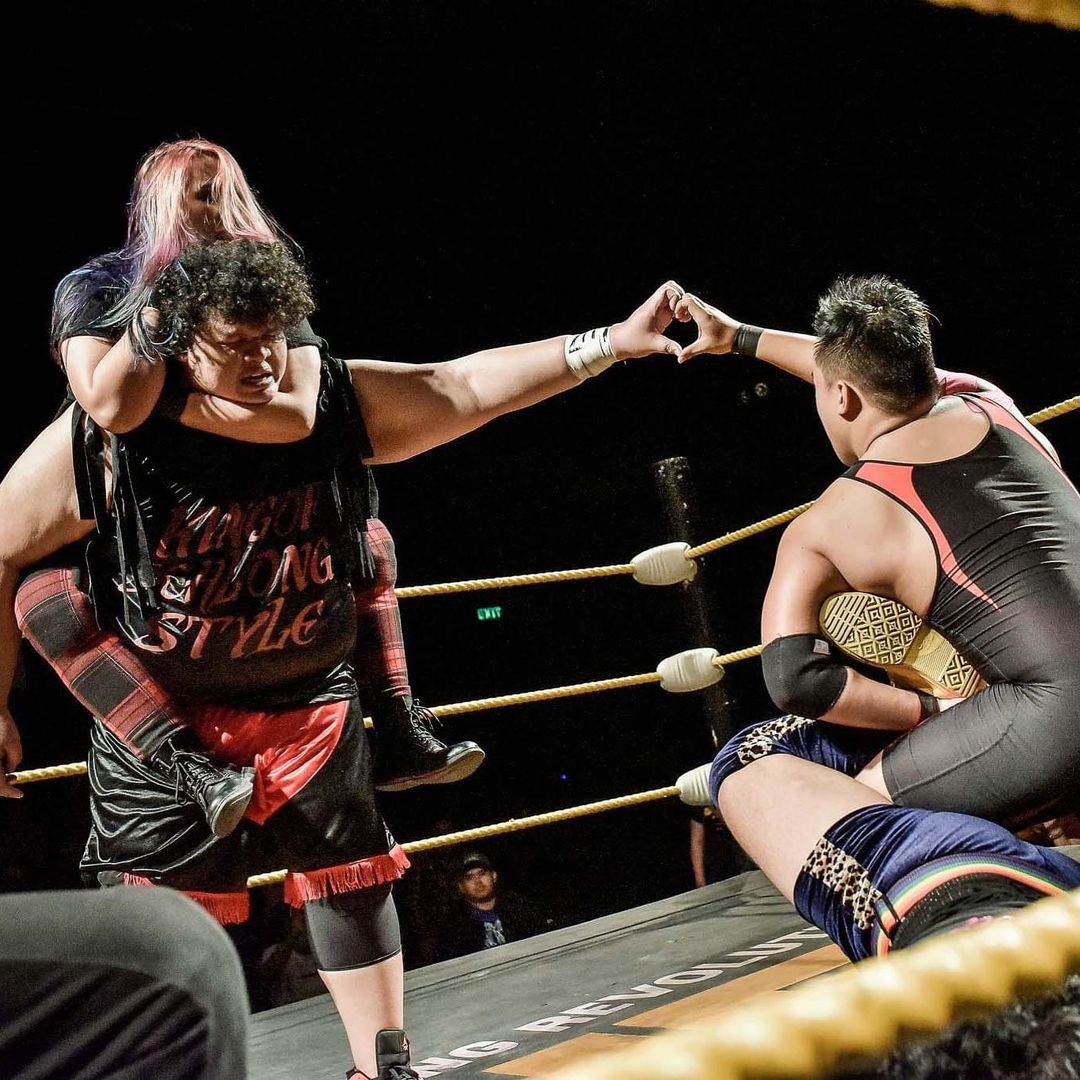 Apologies for the technical difficulties
I met Red Ollero on a Tuesday afternoon. He turned on his webcam and tied his long curly hair back – the universal action signaling that one is ready for action. Unfortunately, we're held back a good 10 minutes because I couldn't figure out how to screen record using my all-freeware setup. "I've done this before," I tried to assure him of my performance. "It happens, pare," he chuckled.  
This wasn't how I imagined our interview would start. In my head, I thought it would begin with a running gag Red has already established with all his Rappler appearances. With the question: "Ay, nasaan si Maria Ressa? Kaya lang ako um-oo, kasi kala ko si Maria mag-iinterview. (Oh, where's Maria Ressa. I only said yes, because I thought Maria would be the one interviewing)."
My eyes darted around Red's room, making small talk about the things around him to alleviate the awkwardness. Red doesn't just wear his heart on his sleeves, but his surroundings – a Stone Cold Steve Austin action figure on his desk, posters of Bill Burr and Dave Chapelle on his walls. I even mention the 1C Coffee he drinks, which I too frequent. Then, from his professional mic setup, I hear the crisp words: "Pare, gusto mo ako na lang mag-record? May Zoom Premium ako (Want me to record? I have Zoom Premium)."
Of course, the reason we're meeting is that he's got this digital thing all figured out.
A long love affair with comedy
Ever since Red Ollero was a kid, he has always wanted to do comedy.
Growing up, he identified better with the comic reliefs rather than protagonists. His comedic palette would broaden in his teens with his discovery of Rex Navarette and Pugad Baboy.
We talk about Pugad Baboy for a bit. He tells me how he finds it mind-blowing, how, looking back, it was not just comedy, but his social consciousness that was awakened by this daily black-and-white newspaper comic strip.
"You would read about the issues ng NPA (New People's Army), because current events siya eh. Totoong comedy siya na reflection of society (It is true comedy reflective of society)," Red expounded. "I mean, ang bread and butter niya siguro fat jokes, bumabalik dun. Pero may jokes sila na 'Ano pinakamahal na pagkain sa Pilpinas?' Turon ng congressman.' (Its bread and butter were fat jokes, it always went back to that. But there were jokes like 'What is the most expensive food in the Philippines? Turon of congressmen.')" 
Red explained that he would ask his dad to explain jokes like this, and this practice expanded his perspective. "[Funny comics are] a very underestimated learning medium," he surmised.
I asked Red then, given this long-standing relationship with comedy, whether stand-up was always his plan. (I assumed that just like everyone, it was "astronaut" and not "stand-up comedian" that he answered during preschool career day.)
Red explains that he just wanted to be funny, through whatever means. "Anything actually. From cartoonist to filmmaker, to being a novelist or whatever. Trinatry ko talaga maging writer. Gusto ko maging funny sports commentator; kung ano-anong katangahan. Basketball, yung liga dito 'men, nag-co-commentary ako dito at the age of 8. (I really tried to become a writer. I even wanted to be a funny sports commentator; any stupid thing really. I even became a little league basketball commentator when I was 8)."
"Iniisip ko talaga, parang, kailangan ko ng outlet (I was thinking, I just needed an outlet). So, very desperate ako to express myself. And I wasn't able to express myself, until I found stand-up comedy," Red confessed.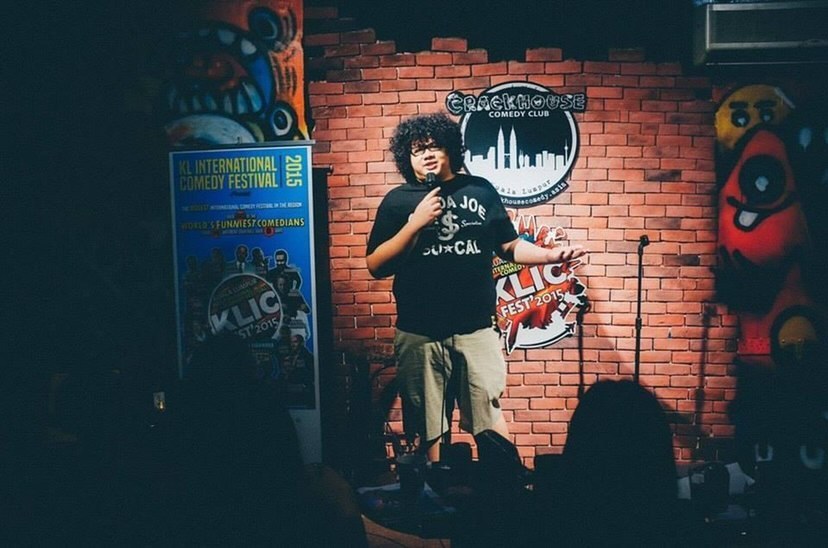 Chasing comedy
Red spent his high school years barely a byline to his name because his school paper wouldn't publish the comedy he wrote. Maybe it would offend the Catholics running the school, we speculated. Red, now obviously knowing better, entered a college where his brand of irreverence would shine: De La Salle University. And, as an aspiring creative, he would make the logical choice – and by logical, we mean computer logic – choosing Computer Science as his degree program.
"Akala ko kasi nung college magagawa ko na gusto kong gawin. Pero hindi, medyo na-discourage ako. (I thought I'd be able to do the things I wanted to do in college. But I was discouraged)," Red explained. 
"Nung bata ako, I was always told na, whatever you're passionate about, iba yun sa career mo. Ang career mo is pera… And, cultivated yang culture na yun – pag may guidance counselor ka, pag-pipili ka ng college at course, ang ibibigay sa yo 'oh, eto yung in-demand na course." (When I was a kid, I was told that whatever you're passionate about, that is not your career. Your career should give you money. And that culture was cultivated. Guidance counselors would tell you the same advice when picking out colleges and courses they'd recommend the in-demand course.)
Initially, Red thought he could find ways to inject his humor into his supposedly left-brain career track in IT. Maybe, he could put jokes in the code or create a funny video game somewhere down the line. "Puwede ring nakakatawang virus. 'Ang cute naman, nawala lahat ng pera ko,' (I could also do a funny virus. 'Look at that cute virus, it just stole all my money')," he joked. 
However, this just left him frustrated as he felt comedy had no merit in computer science.
Di niyo dapat ako makita as a person na malaki lang, but a person na eto nararamdaman kasi malaki ako.
Red Ollero
Things changed in 2007. Red got introduced to the then-nascent local stand-up scene when he joined Jack TV's comedian search contest Laffapalooza. This is where he met his "comedy husband," Laffapalooza winner Victor Anastacio, and where he, ultimately, chose to make stand-up comedy his life.
Red emphasized, however, that this was not an "I made a decision, and never looked back" kind of story. Red admits that it's only been relatively recent that he's found actual stability as a full-time comedian. After graduation, Red still worked as an ad agency copywriter for three years before going freelance. He then gradually said no even to freelance advertising gigs just so he could focus on comedy.
"A lot of things led to another. And then, when there was an opportunity to pursue or do something you love – a very rare opportunity – I didn't take it for granted. Not everyone gets to do that. It was an opportunity to fulfill a childhood dream," Red explained in a mix of English and Filipino. "I gave it a real shot," he added.
I tell Red, look at him now, living the dream. Started from the bottom, and now he and Victor are hosting weddings over Zoom.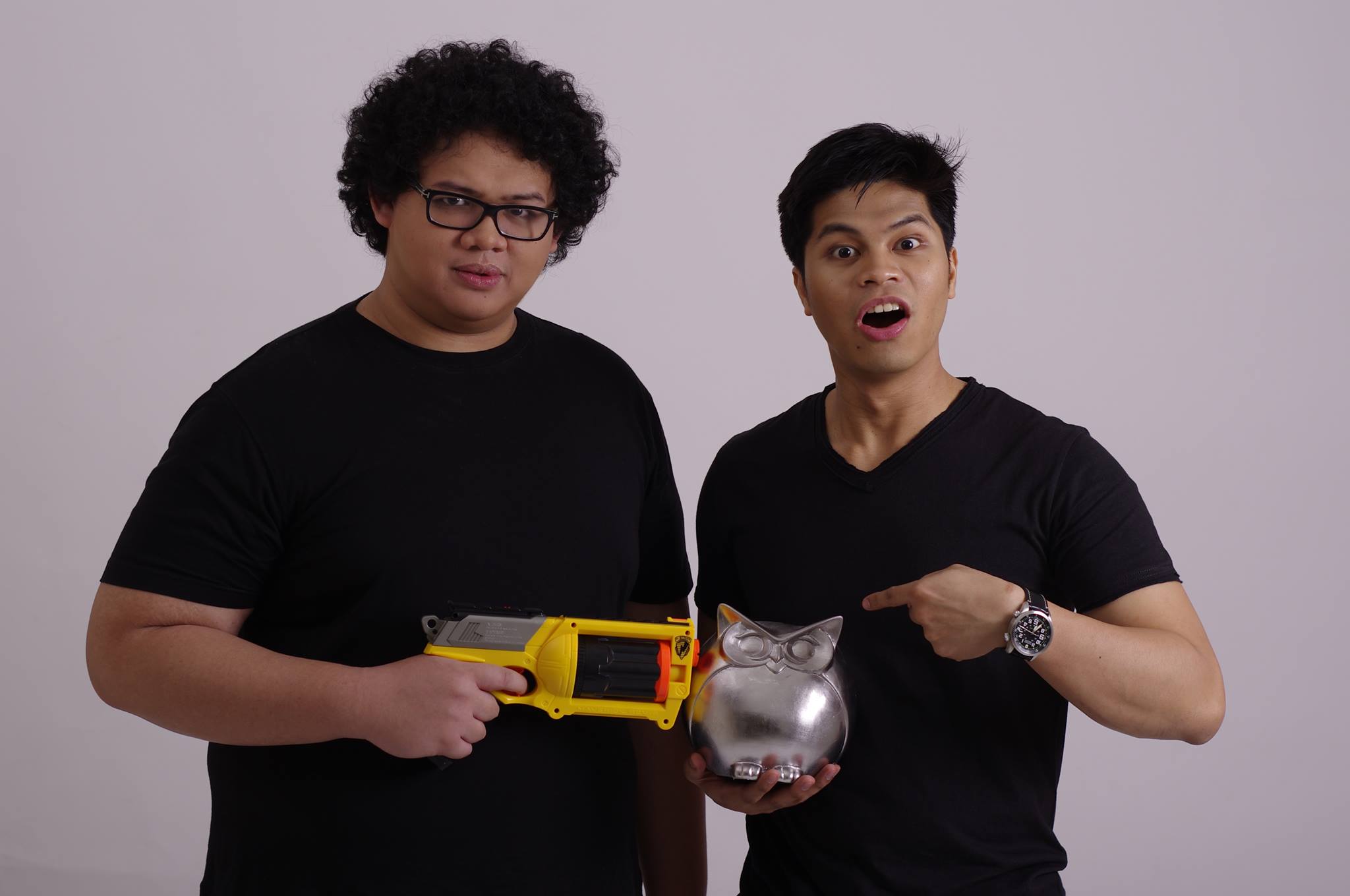 Comedy, as an act of reclamation
Red Ollero's comedy reflects his drivers in life: self-awareness, the pursuit of the things he loves, and taking risks in the quest of said things. But this wasn't always the case.
"It took me a while to realize it," Red reflected. He explained how in his early days, he thought stand-up was just about making jokes on-stage. But today, he follows this definition: "The world in your point of view, that is stand-up comedy."
"If you're a true practitioner of stand-up comedy, lalabas dun ang individuality mo (your individuality will come out) – which I was afraid to explore," Red said in his most earnest.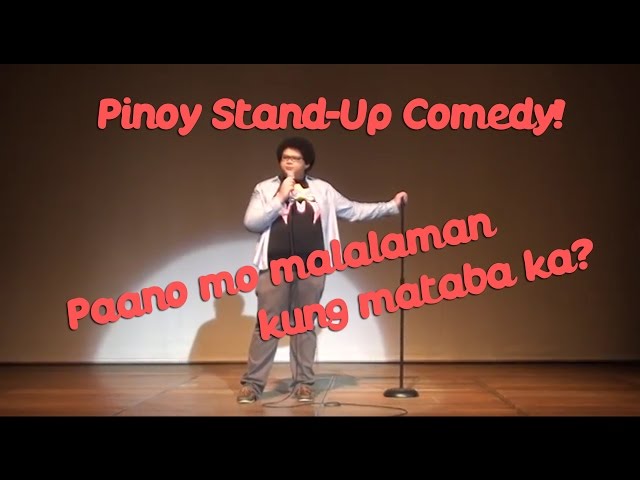 For a young Red Ollero, given his height and size, he felt like he was expected to make self-deprecating fat jokes. He waded in this territory, cracking a dumb joke from time to time. To him, though, he didn't want to be known as just a fat comedian. He threw these in sets as a requirement, but they lacked his personality and insight. Making the joke personal meant him confronting his own insecurities and being left vulnerable in public. And that was something he just wasn't ready for at that time.
"When I started talking about what I really felt, about being fat, and about how I was treated, I started describing feelings that I didn't see people describing before. But for me, these feelings were real, and I took it as a challenge to explain it to people," Red said in an impassioned mix of English and Filipino.
"Di niyo dapat ako makita as a person na malaki lang, but a person na eto nararamdaman kasi malaki ako (You shouldn't just see me as a big person, but a person who feels a certain way, because I am big)."
Red's observational comedy today draws a lot from the many micro-aggressions he's experienced from thin people. These range from friends saying "ang taba ko na (I am so fat)" in front of him and him clapping back "sit down, young blood! Marami ka pang literal na bigas na kakainin! (You literally have more rice to eat!)" to relatives saying "Weh? Busog ka na? (Seriously? You're full?)" when he says no to food being offered.
The toll of living in your head
As Red talks about using vulnerabilities as an asset on stage, I asked him, "doesn't that take a toll on a person?" "It does. Hahaha," he answered.
One could just imagine how easy it is to blur the lines between "laughing with you" and "at you." And, personally, I'm sure even those with the firmest mental fortitude would slip up from time to time – thinking they're ready to expose themselves bare on stage but still feel the sting of people's targeted laughs. "Comedy is rooted in misery," Red said.
Red tells me that the Pagliacci sad clown trope is alive and well in the comedy scene, international and local. And that comedy is a double-edged sword in how it can equally be both self-harming and therapeutic. But using comedy as a coping mechanism should not be romanticized nor used as a mere means of escapism. Part of the reflection and self-awareness afforded to comedy should also be allotted to knowing when to seek help.
"If it gets bad, acknowledge that it gets bad. Don't just write jokes until it doesn't happen," Red pointed out. He adds that this cognizance should also extend beyond recognizing your own threshold but also of your peers. "Dyan papasok ang camaraderie of comedy (That's where the camaraderie of comedy should play a role)."
Red tells me it's really just like any job that can be terrible for your mental health. We laugh as I pause, silently address the elephant that is my newsroom. "…like journalists," Red verbalized.
'Live from my bahay'
I ask Red about how his comedy has changed this pandemic, noting it's been close to two years since we said "see you when I see you" to live in-person events. He tells me that, in the same way he had to flip his self-image issues and turn them into material, so is he learning to use the limits of online calls and the collective trauma of COVID-19 to his advantage.
"Ok, nakaupo ako; that's one. Nakaupo ako at di ako nakatayo (Ok, I'm seated, that's one. I am sitted and not standing up the whole time)." Red proceeds to detail the metaphorical cards that he'd been dealt and what could be his winning hand. His plays range from using Zoom features (or lack thereof) to using facial expressions more in a way that people would never appreciate in the back row of a live venue.
I've accepted that this is the new normal, and this is what my comedy will look like.
Red Ollero
I ask him, isn't it hard making jokes when people right now are extra-sensitive? Add to that the intense cancel culture under lockdown? "This is not a detriment," he reminded me in regards to our pandemic struggles. "Also, it's the first time that a lot of people are going through the same thing at the same time." Relatability equals material.
When it comes to cancellation, Red admits he just tries not to overthink it. "Mangyayari lang dyan, ma-co-compromise material mo (You'll just end up compromising your material)." He does have fellow comedians chime in, but to him, it's really a matter of "navigation," whether the joke is worth the laughs you'll receive. "As long as you stay true to the conventions of comedy – write it properly, test it properly. It's ok."
Whether it's in comedy, wrestling, movies, and TV, Red sounds like a man with clear-eyed, possibly even stubborn dedication to ticking off every box in his bucket list. He credits him reaping the fruits of his labor in comedy and just applying the same go-for-broke energy to his other pursuits.
"It's just really a constant pursuit of feeling ko, yun yung dapat na way mo i-live ang buhay mo – or at least, for me (It's just really a constant pursuit of how I feel you should live your life – or at least, for me)," Red explained.
Red Ollero has been keeping busy this lockdown. He's writing two film scripts and a comic book, hosting a podcast, and acting in movies and commercials. He admits that the lack of live events has, in a way, also afforded him rest. But since comedy has and always been his cornerstone, he has spent the last year honing online live shows as his craft. "I've accepted that this is the new normal, and this is what my comedy will look like."
I ask him what makes his upcoming "Live from my Bahay" Special different from the other live shows he's been doing the past months. He tells me, "It's my way of saying, ok, I've done this for a year. And I think I am ready to do a show I could call a special… Kumbaga, album recording 'to, di lang gig. (Think of this as an album recording, and not just a gig)." He adds that the set he's performing was also developed specifically for an online audience, not a live crowd.
He tells me this pandemic productivity was partly inspired by a rapper whose name he couldn't recall, who spent his time in prison writing new songs. "Like Taylor Swift?" I tell him. "Oo, Taylor Swift… pero sa kulungan (but in prison)." – Rappler.com
"Red Ollero: Live from my Bahay" happens on Saturday, September 4, 8:30 pm. Tickets cost P350 each. Buy your tickets here.