This year, work up the courage to say no to too much work or ask for a raise!
It's that time of the year again when we're given a blank canvas to start anew. This 2017, I challenge you to finally address office issues that you've always been shy or afraid to confront: your boss who dumps too much workload on you, your teammate who asks too many favors, or your colleague who invites you to every meeting. 
Aren't you tired of just submitting what's required? Aren't you sick of just surviving? Face your fears, step up, and push more this 2017. Believe that it's your time to finally shine. Here are 5 fearless New Year resolutions for all aspiring folks. Remember, there's no one else who knows what's best for your career but you!
1. Say no to colleagues who ask for too many favors
It's great to be the Mr. Nice Guy in the office, but this is also the easiest way for corporate leeches to take advantage of you. This 2017, strike a balance between being nice to everyone and being fair to yourself. When your cube-mate bugs you every day to fix his reports or when a teammate is passing on some work she's supposed to be doing, be firm and say no.
Steve Jobs once said, "I am as proud of what we don't do, as I am with what we do. Deciding what not to do is as important as deciding what to do." The corporate world is a race, and while it's nice to be charitable to some, you also have a career to manage. If you can't gain anything out of a professional favor (not even the benefit of networking), politely decline: "I wish I can help and I would if time wasn't an issue, but I have some deadlines to manage today too." 
2. Decline those meetings that only waste your time
We all get trapped in meetings that have nothing to do with our roles, and yet we still attend them out of our fear of missing out (aka FOMO). This 2017, have the courage to decline meetings that only waste your time.
The office is full of folks who invite as many people as they can to meetings because this makes them feel complete and secure. Avoid becoming the victim of such "clock suckers." When your colleague's invitation comes with a blank e-mail, ask for the agenda or a pre-read deck so you can validate if your presence is critical. If you are really needed but it's not on your list of priorities, then send a representative or request for a teleconference. Save your precious hour or two building your empire instead. As long as you justify your reasons, don't worry about hurting the feelings of the inviting party. He should professionally understand.
3. Confront your boss about doing too much work
It is daunting to decline tasks assigned by your boss because you will appear as if you are lacking the initiative or engagement. For some managers, it may also mean insubordination. But there are many exemptions to this rule. Managers are ordinary people too, who just happen to be pressured by their own bosses to deliver. When my boss starts dumping tasks on me that require the power of 3 people, I remind her that more work means less focus, and less focus means weaker performance. Employees are not washing machines that can clean with the same power even if you add a few more shirts or towels.
Whenever you can justify it, be fearless this 2017 by saying "no." There are many constructive and engaging ways to say this. A sample response: "It is possible to accomplish all these 10 tasks, but this will surely affect our focus on this week's urgent concerns. Could you guide me as to which one of these are must do's, and which ones can be delayed for another week?"
4. Ask your boss for salary raise
It's been years since you first set foot in the office. You're happy with your work, but you also think you deserve more for what you've been contributing. Everyone agrees, and they've been encouraging you to ask for a salary raise. But you're shy, and you don't want to look like a diva asking for more privileges.
The rule is simple: if you are getting paid way below what the rest are receiving, or, have accomplished a feat that has significantly changed the company for the best, then you have a solid case.
This 2017, muster up the confidence to speak up. You have nothing to be ashamed of when all you're doing is asking for what is rightfully yours. There's no such thing as a free lunch in this world, and the least we want is to be taken advantage of by an employer who thinks he can get away with having employees who are shy or afraid to demand more. 
5.    Quit if you must, and find greener pastures
Many employees continue to stay in companies that treat them like garbage only because they've invested so much: their friends, their emotions, the networks they've made. They stay, the same way that people stay in those super long roller coaster queues only because they've spent so much time waiting already. It would be such a waste to just leave. 
Most people think quitting means giving up. I disagree. At times, quitting can be the smartest and most practical choice when the timing and reasons are right. There is an upside to quitting: the faster you make the right decision to move out, the earlier you can start anew and join a company that fits you well, and one that can truly set you up for success. This 2017, critically weigh your options and decide to finally leave before it gets too late. And if ever you make the wrong move, I personally think it's more worth regretting that than doing nothing at all. Quit if you must, and graze on the grass that you've always been looking for. If your happiness is at stake, never settle.
Onwards to a successful career in 2017
Listing down your resolutions is easy. The real struggle happens once you start trying to accomplish them without second guessing yourself or minding what other people think. The Threshold Theory states that as long as we meet the minimum level of intelligence, we are all on the same footing when it comes to our success potential. What differentiates us from each other is our consistency and creativity in execution. And so, your journey to change shouldn't be celebrated with just "wishing" – for all wishes are nothing until you finally get them done. Good luck! – Rappler.com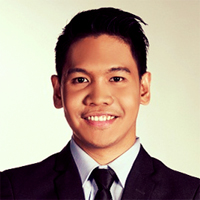 Jonathan Yabut is the Season 1 winner of the hit business reality TV show, The Apprentice Asia. He is based today in Kuala Lumpur as the Managing Director of his marketing consultancy firm, The JY Consultancy and Ventures. Jonathan is one of Asia's most-sought speakers on topics involving leadership, the Gen Y workforce, and career management for Fortune 500 companies. He has authored 2 best-selling motivational books in Asia, "From Grit To Great" in 2014 and "Fast Forward" in 2016. For speakership inquiries and media engagements, visit his website or follow his Facebook Fanpage.