Last week we did a dessert. This week, it's a salad! Are you ready?
MANILA, Philippines – I was recently at the Greenhills tiangge and picked up a bottle of unsweetened passion fruit and mangosteen extract (and durian preserves!).
I do this. I have no idea what I'll make with them but I get really excited about a seemingly uncommon (read unknown to me) ingredient/product and just buy it. Luckily, I had a salad in mind for our 3-course Valentine's Day dinner and I decided that this tart fruit extract would make a lovely dressing. It would make for a light and fresh start to the meal.
I also had some Herbs de Provence-infused kesong puti from Malasimbo in the fridge, a gift from the organizers of the Malasimbo Arts and Music Festival Miro and Olivia. It's pretty genius, actually – the cheese gets infused with so much flavor and I would think the cheese stays fresher longer this way, too.
I'm SO infusing my kesong puti from now on. But I digress. Cheese and fruit. A resounding yes. 
Let's start with the passion fruit dressing.
Indulge me and let's call it a "passion-ette" because it is essentially a vinaigrette and it sounds like "passionate" and it's for Valentine's Day and… you get the picture.
For our passion-ette (hee hee), you'll need:
6 tbsp extra virgin olive oil

2 ½ tbsp unsweetened passion fruit and mangosteen extract

1 ½ tsp Dijon mustard

2 tsp honey

Salt and freshly ground pepper to taste
Our passion-ette falls under what is called an "emulsion" in the foodie world. You know how oil and water don't mix? An emulsion is a state where they play nice and come together.
To achieve this, you have to stimulate the two by whisking like a mad woman. Or you can simply put all the vinaigrette ingredients into a jar and shake.
The latter method is awesome — no mess, no dishes to wash, and instant vinaigrette container that can go directly into the fridge when you're done.
I kept the passion-ette pretty simple because I really wanted the fruit flavors to sing. If you'd like to modify this recipe, just keep in mind that the magic ratio for vinaigrettes is 3 parts oil and one part acid.
I didn't use vinegar because my fruit extract is unsweetened and very, very sour. I also wanted a little extra fruit flavor so I added a tad more. If you'd like to use another kind of fruit extract/fruit juice, how about some apple cider vinegar to go with it? 
From here on, it's all assembly! To compose the salad, I used:
1 cup lettuce

1 cup spinach leaves

1 cup baby arugula

Herb-infused kesong puti

Roasted pili nuts (Leftovers from making cake pops, yay!)
Transfer all greens into a big bowl and gently toss with your hands to mix well. It's crucial that your greens aren't wet from washing at this point. We don't want watered down dressing.

Pour in dressing and toss gently with your hands. You can start with about half the dressing then add more as needed. When done, transfer to serving plates.

Top with a quinelle of kesong puti. Quinelle is really just a fancy word for "blob." Okay, fine, it's actually a lot fancier than a blob and really elegant when done right. I'm just saying that because mine is so sloppy.

Sprinkle with roasted pili nuts. End with a drizzle of passion fruit dressing on the kesong puti.
Fresh! The tangy and fruity passion fruit dressing plays nicely against the richness and saltiness of the kesong puti. The roasted pili nuts add a nice crunch and buttery flavor.
I think I'll omit the spinach next time, it feels kind of slimy in your mouth. Some lollo rosso instead would have added a nice punch of color. Nonetheless, this would make a simple and delicious intro to any meal. Did I mention that it's simple?
Delicious doesn't have to be complicated. Love is complicated enough! – Rappler.com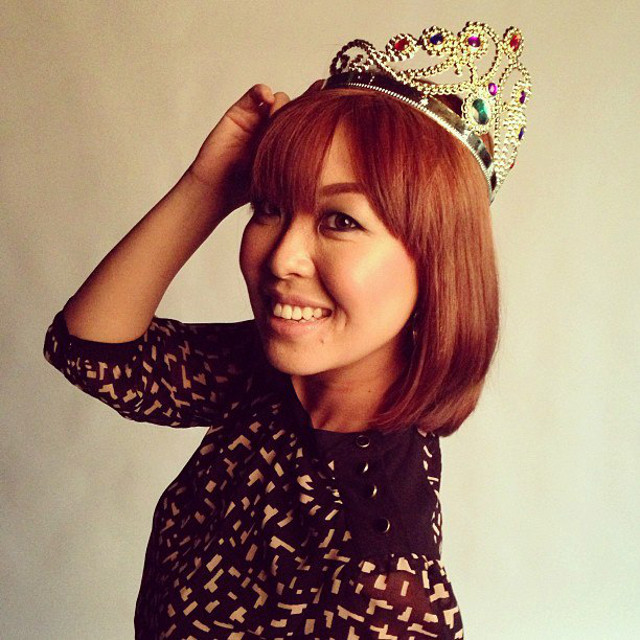 Sam Oh is a professional TV and events host, radio jock, and foodie wannabe. Catch her on radio at 99.5 PlayFM, Monday to Friday, 6am-10am in "The Playground" with Tim Yap and Nikko. She is also a food blogger at Sam Likes It Hot. If you have questions or recipe requests, email desk@rappler.com with subject heading SAM LIKES IT HOT.