Join Rappler's live coverage of Apple's new iPad announcement.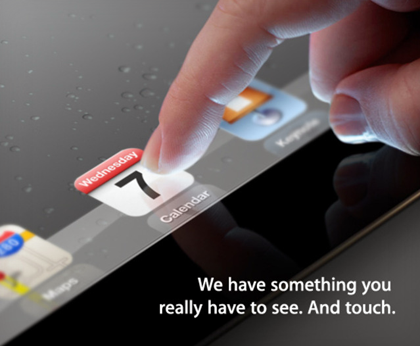 2:00am: Apple Live event has started. Tim Cook is on stage talks about Apple leading the post PC revolution.
2:01am: Tim Cook: "The PC is no longer the center of your digital world." 
2:01am: Tim Cook calls the iPod, iPhone and iPad – post PC devices, they make up 76% of Apple's revenues. Says Apple makes a great post PC company.
2:05am: Video gives a tour of Apple's Grand Central Apple Store.
2:06am: Cook: Another reason for post PC success is iOS. Apple brings Siri to Japan today. 
2:08am: Siri in Japanese is part of iOS 5.1. Available today. 
2:10am: Apple's 25th billionth app was download in China. Now 585K apps in app store.
2:12am: iTunes in the cloud supports movies. TV shows in 1080p which you can play on the new Apple TV. 
2:12am: New interface of Apple TV works very much like iOS. It will sell for $99, just like the old Apple TV.
2:15am: We move on to iPads.
2:17am: "The iPad is so ubiquitous, and so entwined in mainstream culture already, that it is hard to imagine a time w/o it."  Tony Bradley, PC World
2:18am: Tim Cook says when they set of to create the iPad they wanted to create not just a device but a whole new category.
2:19am: 200,000+ apps have been custom built for the iPad's screen.
2:21am: Cook stresses more than 200K apps are custom built for the large screen. Compares that to Twitter app on Galaxy Tab w/c looks blown up.
2:23am: Phil Schiller takes the stage to demo the new iPad. 
2:25am: New iPad gets Retina Display as expected. 2048 x 1536 or over 3 million pixels. "The most ever in a mobile device."
40% Better color saturation than before.
The Home Button is retained on the new iPad. A5X processor. Quad-core graphics.
iPad features new iSight camera. 5 megapixel sensor on the back camera, backside illumination, hybrid IR filter, 5-element lens.
Can shoot 1080p video.
Voice Dictation.
4G LTE Support. With 4G LTE support, new iPad supports up to 21Mbps on HSPA+ and 73Mbps on LTE .
2:37am: Schiller: "We have other high-speed networks as I've mentioned around the world."
So far new iPad gets Retina Dispay, A5X processor w/ quad core graphics, 5MP camera, 1080p video recording, 4G LTE.
2:40am: New iPad promises 10 hours of battery life.
New iPads come in Black & White. 16GB models start at $499. Availability in the US, HK, France, Germany, Switzerland & Japan is March 16th.
Dimensions: 9.4mm thin. Weight: 1.4lbs.
Prices: 16GB WifF $499, 32GB is $599, 64GB $699. 16GB WiFi + 4G $629, 32GB $729, 64GB $829. 
Compared to the iPad 2, new iPad is thicker at 9.4mm (vs. 8.8mm) and heavier at 1.4lbs (vs. 1.33lbs)
2:47am: Upcoming apps and games being demoed.
2:54am: iWork for the iPad updated to take advantage of the new iPad's Retina Display
2:55am: Productivity apps also updated including GarageBand and iMovie.
3:00am: iPhoto for iPad is announced to complete iLife on the iPad.
The new iPhoto for the iPad gives you multi-touch editing controls, pro effects, photo book, and ability to beam photos between devices.
3:20am: Apple will continue to sell the iPad 2. Price is $399 for 16GB/Wi-Fi model.
3:21am: Tim Cook back on stage. Shows an ad for "The amazing new iPad".
3:23am: Tim Cook: "2012: There's a lot to look forward to. We are just getting started."
3:24am: "And we're done."