We welcome March with a delicious salad recipe from our foodie DJ
MANILA, Philippines – Last week, I was freaking out about February coming to an end, but now that it's March and summer is officially upon us, I find myself strangely calm. Quiet panic? Denial? Nah. It's probably because my excitement for summer cooking outweighs everything else. 
While toying with ideas, I asked my Twitter followers what they consider "summer food" and most of their answers included fruit or grilled meat. It instantly transported me to the beach and an awesome salad I had during a certain trip.
I know, it's not the most conventional combination at first glance (especially the fruit and meat we're summoning today) but I've decided that it's exactly how we're gonna welcome summer. Fruity and fresh with the smokiness of grilled meat, the steak and watermelon salad is a blast! It's also pretty filling so you can have it as a main.
Hello, bikini body.
This recipe serves two. To make, I used:
1 sirloin steak, about 400 g

1 T olive oil

Salt and freshly ground pepper to taste

About 1½ cups watermelon, thinly sliced into wide strips

2 cups baby arugula

About ¼ cup fresh mint

2 T crispy onions (sold in jars in supermarkets)

A sprinkling of feta cheese as desired
For the balsamic dressing:
75 mL extra virgin olive oil

25 mL balsamic vinegar

4 t muscovado sugar

½ t garlic powder

2 t Dijon mustard

Salt and freshly ground pepper to taste
1. We start with the balsamic dressing and end with the steak. The dressing is very simple: all you have to do is put everything in a small jar or, in my case, a graduated squeeze bottle (hence the measurements for this dressing) and shake vigorously until it all comes together as a homogenous mixture.
If you're measuring in cups, just remember that a 3:1 oil to acid ratio should generally give you great results. Set aside.
2. Prepare the rest of the salad ingredients by trimming the mint leaves and washing the baby arugula.
Slice the watermelon. No need to fuss over slicing the watermelon into perfect uniform strips – we're gonna layer them later and the method hides a multitude of sins. But do try to make it look pretty.
3. Once everything is good to go, we can grill the steak and by "grill" I mean "pan grill." To be perfectly honest, I find grilling meat very intimidating.
The experts make it look so simple and easy but when I work with meat, I'm constantly stressing about achieving that perfect blush in the center and don't know what I'm doing half the time.
I did pick up some simple pointers while working on this dish and they are: 
a. Thaw the meat in the refrigerator overnight. It's simply the best way to thaw meat. Leave it out for 45 minutes to an hour before cooking to bring it to room temperature. Grilling cold or — gasp — frozen meat will guarantee you an unevenly-cooked tough steak.
b. A piping hot pan does wonders. 
c. If you're unsure about the doneness of your steak, aim to undercook. It's much easier to remedy than a tragically overcooked steak.
So with those guidelines in mind, I cranked up the stove. I readied my steak by dabbing it with a paper towel to get rid of excess moisture. I massaged it lovingly with some olive oil, seasoned it generously with salt and freshly ground pepper, and said a little prayer. Here goes nothing. 
4. As you can see, this is a relatively thin steak, about half an inch. I cooked it for 3 minutes on one side and two and a half minutes on the other. I had a timer and everything.
Aiming for medium-rare, I pressed on the meat with my fingers to make sure it was firm but still gave to pressure.
See how Gordon Ramsay cooks a steak and tests it for doneness in this video:
When done, I let it rest for about 10 minutes.
5. I held my breath and cut the steak into strips. Hey, not bad! 
6. To assemble, I alternated the watermelon and steak strips and layered them on a plate. I zigzag-drizzled everything with balsamic dressing (squeeze bottles rock).
I then dressed the baby arugula and mint leaves with more balsamic dressing to form the second layer. Lastly, a sprinkling of crispy onions and feta cheese. 
Doesn't it even look like summer with the happy yellow watermelon? The crunchy and sweet watermelon, smoky savory steak, tangy balsamic, and cool fresh mint…
If you have no plans to hit a beach party this summer, at least go to this one — in your mouth. – Rappler.com
Check out our other recipes: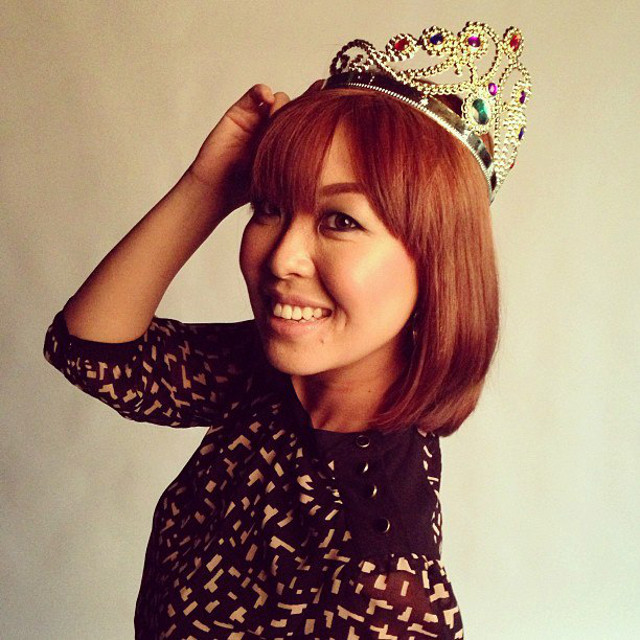 Sam Oh is a professional TV and events host, radio jock, and foodie wannabe. Catch her on radio at 99.5 PlayFM, Monday to Friday, 6am-10am in "The Playground" with Tim Yap and Nikko. She is also a food blogger at Sam Likes It Hot. If you have questions or recipe requests, email desk@rappler.com with subject heading SAM LIKES IT HOT.