Getting in shape? Start by eating the most important meal of the day: breakfast.
MANILA, Philippines – Everyone knows that breakfast is the most important meal of the day. So why is it that despite its numerous benefits, many of us still kind of gloss over this meal?
I for one am guilty. Most mornings, I have coffee immediately after waking up and then I find myself gobbling up scrambled eggs in the car en route to my 6am radio show. I get to the station and on good days I'll much on apple slices.
On others, my co-hosts and I order fast food breakfast.
Either way, it's almost always a long drawn out affair punctuated with random, sometimes unhealthy things; all while working and it's seldom satisfying. I guess it's better than skipping it altogether. I'm sure a lot of you can relate.
I try to make up for this weekday morning madness in the weekends not only with what I eat but how I eat it: something wholesome and delicious while sitting down with company.
Maybe we can work up to making it a daily habit but, for now, why don't we try making breakfast quesadillas this weekend? This recipe serves 2 to 3 and has the added bonus of being one of those "compost" recipes – you can throw in odd leftovers in your fridge and pantry and it will still probably work.
As with most recipes, this one's just a guide so feel free to go wild!
To make mine, I used:
4 6" tortillas

About ¼ cup neutral tasting oil (I used canola)

1 medium onion, chopped

1 medium bell pepper, chopped

2 thick cut slices of Spam, cubed

5 eggs

A splash of milk

About 1 cup grated mature cheddar cheese

Salt and freshly ground black pepper to taste 
1. Take a large pan to medium heat and swirl in the oil. When the pan is ready, tip in the chopped onion and bell pepper and sautee until they slightly lose their firmness.
2. Add cubed Spam to the pan and cooked until slightly browned. 
3. Whisk the eggs with a splash of milk. If the pan looks dry at this point, you can replenish with a bit more oil. Add whisked eggs to the pan, season with salt and freshly ground black pepper and swirl the mixture with a fork so you end up with a "scrambled omelet" if you will.
Cook until the eggs look moist but firm enough to hold its shape. Set aside.
4. Heat a tortilla on a pan on medium heat. Spread grated cheese on half the tortilla and immediately top with the scrambled omelet then top with more cheese.
Fold the tortilla and press down softly. Flip and toast some more to your liking. There will be some spillage but nothing you can't tuck back in. I won't tell if you don't. 
To accompany my breakfast quesadillas, I whipped up a very simple side salad of corn and tomatoes with a pesto dressing (2 t pesto + 1 t vinegar + 2 t olive oil). 
Cilantro would have made more sense but I didn't have any so I settled on the basil in pesto instead. 
Breakfast quesadillas are fun, fun, fun! I also love that all food groups are represented here. And the corn salad – try it also when you're serving steak or burgers. It would also be nice over fish. It's delicious and very summery. Best of all, it's really easy to make! 
I made plans for us this weekend. We're gonna whip up yummy breakfast in no time flat and enjoy every morsel of it in a leisurely pace while sitting down with people we love. I can't wait! – Rappler.com
Check out our other recipes: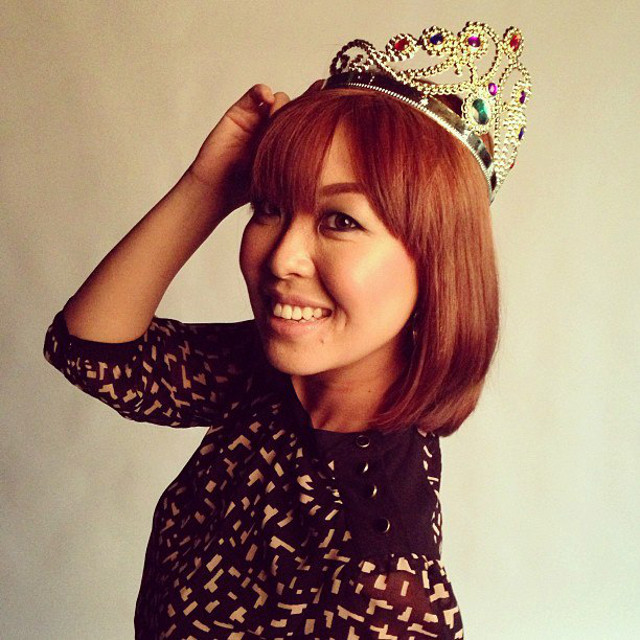 Sam Oh is a professional TV and events host, radio jock, and foodie wannabe. Catch her on radio at 99.5 PlayFM, Monday to Friday, 6am-10am in "The Playground" with Tim Yap and Nikko. She is also a food blogger at Sam Likes It Hot. If you have questions or recipe requests, email desk@rappler.com with subject heading SAM LIKES IT HOT.