Planning a celebration of Easter Sunday? Here's a pie recipe suggestion.
MANILA, Philippines – The first time I made pie from scratch was for no reason whatsoever. I woke up one morning feeling bold and up for a challenge and I decided the said challenge will be chicken pot pie.
I'm glad it happened that way — anything that ends with "from scratch" seems daunting and it doesn't benefit from over-thinking. Not that you should be intimidated! Pie crust is one of those things that seem difficult to make but is actually quite simple.
Of course, it also really helps to have a simple recipe that works. This is one I've kept and used for both sweet and savory pies. 
There will be lots to celebrate this Easter Sunday, March 31. How about adding to the Easter festivities with a delicious and summery pie of buttery, flakey dough loaded with a sweet-tart peach mango filling? Topped with ice cream, it's sure to be a hit with everyone!
A food processor will come in very handy in making the pie crust but it's not a problem if you don't have one. I don't, and I find that a pastry cutter works just fine.
For the pie crust, you'll need:
2½ cups all-purpose flour + extra for dusting later

1 T sugar

1 t salt

1 cup butter

¾ cup cold water
The most important thing in making this pie crust is keeping everything cold from beginning to end so you'll need to work fast.
But please don't fret. If things start getting too warm for comfort, you can always pop everything back in the fridge and pick up later where you left off.
1. Cut the butter into small cubes and keep it in the freezer for about 20 minutes. While waiting, whisk the flour, sugar, and salt in a big bowl (or in the food processor if using). 
2. When the butter is ready, it can be added to the bowl. Using a pastry cutter, break up the butter into roughly the size of peas. 
3. Add ½ cup of cold water into the bowl and mix with a spatula until you see the beginnings of a dough coming together.
The remaining ¼ cup of cold water can then be added gradually. You may not need all of the remaining cold water. When you see clumps of dough forming like this, you're done. 
4. Form the dough into a mound using your hands. Halve the dough and wrap with cling wrap, flattening it as you do to form into discs. Rest in the fridge for an hour. This dough will keep in the refrigerator for a week in case you want to do this ahead of time. 
While the dough is resting, you can get started on the filling. You'll need:
4 halves canned peaches + about 2 T of the syrup

2 large ripe mangoes

3 T sugar

3 heaping T flour
1. Slice the peaches and mangoes into small cubes and transfer them to a medium bowl. If you want to skin the mango halves whole, try this method using a glass.
2. Add syrup and sugar to the bowl and mix well. Before adding the flour, taste your filling. Aim to sweeten just to the left of too sweet – it will balance out with the crust when the pie is done.
I also added a splash of passion fruit and mangosteen extract to my filling just because I had some. I've been adding it to everything that could use something fruity and tart. You can substitute with some lemon juice for a similar effect but this is optional. Set aside. 
Are you ready to rumble? And by "rumble" I mean "roll out the dough with a rolling pin"?
1. Preheat your oven to 190 C/375 F. Take out one of the dough discs from the fridge after the requisite one-hour resting period. Flour your rolling surface liberally. Have your pie dish nearby. 
Flour the top of the dough and start rolling out to form a circle. Don't be afraid of flour, the excess can always be tapped off. 
2. Bring the rolled dough to the pie dish and flatten to fit. The excess dough on the sides of the dish can be left to hang for now.
3. Take out the second disc of dough and roll out. I attempted to lattice my top crust so I cut the dough into about ½-inch strips, poured my peach mango filling into my baking dish and followed this step-by-step guide (very helpful!). 
I think I love latticing dough, it's so Zen! You don't have to lattice your top crust of course but make sure you poke or cut holes into it so the steam can escape while the pie is baking. 
4. When done, remove the excess dough leaving just enough to gather and seal around the sides of the pie dish. Mine's not sloppy, it's… rustic. Bake in the oven until golden brown, about 45 minutes.
And look how pretty! Let cool for about 20 minutes.
You can serve as is…
…or with a scoop or  of ice cream. I opted for mantecado. Delish!
I hope you're all having a restful and meaningful Holy Week. Advance Happy Easter! – Rappler.com
Check out our other recipes: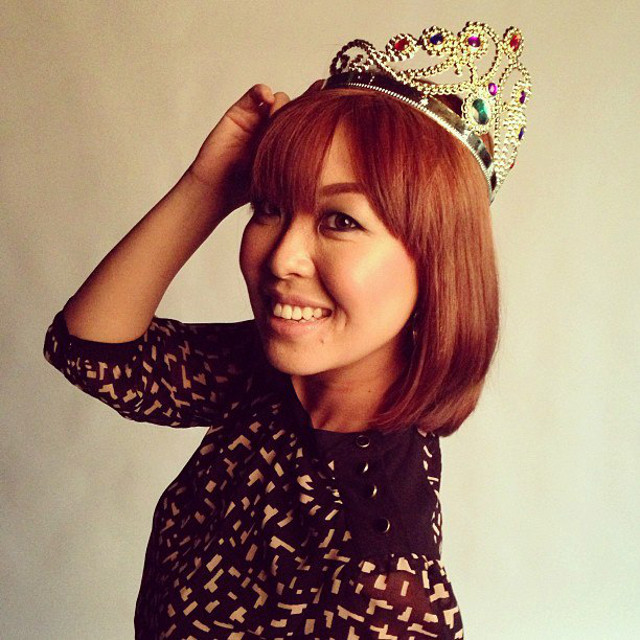 Sam Oh is a professional TV and events host, radio jock, and foodie wannabe. Catch her on radio at 99.5 PlayFM, Monday to Friday, 6am-10am in "The Playground" with Tim Yap and Nikko. She is also a food blogger at Sam Likes It Hot. If you have questions or recipe requests, email desk@rappler.com with subject heading SAM LIKES IT HOT.