Comics are a great medium that crosses age and class divides
MANILA, Philippines – Every time I have a new experience at a con, I inevitably flash back to my first: 9 years old, dressed up in a "Star Trek: TNG" suit, months' worth of allowance savings in my pocket, and not an idea that this first step would lead to a lifetime of enjoyment and love. The day was spent going through back-issue racks, ogling merchandise I could never afford, having things signed, and generally being overwhelmed by the idea that such a thing would spring up periodically and gather so much awesomeness in one place. 
Of course this was in another country, and during a time when loving sci-fi and comic books could get you ostracized at school. Some things have changed: cons have sprung up all over the world, most happily in a number of locations in the Philippines; geeky stuff is cool now; and with geeky stuff being cool a large community has formed to produce and support comics, both local and foreign. What hasn't changed is that I still can't afford a lot of the really good merchandise and that 20 years on I am still a fanboy at heart. 
It's always an awkward experience, interacting with people that you have admired for their work but have never met. Often we never get to meet the creative people behind the cultural products we consume. But with cons like the one held last Saturday, April 13, at the Bayanihan Center, we are given the opportunity to meet, greet, and sometimes even hang out with these people. 
READ: Homestretch to Summer Komikon 2013
Follow the unbelievably long lines (so long that they had to issue numbers, provide waiting areas, and eventually cut off the number of people who could get their books signed for too many people and lack of time) and you will find the prolific and fantastically funny Manix Abrera signing many books, including the latest "Kiko Machine." 
Right behind him, dealing with his own long line of fans, was Budjette Tan, co-creator of "Trese," who was also promoting his new book, "Dark Colony." Closer to the stage, another massive line for Gerry Alanguilan, with a new edition of his classic "Wasted." I got a glimpse of Alanguilan, whom I had e-mailed and tweeted before and who had told me to approach him and say hi when I saw him at Komikon, but in classic fanboy form I got shy and ducked away. 
Moments like that made up a large part of my experience at Summer Komikon 2013. I've reached a measure of success that I have some stuff for sale, I know enough people to hang out at certain booths, and I was on stage to make a presentation (more on that later). 
At the same time, I've still got that geek-boy shyness, that fear of awkwardness setting in when I strike up conversations with creators. I will always have appreciation and admiration for the organizers; the creators who give so much of themselves in the form or their work as well as the willingness to spend a whole exhausting day in the mass of people signing their work and entertaining fans; and the people who attend these events and not only keep them alive but make them bigger with each passing year. 
I assumed a number of identities, more schizophrenic than superheroic, as the day passed. Like I say, the default mode is fanboy, and a lot of time was spent going around buying comics, having stuff signed, and just getting to say, "Hi, you're awesome," to people whose work I thought was awesome. That is by far the easiest, best identity to inhabit. 
For the first half of Komikon, I stayed in the Indie Tiangge area. I hung out with a lot of friends who are creators, like Josel Nicolas, AJ Bernardo, Macoy, and Chapel. The Indie Tiangge was in a side room of the Bayanihan Center. Despite signs and notes in posters and programs, it's easy to pass the room and totally miss it, missing out on some of the best work that Komikon has to offer. Still, there were a good number of visitors to the area and I think it's an important initiative to highlight indie creators in such a way.
My own purpose for being there was that I was crashing the booth for "Crime Fighting Call Center Agents," shared by AJ and his co-creator Noel Pascual. Noel's the screenwriter of the superhero film that I'm currently working on, and the duo and other friends were kind enough to let us use their space at the Indie Tiangge as a preparation area for our presentation. 
The plan was to unveil our trailer, which would hopefully draw people to the film and maybe invest in it as we are crowdfunding it. Also, our superhero would walk the Komikon floor, making the announcement for the film. 
Komikon organizer Sherry Lee Baet Samar allotted time onstage for us to make our presentations and show our trailer. After my costume designer Tanya Tiotuyco dressed our actor in his costume and wrapped him in duct tape (no, really, I'm not kidding) we made our way to the stage.
Another trailer for "Ang Maskot," the film adaptation of the Komik by the same title, was screened to much applause. And then we were up. I let my superhero strut his stuff before we started talking. 
Marco Ho, who has been outstanding to work with, a real spark-plug of energy and font of creativity, called the crowd's attention. He's better known for his work as Bogart the Explorer, and he invoked the Aussie accent which turned heads and worked like an alarum. He's hilarious in the trailer, which is all kinds of awesome (okay, I know I'm biased, but see it and judge for yourself). The trailer was shot and cut by key members of the team Loujaye Sonido, Pol Torrente, and Jay Jamoralin and it incorporated artwork by Berms Bermudez. 
I like to think that the response was good. There was a lot of laughing and clapping, even though the audio was a bit shoddy through the event speakers. Then Marco, as supherhero Bagsik, took the floor and was bombarded by fans' requests for pictures. It was really something to see how people were drawn to him, and I hope that we can maintain that kind of response as we build and eventually release the film. 
Hats off to Marco for braving the floor, and to the entire team that worked on the trailer. Most of us gave up at least a night of sleep bringing it together, and we can only hope that people will want to see our movie. 
After the big rush of presenting and walking the floor, I fell back for a moment to let the idea sink in: I was on the Komikon stage, promoting a movie! From fanboy to creator! How had I made the transition? And gosh what an experience that was!
The idea hasn't totally sunk in just yet. But after all the prep at the Indie Tiangge and the screening, I headed off to take on another role, as author. There, the change from fanboy was made more tangible, as I sat at the Visprint booth with other creators like Paolo Fabregas, who had just released the second book of Filipino Heroes League, and novelist/artist Karen Francisco. I signed a few books and talked shop, and rather than the shy person asking for an autograph, I turned into the awkward person giving them. 
The highlight in at least one pair of lives for sure, and in the hearts of romantics in attendance, would have been the proposal made on the Komikon stage sometime in the afternoon. I was too far from the action to pick up all the details (Visprint's booth was near the center of the selling floor, and I was surrounded by the lines for the bigger creators), but from there I could still see enough to feel my heart grow a little bigger for them. Now that's Komikon bringing people together in a profound way.   
This year's crowd was, well, insane. The morning crowd was bigger than last years' afternoon crowd. And it can only bode well for Komikons all over the country, as well as Komiks in general. 
I could hardly make my way through the crowd at various times in the day. My first attempt at getting into the Visprint booth, I couldn't even slide in because of the mass of people around asking for autographs from creators already seated. Walking the floor with superhero Bagsik was another plunge into the sea of people. We could hardly move two steps forward without brushing up against a flow of people moving in the opposite direction. It did not help that both superhero and director are on the husky side, making movement and navigation even more difficult. 
That's all good, though. It shows how so many people, hundreds (thousands maybe?) all come together to show their love for an art form. One wishes other art forms like, say, literature, could draw this kind of enthusiasm and support from this large a number of people. Comics are a great medium that crosses age and class divides. I think that other art forms could do well to learn some things from comics, like their inclusive nature, their ability to tell all kinds of stories, and the way that they appeal to many audiences with many varying tastes. It is a popular form, not only in its consumption, but in its creation and production. So many people are consumers, and many become creators, too, enriching the form and the culture. 
I like to think I am making my own contributions to the culture. And these contributions are things that any of us fans can do. The simplest, easiest contribution is to love Komiks, and the easiest way to show that love is to regularly come out and support creators by buying their work. Next, I like to think that it's important to convince other people how good komiks are and get them to buy books. Sometimes it's as easy as showing them books from your haul. The last thing is the big step that I took this year, premiering the first step of what I hope will be my contribution to our culture. 
I think that creative people will read the hauls from Komikon and be inspired, then they will create their own work, which will then inspire others. It's this belief that fuels my faith in our culture, a belief founded in the great truth that we have great creators, and our creators have the capacity to inspire. I was inspired by how many people love comics and superheroes to try to make my own superhero film. And I know that there are many people who are inspired to create art of various forms thanks to Komikon and similar events. 
Watch Bogart the Explorer turn into Bagsik the hero in this trailer:
Now I settle in, working through my different identities, as author, as aspiring filmmaker, as academic. But the most important among them, as ever, as it was when I was that 9 year old kid, is that of fanboy. I love comics, and through comics I've come to love many other art forms. We bring it all back to that love, and the willingness to share it in our daily interactions, in our creative work, and in massive events such as Komikon. – Rappler.com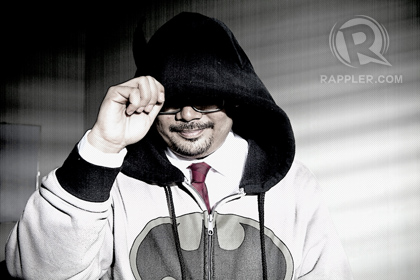 Carljoe Javier teaches English and Creative Writing at the University of the Philippines Diliman, but what he would really like to do is spend the whole time in the classroom talking about comic books. He studies pop culture like comic books, film, and other forms of new media. He wishes he could fit into a superhero costume.