Love comics? Don't know a thing but want to start? Either way, this day's for you.
MANILA, Philippines – Everybody loves free. It's an irresistible proposition. And so we've got Free Comic Book Day, when, well — pretty self-explanatory right?
But there's more to this year's FCBD than you might think. There are 3 separate events that will be running simultaneously, sponsored by different stores. There's also a bunch of great komiks that will be available for free download. 
First off, let's take a look at the events:
Fully Booked and Comic Odyssey, Bonifacio High Street
Fully Booked and Comic Odyssey will be giving away books and inviting artists to sign stuff at the big Fully Booked building at Bonifacio High Street. They will also be releasing a sampler of local comics.
Along with the free books, there will be a lot of books on sale. Doors open at 10am, but I imagine the line forming well before that.
National Book Store, Quezon Avenue
Across town at the Quezon Avenue branch of National Book Store is the NBS, Castle Geek, and Neutral Grounds FCBD event. Not only will they be giving away free comics and doing signings, but there will also be talks.
The biggest thing for that event is that they are going to try to set a record for the most sketches done by comic book artists on blank covers in one event. It'll be exciting to see that happen. As you can imagine they will be bringing together numerous comic book artists for this goal, so this will be a golden opportunity to meet some of your favorite artists and have something sketched. This event starts at 9am and will end at 8pm. 
Planet X, Glorietta
Planet X will be doing something with much less fanfare, focusing on just giving comics away. Their big branch at Glorietta would be the place to go. 
It's great that we have all these options. I can imagine comic book fans zipping across the city to try and attend at least the two big events with signings. I'm torn; as a result, I've decided to divide my resources. I'll be lining up early at one event while sending my sister to another, just to make sure that we get the best of both. 
Logistics is really the problem here, having to choose between events. There's always the worry too of getting there too late, the last copy of that one comic you really want getting picked up by the dude right in front of you in line, and the general hassle of having to wait in line.
Free comic downloads
This is where our digital options come in. They offer none of these troubles. Even better, you don't have to wait 'til FCBD as you can start downloading these books now. 
Flipreads.com is offering some fresh books on sale, and they've got a lot of other free samplers and full books on the site. I just read through their packet of free books, and I must say each book has something unique and fun to offer. 
While I understand the insistence on print and the physical product, digital does offer advantages, apart from the aforementioned logistical ones. Color really enhances work and gives it a new dimension, as you can get from Elbert Or's "Bakemono High: Recess" or TJ Dimacali's and John Bumanglag's "Skygypsies."
I love the high-concept nature of "Skygypsies"; I read it first in "Kwentillion" and I think having it now, in this form, is advantageous for both book and reader. 
Comics, costumes, crowds: Summer Komikon
Speaking of high concept, the fantasy-sci-fi universe of "Mythspace" being set up by Paolo Chikiamco is also on offer for free DL as a sampler. Pick it up and see what you might have missed at Komikon. Another book from the recent Komikon is Robert Magnuson's irresistibly cute and brilliantly made "Kuting Magiting: Hero Kitten." 
Straying from mainstream tastes is Trizha Ko's "Confused" which is a collection of strips that is brash and audacious, written with an eccentric touch both in the art and in the writing. Won't be everyone's cup of tea, but it's definitely worth a read. Similarly, Josel Nicolas's "Roleplay" is just as likely to repel readers as to draw them in, but it's a disturbing journey into the realm of WTF that is given new life in the digital medium. 
Also from Nicolas, who teams with EJ Galang, is "Taking the Train" which is an exploration of, well, just what the title says. It's filled with wry observation and little epiphanies. What I enjoy about it is it seems to be so simple, and yet what it expresses is so large. 
Why Summer Komikon 2013 was a blast
An oldie but goodie is "Kubori Kikiam #7: Man vs. Kikiam" which has the Kikiam running into adventurer Bur Grills. Yup, As ever, this one's NSFW and all the more hilarious for it. Another old title is the "Ang Medyo Maskot Sampler" which gives you some of Macoy's "Ang Maskot" which should get you interested in both the book and the upcoming short film.
The last comic I read of the Flipside freebies was "Si Ana, ang Katulong na Maraming Ginagawa" by Noel Pascual and AJ Bernardo. This is a hilarious comic that takes one basic joke and stretches it to the wildest possibilities. Don't want to spoil any more of it, but suffice to say that it goes way out there in its humor. 
You can check out this list of titles, and see if they have added more, at http://flipreads.blogspot.com/2013/04/free-comic-book-day-at-flipreads.html. 
Even Hugh Jackman has something to say about Free Comic Book Day:
Start downloading these books so that you've got something to read while you're in line on Saturday morning, May 4. See you all in line! – Rappler.com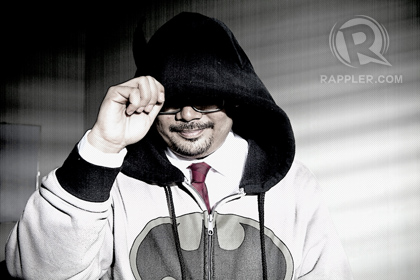 Carljoe Javier teaches English and Creative Writing at the University of the Philippines Diliman, but what he would really like to do is spend the whole time in the classroom talking about comic books. He studies pop culture like comic books, film, and other forms of new media. He wishes he could fit into a superhero costume.