I think at the heart of all geekery is a passion and love for something. In its best manifestations this translates into a desire to share that passion and love with more people.
MANILA, Philippines – "This is the craziest Free Comic Book Day (FCBD) yet!" comics creator Elbert Or told me when we ran into each other at the Comic Odyssey/Fully Booked event at the Fully Booked building in Bonifacio High Street last Saturday, May 4. With one line coiling along the sidewalk and another stretching down more than a block, it was clear that fans had come en masse to get their freebies and make the most of the day's sale. 
Reports have the first person lining up for FCBD at one in the morning. By the time I got in line at 8:30am, there were at least two hundred people who were ahead of me (from what I could estimate, there were probably more). 
A couple of observations: first, that the comics community came out strong, both artists and fans making extra effort to attend the events; second, I couldn't help but wonder if this enthusiasm might have repelled the event's intended market. 
Now don't get me wrong. I love that there are so many people participating in events, love that people are reading and are so enthusiastic about their comic books. But consider that the goal of FCBD is to draw new readers who otherwise wouldn't think about reading comics. 
I know that I sound hypocritical here, but it's a thought that comes from hindsight: Why bother giving free comics to people who are buying comics anyway? It's preaching to the choir, isn't it? People who are willing to line up hours before the books get given away, well, that's not the target market. And if you aren't inclined to pick up and pay for comic books, then I doubt you would be willing to brave the heat and the lines and the general hassle to try out 3 sampler books. 
And in all honesty, there isn't much on offer for the rabid comic book fan. The free books are meant to be gateway drugs, and when you're a junkie, this kind of hit is just a little taste. It's probably why so many collectors show up just for the discounts and sale items. 
So while we can consider FCBD events successful in their ability to draw crowds, I wonder how successful they are in creating converts. I know that's going to be a very difficult statistic to produce, but it'd be something interesting to look at in the coming years. I'd like to see how many people actually start buying comics as a result of FCBD.
What's clear, though, was that there were a lot of purchases made that day. I've always advocated the need to support comics creators — especially the local komiks creators — so it was good to see indie komiks on offer at both Fully Booked and at National Book Store in Quezon Avenue. As always, the majority of purchases were clearly comics from the West, but it's good to see our stores showing support for our local creators and their attempts at building our comics culture. 
I could hardly navigate the racks at Fully Booked. I couldn't even get into Comic Odyssey. Sure, that's partly due to my portly figure, but it was largely because there were so many people.
From that event I got the book that I was really after, Ang Pilipino Komiks sa Kasulukuyan. With its Gerry Alanguilan cover and eclectic mix of creators, it was clearly a collector must-have. Then I let some time pass and made my way north to NBS Quezon Ave. 
It was my first time up at the 4th floor of that NBS branch, and though there weren't any more lines when I got there (they ran out of free comics around noon), there were a lot of people and I had made it just in time to catch the tail end of Setting the Record. 
Organized by NBS, Comicxhub, Castle Geek, and Neutral Grounds, not only did this event have free books to give away, but it was almost like a mini convention. You had indie creators' tables, merchandise and collector's items, other booths, and even a gaming area. 
I got to talk to Castle Geek operations head Lawrence Sol Cruz, whom I caught manning the register. He said that they wanted to do more than just give away comics. They wanted to add a twist to the FCBD celebrations. 
Seeing the Philippines' talent density (he says that we are number two in the world in terms of comics artists), they decided to set a world record for most sketches done in a single event. By 5 that afternoon, the invited artists had done a total of 99 sketches.
I liked the atmosphere established by NBS-Castle Geek-Comicxhub-Neutral Grounds. There was a large floor space and it felt like you could hang out and be a part of the event. 
The major drawback though was that there were complications in purchasing comics. Rather than just buying from the indie sellers, you had to go back and forth, asking for some number or other (I had to go back and forth at least 5 times between a few different tables before I could buy just one comic book). Despite the frustration in buying procedures, I appreciate the efforts made to give indie sellers an opportunity to reach a larger audience. Just hoping that the next time an event such as this is held, that aspect can be improved. 
Though I'm not sure how effective FCBD was in drawing in new readers, I am sure that the large crowds are indicative of a thriving comics culture. Readers will have varying levels of commitment to comic book buying and collecting; but if nothing else, this was a clear message that there is an audience, and that audience is enthusiastic. 
FCBD was a celebration of love for comics. The organizers provided the venues and the free comics. Artists shared their talents, sold their works, signed, and sketched. Fans gave their time and hard-earned money, forking both over for something they are passionate about.
I do believe this outpouring of love from regulars in the scene was enough to draw new people in and get them interested. 
I think at the heart of all geekery is a passion and love for something. In its best manifestations this translates into a desire to share that passion and love with more people.
That's what I believe drives FCBD, what underlies the willingness to give away comics and organize events and open up doors and say, "Please come on over and look at this. Come and partake in this thing that I love." 
Here are Rappler's other FCBD photos:
– Rappler.com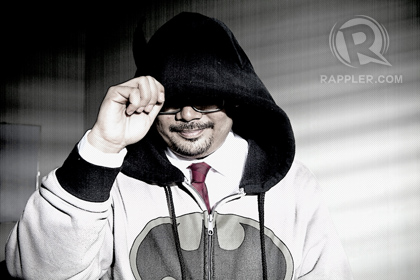 Carljoe Javier teaches English and Creative Writing at the University of the Philippines Diliman, but what he would really like to do is spend the whole time in the classroom talking about comic books. He studies pop culture like comic books, film, and other forms of new media. He wishes he could fit into a superhero costume.