We're still celebrating Independence Day month, and this weekend is for an all-time Pinoy favorite
MANILA, Philippines – The secret to long lasting marriage? Great adobo.
I venture to guess that this is the gayuma (love potion) that has kept my marriage intact and strong as ever. It is my husband's all-time favorite and among the reasons that he'll never stray from home.
While sinigang and adobo are neck and neck for the title of National Dish, in my home it remains supreme. For a working mom, it is my reliable lifesaver on an "I-can't think-of-anything-to-cook-and-I'm-so-tired" day.
There's CPA, otherwise known as chicken-pork adobo; there is liempo (belly) and ribs adobo, the killer kind; and there is adobong baka sa palayok (beef adobo cooked in claypot), smokey and tender.
You can cook a big batch and it will just get better and better as you reheat. What's more, you can serve it in different variations assuming there are leftovers: 
Day 1: As stew, with a side dish of monggo
Day 2: As twice-cooked — pan-fry the meat and serve the sabaw (sauce) on the side, with lumpiang gulay and even pancit
Day 3: As adobo rice, incorporating all the yummy tidbits and remaining sauce to make fried rice, topped with a perfectly-cooked sunny side up.
I think Andrew Zimmern hit it right on the head when he said, "The Filipinos combined the best of all of that with Spanish technique. The Spanish were a colonial power there for 500 years, and they left behind adobo and cooking in vinegar — techniques that, applied to those tropical Asian ingredients, are miraculous."
The culinary results include dishes like adobong manok sa gata, adobong kangkong and even adobong tahong (mussels), all of which I enjoyed as a child at home and when we would go to my father's hometown in Lobo, Batangas. 
While adobo is common and actually simple to prepare (no more than 5 ingredients), I boldly claim it's in the technique: not the chef kind but the family secret kind that's passed on from one generation to the next. Never written, just told in passing during stove top conversations. 
Sinangkutsang Adobo is one such dish, cooked until somewhat dry and crisped on the sides. Sangkutsa according to Answers.com means to parboil or marinate. According to Aching Lillian Borromeo, guardian of Pampango cuisine, after parboiling it is to stir-fry heavily to allow the meat to render its lard, and when mixed with the marinade yields a fuller and bolder flavor. 
I checked the Spanish word "cuchar," which means to scoop (as in "cuchara" or spoon). Sangkutsa is exactly the act of scooping, tossing, scooping, tossing until the desired dryness and crispiness is achieved, with bits and pieces sticking to the bottom of the pot.
All it needs is a little bit of patience and arm power. Are you hungry yet?
How to cook Sinangkutsang Adobo
Ingredients:
1/2 k liempo (belly) cut into big cubes. Get the one with the least fat.
1/2 k kasim (shoulder) cut into big cubes
1 kilo chicken cut into pieces
1-1 1/2 cups vinegar
3-4 T sea salt
1 head garlic finely chopped, or dinikdik using a mortar and pestle. Don't discard the skin as it helps result in a more aromatic dish.
2 T whole peppercorn
6 bay leaves, torn
2 T oil
1 T annatto seeds (achuete) for color
1 c water
Marinade meat and chicken in vinegar, salt, garlic and peppercorn for at least 30 minutes. Drain and set the marinade aside. 

Put oil in pan and heat the annatto seeds until it renders a red-orange color. Discard the annatto seeds. 

Put on high heat and use this oil to sear the meat/chicken until the pink flesh turns white. 

Add the marinade, water and torn bay leaves. Turn to low heat and slow cook until tender.

By the time it is cooked, the liquid would have dried up and the fat from the meat already rendered.

Now put on medium high heat. The oil will now "toast" the garlic to light brown, giving off an aroma that begs for rice!

"Sankutsahin" or continuously stir-fry to avoid burning the garlic. Turn down the heat if you have to, because burnt garlic is bitter. 
A little patience and arm power will result in crispy bits on the sides of the meat and skin. Enjoy your adobo! – Rappler.com
Check out our other recipe: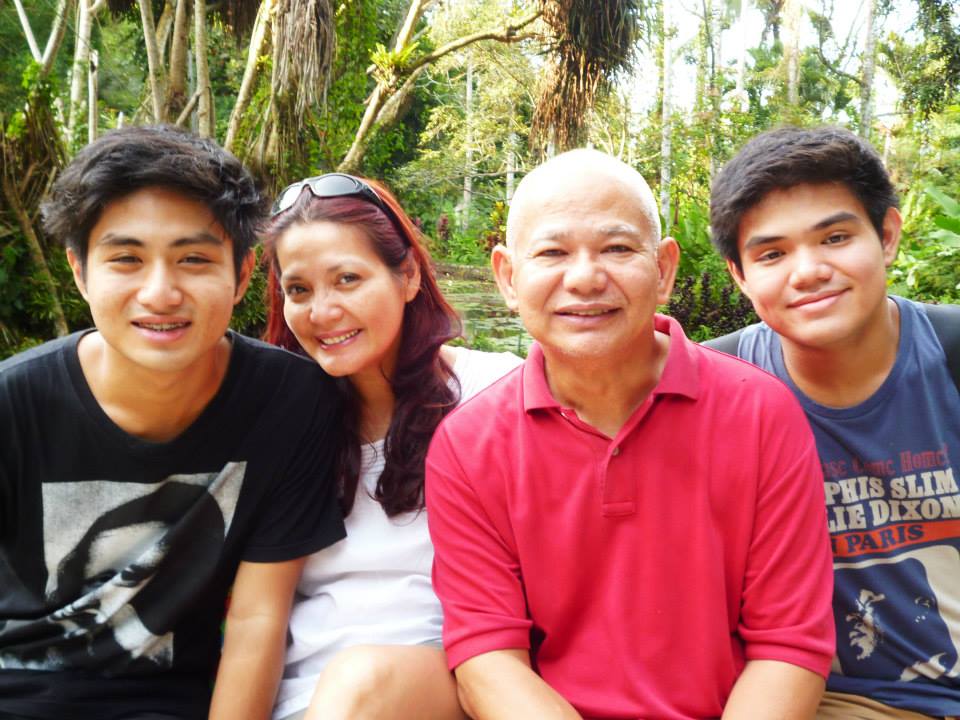 Cooking is one of Marie Pascual's biggest expressions of love. She is a high-ranking executive in a retail company on weekdays. On weekends, she cooks up a storm for the 3 men in her life: her husband of 21 years Emi and her two college boys Jam and Miggy.
It is this same passion and curiosity that takes their family to places that are not normally included in a traveler's itinerary.
Marie is a regular contributor to Appetite Magazine. Her food blog www.kitchenkitchiekoo.com is currently undergoing renovation so she can share more of her flavor adventures.