Releasing toxins, relaxing the muscles and other benefits of heat and sweat in meditation
MANILA, Philippines – A friend of mine, in a discussion about yoga, recently asked me what it is about Bikram that keeps me coming back. In an effort to try and entice her to take the July 4X4 challenge with me at our local Bikram studio I thought I'd share the top 7 reasons why I love practicing this particular type of yoga.
1. It makes my heart skip a beat…literally….
Benefit: The temperature in the hot room is around 105 degrees Fahrenheit. The temperature may adjust in the room from day to day based on the humidity, but for the most part that is the magic number. In other words, when you're hot, your heart beats faster. Couple the heat with the intensity of the asanas and you get an awesome cardio workout.
2. It's the only place in Manila, where being "the sweaty American" in the room is completely acceptable.
Benefit: When we sweat, we release toxins. You've heard that there is more than one way to skin a cat. Well, there is more than one way to get rid of waste and toxins from your body. We use our kidneys and the waste extracting organs to get rid of what we don't need (think bathroom duty). But when you sweat it's eliminating waste through your skin and your pores. You sweat because your body is trying to cool down from the inside out and what comes along with it are toxins and other chemicals like ammonia, urea, salts and sugar.
3. I feel like Elastigirl from the Incredibles.
Benefit: A heated room helps loosen up your muscles and ligaments. The temperature allows you to bend and fold deeply into our asanas which can reduce the possibility of injury because you are warmed up. You also repeat every posture twice. Repeating the postures twice also effects muscle memory, thereby enabling us to stretch and push just a little deeper each time.
4. I'm a happier person after class, which means I'm a better mom, too.
Benefit: We all try to achieve balance. If moms spend hours upon hours taking care of everyone in the family and very little time taking care of themselves, it could be the reason why so many moms can feel off kilter. Bikram is a 90 minute class. That 90 minutes is a meditation through the asanas. Every class ends in svasana as well. According to Bikram, svasana is the most important pose after you finish your practice. Even the Dalai Lama has said, "If every 8 year old in the world is taught meditation, we will eliminate violence from the world in one generation." 26 postures in the same order each time we meet. It's routine, but the feeling of that routine will change from day to day depending on what you do and eat the day before.
Which leads me to my next favorite thing…
5 I feel healthier so I eat healthier.
Benefit: What ever you put into your body affects the way you practice. So, I find that I eat lighter on the days before I plan to practice. I try to stay away from red meat the day before, because I have noticed that I feel heavier and maybe even a little slower through the poses too.
6. Bikram helps me with my balancing act…literally.
Benefit: Increasing balance, strengthening your muscles and an improvement in posture are benefits you will likely see from every type of yoga practice you engage in. But in Bikram Yoga, you are asked to engage your core and use that core to find your balance in the standing postures.
7. The only time I can stare at myself for a full 90 minutes and not be called vain.
Benefit: The mirror is important in teaching alignment and proper placement. Beginners can't tell whether or not their hips, shoulders, and knees are level. By using the mirror as a tool to observe whether we are straight or holding the asanas properly, we are deepening our practice. 
Know more about Bikram yoga here:
– Rappler.com
To learn more about Bikram Yoga and the 4×4 Challenge, visit the Bikram Yoga Alabang page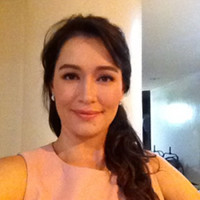 Michelle Ressa-Aventajado is a Filipina American who grew up in NY and now makes Manila her home. When she's not busy raising her 4 children, she enjoys teaching, reading and writing about her passions. Follow her blog Momma 'N Manila as she documents her adventures and growth in parenting.