A Rappler mom shares how she came up with a fun birthday party for her teenage daughter without hurting her wallet
MANILA, Philippines – I love planning my kids' birthday parties.
I love it even more when I can do things simply and save money in the process.
Having 4 kids means 4 celebrations every year that I have to make sure are perfectly fit for each of the kids' personalities and interests. As my kids have gotten older, they have given more input for each celebration in the planning stages…and that has made my job easier.
In fact, I love it when my kids are really specific about what they want for their birthday celebrations. It's a day set aside just for each of them, and the whole family honors their wishes to help make the day all the more special.
Since 2013 is a big year for other events like communion and confirmation, I explained to each of my kids that we would have simple celebrations for them and that big parties were not in order. Since we moved here to the Philippines, I have figured out that the first and 7th birthdays are big birthdays to celebrate, although I'm still not sure exactly why.
The parties celebrating these milestones are usually chock full of all sorts of surprises, from juggling flame throwers to elaborate candy buffets, and even huge human velcro walls set behind a trampoline. While these extravagant affairs are so fabulous and fun, they are not something that is done on a yearly basis.
In fact, in our home — even our big milestones — are usually not of this caliber. I would much rather prefer an intimate home affair with fewer guests that everyone can enjoy, a surefire way for my children to enjoy as well.
I relish all the details that go into planning a party, so I'm super happy that I have one more baby to pull up the caboose of our parenthood birthday party train. Gelli will be two years old this month, and while I have told the big kids [there will be] no parties for them, Gelli will surely have a small celebration.
This year, Gia requested for a small American BBQ to celebrate her turning 14, and I happily obliged. I miss the Fourth of July and the fireworks and sparklers that come with it [anyway]. The hamburgers, hot dogs and different salads that adorn the picnic tables are comfort food we don't see here as often.
[Summers in New York are warm and familiar to me. Burgers and dogs are part of those summers days.] 
For dinner, we prepared a hamburger and hot dog buffet, complete with all the toppings that kids might look for. We put out 3 different kinds of cheese, lettuce, tomatoes, onions, sautéed mushrooms and gravy, and the usual ketchup, mustard and mayo.
I made a big green salad, potato salad, coleslaw and corn on the cob. I also made Tyler Florence's pulled pork and my own homemade BBQ sauce. There were french fries being served up as soon as the baskets were empty so the kids were definitely full by the time they were ready to sit down and watch the movie that we had set up for them.
I have never been ashamed to ask for help when I need it. Asking for help really makes things easier when putting a DIY party together!
I was really lucky that a friend of mine shared some factory finds for this party because I was able to score some really cute pieces to compliment Gia's chosen theme. They were not expensive and they added character to the buffet of treats I prepared for Gia and her friends. 
My other friend was able to find some cute notepads that matched the theme of the party and she was able to pick them up for me at a book store.
I was able to borrow my mother in law's popcorn maker from HMR. This was the perfect add-on to our dessert/snack table because Gia also requested that we set up the yoga studio and convert it into a makeshift movie theater.
When I started to feel under the weather, I knew that I wouldn't be able to bake everything I planned on getting in the oven.
So I let my fingers do the dialing and I ordered up some candy apples and blueberry and cherry tarts to compliment the Devil's Food cupcakes and the chocolate chip cookies that my daughter requested.
I suppose the best part of pulling it all together for my kids' birthdays is when they say to me that they had a great time.
I kept this celebration simple, came under budget for my food but was a little over budget for my decor.
My daughter was happy, and I got to wear the party planner hat for the 3rd time this year.
Now for the next birthday: The Very Hungry Caterpillar! – Rappler.com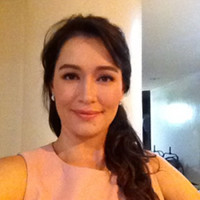 Michelle Ressa-Aventajado is a Filipina American who grew up in NY and now makes Manila her home. When she's not busy raising her four children, she enjoys teaching, reading and writing about her passions. Follow her blog Momma 'N Manila as she documents her adventures and growth in parenting.