We're not too surprised that Mutya Datul has caught the attention of judges as early as now
MANILA, Philippines – Woke up to some great news!
No, not about Napoles' surrender [although that was a good thing], but about Filipina Mutya Datul winning a special award at the pre-pageant fashion show of Miss Supranational 2013 — she grabbed the Miss Personality sash by a hairline over Miss Myanmar!
READ: Mutya Datul off to Ms Supranational
I've always said that one of Mutya Datul's greatest strengths is her ability to captivate you while she negotiates the catwalk. She exudes a Bayanihan-dancer aura and an air of hospitality that says, "Welcome, I'm so glad to see you!"
Miss Personality certainly fits her.
So while we are overjoyed with the news, we're not too surprised that Mutya Datul has caught the attention of judges as early as now. She is one of the strongest Filipino beauty queens of 2013. 
We hope this special award is a step closer for the Philippines to win the Miss Supranational 2013 crown. It will be given on the evening of September 6 in Minsk, Belarus.
3 other contestants won special awards alongside Mutya Datul: 
MISS SUPRANATIONAL ELEGANCE: Sweden
MISS SUPRANATIONAL TOP MODEL: Moldova
MISS SUPRANATIONAL PHOTOGENIC: Puerto Rico
For more photos of the Miss Supranational 2013 Fashion Night, visit Global Beauties. – Rappler.com
You can also read: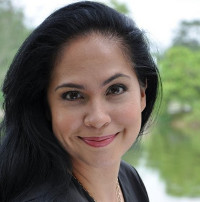 Joyce Burton-Titular is a Filipina beauty queen with two Binibining Pilipinas titles: Miss Young Philippines 1980 and Binibining Pilipinas-Universe 1985. She currently keeps a beauty queen blog called Adventures of a Beauty Queen.
Joyce has more than a decade of experience as a news presenter. Her main work today is voicing — hers is the voice that reminds you to fasten your seatbelt and turn off your cellular phone when you fly Cebu Pacific.
Joyce is a mother of two, wife of one and the slave of 7 dogs and 7 cats.