Evan Rey Datuin and Mario Mendoza Jr. emerge victorious at AXE Apollo National Challenge
MANILA, Philippines – And then there were two.
From more than 28,000 applicants from all over the country, down to 400, and, finally, down to the top 50, Evan Rey Datuin of Dasmariñas, Cavite, and Mario Mendoza Jr. of Taytay, Rizal, emerged as – quite literally – the last men standing at the final leg of the AXE Apollo National Challenge held on August 31 at Bonifacio Global City.
Datuin and Mendoza will be sent to the international AXE Apollo Space Camp in Orlando, Florida, in December, to undergo training for the possibility of being sent to space.
Live blog: Axe Apollo National Challenge
At stake are a total of 23 tickets to space, one of which is guaranteed to go to a candidate from the Philippines, which makes either Datuin or Mendoza the first Filipino in space.
After a battery of physical fitness tests and military-inspired obstacle courses held throughout the day, the only thing that stood between space camp and going home was a test of endurance: the top 50 participants were asked to stand on a wobbly 3-foot pedestal for as long as possible, while doing exercise routines with iron plates.
Only 3 men were left by 4pm.
"And that moment when the security people got us from the platform as the 3rd guy fell, there were mixed feelings," said Mendoza.
"The feeling that it was finally done, I did it, and that God was with me the whole time; I was very thankful."
Mendoza, 31, is actually a trained pilot, and a first lieutenant in the Philippine Air Force. When you think about it, this makes him the perfect candidate.
"This is a sense of national pride," he said. "Not just for the Air Force, but for the whole Philippines. And that was one of [the] reasons why I joined.
"If there will be one Filipino who will go to space, why not [someone] from the Air Force? In other countries, their astronauts come from the Air Force. This will be a pride for the unit, for the Armed Forces, and for the military."
Datuin, 24, used to work for a 4-star hotel in Makati City and was once a call-center agent as well.
And now, in what may well be a dramatic career turn, he has this chance to go to space.
"The time that the 3rd guy fell, I was like, 'This is it! This is it!'" he said. "And in that moment, all I could think about is to thank God."
What does he think about the possibility of being the first Filipino in history to go to space?
"If that would be the thing that would inspire people, I will be ready. Since I was little, this has been my dream," said Datuin.
"If you have a dream, you have to work hard for it, and you have to ask God for it. Continue to believe, push your limits, and dream as if you can have everything."
And what's the first thing they'll do if they get to go to space?
"If there's a window, I want to see the Earth from way up above," said Mendoza. "I'd like to take pictures and experience that weightlessness and maybe also see if I can still call home."
For Datuin, "I want to know what's out there and cherish everything. And I want to share it to everyone."
They both said they would bring a camera.
"We expect great things from these two gentlemen," said AXE brand manager Gem Laforteza, who also announced that Mendoza and Datuin will also be joined in space camp by a 3rd lucky wildcard winner through an electronic raffle draw.
The Philippines is number 4 worldwide in terms of applicants, behind the United States, the UK, and Brazil.
According to Laforteza, "we will identify the final person we will be sending to space – suborbitally, 103 kilometers up there." – Rappler.com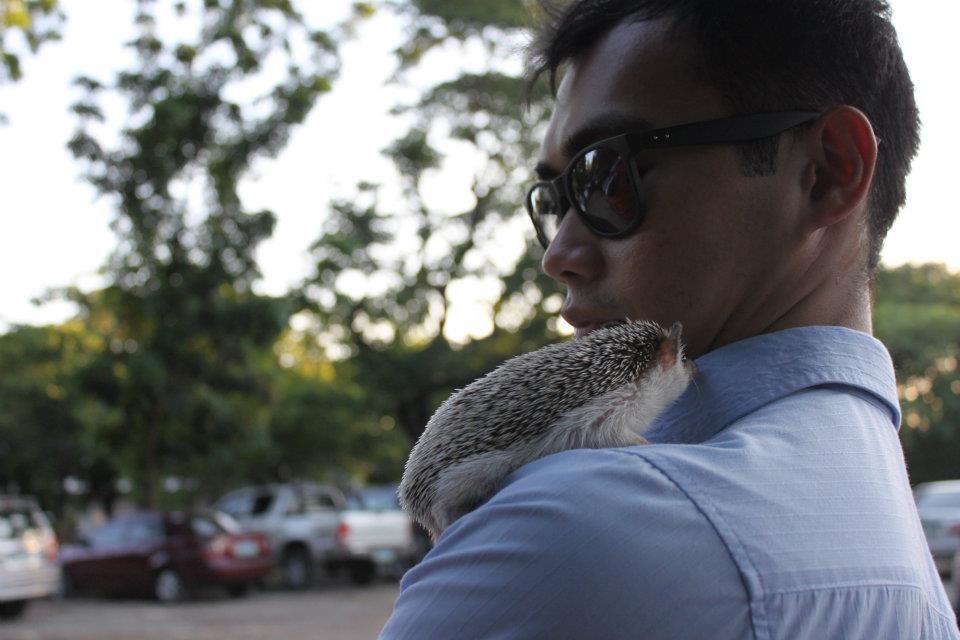 Peter Imbong is a full-time freelance writer, sometimes a stylist; and on some strange nights, a host. After starting his career in a business magazine, he now writes about lifestyle, entertainment, fashion, and profiles of different personalities. Check out his blog, Peter Tries to Write.