Filipino musical lovers are in for a spellbinding night we'll remember forever.
MANILA, Philippines – Wicked Manila is no longer just a petition on Facebook. Broadway's biggest blockbuster is coming to town!
READ: 'Wicked' makes its way to Manila
Lunchbox Theatrical Productions together with Concertus Manila put an end to all the speculations by confirming in August that everything is set for the worldwide phenomenon to make its way to Philippine shores in early 2014.
READ: Musical 'Wicked' comes to Manila
"Wicked" is approaching 10 years on Broadway, grossing over US$3-B worldwide.
On January 22, 2014, the emerald city of Oz opens its gates to enchant audiences at the Cultural Center of the Philippines. With a limited run of only 3 weeks, there is a possibility to extend, but not by much. In March 2014, the Australian company will set off to yet another tour destination. 
"Wicked" the musical is a classic story with a twist, adapted from Gregory Macquires' novel that tells the tale of two witches from the land of Oz. The story revolves around Elphaba and Glinda who are very different from one another, and the unlikely friendship that develops despite their differences.
Present at the "Wicked" Manila launch was producer and CEO of Lunchbox Theatrical Productions James Cundall. He assured the cast members who had flown in from Australia that the Filipinos' love for musicality is inherent in the culture. He went on further when he claimed that the Filipinos' generosity as an audience "blows the rest of the Asian counterparts out of the water." 
Musical director David Young was also present at the affair and treated the media to an instrumental medley of the "Wicked" soundtrack. The music instantaneously resonated among all those watching [someone across from me said she actually felt like crying!].
Suzie Mathers who plays Glinda the Good and Jemma Rix who plays Elphaba sang respectively. Mathers did "Popular" and Elphaba sang "Defying Gravity," two of the most popular songs from the musical. They also sang the duet "For Good."
On a bare stage, their performances were mesmerizing. Add all the fantastic costumes and stage design and it was easy to tell Filipino musical lovers are in for a spellbinding night we'll remember forever.
Some fun facts about the Manila staging:
All the costumes, sets and props are the exact replicas of the Broadway production
It will take 24 containers to bring in all the equipment necessary for the production
It will take exactly 19 days before the opening night for the technical team to secure the staging — the flying appartus seems to be the most complex system for any show ever
I was fortunate to have won the "lottery" when I lined up for tickets to watch "Wicked" in New York in 2005. For US$25, I ended up watching "Wicked" in the front row, right smack in the center!
Until now, it was one of those magical nights that really transformed me into an active participant of the theater. I've been a fan of anything green since!
To say that "Wicked" is a show that is not to be missed would just be an understatement. – Rappler.com
For ticket information, call TicketWorld at 891-9999 or check out www.wickedthemusical.com.ph. 'Wicked' is co-presented by Visa and Smart Infinity.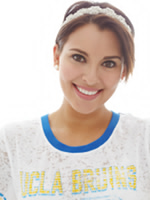 G Töngi is the professional 'slashie.' Besides being mom to Sakura and Kenobi, she is also an all-around media personality. She is a model/product endorser/radio jock/writer/actor for film, TV, theater and producer for second generation Fil-Am content. Being part of the Rappler team is a way for her to utilize her academic and showbiz experience and hopefully make some sense beyond all the chismis.