These stories show us how to make them happen
MANILA, Philippines – Everyone loves a good story. More so if they are real and relatable.
Regina Dee's book "In the Company of Miracles," released this 2013, gives just such stories: stories of struggles and triumphs and, of course, miracles.
They are stories of Filipinos and expatriates, people from all walks of life, from businessmen and businesswomen to professionals like lawyers, and from housewives to house help. 
Here, you will find the usual rags-to-riches stories that, no matter how cliché, never fail to tug at the heartstrings. There are stories of loss and addiction.
Then there are also the less cinematic and dramatic stories, portraying more common but still very real problems like troubled relationships with family and in-laws, low self-esteem, worrying and anxieties.
The book author is no stranger to pain and struggle. Born in China, she and her family were forced to flee as war refugees when she was just 16. She and her sister traveled to the United States aboard a cargo ship.
She met her first husband in her new home country. Unfortunately, he turned out to be physically abusive.  She moved to Manila and married again, but later found out that her husband had a mistress and children.
But Regina was able to rise over the pain, also with the help of her spiritual seeking with the Inner Peace Movement in the US. She then founded Inner Peace Foundation in the Philippines, whose premise is "Make a better world by making a better you." She has also written other books.
Miracles of a different kind
What makes the stories special is the message that runs through the entire book, the message of creating miracles, but not miracles the way many of us may know them.
"A miracle can be defined as simply 'a shift in perception,'" Regina reveals in the book. All the main characters in the book's stories were able to miraculously transform the situations around them by first transforming themselves, especially their mindsets.
A woman who had a difficult time getting along with her mother-in-law was able to release her fear and resentment and subsequently have a genuine, caring relationship with the latter.
A professor who was ceremoniously fired from his job bore no ill will to his employer and found more lucrative and fulfilling work.
A house help abandoned by the man she loved proceeded to give birth to their baby, raise him and turn her life around.
The stories do not simply show the change in the characters' situation, but also their inner transformations. These transformations were the real miracles.
How to create miracles
The second part of the book is about the "principles of miracles," instructing readers how they, too, can create miracles in their lives. 
Regina writes about the importance of paying attention, of breathing, the art of letting go and non-resistance, and more.
The author draws wisdom from different spiritual teachers like Jesus and Lao Tzu, philosophers like Socrates, as well as insights from seemingly ordinary people, like artists. 
But she has a fresh take on age-old principles.
For example, she talks about forgiveness this way: 
"For any negative event or emotion, give back its opposite quality. For resentment, give understanding. For hurt, give release. For fear, give confidence…." The list goes on.
She also emphasizes the importance of having the right "mental diet." While a healthy diet is well and good for a healthy body, a healthy mental diet also takes care of the mind, heart and soul.
She also talks about letting go of fear, even the typical fear of God:
"If you desire miracles in your life, then you must be willing to put away the childish concept of a grand old man, sitting up there in the sky with a great big black book, judging His naughty children, ready to pounce on them and put them away for all of eternity in that horrible 'hot place' to burn forever and ever," Regina writes passionately.
Instead, she recommends transforming fear to faith, but to be wary of where you put your faith on.
Try this simple meditation led by Regina Dee: 
Overall, Regina's advice is simple and practical. It shows that creating a life of miracles, though not always easy, is doable. – Rappler.com
'In The Company of Miracles' by Regina Dee is available in major book stores.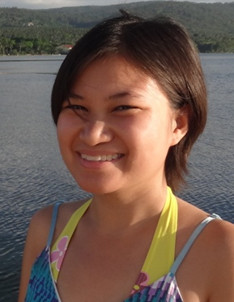 Claire Madarang is a writer, traveler and seeker. Her wanderlust takes her on adventures like backpacking for 7 weeks straight. Her seeking leads her to different wellness practices like meditation and healthy (mostly vegetarian) eating. Follow her adventures, tips and epiphanies at her blog, Traveling Light.