After years of exhibiting his award-winning designs worldwide, the industrial designer finally returns home
MANILA, Philippines – In a place filled with chairs and couches, it was a peculiar sight to see people standing. Such is the effect of a Kenneth Cobonpue piece. Part functional piece of furniture, and part work of art. The Cebu-based industrial designer has long been known for his dramatic pieces which grace many equally beautiful homes around the world.
And after he has done countless exhibitions in many countries abroad, finally, citizens of Manila have an opportunity to see all of Cobonpue's iconic pieces, as well as some new ones, in a single location. On October 2, Cobonpue, together with friends, family, and patrons, celebrated the opening of his first showroom in Metro Manila located in Makati City. The grand opening was hosted by Metro Society magazine.
Going back home
Before, interested buyers would have to order pieces from Cobonpue's showroom in Cebu City or from the many furniture shops that carried a few of his pieces. As to why it took so long to open his own space in Manila, he answers: "I've always been in Cebu. We have a showroom there. But I felt that we just didn't have an extensive variety of furniture to continually support a standard showroom. It was only until about two or 3 years ago when I said, 'It's time.'"
Manila, however, was exactly his first choice. "When I wanted to open my first showroom in the world, I was thinking of places like Miami, Barcelona, but then I decided not to. It should rightly be here in my country. Because this is where I live, where I was born, where I work, and where everything is made."
With gray concrete floors and floor-to-ceiling picture windows, the space was designed by Cobonpue's colleagues, designer Budji Layug, and architect Royal Pineda. Together, the triumvirate also happens to be the names behind the proposed renovation of the Ninoy Aquino International Airport Terminal 1 (NAIA-1), together with architecture firm Leandro V. Locsin and Associates.
Airport design still evolving
"It's every designer's dream to influence society with a project like the airport," says the industrial designer. "It's coming along well. I think they're still taking care of all the legal work." The final design, he says, "is still evolving. But I really hope it's going to be good and that they can do it fast because it's meant to be finished in time for the Asia-Pacific Economic Cooperation [Summit] in 2015."
Still, there is a different feeling having your own name beside no one else's, placed outside a building. "It feels good that finally I have my own space, that I can do whatever I want. In a way, I've done this all around the world to launch my collections and pieces. I've done it from Sau Paulo to Shanghai to Colombia. But it feels good because it's like coming home. Finally, I'm back." 
Here are some of Cobonpue's stunning pieces:
– Rappler.com
The Kenneth Cobonpue showroom is located at the ground floor of The Residences at Greenbelt on Arnaiz Street (Pasay Road), Makati City.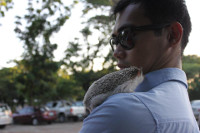 Peter Imbong is a full-time freelance writer, sometimes a stylist, and on some strange nights, a host. After starting his career in a business magazine, he now writes about lifestyle, entertainment, fashion, and profiles of different personalities. Check out his blog, Peter Tries to Write.