This is AI generated summarization, which may have errors. For context, always refer to the full article.
Is cyber sex the secret to making long distance relationships work?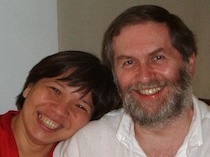 Rappler's Life and Style section runs an advice column by couple Jeremy Baer and clinical psychologist Dr Margarita Holmes. Jeremy has a master's degree in law from Oxford University. A banker of 37 years who worked in 3 continents, he has been training with Dr Holmes for the last 10 years, as co-lecturer and, occasionally, as co-therapist, especially with clients whose financial concerns intrude into their daily lives. Together, they have written two books: "Love Triangles: Understanding the Macho-Mistress Mentality" and "Imported Love: Filipino-Foreign Liaisons."
Dear Dr Holmes and Mr Baer,
My boyfriend has been overseas for more than a year now. We're fine but it became clear that we miss physical intimacy. Just recently, we did it via Skype (masturbating at the same time). Though I think it's pleasurable, it makes me scared that he'd opt to do the real thing with someone else. He still has more than a year to spend there. To be very honest, I was comfortable when we did it because I trust him. But I also have to admit that one of my motivations was the fear that 2 years without any form of sexual intimacy with him might make him more susceptible to temptation. 
Am I on the right track in keeping our relationship and intimacy? Apart from the sexual thing, we're really ok. Anna
***
Dear Anna,
Your letter is interesting particularly in what it omits. You are happy to tell us about yourself but you scarcely mention anything about your boyfriend, not even if he was the one who suggested the Skype masturbation session. This makes it very hard to say whether your tactics are likely to keep him from temptation.
Speaking generally however, I would suspect that there is little connection between occasional Skype sex and a man's likelihood to succumb to temptation. As it would take a great deal of cybersex to deter most young men with average sex drives from extracurricular activities, deterrence must rely on other factors.
Principal among these is what I term the fear factor. Put in its simplest form, the man must fear the consequences of straying more than he desires the immediate gratification of straying. This is a very unequal equation for many people and naturally the power of short term sexual attraction, particularly when judgment is clouded by say alcohol, is much greater than that of cold logic and the distant joy of being reunited with one's love. 
While love should in theory be more than sufficient to keep a man faithful, the sad reality is that fidelity is more easily achieved by absence of opportunity or adverse consequences.
All the best – Jeremy
Dear Anna:
Thank you so much for your letter. You ask if you were on the right track when you had cybersex with your boyfriend (let's call him Allan). It sure sounds that way to me.  
Any act is multi-causal. So when you masturbated at the same time Allan did, you did it for many reasons. One was that you missed the physical intimacy you shared. Another was that you were hoping it would help him remain faithful to you. These are spot-on reasons for doing so.
I say this because, among literally thousands of letters I've received from Filipinos overseas, I reckon a rough estimate of those who are determined to remain faithful despite the distance etc. is 37-48% 
Not all of them remain faithful, because to do so requires a lot of imagination and determination. Another factor that really helps is the number of what Kinsey calls "sexual outlets," i.e., what resources are available for a man to slake his lust.
A man who lives far away from, yet wants to remain faithful to, his partner doesn't have that many outlets. Two of the most often resorted to are porn and cybersex. One OFW shyly asked my help in getting a sex doll, and then quickly asked if that made him a pervert. I reassured him that most wives would prefer he had a sex doll he enjoyed every night rather than a live girlfriend he visited once a month.
Allan may be happy simply with having cybersex with you; or cybersex and porn, or cybersex, porn plus 1 or 2 other outlets. Masturbating on one's own is another common outlet. And, alas, so is having sex with someone else.
Whether Allan is unfaithful to you depends on several factors, but most of all, it depends on what sort of man Allan is.  
How high is his sex drive? How did he feel about masturbation, porn and/or cybersex before he went abroad?  Have his feelings changed since then? How important is fidelity to him? Even if he feels it is no big deal, would he remain faithful if he knew it mattered to you? Have you ever talked (and, hopefully agreed on) what exclusivity meant to each of you?
Jeremy's fear factor theory is pretty spot on too. Not only that, it coincides with what one of the very best psychiatrists we've ever had in the Philippines says. Dr Lourdes Lapuz, former head of Psychiatry in UP-PGH and later, Medical City, is the author of two books on Philippine psychiatry. Her book, Filipino Marriages in Crisis (1981) said something to the effect that one of the two factors determining whether a man will be unfaithful or not is his emotional availability.
Part of emotional availability is how much room he has in his life for another sexual experience. Yes, in its most basic form, the fear factor can be translated to: "I am horny as hell and the girl at the bar giving me the eye is sexy as hell and I am sure won't mind my using a condom." Should I or shouldn't I? 
No fear factor: Why not? Out of sight, out of mind and all that.
Fear factor: But Anna might find out and I don't want to lose her. What is a few minutes of pleasure (ok, ok, or even an hour or two) compared to the years Anna and I have and will continue to have if I keep my pecker in my pants?"
Highly evolved fear factor: I love Anna, and even if she would never know what I did, what sort of a man would I be if I couldn't remain faithful for just another year? I fear I would be nothing more than a mollusk if I could be unfaithful as easily as that.
In other words, Anna, the reason most men do not stray is because they value their relationships with their partners too much. It doesn't mean they are not attracted to other women. It doesn't mean either that they do not want to roger other women rigid. All it means is that when push comes to shove they do not want to lose the woman they love, even if it means they have to give up hot and wild sex.  
Because they know their women will leave: they know their women have both the resources and the will to do so. Not just threaten to cut off their balls, not just use the guilt trip of "after all I've done for you," not just cry them a river, but most definitely do so, with or without tears.
And then there is a small minority of men who value themselves and know how sullied they would feel if they had a liaison and/or had to lie about it for the rest of their lives. 
If Allan belongs to that small minority, I acknowledge that you have a more highly evolved boyfriend than I have a husband 🙂 
Going back to what you did and how it could affect his being faithful, how open you are to listening to what he needs and wants plus how eager you are to fulfilling these, will affect how he feels about your relationship and thus how big a fear it would be if he lost it.  
So hope this helps, dearest Anna.  All the best – Margie
– Rappler.com
(Need advice from our Two Pronged duo? Email twopronged@rappler.com)