Philippine cuisine is more than just adobo, balut and lechon. If you know where to look, you'll find something new and surprising every time.
MANILA, Philippines – If you've ever wondered if Philippine cuisine can be more than just adobo, balut or lechon, then maybe you haven't been looking far enough.
At the Big Bite! The Northern Food Festival last October at Marquee Park in Angeles City, Pampanga, more than 100 food stalls representing the provinces of Bulacan, Ilocos, Tarlac, Nueva Ecija, Zambales, Bataan, Pangasinan, Cagayan, La Union and Pampanga put their best food forward in what became a foodie's dream come true.
Pampanga: Empanada
Kuliat Empanada started as a family business in 1990. It has grown from being a one-stop-shop for travelers looking to buy some pasalubong into a restaurant that serves traditional Filipino fare. While their cassava cakes, polvorons and chicharons have satisfied many hungry road warriors, their best-selling empanada still makes people come back for more.
The special dough comes from a secret heirloom recipe that produces a savory and flaky crust that's as satisfying as the filling inside — chicken, tuna or ham and cheese. The soft dough bun is then deep fried, not baked, as with traditional empanadas.
Pampanga: Organic snacks, turmeric ice cream and tea
While everyone in Manila has been raving about expensive products made from organic fruits and vegetables, Angeles-based Nutri Delight has been producing affordable organic food for several years now.
Nutri Delight's fruits, herbs and vegetables are from farms in and around Pampanga. They produce items like their special fruit and vegetable bread made from sayote and several varieties of fruits.
They also have a line of turmeric-based products like turmeric tea and turmeric ice cream. The herb has many benefits which include:
Increasing your metabolism for weight management
Preventing prostate and breast cancer
Helping detoxify your liver
Alleviating arthritis
The tea is great with a squeeze of lemon or calamansi.
Pampanga: Crickets, stuffed frogs, humba
Pampanga is arguably one of the country's culinary hotspots, and has always been on the list of any foodies looking to sample more than the usual Filipino fare. One establishment in the region that serves many of these well-loved traditional food is Apag Marangle.
Their ginisang camaru or stir-fried crickets is a bestseller. It's a great appetizer and tastes better than it looks, mixed with some garlic, tomatoes and sometimes, chili. Their betute or stuffed frog, meanwhile, is something anyone can enjoy. Stuffed with pork then deep-fried, it — as many have said — tastes just like chicken.
The nasing marangle is a paella-like dish topped with vegetables and lechon kawali. 
Pangasinan: Bangus and bagoong
Pangasinan has two main products: bangus and salt. In fact, Dagupan has been named as the country's bangus capital and the name of the region actually means "where salt is gathered." The small seaside barangay of Bonuan in Dagupan produces what locals call the perfect bangus.
Milkfish are raised in fish ponds with clean water and mud, fed only naturally-grown algae. They are clean when sliced open and perfect when steamed. The antebellum Bonuan boneless bangus salad, for example, is a beautiful piece of bangus covered with a puree of onions, carrots, celery and garlic, wrapped in a banana leaf and grilled to steam in its own juices.
Lingayen Bagoong is also a top regional product. It is made of fermented dilis (anchovies) and salt. The resulting mixture is a great accompaniment to grilled or steamed fish.
Ilocos Norte: Dragon fruit snacks, empanada
Ilocos Norte has been promoting a new and unlikely kind of product that, they've discovered, grows perfectly in the region's dry dessert-like terrain: dragon fruit. The bright pink fruit named for its dragon-like scales has long been known to be a good source of anti-oxidants which help the delay aging and promote the cell growth.
Today, the Ilocanos have found a way to make use of the plant through different variations, like dried dragon fruit strips, dragon fruit cookies, even dragon fruit hopia.
Of course, a trip up North would not be complete without devouring their signature empanadas. It is filled with shaved papaya, mung beans, salty longganisa and a whole egg. The package is then left to swim in a wok filled with oil to produce a crispy orange package that's always a crowd favorite.
Kalinga: Chocolate rice
The Northern province of Kalinga in the Cordillera region has always been a rice-producing region. Not far away, of course, are the famed Banawe Rice Terraces. But more than the usual white or brown rice is a unique variety that makes even the fiercest of anti-carbohydrate activists take a second look: chocolate rice.
The organically-grown unoy blend of rice from Kalinga Food Treat has been called champorado rice because, when cooked like regular rice, it looks and tastes like the chocolate breakfast staple of many Filipinos but without the addition of any chocolate. It's a sweet mystery.
The blend of 3 kinds of rice includes the glutinous chocolate rice variety from the Cordillera terraces. Just add water and, when it's done, sugar and milk to taste. Salty tuyo, optional. – Rappler.com
Read our other #FoodTrip stories: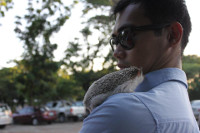 Peter Imbong is a full-time freelance writer, sometimes a stylist, and on some strange nights, a host. After starting his career in a business magazine, he now writes about lifestyle, entertainment, fashion, and profiles of different personalities. Check out his blog, Peter Tries to Write.