What does it take to rebuild one of the country's most prized heritage sites?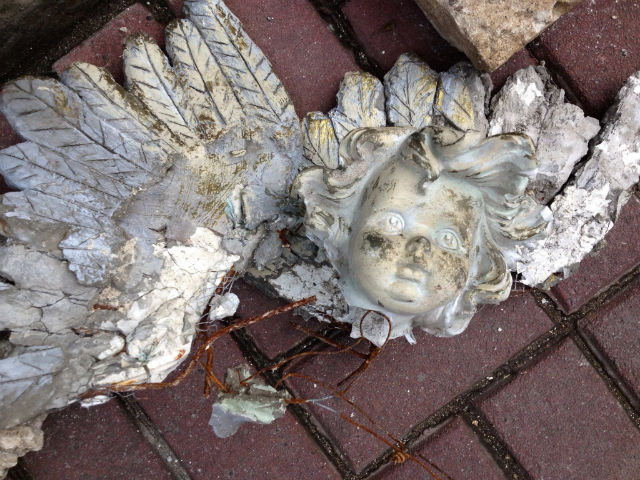 MANILA, Philippines – On October 15, 2013, a 7.2 magnitude earthquake hit Cebu resulting in the destruction of the Basilica Minore Del Sto Niño de Cebu belfry. To assist the Escuella Taller (ET), a quick response team from Manila was flown in to conduct recovery, sorting and recording of coral stones from the rubble.  
ET is a non-profit organization tasked to train the youth of indigent communities in masonry, carpentry, painting & finishing, woodworks, plumbing, metal works and electrical – traditional building crafts used in the restoration of heritage objects, monuments, structures and sites. ET has worked on various restoration projects around the country some belonging to the Augustinian order. So, when the belfry collapsed the organization was called in to help. Given the scale of the destruction even ET needed help.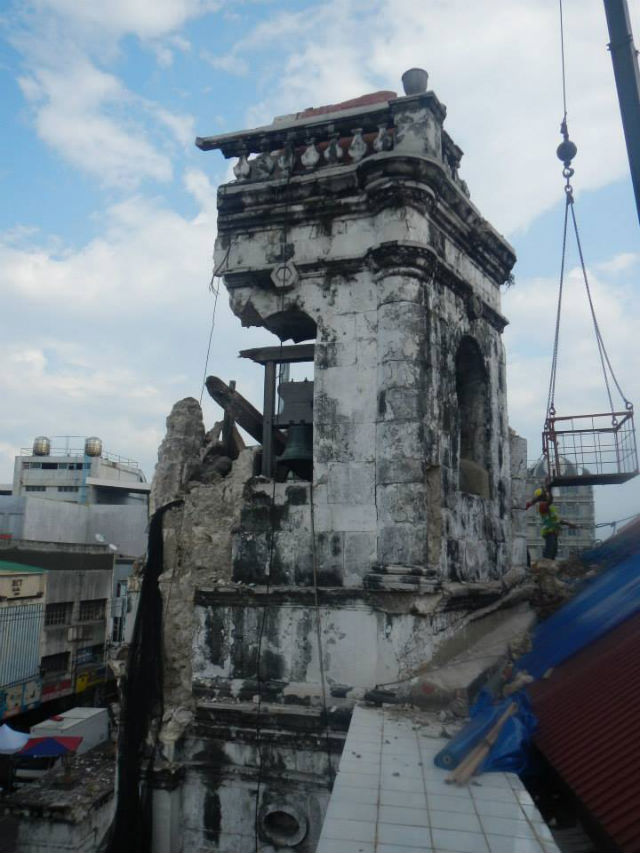 A team with experience in recovering, sorting and recording of cultural materials was called in. All volunteers were archaeologists with a lot of experience in systematic recovery and cataloguing of cultural objects. 
In the first 3 weeks after the quake, the team was able to sort the rubble into the following major categories: Diagnostic Coral Stones and Cement, Non-Diagnostic Coral Stones, Cement, Metal Objects, Electricals, Bricks & Tiles and Wood.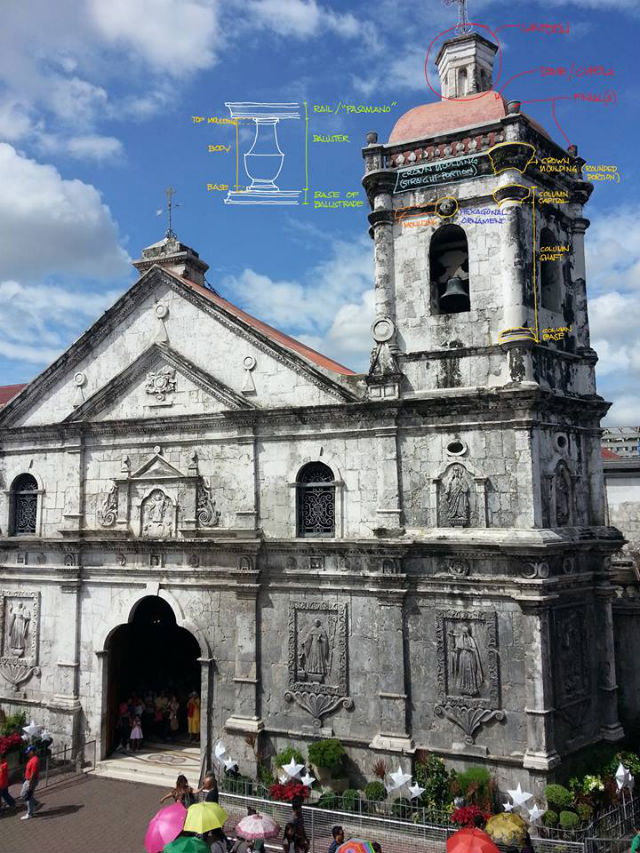 For each major category, subcategories were created based on the materials recovered. Emphasis was made on the recovery and cataloguing of diagnostic materials that will be used in the restoration of the belfry. Materials like stone blocks were sorted and classified into flat, rounded and angular. Stones with architectural features were sorted and classified into baluster (body), baluster (upper portion), baluster (lower portion), baluster (base) crown moulding (straight portion), crown moulding (rounded portion), moulding (straight portion), hexagonal ornaments, curved-edge stone (dome), curved-edge stone (arch), rectangular block, column shaft, column base, column capital, and finial, bricks & other ornaments. The diagnostic stones were accessioned, photographed, and some of their profiles illustrated. 
It was one big puzzle to be completed and the team was literally picking up the pieces.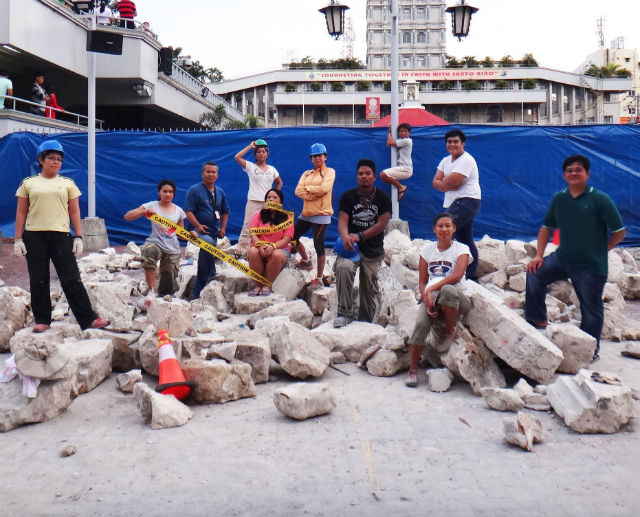 In January this year, a smaller team returned to Cebu to transfer the recorded materials from the Basilica Minore Del Sto Niño de Cebu to a storage facility 20 minutes away. In 10 days, a stone library was created for easy retrieval of materials once restoration work on the belfry begins. 
The speed in which the recovery, sorting and recording of materials from the ruined belfry was made was truly a feat and if one was a religious sort, a result of divine intervention. But there are other factors that contributed to this as well.
First, the Basilica Minore Del Sto Niño de Cebu is a living church being a pilgrimage site where thousands of people come to visit the Sto. Niño every day.  Their safety and well being had to be assured. The belfry was in ruins and frequent aftershocks saw more stones crumbling to the ground. The rubble had to go (but not before it was sorted and recorded) and the belfry stabilized immediately.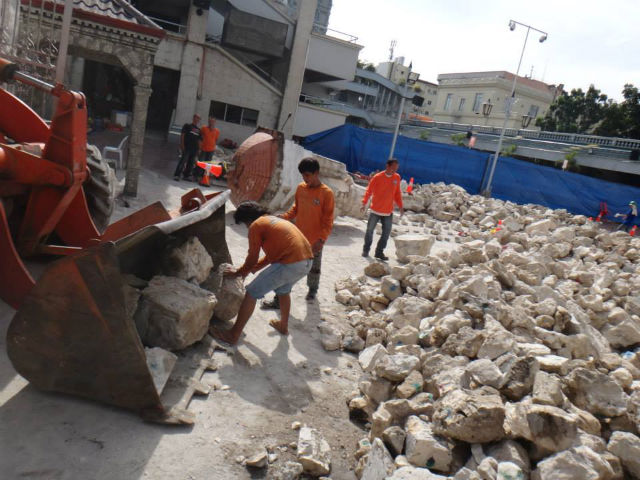 Second, the Augustian order has been around for a long time in the Philippines, in fact, they are celebrating their 450 founding anniversary in the country in 2015. The belfry had to be restored in time for the anniversary celebration. 
Third, the collaboration among teams from various cultural fields that communicated and shared technology, know-how, and experience, making the endeavor a true interdisciplinary exercise in the pursuance of saving a material legacy of our past.
In a developing country like ours with a populace, including academics, still unsure about our cultural identity, it is more so important to preserve the material evidence of our past. It is true, most Filipinos still struggle to provide themselves and their families with the basic needs of food, shelter and clothing, so who are we to scorn people who have more functional concerns?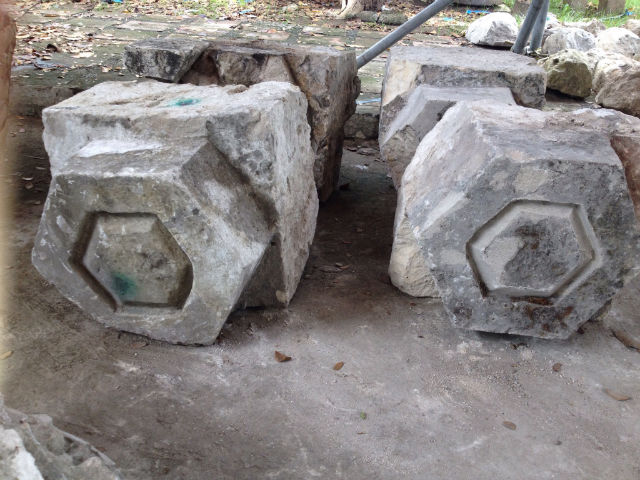 At the same time, who are we to ridicule people who fight to protect objects, monuments, sites and landscapes while people around them are dying? They are the custodians of the legacy of our past that one day future generations will appreciate. – Rappler.com