These structures, built as places of worship, are also striking cultural landmarks that are fascinating to explore
MANILA, Philippines – The Philippines is known for its beautiful centuries-old churches, with some even recognized as UNESCO World Heritage Sites. But do you know that we have beautiful and striking mosques, too – or masjids, as they are more commonly called among Muslims?
In the spirit of Eid Al-Fitr, here are some striking, lovely masjids in our country: 
1. Grand Mosque (Sultan Hassanal Bolkiah Masjid), Cotabato City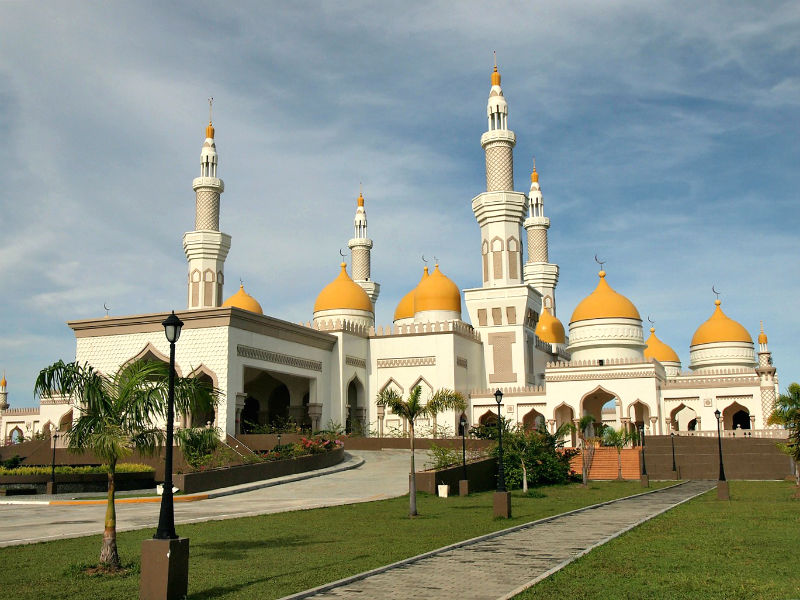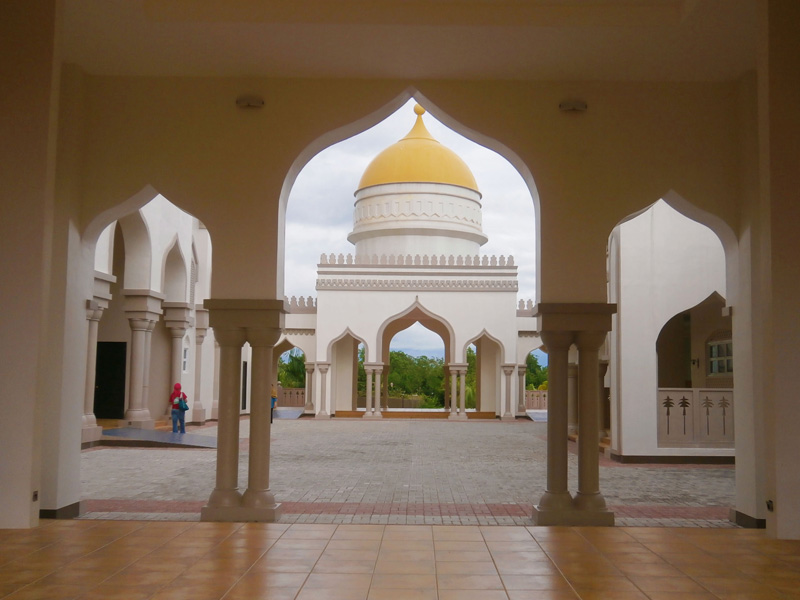 True to its name, this mosque awes Muslims and non-Muslims alike with its size and grandeur. With gold-plated domes, minarets towering over 40 meters, and with an area of 5,000 square meters on a five-hectare land, this mosque is the largest one in the Philippines.
Even the interior and courtyard, with its plentiful pointed arches, is beautiful to look at.
"Every angle of this masjid is so pretty," says travel blogger Shugah Pauline Gonzales, who has already visited mosques around the Philippines and has been to over 20 provinces in Mindanao.
The mosque, completed just last 2011, was partly funded by the Brunei government, with a budget of over US$40 million. The construction was also initiated in line with the Peace and Development Project in Mindanao. In fact, Dennis Dolojan, a blogger mainly writing about Mindanao, notes that the mosque is "co-maintained and protected by non-Muslim soldiers." In this way, the mosque is more than a place of worship for Muslims, but also a symbol of peaceful co-existence with other religions.
2. Pink Mosque (Masjid Dimaukom), Datu Saudi Ampatuan, Maguindanao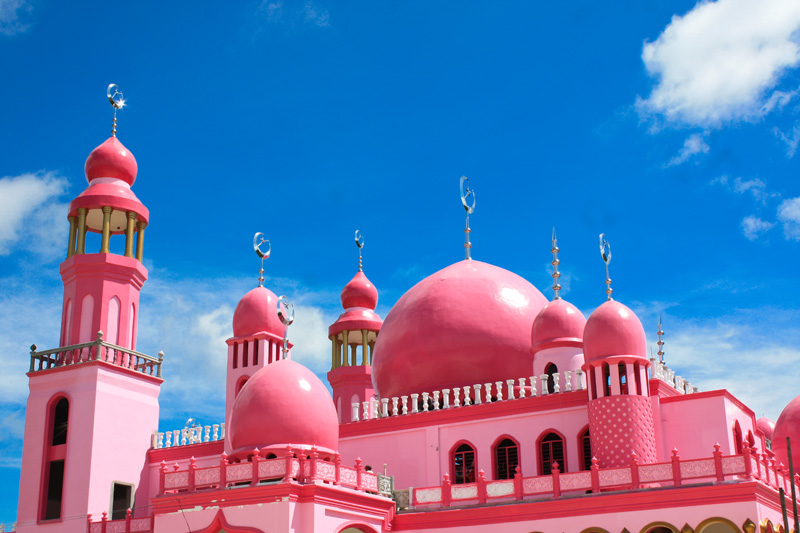 Bright pink façade, bright pink walls, bright pink everywhere…the Pink Mosque easily stands out in the province of Maguindanao.
"[This is] the other side of Maguindanao," writes Mindanao-based travel blogger Glen Santillan, acknowledging the province's beauty, notwithstanding the violence here years ago.
In fact, this mosque, whose construction was initiated by Datu Saudi-Ampatuan Mayor Samsudin Dimaukom, was painted pink to represent peace and love, which he hopes will show another image of Maguindanao. Christian workers also helped build this masjid, symbolizing unity and solidarity between Muslims and Christians.
3. Taluksangay Mosque, Zamboanga City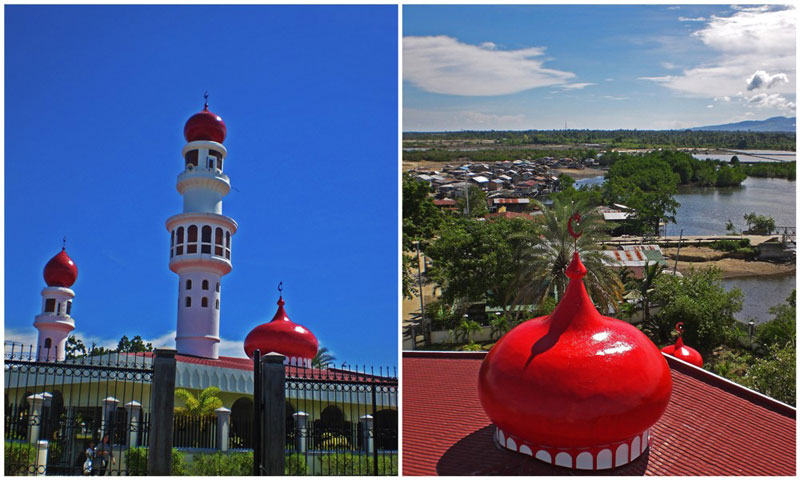 Built in 1885,Taluksangay Mosque is the oldest mosque in Western Mindanao. It was built by Hadji Abdullah Maas Nuno, chieftain of Sama Banguingui , a Moro ethnic group. His grave can actually be found on the grounds at the back of the mosque. 
It is the first center of Islam in the Zamboanga Peninsula, even recognized by other Islamic countries like Saudi Arabia and Turkey.
Taluksangay continues to be a place of worship. With its domes now painted bright red, it is easily noticeable to visitors, and is also promoted as a tourist attraction of Zamboanga City. (READ: Beyond Zamboanga City)
4. King Faisal Mosque, Marawi City, Lanao del Sur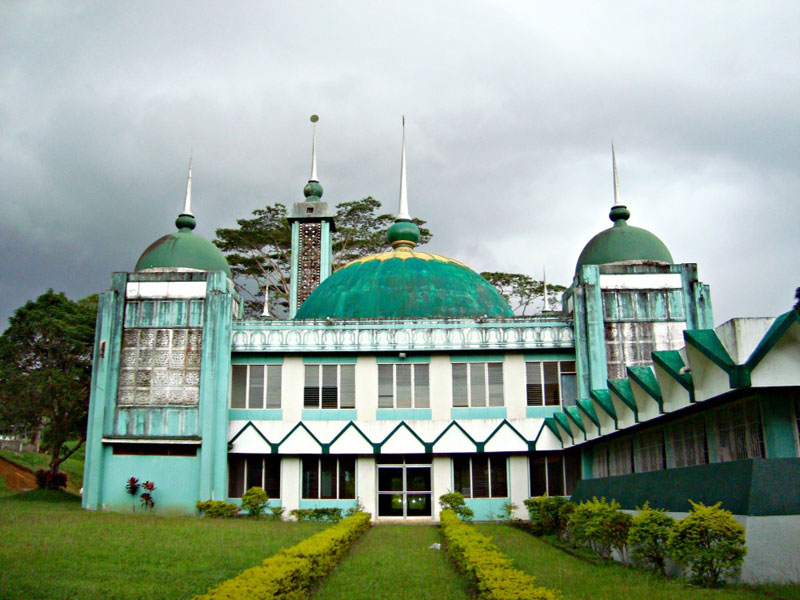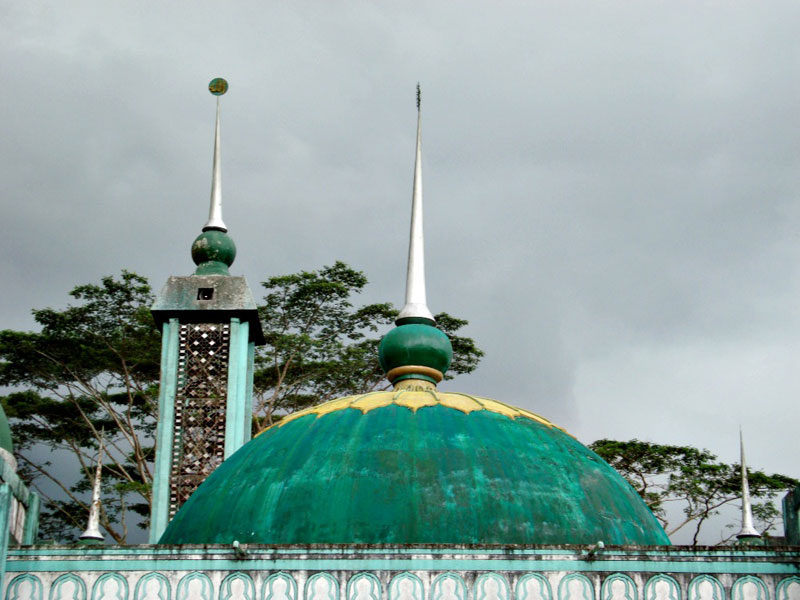 Named after the former king of Saudi Arabia, who financed its construction, this mosque in pale and dark shades of green is located in Marawi, particularly in Mindanao State University. What also makes this mosque noteworthy is that it is the biggest mosque in Marawi.
Green is a traditional color of Islam; in the Quran, it is used to describe the state of those living in paradise.
What is also interesting in this otherwise simple mosque are details like the metalwork pattern of the minaret,  the painted petals on the dome, and "Allah," the name of God in Islam, on top of the spires.
5. Sheik Karim al Makdum Mosque, Simunul, Tawi-Tawi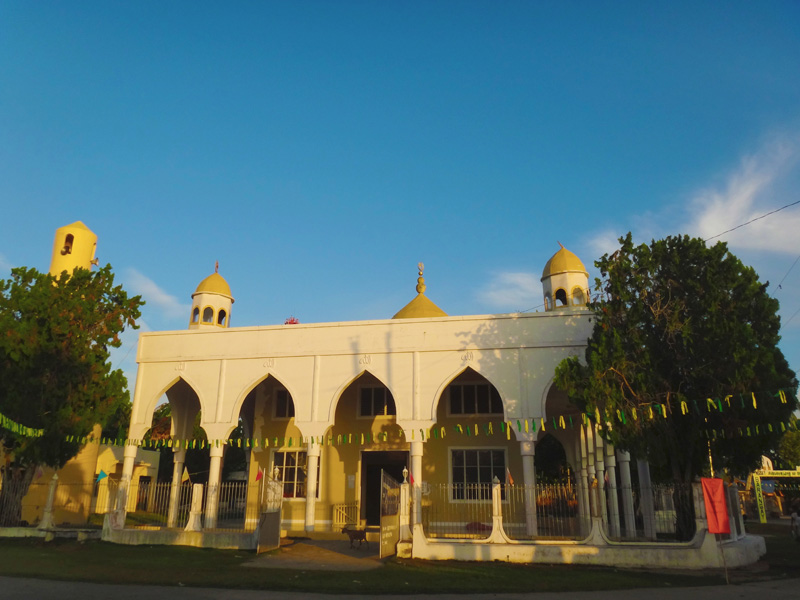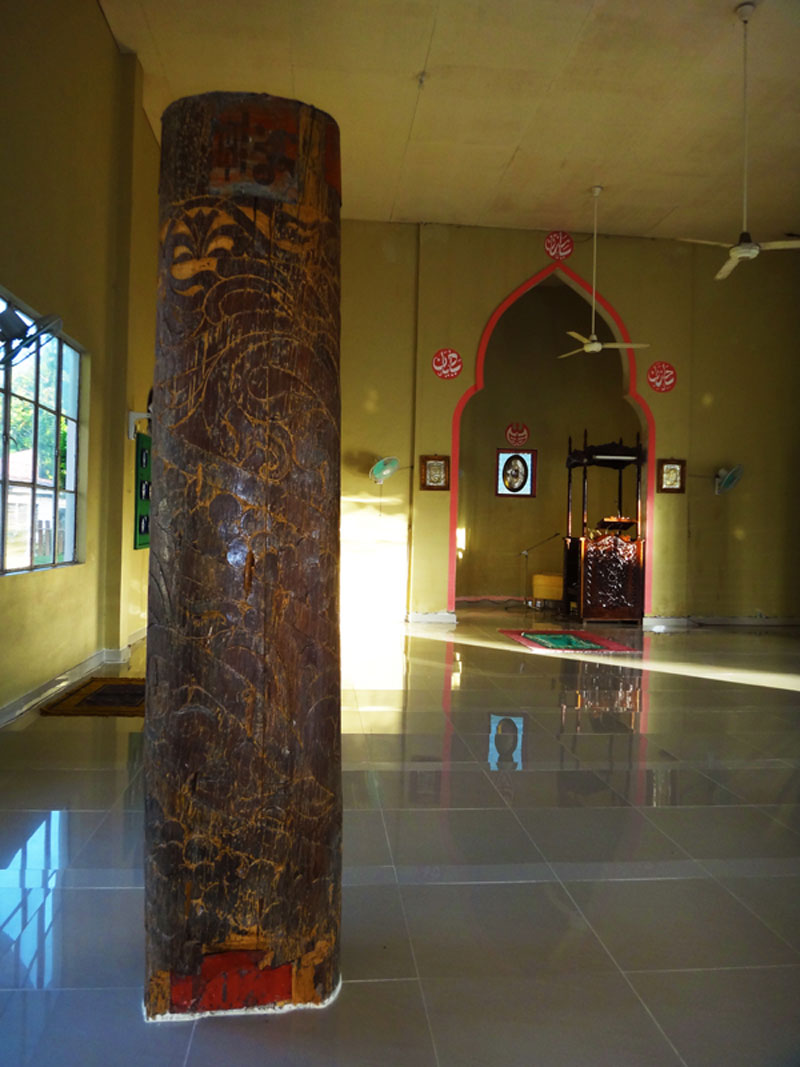 While not as colorful or striking, this mosque has a colorful history.
Built in 1380, it is the first and oldest mosque in the Philippines – older than any Catholic church.
This location is also recognized as a National Cultural Treasure.
The mosque is named after Arabian missionary Sheik Makdum, who introduced Islam to our country and also supervised the construction of this mosque. His remains are buried in the mosque's premises. 
The original structure of the mosque remained standing for around 500 years. Four wooden pillars of the original structure still stand inside the mosque.
6. Golden Mosque (Masjid Al-Dahab), Manila, Metro Manila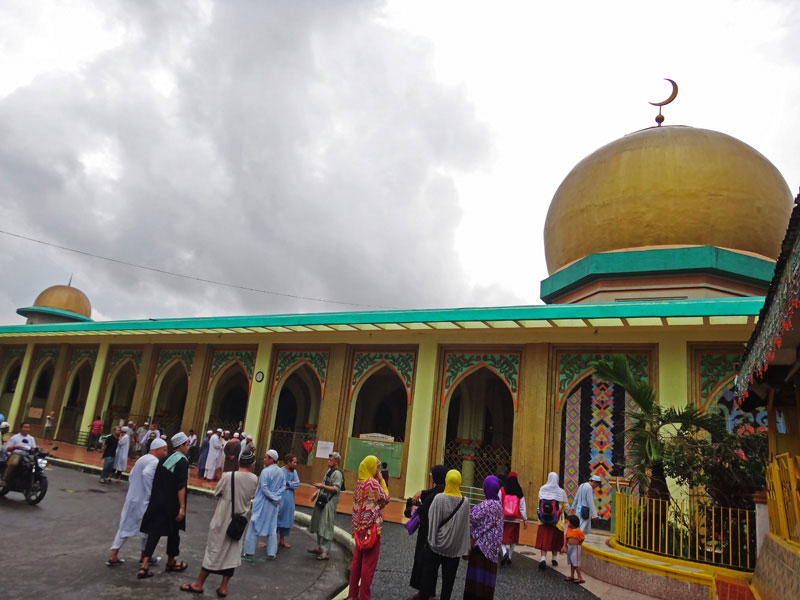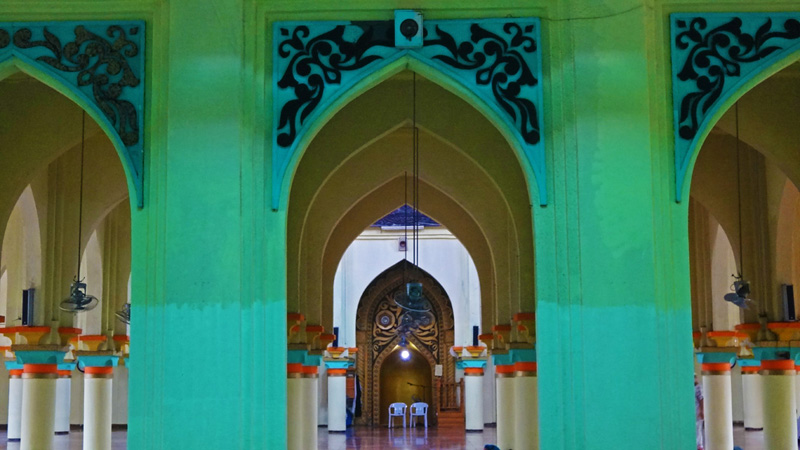 With a conspicuous golden dome easily seen in the city, especially from Pasig River, the Golden Mosque is the biggest mosque in Metro Manila. Aside from its golden dome, the mosque is designed with colored tile artworks on its façade and stained glass paintings on some parts of its ceiling.
It was ordered built by former First Lady Imelda Marcos in 1976 to welcome the late, but then-dictatorial ruler of Libya, Muammar al-Gaddafi. Though his visit was cancelled, this mosque in Quiapo served as the main place of worship for the Muslim community there. 
According to the mosque administrator and caretaker Hajji Moh'd Ersad Malli, years ago, when the mosque was newly-built, many visiting Muslims from other countries made a point of coming to the mosque and worshipping there. The mosque then also had structures like a minaret and a fountain. The current administrator hopes to rebuild parts of the mosque through donations.
Know of any more striking, beautiful mosques in the Philippines? Share in the comments below. – Rappler.com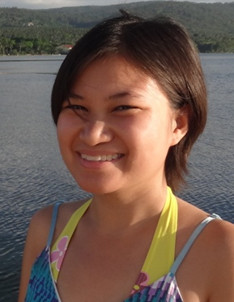 Claire Madarang is a writer, traveler and seeker. Her wanderlust takes her on adventures like backpacking for 7 weeks straight. Her seeking leads her to different wellness practices like meditation and healthy (mostly vegetarian) eating. Follow her adventures, tips and epiphanies at her blog, Traveling Light.