Dare yourself to try something different! Even if you don't have any experience, it's very possible to have a great time – once you work up the nerve to jump off the platform
You're 25 feet straight up, standing on a thin wooden platform, with safety harnesses attached to a fuzzy belt around your waist. Assistants ask you to hold on to a giant swing with both hands.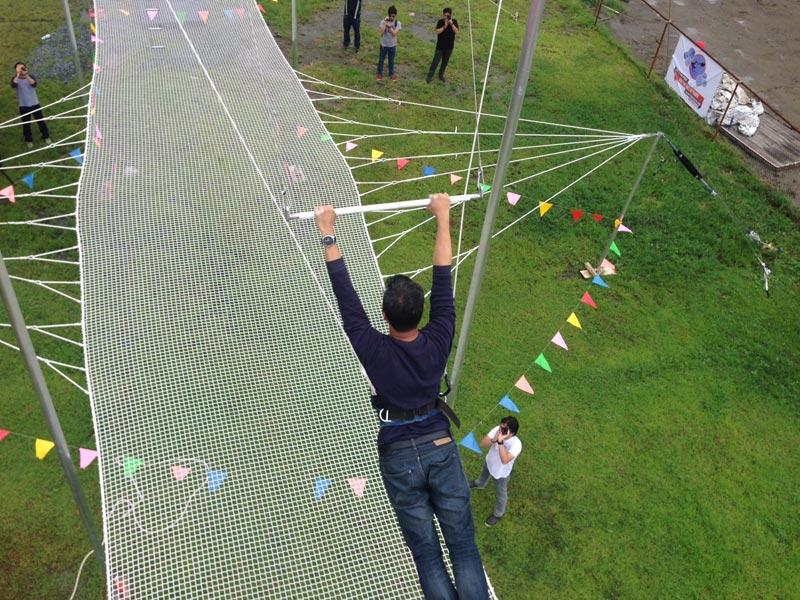 One of them grabs you by the belt on your back and, at his command, instructs you to jump off the platform, fly through the air, and swing.
Watch a flight from a unique perspective here:
This is the trapeze experience, and – minus the elephants, the clowns and the big tent – it's almost exactly like the one we're all used to seeing from the circus.
Only this time, the venue is an open field at the Bonifacio Global City and, instead of professional circus performers, you're the one up there giving it a go.
Flying Trapeze Philippines (FTP) is the first and only trapeze school in the country, and one of only a handful in Southeast Asia. "I've been doing trapeze since I was 8 years old," says the man behind this novel experience, Will Hsu.
"I grew up in the United States and I ran a couple of trapeze rigs to help pay my way through college. When I moved here in the Philippines in 2006, I immediately wanted to set up my own trapeze school.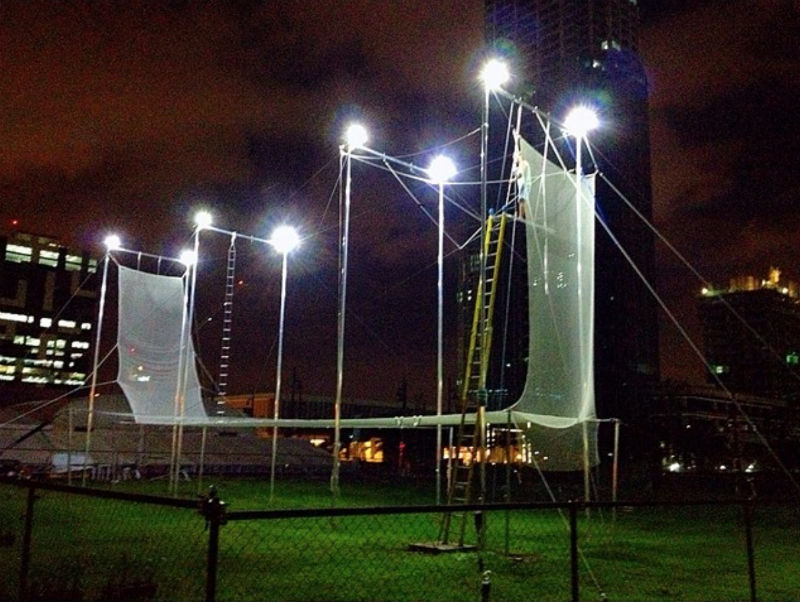 He gestures at the huge rig complete with cables and a safety net. "For people who don't want to go to they gym, we see this as a fun, exciting alternative to getting fit."
Safety first
Understandably, safety is a primary concern. Will says that all the equipment installed by FTP has been certified by trapeze governing bodies and manufactured in the United States.
Students and walk-in clients are given a lecture and demonstration and instructors are present at all times to ensure safety precautions are observed at all times.
Watch part of a safety demonstration from Will Hsu here: 
"Trapeze, like any sport, has a normal progression scale," Will says. "There are tricks that you can do as you keep at it, like double flips and catches. You're always improving."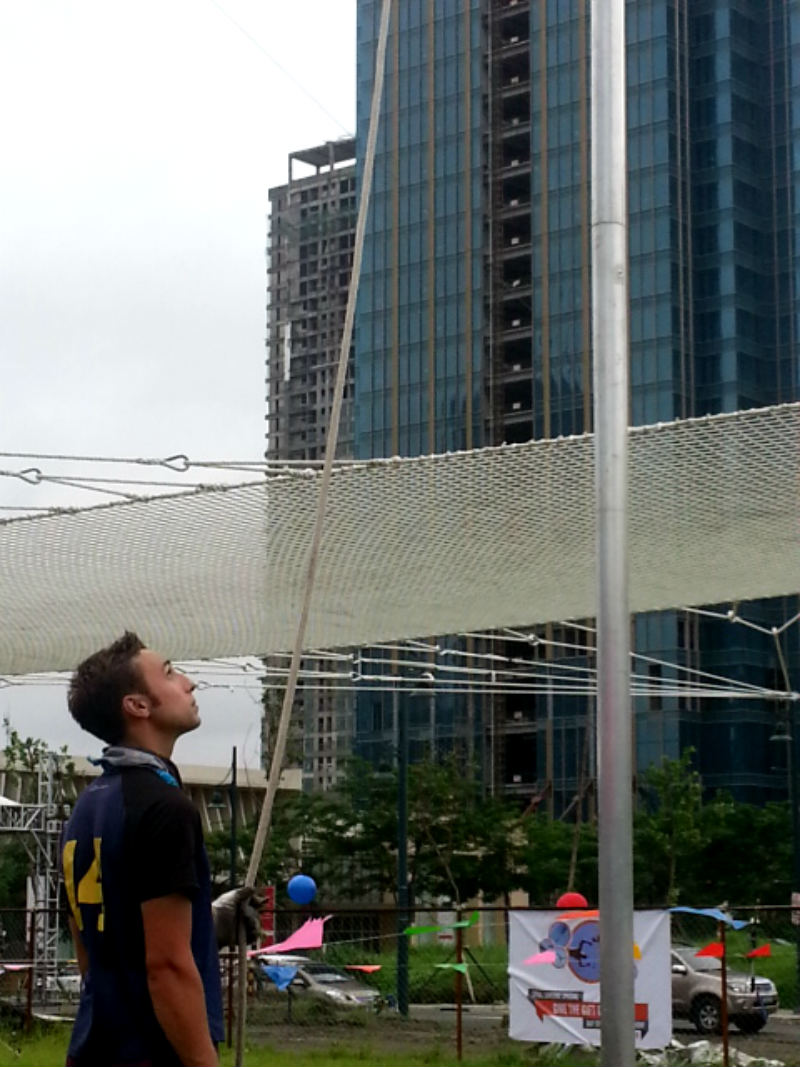 What you're in for 
When you decide to try out the trapeze for the first time, there are a few things to keep in mind. First, since the rig is out in the open, classes are weather-dependent. A light rain is fine, but if there's a heavy downpour and strong winds, instructors will not hesitate to call off the session.
Second, when it DOES rain, the area around the rig can get pretty muddy, so be prepared to get your sneakers or sandals dirty.
If you have acrophobia (fear of heights), trapeze may not be for you. Although you do have a harness, and there's a net to catch you if you ever fall, you're pretty high up so you need to prepare yourself.
The youngest person the FTP staff can allow on the swing is 6 years old ("We start them young," says Will). The oldest? Will's friend and trapeze instructor Dan Rosenzweig says, "If there's a 90-year old who thinks he can do it, then by all means! He's welcome to try."
Watch assistant Jade Lu and trapeze instructor Dan Rosenzweig demonstrate how they fly with ease and grace: 
How much?
FTP's introductory rate for walk-in clients is P200 per swing and P500 for 3 swings. They also offer classes for an introductory rate of P1000 for a two-hour session during weekdays, and P1250 for evenings and weekends.
Each class can take a maximum of 10 students so everyone gets equal swing time. During this opening period, if you avail of one class, you get a second session free.
What else?
Dan's three tips for anyone who wishes to climb up the ladder, grab on to the swing bar and give it a go:
"First, wear the proper attire. You can't wear jeans, it's too constricting. Comfortable, fit workout clothes that allow you to move freely are best."

 

"Second, stay hydrated. I've been doing this for 10 years and I always drink water before, during and after sessions."

"And third, always listen to the instructors and staff. It's really for safety more than anything else. We want you to have fun without worrying if something bad will happen to you."

 
There's a very helpful FAQ on their website, which is also where you must sign up for a class. And for more cool images and info, follow them on Twitter and Instagram @trapezeph. 
Flying Trapeze Philippines is located at Federacion Drive corner 9th Avenue, Bonifacio Global City Taguig, Philippines. For more information, call 0917-2420331, visit trapeze.ph
Thumbnail photo courtesy of Flying Trapeze Philippines 
Paul John Caña is the managing editor of Lifestyle Asia magazine and is a live music geek. Email him at pjcana@gmail.com or follow him on Twitter @pauljohncana