More reasons for a quick visit to Tagaytay
Apart from the picturesque Taal Volcano, there is another reason for the surge in popularity of Tagaytay. From a sightseeing spot, it has turned into a dining destination, thanks to the variety of food establishments that have mushroomed in that area in the recent years. 
Should you need to make a stopover for some good eats, try the following places. 
Concha's Garden Café
Richland Estate 1, Sta. Rosa Tagaytay Road, Brgy. Puting Kahoy, Silang, Cavite 
At the foot of the main thoroughfare going up to Tagaytay, a lush landscaped garden houses a quaint food establishment called Concha's Garden Café. The ambiance is warm and inviting with wooden furnishings and floral murals on the walls. It was very appropriate for this Filipino-themed restaurant that dishes up local favorites like homemade okoy and chicharon bulaklak, for starters. 
Servings are good to share so you can have your fill of familiar foods like Kapampangan-style sisig, pinakbet and homemade bangus sardines in tomato sauce. I especially liked the sardines that were literally tender to the bone. 
The café also offers an assortment of cakes, but I recommend that you go for the ensaymada instead. 
Antonio's
Purok 138, Barangay Neogan, Tagaytay City 
Known as a fine-dining restaurant, Antonio's has become a popular choice for those celebrating special occasions like anniversaries. It is definitely a place to indulge. Upon entering, you'll be awed by the quiet elegance it exudes, and the classy décor. 
Though the menu items may be on the pricey side, spoiling yourself and your loved one would be worth it there; the restaurant has been included in the Miele Guide a couple of times after all. 
I suggest that you get a set meal that includes an appetizer, entrée and dessert. The salmon dish I ordered was impeccably plated, as with the other courses, so I let my eyes eat first. Then I took my time savoring each bite along with the ambience. After the meal, walk around the area and don't forget to take pictures by the iconic red room, which is full of framed pictures. 
For first-time diners, best to make a reservation beforehand. 
Bawai's Vietnamese Kitchen
J. Hernandez St., Purok 5, Brgy. Bucal, Silang, Cavite (directionally through Tagaytay) 
If you're in the mood for international flavors, just take a short drive from Tagaytay and head to Bawai's Vietnamese Kitchen. It's situated in a rustic home, which adds more charm to the dining experience. 
To whet your appetite, order the Goi Cuon, fresh spring rolls made of noodles, shrimp, pork and vegetables wrapped in rice paper and served with special sauce. It's one of the most popular Vietnamese dishes and is a good choice for health-conscious people.
Then take your taste buds to a tasty trip by having some Curry Ga (slow-cooked chicken on a curry base garnished with coconut milk and onion slices) or Bung Tom (sautéed shrimp and garlic with lettuce, cucumber and dry noodles topped with crushed peanuts).It's not just about the pho!
I would imagine that Bawai's serves the kind of food that is cooked in a traditional Vietnamese home. It tasted pretty authentic to me. 
Bawai's has a more accessible branch in Metro Manila. 
Bag of Beans
General Emilio Aguinaldo Highway Mendez Crossing West, Tagaytay City, Tagaytay-Nasugbu Hwy, Tagaytay, Cavite 
From a simple shop, Bag of Beans has become a full-fledged restaurant that even serves a breakfast and brunch buffet. It also has a garden setting with solid slabs of wood as tables and antique wooden chairs to complement them. The lovely atmosphere is part of the experience, of course. Good thing the coffee is just as great. 
My hubby loves the barako blend while I prefer the pies there. I've tried some bestsellers like the shepherd's pie and steak and gravy and found these very filling.
There are also a la carte rice meals and an all-day breakfast menu. The best thing about it is that you can take home goodies from its shop that displays different kinds of coffee, breads, baked treats, and other items. Be sure to get a pie or two.
Sonya's Garden
Barangay Buck Estate, Alfonso, Cavite 
I believe Sonya's Garden was one of the pioneers of the garden-themed restaurants. I remember my family and I dined there when it just opened and we were all impressed by the blossoming flowers and greens around the estate.
Back then, I wasn't that excited by the restaurant's offerings, which only included salad, bread, meatless pasta, dessert and bottomless dalandan juice. The food selection wasn't much but the all-veggie feast went perfectly well with the verdant surroundings.
Fast forward to today when it has developed its menu and interiors. Diners can now get a special order of roast chicken to accompany your greens. And the place can now host wedding receptions and special occasions with special menu packages.
There's also a Country Store where you can grab some herbs, organic vegetables, and even kitschy items. Sonya's Garden has truly grown and can now even accommodate guests in its own Bed & Breakfast cottages. It's a nice place to escape, unwind and enjoy nature's beauty.
There are a lot more dining options as the food scene in Tagaytay and its nearby areas continues to evolve. So, make the drive during a weekend and go on a leisurely food trip. Bon voyage and bon appétit! – Rappler.com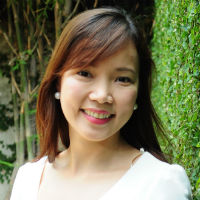 As a freelance writer and editor, Nikka Sarthou-Lainez enjoys being her own boss and having the flexibility to indulge in her other passions like food and travel. Every year, she vows to visit places she has never been to and tick them off her bucket list. She hopes to be like chef/host Anthony Bourdain someday who journeys around the world to sample different cuisines, one plate at a time. Find out more about her travel and culinary adventures and follow her on Twitter @nikkasarthou