'Mythspace' is a collection of comics that re-imagine creatures from Filipino folklore as alien races, each with its own culture and history
The JJ Abrams Star Trek reboot; the upcoming Star Wars movies; the upcoming film Jupiter Ascending; the Marvel Studios blockbuster, Guardians of the Galaxy – these days, we're seeing a resurgence of the space opera in popular science fiction.
In Studio Salimbal's upcoming Mythspace graphic anthology, the Philippines has its own spaceship parked in this corner of the genre.
Mythspace is a collection of comics that re-imagine creatures from Filipino folklore as alien races, each with its own culture and history.   
Created and written by Paolo Chikiamco, it features art by some of the best up and coming creators: Koi Carreon, Borg Sinaban, Cristina Chua, Paul Quiroga, Mico Dimagiba, and Jules Gregorio.
There are currently 5 Mythspace stories that can be read alone, but together offer a glimpse into a much grander universe. Think 'Star Wars' with kapre, mannanagal, and nunos, and you'll get the idea. 
Mythspace, however, is much more than a pastiche of existing space opera tropes: these stories delve deeply into the Filipino mythic consciousness to examine themes of cultural and racial oppression, exploitation, colonialism, family, and identity.
The art styles ranges from moody, American-inspired gritty work to anime- and manga-influenced to an almost European-inflected realism, according to the tone of the story.
First sold as individual 'ashcans' (photocopied and stapled zines), the collected Mythspace graphic novel will be released by Visprint. If you prefer digital files, however, they're also available for purchase on Gumroad, Flip Reads, and Buqo. Visit salimbalcomics.com to preview and purchase these stories. "Lift Off" volume 1 is available to read in its entirety. 
A quick guide to the worlds and stories 
"Lift Off" by Paolo Chikiamco and Koi Carreon
The flagship title of the Mythspace universe, "Lift Off" is the story of Ambrosio "Bros" Magkalas, a young Filipino searching for his family in a galaxy populated by the aliens that inspired his culture's legendary monsters. It's a galaxy where Earth is quarantined backwater, and any humans found off-planet are considered to be slaves or terrorists. 
Bros has spent most of his young life railing against the world. His parents abandoned him when he was a child, and his beloved lola (grandma) retreated into fantasies of kapre (mythical giant) guardians and alien abductions.
But now his lola is dead, and as Bros returns home for the first time in years, he's about to discover that the old woman was right all along…There are monsters out there, from worlds not our own.
"Unfurling of Wings" by Paolo Chikiamco and Borg Sinaban 
A stand-alone story which spotlights the Tan'gal race and their unique biology. The Tan'gal are based on the manananggal (man-eating monster) of Philippine folklore, known for their ability to self-segment. 
Ri-En, Books, and Zu are orphans who eke out a living in the slums of an aging space station, under the protection of their mentor, Ka-Ang. But Ka-Ang's health is deteriorating, and the three friends hatch a desperate plan to save him – one which places them on a collision course with the station's worst criminal gang, as well as one of the dreaded, immortal, Sixths.
"Humanity": Story by Paolo Chikiamco, artwork by Cristina R. Chua
The descendants of human abductees (taken from Earth centuries ago) labor as slave-miners in the asteroid fields of the materialistic Kataw.
Danny and Marta are two young miners thrust into dire straits when a stroke of good fortune leads to a calculating betrayal.
When salvation comes in the form of the legendary Dalakitnon – Free Humans – they must decide for themselves what they would give up to be free.
The Dalakitnon are one of the "elves" mentioned in Philippine folklore. Kataw is another name for the sirena/mermaid. 
"Black Mark" : Story by Paolo Chikiamco, art by Paul Quiroga
"Black Mark" features the fractious society of the crafty Nuno, where political zealots have the government in a persistent state of gridlock.
Yet legend has it that there is a faction that transcends politics: the legendary Black, a task force that is authorized to go to extreme measures to safeguard Nuno society. Helmless Mang, a pariah on his home planet, is about to find out that the Black are very real – and both more powerful and more terrible than that the stories would have you believe.
The nuno and dwende from folklore form the nuno race – the idea of different nuno types being distinguished by skin color comes from stories about the dwende. The Bungis were one-eyed giants in our folklore.
"Devourers of Light" by Paolo Chikiamco and Jules Gregorio 
The Kapres and the Laho (the reptilian race that inspired the Bakunawa legends) loathe each other.
The Laho lead an inter-species alliance to punish the Kapre for violating a galaxy-wide taboo… but when Supreme Apex Barkarilkarilmon loses his patience with the other races, the Laho take independent action – with disastrous consequences for the Kapre race.
The Laho are based on the moon-swallowing monsters from folklore, such as the Bakunawa.
"Uncommon Ground" by Paolo Chikiamco and Mico Dimagiba
Gritty crime noir. It's tough being a detective on a planet of shape-shifters. Inquest Haskra's life takes a turn for the worse when he's hired by a Laho to find a missing jewel, and prevent the onset of civil war.
But does Haskra really want to help a member of the race that destroyed his home planet?
Mythspace will be available this Friday, November 14, at the Philippine International Literary Festival, and this Saturday, November 15 at Komikon, with release in nationwide bookstores to follow very soon.
– Rappler.com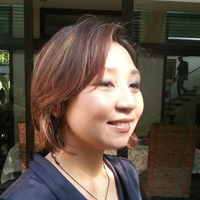 Tintin Pantoja is a freelance illustrator and instructor with a BFA in Cartooning and Illustration from the School of Visual Arts in New York City. She teaches a comics-making class for aspiring creators at the child and adult level. Find out more atComicSchoolManila.com or via Facebook