How can you get along with someone you'd rather push off a cliff? 5 tips
MANILA, Philippines – So, you've landed your dream job. You love your work, and you have colleagues who make you laugh every day. Everything seems to be perfect except for one thing—you hate your boss.
He gets too emotional when you don't hit your sales targets. He micromanages you as he checks your time-in and time-out. He takes things personally when you don't use the font size he prescribes for presentations. Sounds familiar and frustrating, right?
The success of your career should never be hindered by a boss whom you never asked for. But you need to to put up with him while you work under his rules.
It is easier said than done: how can you get along with someone you'd rather push off a cliff?
Here are some tips and tactics on how to love the boss that you hate – or at least work with him. 
---
More from Jonathan Yabut: 
1. Know your boss well 
Your company has a good reason for investing in those team building sessions at beach resorts: personal bonds promote professional trust.
Have you personally bonded with your boss lately? Don't be one of those employees who don't know their boss because they put him on an unreachable pedestal. Scared to reach closer, they fall into the trap of assuming instead. The vicious cycle never ends.
Maybe your boss's temper is mistaken for his passion for work? Maybe he's an introvert and prefers people to approach him instead? Spend more time with your boss and take cues if he's open to eating lunch with you or going out for drinks after work.
Those personal bonds that you form will enable both of you to be compassionate (or should I say, forgiving) with each other at work. The more you know your boss, the more predictable and manageable he will be. In the corporate world, predictability of just about anything is priceless. 
2. Find one genuine reason to like your boss, and focus on it
I once had a work colleague whom I disliked and ignored because she believed in using shortcuts that compromised output quality.
That relationship changed one day when I found out two things about her: we are both big fans of House of Cards and have this fascination with traveling to North Korea one day. This stirred my interest about the person and saw her in a different light. "Maybe she's not that bad after all," I told myself.
I focused on the good things and months later, I discovered more. I found out that she also had a talent in spreadsheets ("vlookup" function anyone?) which she happily shared with me. I would have regretted my snobbish attitude have I dismissed this colleague too easily.  
This experience should be no different with your boss. Some bosses may be bad managers (e.g. they lack leadership experience, or they lack strategy), but that doesn't conclude that they're also bad people.
In most cases, there is always one redeeming factor that can inch your way to liking a person.
Focus on that one small thing, cultivate it, and leverage on it until you finally get to accept your boss despite the bad things you hate him for.     
3. Look yourself in the mirror
Have you ever considered that the problem may be you, and not your boss? It's easier to change yourself than someone else, so altering your own mindset might just do the trick. Try asking yourself the following questions: 
Am I irritated by my boss because he reminds me of someone I don't like (a university professor or an ex-girlfriend from my past?)
Am I associating my boss with a group of people I frown upon? (is he  representing a religion, philosophy, gender, or lifestyle preference that I feel uncomfortable with?)
Am I concerned that I might end up like my boss?  

 
When you have successfully identified your bias against your boss, you may soon realize that not everyone in your team reacts the same way that you do. Perhaps you think his ideas are wrong because you have judged his lifestyle which has nothing to do with his job proficiency.
Be fair and remind yourself that you are not the center of the universe. Be more open-minded and go easy on your boss next time. He's only doing his job, and you should too. 
4. Believe that a bad boss can make you better
When I can't find any reason to respect my boss, I always fall back to the most practical reminder: a bad boss can always get the best out of you.
He will test your patience. He will drive you nuts to beat the most impossible deadlines. He will probably influence you to step on other people just to get a project done. But remember that what doesn't kill you only makes you stronger.
A year with a bad boss will sharpen you to the extreme: improved social skills in dealing with hard-headed people and self-awareness that will propel your EQ (emotional intelligence) a few notches up.
These soft skills are indispensable especially when you decide to move out to a new organization. Some of us may have endured the worst boss at an early age, but most of us have yet to face The Evil One in the future. Your current boss might just be preparing you for the worst that is yet to come. 
Finally, learn to love a bad boss for he has personally demonstrated to you what bad leadership is.
Indeed, people only realize the things that they like after experiencing the things they don't like. Allow it to stick out like a sore thumb and list down the lessons you can gather from your bad boss. Love him for these if you can't love him for who he is.   
5. Be brave and speak up. 
The last but riskiest solution is to share your thoughts and feelings with your boss. Opening up and telling him that your relationship is affecting your performance may reveal the true causes of your problem. In your discussion, settle these questions:
Have you clearly stated expectations about each other at the start of the year?
Try: "I feel motivated to be at my best when I know that my boss is also my mentor. I aspire to be better in presenting pitches and I hope you expose me to more projects like these."
Are your key deliverables doable, concrete and measurable?
Try: "When exactly do you need this to be accomplished? I need to know as early as now so I can manage the rest of the tasks you've given me."
What style of working do both of you have, and where can you come in between?
Try: "When I feel that I am already in control of a  project, do you still prefer to be copied in all e-mails? Or is it ok if I update you casually from time to time about its progress?
When all else fails
When the above suggestions still fail (it happens), be prepared with a backup plan. The passive solution is to outlast a boss who is expected to leave, be moved to a different team, or will be fired anyway. It usually takes 6 to 12 months for any organization to move its people around with new roles or reporting lines.
If you are happy with your company but not with your boss, waiting for a while may be a good option.
You can also escalate the matter to a higher authority if the issue cannot wait anymore: talk to your HR business partner or to the manager your boss reports too. If your colleagues share the same concerns about your boss, invite them to back up your case.
Moreover, keep the problem as an office concern. Avoid ranting about it on social media. Neither should you also back stab your boss in front of colleagues.
It will only hurt you more, giving the impression that you cannot be professional enough to confront your own boss. 
The worst thing to do is to ignore the problem and stay silent. Remember that the corporate world is a political space—no matter how smart or hardworking you are, only those who speak up or seek help to speak up will get what they need and want.
It always takes two to tango, and dealing with your boss should never be a one-way street. May you soon spread the love! – Rappler.com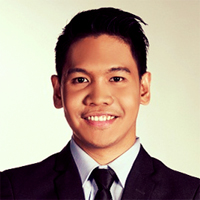 Jonathan Yabut is the winner of the hit reality business TV show, The Apprentice Asia, and was popularly known in the show for his people skills, leadership and passionate speeches in the "boardroom." He is currently based in Kuala Lumpur as the Chief of Staff of AirAsia reporting to Malaysian business mogul, Tony Fernandes. Apart from work, he engages in motivational talks about youth, leadership and entrepreneurship across Southeast Asia and is represented by the London Speaker Bureau. He recently launched his book about his journey to becoming the first Asian Apprentice, From Grit to Great. Visit his website at jonathanyabut.com