Pray while taking a virtual tour of the Santa Monica Church in Sarrat, Ilocos Norte
Second Station of the Cross
JESUS TAKES UP HIS CROSS
V/. We adore you, O Christ, and we bless you
R/. Because by your holy cross you have redeemed the world
A reading from the Holy Gospel according to John:
"When the chief priests and the officers saw him, they cried out, 'Crucify him, crucify him!' Pilate said to them, 'Take him yourselves and crucify him, for I find no crime in him.' The Jews answered him, 'We have a law, and by that law he ought to die, because he has made himself the Son of God.' (…)
"Then (Pilate) handed him over to them to be crucified. So they took Jesus, and he went out, bearing his cross, to the place called the place of the skull, which is called in Hebrew Golgotha." (Jn 19: 6-7, 16-17)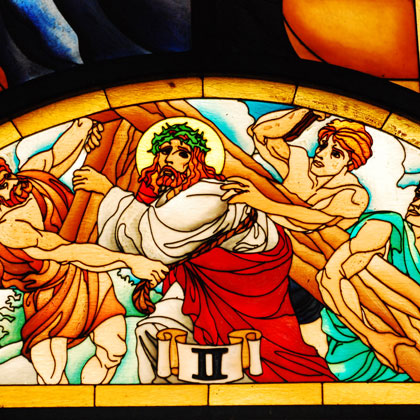 Points for reflection:
Pilate's giving in to the crowd's unjust demand leads to Jesus' death.
Some of our decisions also lead to other people's misfortune. Whose lives do we affect – for better or for worse – whenever we make decisions?
Let us pray for the grace not to remain blind "to the outstretched hand of the poor and needy, which begs for a hearing and asks for help."
Reflections adapted from a Way of the Cross version posted by the Vatican's Office for the Liturgical Celebrations of the Supreme Pontiff, as written by Sr Maria Rita Piccione, OSA, president of the Our Lady of Good Counsel Federation of Augustinian Monasteries in Italy.
* Instrumental music from the "Vespers" album series courtesy of Jesuit Music Ministry/Jesuit Communications Foundation Inc.
** 360-degree photo of the Santa Monica Church in Sarrat, Ilocos Norte by Fung Yu.
*** Photos of stained glass windows featuring various stations of the cross by Hubert Pacheco, taken at the Shrine of St Therese of the Child Jesus, Pasay City.
Previous Station | Return to Holy Week Online | Next Station

Note: For the full experience, your device / computer should be enabled to support Flash.