Pray while taking a virtual tour of the Carcar Church in Cebu
Thirteenth Station of the Cross 
JESUS IS TAKEN DOWN FROM THE CROSS AND GIVEN TO HIS MOTHER
V/. We adore you, O Christ, and we bless you.
R/. Because by your holy cross you have redeemed the world.
From the Holy Gospel according to John:
"The soldiers came and broke the legs of the first, and of the other who had been crucified with him; but when they came to Jesus and saw that he was already dead, they did not break his legs. But one of the soldiers pierced his side with a spear, and at once there came out blood and water. He who saw it has borne witness – his testimony is true, and he knows that he tells the truth – that you also may believe. After this Joseph of Arimathea, who was a disciple of Jesus, but secretly, for fear of the Jews, asked Pilate that he might take away the body of Jesus, and Pilate gave him leave. So he came and took away his body." (Jn 19: 32-35, 38)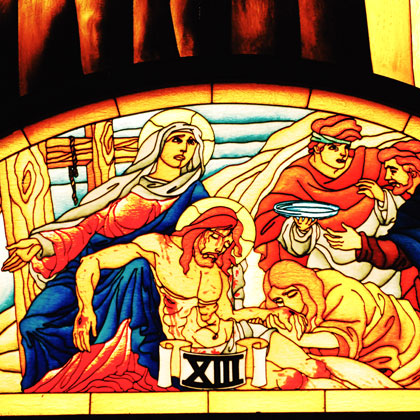 Points for reflection:
Embracing Jesus who was taken down from the cross, Mary shows an example of "devotion to the 'yes' of love," surrender, acceptance, trust, practical concern, and a tender heart.
What circumstances invite us to exhibit the same virtues?
Let us pray for the Holy Spirit's guidance, as the Holy Spirit guided Mary, "by the radiant gratuity of the love 'poured forth from God into our hearts by the gift of (his) presence!'"
Reflections adapted from the latest Way of the Cross version posted by the Vatican's Office for the Liturgical Celebrations of the Supreme Pontiff, as written by Sr Maria Rita Piccione, OSA, president of the Our Lady of Good Counsel Federation of Augustinian Monasteries in Italy.
* Instrumental music from the "Vespers" album series courtesy of Jesuit Music Ministry/Jesuit Communications Foundation Inc.
** 360-degree photo of the Carcar Church (also known as St. Catherine's Church) in Cebu by Fung Yu.
*** Photos of stained glass windows featuring various stations of the cross by Hubert Pacheco, taken at the Shrine of St Therese of the Child Jesus, Pasay City.
Previous Station | Return to Holy Week Online | Next Station

Note: For the full experience, your device / computer should be enabled to support Flash.