Pray while taking a virtual tour of the Church of San Isidro Labrador in Lazi, Siquijor
Fourteenth Station of the Cross
JESUS IS PLACED IN THE TOMB
V/. We adore you, O Christ, and we bless you.
R/. Because by your holy cross you have redeemed the world.
A reading from the Holy Gospel according to John:
"They took the body of Jesus, and bound it in linen cloths with the spices, as is the burial custom of the Jews. Now in the place where he was crucified there was a garden, and in the garden there was a new tomb where no one had ever been laid. So because of the Jewish day of Preparation, as the tomb was close at hand, they laid Jesus there." (Jn 19: 40-42)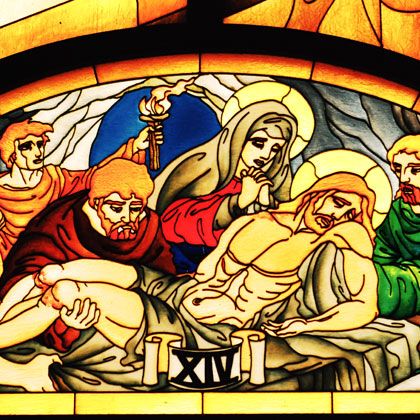 Points for reflection:
Jesus' burial "is the hour of faith, which waits silently, and of hope, which already sees on the withered branch a tiny bud, the promise of salvation and joy."
When was the last moment that felt like a point of no return? How did you feel God's presence, or absence?
Let us thank God and pray for the gift of hope, for us and those who need it most.
Glory be to the Father, and to the Son, and to the Holy Spirit, as it was in the beginning, is now, and will be forever. Amen.
Reflections adapted from a Way of the Cross version posted by the Vatican's Office for the Liturgical Celebrations of the Supreme Pontiff, as written by Sr Maria Rita Piccione, OSA, president of the Our Lady of Good Counsel Federation of Augustinian Monasteries in Italy.
* Instrumental music from the "Vespers" album series courtesy of Jesuit Music Ministry/Jesuit Communications Foundation Inc.
** 360-degree photo of the Church of San Isidro Labrador in Lazi, Siquijor by Fung Yu.
*** Photos of stained glass windows featuring various stations of the cross by Hubert Pacheco, taken at the Shrine of St Therese of the Child Jesus, Pasay City.
Previous Station | Return to Holy Week Online

Note: For the full experience, your device / computer should be enabled to support Flash.