Internationally acclaimed LED artist Teddy Lo unites art and technology
MANILA, Philippines – It's natural for humans to stand in awe at the display of lighting wonders. Whether they originate from nature, like constellations and sunsets, or are a manmade creation such as fireworks and festival shows—we are undoubtedly attracted to the beauty of light. 
Teddy Lo knows this attraction all too well. "The visible and invisible electro-magnetic spectrum is all around us since the beginning of time and it's a form of energy, so humans have an innate feeling towards lighting in general."
Teddy is a notable artist who has been creating "tech-art" masterpieces through light emitting diodes (LEDs) for the past 10 years. While his medium is modern and artistic, his philosophies are time-tested to what captures the attention of the human eye.
"Color creates different emotions in people so when they are sequenced in a rhythm of hue, it will usually mesmerize the passersby," he explains. 
Eco Conscious Concerns
While studying advertising at the Art Center College of Design in California, Teddy stumbled upon LED lights while looking for a unique material for his art project.
"Initially, I found that LED is very compact, it can be fitted in many different industrial designs, it can also project millions of color through data control but the most important aspect of it is that it is an environmental alternative for lighting." 
Watch his talk here:
While lighting is known for its high-energy consumption, Teddy conveys his eco-conscious concerns, "I can inspire others with beautiful things with this new, unfamiliar medium, and green technology to the public," he says.
"One of the biggest problems in the world now is energy shortage. It needs sustainable innovations to minimize energy usage for [an] ever-increasing population and its habitats on this planet now."
Global Art Projects
After graduating from art school, Teddy moved to New York to work as an art director for an advertising agency. At the same time, he worked on his very first LED exhibit called "Morphology" that was launched in 2003. This exhibit opened the door for Teddy to pursue a career in LED design.
"Since 2004, I have been focused in developing LED light art works and designs with multi-discipline platforms: sculpture, motion graphics, interactive designs, installations, performance arts, industrial designs, etc." 
Now based in Hong Kong, Teddy's work has already appeared in several prominent venues in North America, Europe and Asia. He has showcased at the Luminale in Frankfurt, Hong Kong Museum of Art, Miami Art Basel, Marina Bay Sands in Singapore, and the Burning Man Festival in the Nevada desert.
"My proudest moment was when I found out my lighting design won the bid of the tallest building in China, The Shanghai Tower," he says.
Watch:
Another surreal experience was at Russell Simmon's Art For Life charity event in the Hamptons. "Russell gave me a large mansion with pool to live with my crew and before you knew it, I was performing the visual arts presentation to Alicia Keys, Mos Def, P. Diddy and others in the seated crowd…Oh yes, my folks were there too!"  
From Concept to Creation
While the design accolades, celebrity fans, and surreal experiences keep pouring in, Teddy stays focused on a fundamental lesson he brought from art school to the art world. "Concept is the core of everything. If the creative concept is mediocre, even the best execution will make it mediocre at best." 
This ethos directly affects his production time due to his intense research period. "I would go through everything that I can find about the subject and then create a mind map on all the possibilities before I land on an interesting creative concept. Once I have found a potential project, I start to explore its form, function, personality and appearance." 
Because of the 3-dimensional aspect of his art, Teddy also spends time planning how his piece will be constructed.
"I would do many sketches before I start to select and finalize all the technology, such as Fiber optics, sensors etc, and design elements, like the Metal frame, inflatable balloon, that goes with it.  After the mechanical and electrical engineering integrations, we will then program it and finesse it with art direction to make it perfect." 
It's a lengthy and thorough process that Teddy thrives in. "Just like many great art pieces, it takes a long time to accomplish but the process is always the most important and enjoyable part," he says.
"I am not from computer science or programming background so it takes me a while to grasp the concept of coding. Being able to work with master programmer like Joshua Goldberg has taught me many aspects of how programming can be written and utilized." 
Uniting Art & Technology
This union of art and technology is what makes LED art a darling in the new media art scene. It not only requires an aesthetically beautiful facade, but also entails the use of science to allow the structure to come to life. It is painstakingly detailed, with proper design required from inner coding to outer LED coating. 
Teddy has managed to tie his passion for LED design to his roots in advertising. His creative lighting and media design studio, LEDARTIST, offers LED lighting design, consultation, art direction, and provides actual LED art out of its offices in Hong Kong, Shanghai and New York. 
Teddy also started Input/Output, a media art consultancy and gallery space. They manage various artists, organize and curate exhibits, as well as introduce the new media arts to the Hong Kong public through seminars and talks on contemporary art news.
The Bright Future
Recently, Teddy has been finishing the last stages of his book, Planet LED. "It's a book project that I have started more than 5 years ago …. It's a coffee table style book about LEDs discovery, technical aspects and influence in visual culture and new functionality with electromagnetic spectrum," he explains.
Yet the most head-turning project will be his first solo art show in 2014 in Hong Kong. "It's my debut solo show in my own town so I am putting all my efforts into it."
Only on his 10th year in his career, Teddy has so much more he would like to achieve "My philosophy is always trying to create something new. A new form, a new medium, an interactive code, a new technique etc."
"It is because making art is about inspirations, self -challenges, discoveries and trainings. If I cheat in the process and start to do sell-out work I might as well stop," he says. "I will keep focusing on making more LED art and designs to help save the world through creativity." – Rappler.com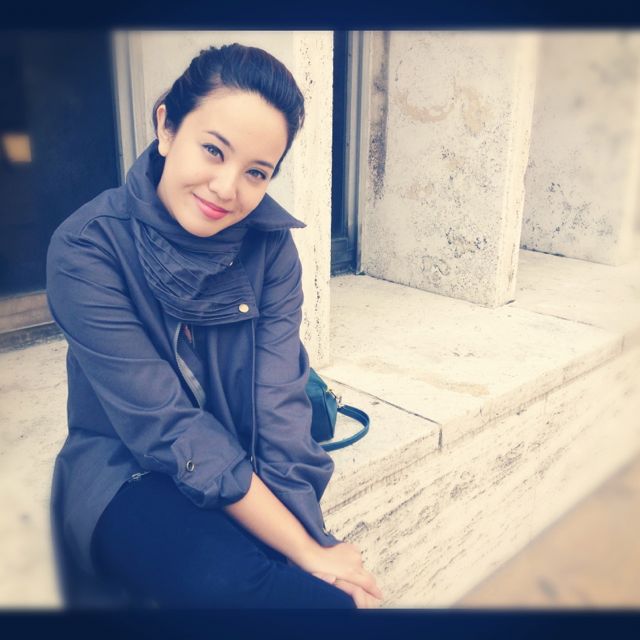 Victoria Herrera is a TV and event host, model, and writer. In 2011, she released her first book, "Unscripted," based on inspiring conversations on her previous radio show. In 2012, she hosted Runway TV Asia where she interviewed international fashion designers and celebrities. Currently based between Manila and Singapore, she continues to explore the world of creativity, design, and fashion as a contributor for several magazines and newspapers.