In the following Q&A, Andren shares his experience chasing his dream, the anxieties behind creating a solo show, and what the Filipino comedy scene is like now
MANILA, Philippines – It's a classic Pinoy conundrum: to fulfill your parents' wishes, you worked your butt off to become a registered nurse, but there is a nagging – deep in your heart – that there is something else you'd rather be doing. At 25 years old, Andren John Bernardo was caught right in this dilemma, but unlike most Filipinos, the path he'd much rather tread was trickier than usual: the life of a stand-up comedian.
Despite the odds and the judgment of his relatives, however, Andren took the plunge, and at 33 will soon be headlining his first live comedy special, Dirty Minutes, on February 22 at Mow's, Quezon City.
In the following Q&A, Andren shares his experience chasing his dream, the anxieties behind creating a solo show, and what the Filipino comedy scene is like now.
How did you first get into stand-up comedy? What drove you to actually take the stage yourself?
I was riding on a bus on the way to Baguio for a high school retreat. And somehow someone put a Pork Chop Duo comedy special on the VCD player. They were so dirty and inappropriate, but some of the nuns were laughing. And pretty much everyone started laughing and it fucking ruled. That's when I started falling in love with stand-up comedy.
[I decided to take the stage myself because] I was getting up there in age. I had just turned 25 and thought, if don't start doing this, it might be too late.
You were a registered nurse prior to doing stand-up. How did your friends and family react to your decision to stop nursing and be a comic?
Not very well. Most of my family members and relatives are doctors and nurses. My family was too perfect; it needed a black sheep! So I quit nursing and did comedy! My family probably thought it was a phase that I would grow out of. But here I am doing it for close to eight years now. Sorry, family members.
My friends also thought I was crazy for doing this. Eight years later, they still think I'm crazy for doing this – but with older voices.
Do you remember your first ever time doing stand-up? What was it like?
My first, first time was at a local gay bar in Pangasinan, and I ate shit. They were nice to me, though.
My first time doing an actual open mic in Manila went much better. I took a six-hour bus ride from Pangasinan to Makati and went to this restaurant named Bistro Alphonso (I'd have to go back round-trip since I didn't have a place in Manila at the time; I'd do this for months at a time before I could commit to moving).
Bistro Alphonso was one of the earliest Comedy Manila open mics. It had a karaoke area in the back, and the open mic would happen all while people were smoking and singing. So, I performed stand-up while hearing an admittedly sick rendition of "Careless Whisper" sung by a drunken dude.
It sucked. No one laughed and I embarrassed myself, but I loved it! Because I got to do the thing that I was most obsessed about. And the feeling of actually doing it is still ingrained in my brain.
You use your depression, alcoholism, and suicidal thoughts in your comedy. Does turning your issues into jokes help you psychologically?
Yes! It's probably healthier to go back to therapy, but it makes me feel less alone when someone laughs at "dark humor." Like, I fucking got that out of you. There's no better feeling.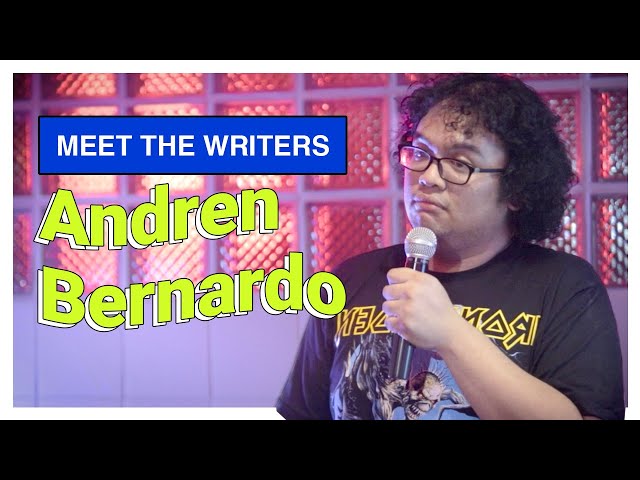 In connection, how would you describe your writing process?
I write everyday. It trains my brain to actually focus. Because among other diseases, I also have ADHD. Hahahahah.
You also do comedy skits with your group Solid OK. What's the most important thing you've learned trying to translate comedy to a video narrative format?
That writing is very difficult. The worst part of writing is the actual writing. Thinking of the cool shit is the fun part. The technical aspects of writing is a process I had to get used to. That's why my coworkers at SOLID OK are the best, because we all help each other and we know all of our strengths and weaknesses. We're like overweight, sad Avengers.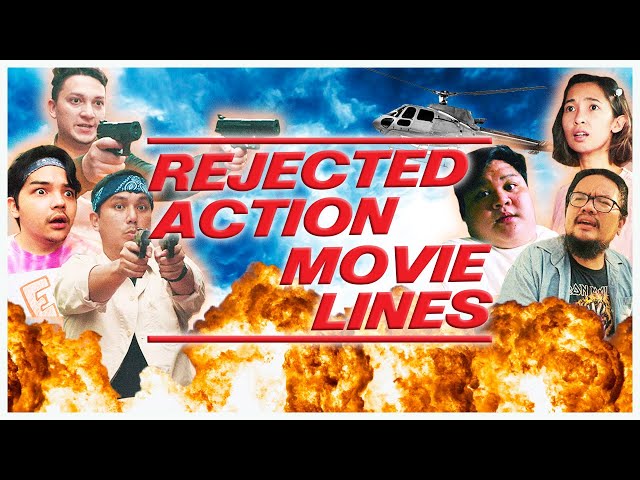 How would you describe the Philippine stand-up comedy scene? How would you describe Filipino humor in general?
It's super great! With different comedy groups, it has evolved into something where you can actually have a lot of venues to perform with a willing and listening audience. But we as a scene can do better! Like stand-up being sustainable to be able to make it a full-time job, local comedians with Netflix specials, sponsorships, TV spots!
Pinoys are the funniest people on earth. We are the meanest and funniest when it comes to making fun of others. We are so self-deprecating and hilarious because misery is in our blood. I will say this though: Sana hindi lang tayo pikon.
Dirty Minutes is your first 45-minute show. Tell us more about it.
A lot of comedians said that I could already do an hour. So basically this is my first step in doing that actual hour of material. It's called Dirty Minutes because it's the exact amount of cool and silly for a name.
Dirty Minutes was conceived through years of testing material at different bars and theaters in the metro. I was always labeled as a "dirty" comedian even though I just did what I found funny. In a way, it's my reflection of what people saw in me, and a good play on words. Because everyone loves puns.
It took me three years to make this special. Writing every day, even during the pandemic. I'm an introvert at heart so I get and write material from the information super highway or the Interweb, as the kids say.
Stand-up is forever evolving, so I removed some jokes from this special because I feel like some of my new material trumps some of my old jokes. It's a super fun process of mixing, matching, and removing jokes. Making the show tighter and more fun in the end – like a jigsaw puzzle, but with jokes about alcoholism and depression.
Here were some of the options for the show and the poster that DIDN'T make the cut:
1. Pearless ng Silanganan. Tapos may crown of mics ako sa ulo ko.
2. Don Parusa. It's me in Mafia regalia with the Parental Advisory sticker sa bibig ko.
3. Happily Ever Laughter. Me in a sleeping beauty pose while being kissed by a clown skeleton.
How do you feel in the weeks leading up to your performance?
The weeks leading to this show have been anxiety-inducing. I wake up questioning why I keep doing this, hating myself and my disease- and acne-riddled body. But it's counteracted by me being OBSESSED with stand-up and loving this business and the people in it.
Tell us more about your fellow comics also taking the stage for Dirty Minutes – Gold Dagal, Leland Lim, and Josel Nicolas.
These guys rule and they probably get tons of babes because of they're super funny, fucked up, and sexy. I picked them because I wanted to showcase a different, darker flair in stand-up.
Gold is a comedian's comedian. He is probably the darkest comic working today in the local scene, and people have walked out on his sets, and once someone threatened to sue the guy after being offended to such a great degree. But why I put him in the line-up is the dude's funny, and he writes like he sold his soul to Satan. He has concise, well-written jokes delivered in this deliberate, almost oil-like manner. He builds the tension up with the most uncomfortable, un-politically correct topics, and the room becomes hyper charged with this terrible energy of "oh fuck." I haven't seen anyone do that in the local scene to this degree. It's like an Anthony Jeselnik who drank a bottle of Robitussin and grew up in Pasig. We are taught to do tight sets, and not let any silence linger, but Gold milks the crowd, playing their emotions like a violin. There are many flavors of laughter, and if someone likes Gold, that means they like comedy and want to see the deeper, more uncomfortable places it can go.
Leland's jokes are as sharp as his jawline. Dude's funny and charming. He's been doing this super interesting thing, experimenting with a more story-focused, longer form set wherein he talks about the time Ely Buendia blocked him on Twitter. It gets so many laughs, and you can really tell the audience is engaged. Oftentimes people mistake stand-up comedy for being funny stories told to you, but they really are jokes told in story form. I can't tell you the number of times a new open micer goes up onstage and tells a gross story they think will land and they just bomb. It's not that the story isn't funny, but you have to follow a structure, because comedy is about letting people know when it's okay to laugh. So a lot of the guys I get are comedians who are tight, and are more writing-oriented, which Leland is, but he also backs it up with the jock "basketball na lang tayo" energy that is infectious.
Josel Nicolas is my roommate, and he's done this longer than I have. He started around two years before me and he was that edgy idiot doing dumb shit onstage, making me go, "Who is this for?" He's been doing it on and off, and has only been consistent this past year. It's a medium borne out of failure, and Josel's failed a lot. And that's not a slight on him; I like comedians who go all out. I know he came from the local comics scene, but he really fought against doing any drawing onstage, but now he's doing this Dmitri Martin schtick, but if Dmitri Martin did a lot of anti-Marcos and Duterte art for the Left and was embittered for the past 16 years doing comics that no one wanted. He introduced me to weird hole-in-the-wall bars, where I did sets for anyone, and really honed my craft. 'Cause we wanna do this in front of everyone, while understanding that not everyone is gonna like us.
Host Micah Andres is a temperamental, rich conyo kid (it's our angsty Jewish comedian equivalent in the Philippines), but ironically what he excels at is being THE best guy at crowd work. He is cantankerous and pretentious onstage and still manages to charm the crowd's pants off. He is funny as fuck; I have seen this dude kill with no material at all and works up the audience into frenzies for Mows Open Siomaic, which he's developed and run for the past six years.
What advice would you give people who want to get into stand-up in the Philippines?
I honestly don't like giving advice to starting comedians. If you feel that you want to do this, then just do it. It doesn't matter what I or anyone else says. If it's your calling then write and start looking for open mics online! – Rappler.com
Andren Bernardo's Dirty Minutes comedy special is on February 22 at Mow's, Diliman, Quezon City.