Tito Sanchez reflects on the past and muses about the future even when the future seems bleak
Meditating on a world dipped in disarray and uncertainty inspired the new work of sculptor Tito Sanchez, a set of plaster of Paris pieces which he collectively calls Distancia Amigo.
The nine disparate figures, in desultory postures that convey discomfort, exhaustion, and grief, are placed separately by the artist in unmeasured distance. As its name suggests, the piece evokes the disquieting conditions and impositions of the "new normal," interpreted by the prolific sculptor from Laguna, whose works can be found all over the archipelago, from churches to universities to municipal and city halls.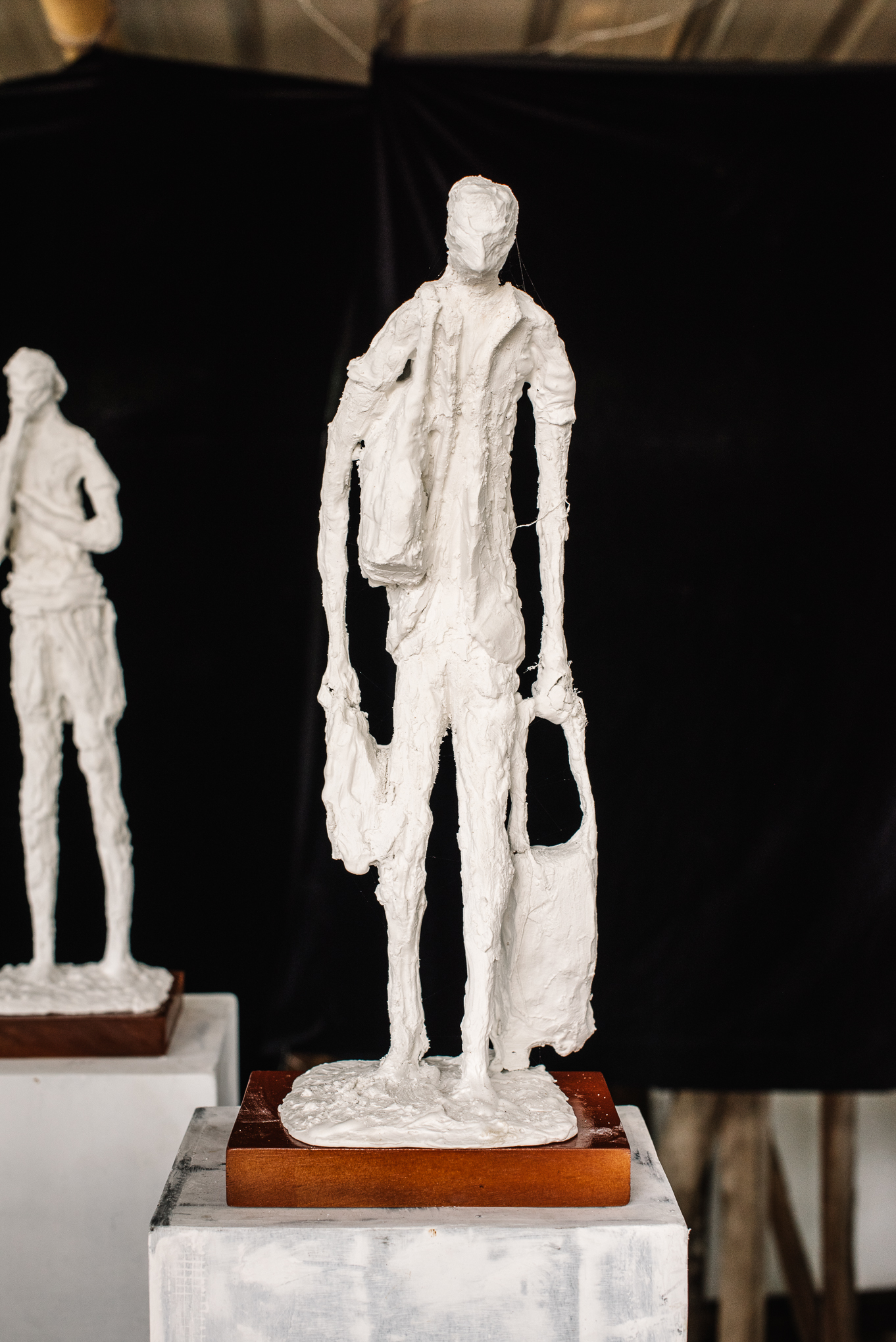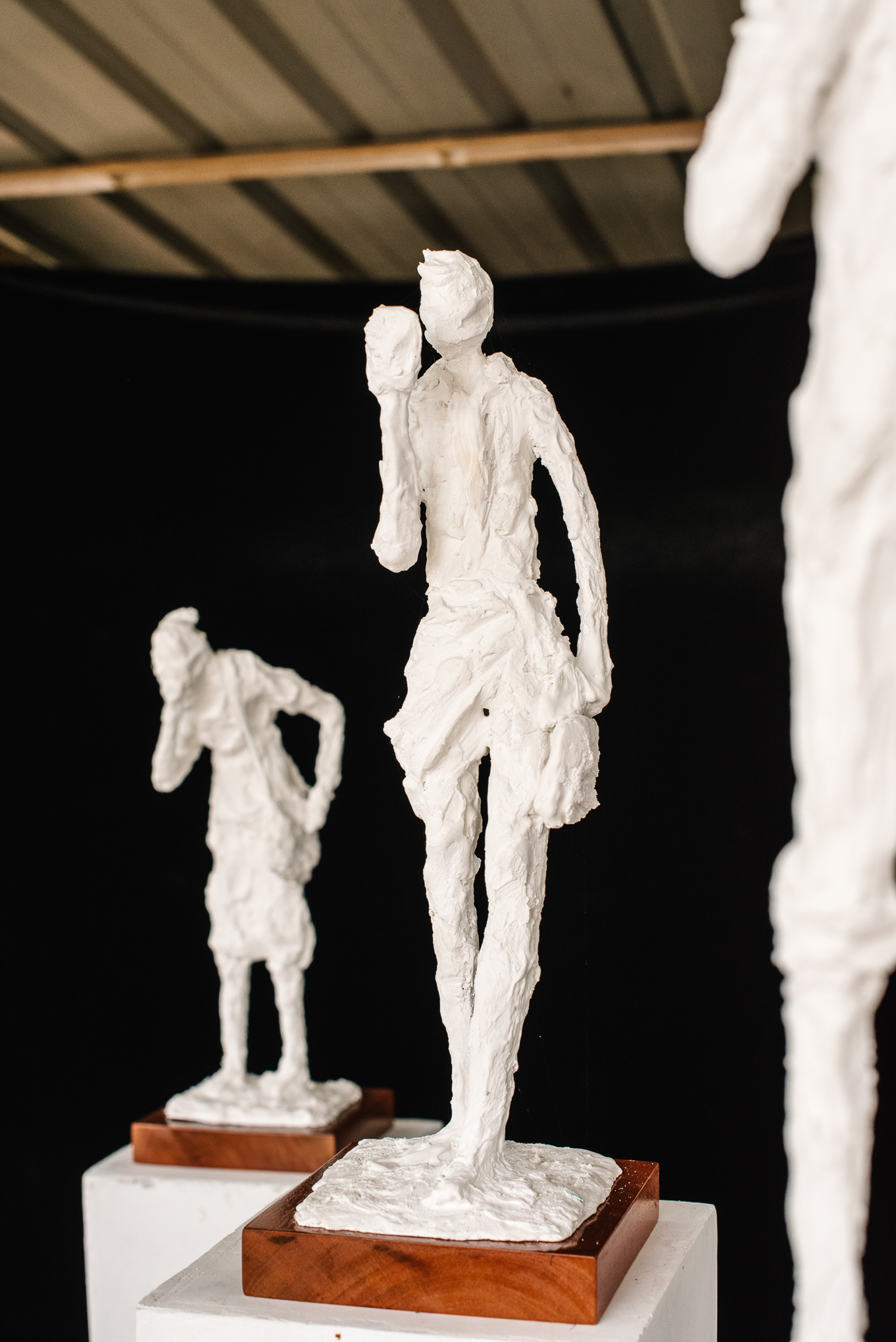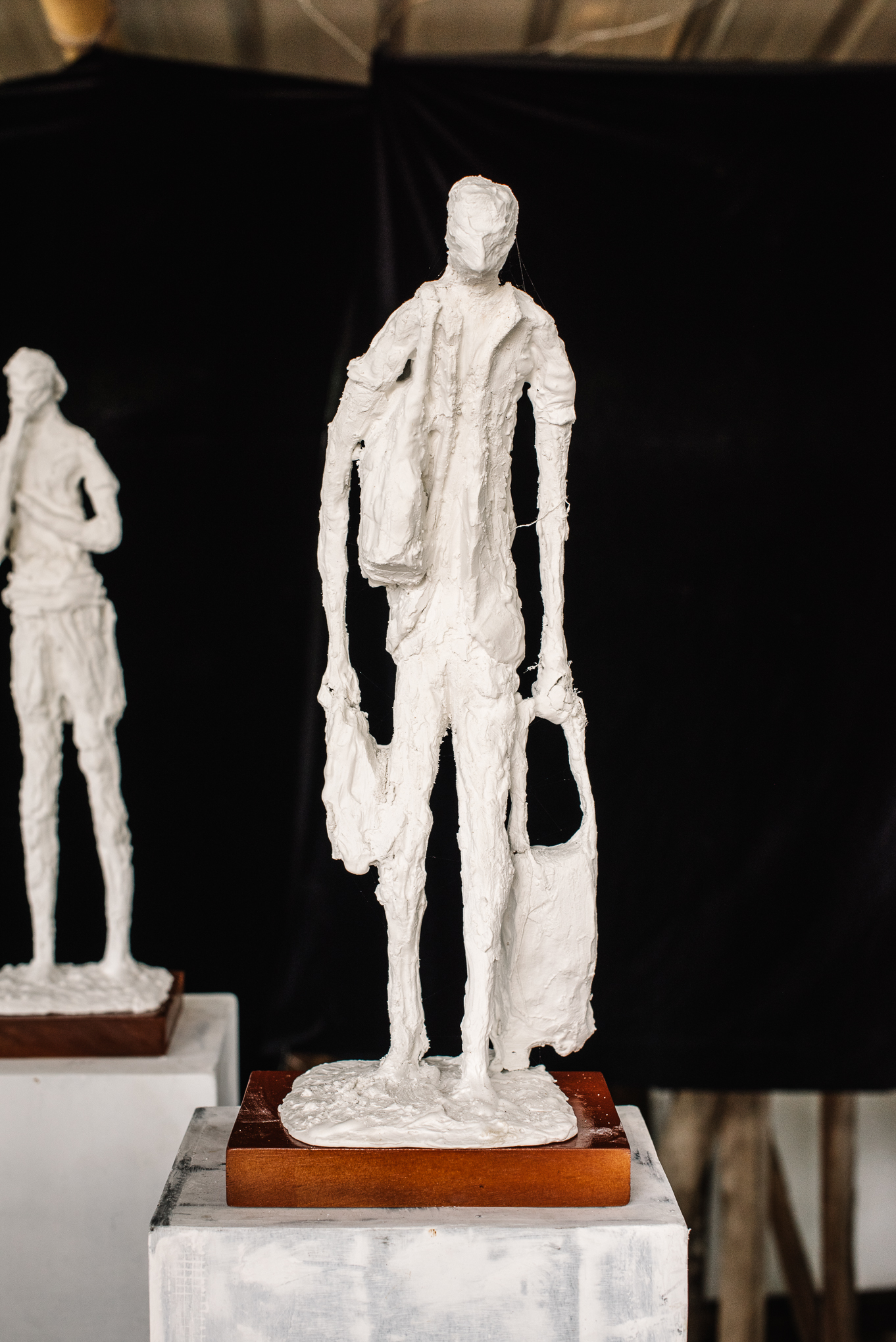 "Mahirap ngayon. Kaniya-kaniyang diskarte," he shares, mentioning the financial and practical struggles he has endured in the past few months.
(Times are hard. You need to find a way to survive.)
Many of his planned commissions were either halted or postponed, while other discussions for future projects were similarly shelved. Since the beginning of the lockdowns, galleries and museums have been closed to the public, with some switching to virtual exhibits and online viewing activities. Many artists have turned to social media platforms to showcase their work and attract new buyers and collectors.
Through Zoom, Sanchez shows his latest works-in-progress, including an oil study of tattoo artist Whang Od, occasionally sharing reflections from his decades-long, seesawing journey as a Filipino artist. On his wall background hangs his own portrait sketch drawn by his friend, National Artist Benedicto Cabrera.
In this entire ordeal, memories of fortuitous encounters and happy days with friends give him comfort, an effective slice of consolation amidst the chaos of the times. "Nagpapasalamat ako kay Lord dahil lahat ng taong magagaling pinakilala sa 'kin."
(I thank the Lord because he allowed me to meet very talented people.)
Mabini Street spectator
It was during his boyhood when Sanchez first learned and observed the process of making art. His father, a government employee, would bring him to Manila and let him wander along Mabini Street, a haven for painters known for their conservative, realist predilection. It was those same styles and techniques that he'd imitate and study on his own, spending hours in his room, honing his skills and cultivating habits that would become permanent features of his life.
"Halos nakakulong lang ako sa kuwarto noon (I spent almost all of my time in my room)," he remembers. He took painting jobs to support his ambition while completing personal projects that he would submit as entries to local and international competitions.
Soon, he was earning recognition, winning prizes, and eventually drawing the attention of other artists, including National Artist Napoleon Abueva, who encouraged the young painter to apply to the UP Fine Arts program. Inspired by Abueva, he took and passed the artistic aptitude exam, gaining admission to the state university.
Diliman in the 1970s was exciting for Sanchez, who enjoyed the classes and workshops and thrived in the intellectually-challenging atmosphere offered by the university. There, he acquired knowledge of artistic traditions and styles, built and developed his own arsenal of techniques, and conversed and learned from his brilliant classmates and teachers whom he found inspiring. "Mapipilitan kang maging productive, at ang daming project!"
(You had no choice but to be productive since there were so many projects!)
Like all working students, he struggled to make ends meet, recalling that he possessed almost nothing back then, not even clothes, which he sometimes borrowed to wear to school. "Palitan, dalawang beses sa isang linggo (Id switch them out, twice a week)," he recalled.
To aid his studies, Abueva introduced him to some close friends, including painter Araceli Limcaco Dans and well-to-do matriarchs like Teresa Villegas Daza, Connie Reyes, and Virginia Ozaeta, all of whom contributed funds to support the education of the aspiring painter.
"Pakiramdam ko, kumpletong kumpleto ako (I felt complete)," he says, remembering with the utmost gratitude the kindness and generosity of his patrons. In them, he found motherlike figures who treated him like their own son, and whose support extended to include funding his special projects and entries to competitions.
His teachers, too, became generous and inspiring mentors, like Roberto Chabet who constantly reminded him to seek and express his own style. In fact, it was also Chabet who suggested that Sanchez attempt to work on sculpture exclusively, and play with different materials, and experiment on molding, carving, and casting techniques.
Caedo's apprentice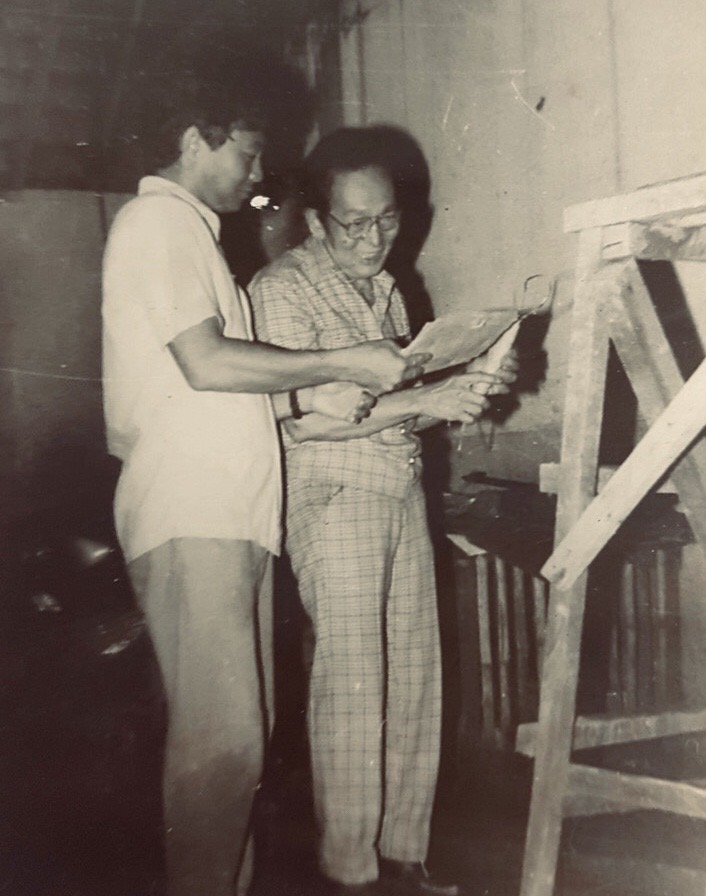 Deciding to concentrate on sculpture as his main preoccupation, he found opportunities to assist in the workshops of prominent artists, including Abueva, who was also his teacher in UP, Manny Casal, and later, Anastacio Caedo, one of the foremost Filipino sculptors of the last century, who trained as a student and apprentice of Guillermo Tolentino.
Some of his notable works include MacArthur's Landing in Leyte, Rajah Sulayman at the UP Vargas Museum, Sacred Heart of Jesus at the Church of the Gesu, at the Ateneo de Manila campus, and numerous statues and monuments of historical figures like José Rizal, Juan Luna, and Emilio Aguinaldo.
"Lumayo ka. Tingnan mo. Anong nakikita mo (Move away and look at it. What do you see)?" Caedo would tell him, holding a telescope to scrutinize even the tiniest details in figures of various sizes.
A demanding craftsman, Caedo sought precision and authentic representation, especially in the corporeal features of his sculptures. "Susubukan ka niya, kung kaya mo, kung matiyaga ka (He'll test you, to see if you can do it, to see if you're hardworking)."
Following Caedo's lofty standards gave him a sense of ideal parameters, cultivating for himself a more scrupulous and exacting work method. More importantly, Caedo taught him the value of close observation and focused judgment, how to look at figures more carefully and more intimately, skills that would prove advantageous to his career. For commissioned works, which can be statues or busts of different subjects, from historical figures to living personalities, lifelike imitations are usually preferred by the clients.
Yet as he mastered this particular tradition, Sanchez believes that his own style emerges in personal, non-commissioned projects, produced by an intrinsic process of thought and reflection, inspired by external observations and his own life experiences. From these journeys within, figures that are inexact and expressively imprecise in form, texture, and disposition, often come out, seemingly breaking free from the traditional realism he found appealing in his formative years.
Pinaglabanan pioneer
In 1984, by invitation of his friend, internationally-renowned sculptor Agnes Arellano, he participated in the inaugural show of the Pinaglabanan Galleries in San Juan, where he joined contemporaries like Danny Dalena, Jaime de Guzman, and Antonio Austria. The pieces he exhibited were Takbo, inspired by rallies and protests prevalent in the final years of the Marcos dictatorship, Gallery Opening, his imagined opening of Pinaglabanan which brought actual attendees to face their miniature versions, and Terminal, a depiction of passengers waiting for public transport, a scene Sanchez would often encounter and observe common within the ineluctable chaos of the metropolis.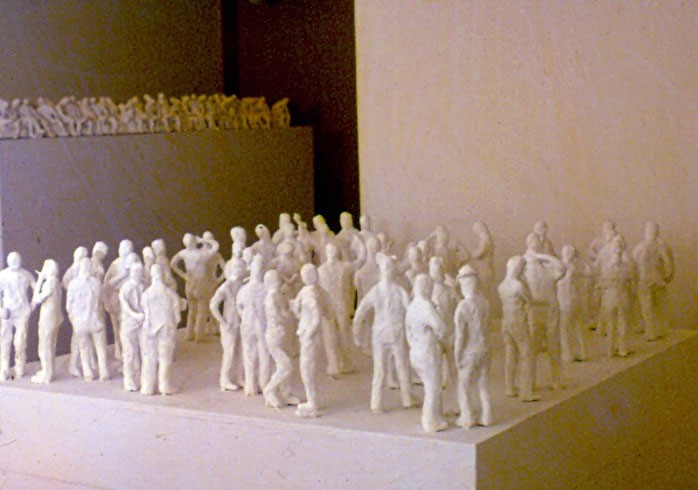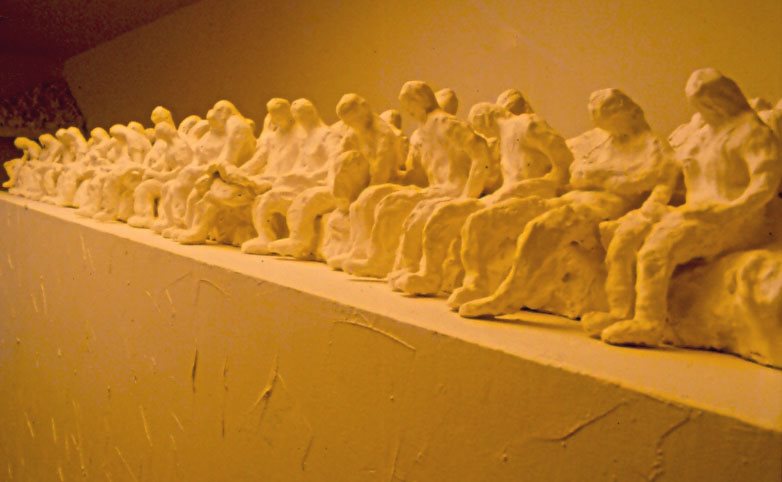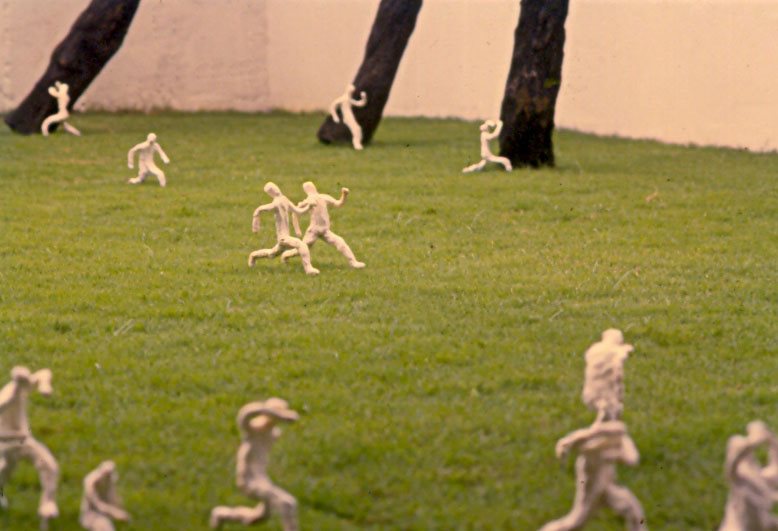 These pieces reveal Sanchez's fascination with ordinary people who inhabited shared spaces and engined the motion of everyday life, themes that dominated the personal projects he would create, like his two grand prize winners in the annual competition of the Art Association of the Philippines (AAP), namely: Pila! which won in 1983, and Mahina kung Nag-iisa, Kailangan ay Dalawa o Higit Pa, in 1995.
For Sanchez, art is a way for him to make sense of the world that he encounters, especially the joys and tragedies part of its structure and movement. His own style emerges from within, in processing his feelings, ruminations, and ideas, stimulated by a variety of events and experiences he observes.
One work which he remembers contemplating deeply about is found in the exterior of the UP Parish of the Holy Sacrifice, the statue of the three martyred priests José Burgos, Mariano Gomez, and Jacinto Zamora, implicated in the 1872 Cavite Mutiny, and executed by garrote in the Bagumbayan. When the chaplain Fr. Robert Reyes called him, he was with friends from the Guhit Group in Baguio, at the summer residence of painter and maternal figure Araceli Dans.
As he thought about the potential final piece, he imagined the fear and anxiety the priests must have felt in confronting their impending death, spectacle, and humiliation that accompanied a public execution. Such meditation drove his creativity. "Kapag nahawakan ko na, tulak na lang ng tulak (Once you have it, there's no way to go but forward)," he says, molding the figures first in clay, exploring the range of possible composure and expression, imagining the appropriate form and texture.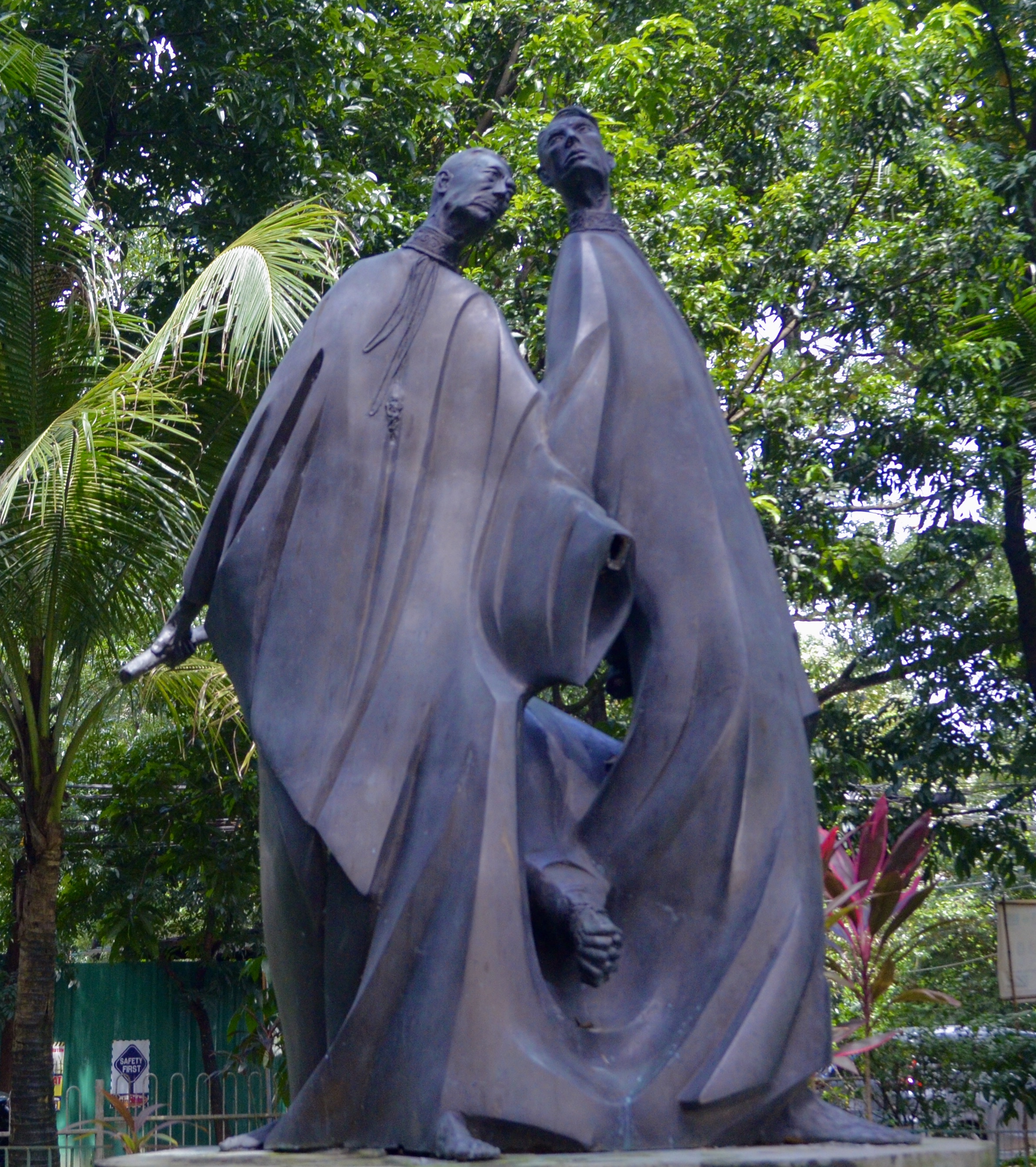 Workshop in Los Baños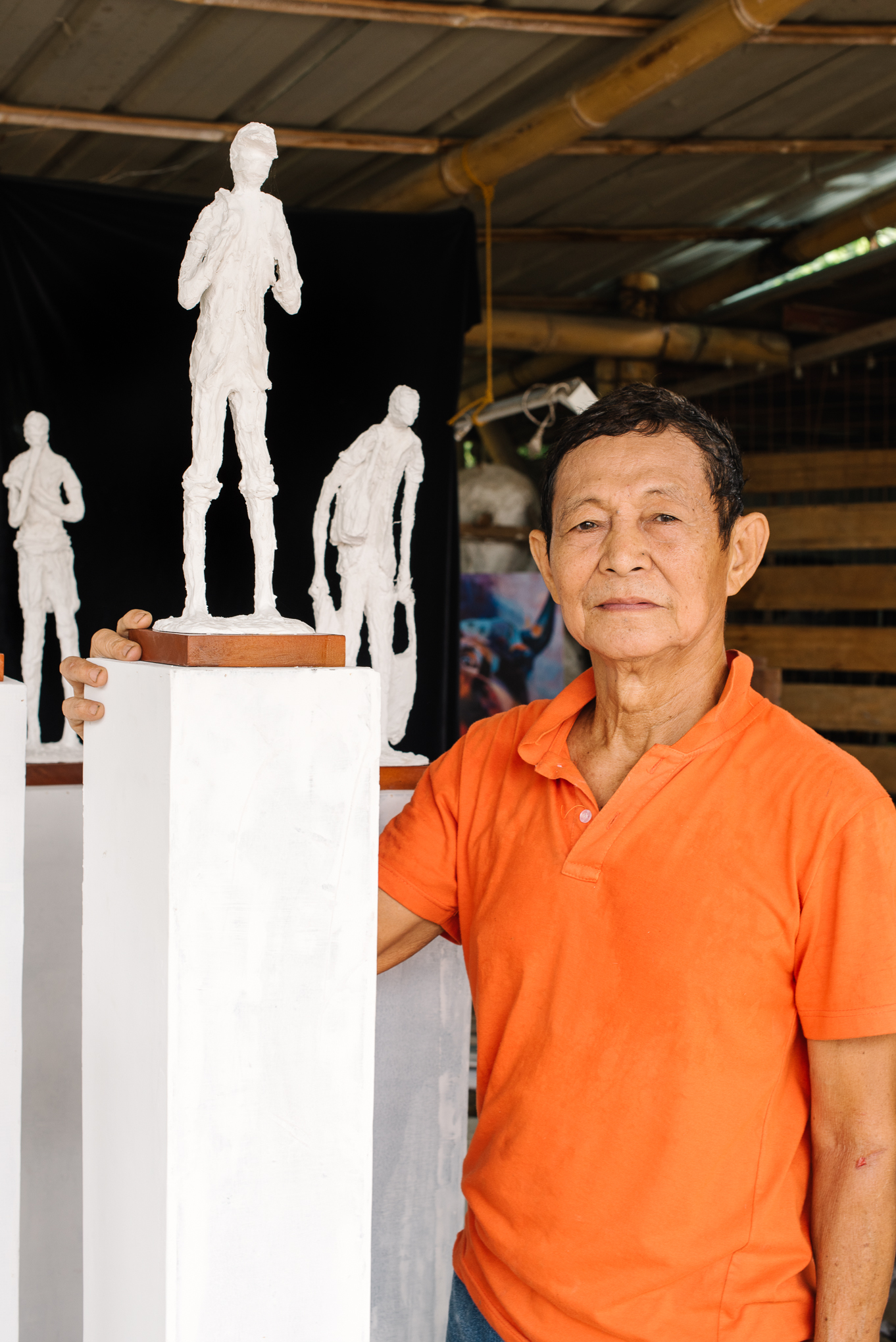 Sanchez calls Los Baños, Laguna his home. It's where his workshop is located, and where he was able to raise his four children, earning solely from commissioned projects to support the upkeep of his family. His own space allows him to work with a motley of materials for molding and casting, including clay, plaster of Paris, synthetic marble while coordinating with foundries from other places for bronze casting, as needed. He has also experimented with brass, rubber, and copper, and regularly carves the slabs of marble in his supply.
Near his workshop is a garden where he plants and takes care of his own crops, including saluyot, okra, kamote, alugbati, and patola. Gardening relaxes him, a perfect hobby to complement his artistic labor, bringing him a sense of stability and inner tranquility, which are necessary to cope with the pulsating negativity manifesting in these unprecedented times. He is also impressed with the internet becoming a bridge for artists to help each other, becoming a platform for contact and interaction that eases the alienating effects of the lockdowns.
In an interview decades ago, the young Sanchez described himself as "an artist in search of social consciousness." Amid the pandemic, he admits that the search continues. Finding himself drawn to the silences of confinement and isolation, Sanchez feels optimistic about the future and its possibilities. Yet he anticipates an tough road towards renewal and rehabilitation.
His piece Mahina kung Nag-Iisa, Kailangan ay Dalawa o Higit Pa offers a promising direction on how we might confront the challenges already in our midst. It hints that perhaps relying on each other might invigorate our delicate attempts to reconnect and rebuild, and perhaps a sense of community and solidarity might generate the necessary energies to help us make sense of the things we have lost, and the things we will never be able to recover.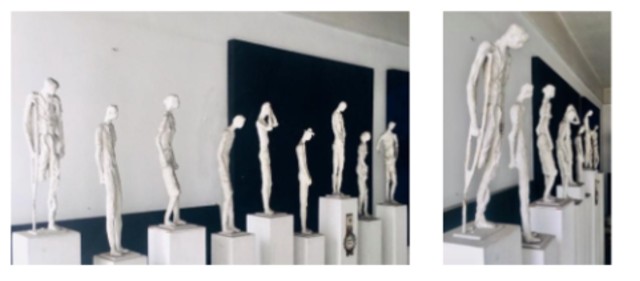 – Rappler.com