This is AI generated summarization, which may have errors. For context, always refer to the full article.
The stars talk about what it takes to share and develop their craft and forge success on YouTube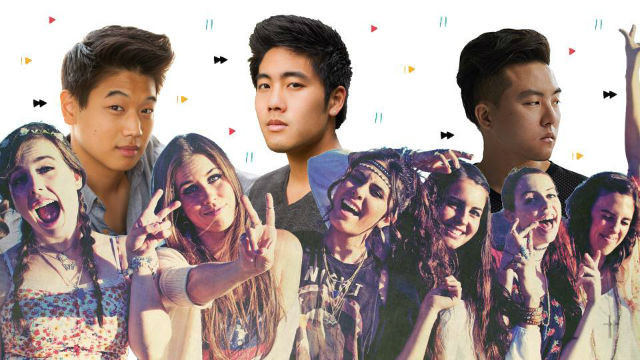 MANILA, Philippines – In the last decade, YouTube has propelled many musicians, comedians, filmmakers, and the like to worldwide fame – some times, without the middleman. It goes without saying that the decade-old video community has shaken the entertainment world to its core.
"YouTube is the anti-Hollywood, the anti-TV," Ben Austen argues in Wired, citing Danny Zappin of YouTube-based entertainment network Maker Studios. "There are no decisions by committee, no casting calls, no gatekeepers to pass just to get started."
For the creators who found a niche in this behemoth of a platform, it all started in the spirit of fun – until they started to go viral and amass viewership. Advertising revenues has made being a YouTube star (or "YouTuber") lucrative, so Google, YouTube's parent company, started to send these talents paychecks under its Partner Program.
Online stardom, or so-called Internet fame, can also make an offline impact as well. Before they sold out entire venues, acts like The Weeknd, Cody Simpson, Carly Rae Jepsen, 5 Seconds of Summer, Justin Bieber, and even the Philippines' very own Charice Pempengco and Arnel Pineda (Journey's frontman) have gotten their big breaks through YouTube.
It's not all about the big bucks, though. Having a loyal following or a subscriber base has also put them in a special place to influence. Philip Wang of hit-making production house Wong Fu Productions told the National Public Radio (NPR), "People, especially through YouTube, they're finding types of entertainment that are just from people that are just like themselves – or people that they can relate to a little bit better than some unattainable movie star or TV star."
Karpos Multimedia's Click Play is set to bring some of the most prolific and influential personalities on social media: Ryan Higa, David Choi, Ki Hong Lee, Cimorelli, and Sam and Colby. Before Manila gets to see them out of their digital screens on November 22, 4 of these influencers have spoken to Rappler via e-mail about their own respective journeys on YouTube thus far.
Ki Hong Lee
Ki Hong Lee is an actor in a new age of entertainment, where traditional media converges with digital. Admirably, he straddles both of these with nonchalant ease.
He plays "The Leader" Minho in the blockbuster The Maze Runner films. In this year's Sundance Film Festival, he also acted in the harrowing thriller The Stanford Prison Experiment.
On the small screen, he played Paul in ABC's fantasy series The Nine Lives of Chloe King, as well as bit roles in popular shows like Modern Family and New Girl.
Through Tina Fey and Robert Carlock's hysterical series Unbreakable Kimmy Schmidt on Netflix, Ki Hong has forayed into streaming television, the realm of binge-watching. He has joined the comedy's charming band of misfits as the titular character's love interest, Dong.
His work with Wong Fu Productions, short films like Take it Slow, This Is How We Never Met, and She Has a Boyfriend, may ring a bell. After all, these skits have racked up millions of views.
With this sort of visibility, the influence that the Korean-American actor wields isn't lost on him. Ki Hong tells Singaporean newspaper The Straits Times, "I think Hollywood is changing slowly in terms of creating more opportunities for Asian-American actors."
"But we need not just actors – we need more Asian writers, producers and directors too, which hopefully will change the status of Asian-Americans in the industry," he adds.
You're in the Maze Runner film, in the Wong Fu videos on YouTube, and even in streaming television via Unbreakable Kimmy Schmidt. Is it like working in totally different worlds? Where do they intersect? Are there stark contrasts?
Ki Hong: I wouldn't say they are totally different worlds in terms of acting. I think if anything the genres are obviously different – Maze Runner is a sci-fi action movie where as Kimmy Schmidt is a comedy.
Maze Runner was definitely intense and physically demanding. Kimmy Schmidt is just so much fun because the writing is so phenomenal.
I like to think of Wong Fu as a happy combination of both comedy and drama – because they are so talented at making both.
Cimorelli
In the entire history of music, there have been a lot of success stories about sibling acts. In recent years, there have been bands like Haim and Sheppard, and there are also timeless ones like the Bee Gees and The Jackson 5.
While in many ways similar to the rest, Cimorelli's story is still a fascinating one that happens to be made in the Internet. It's one that also shows that the game has truly changed.
Sisters Christina, Katherine, Lisa, Amy, Lauren, and Dani were raised in a very musical household. "Our mom [Lynne] is a pianist… and she taught us how to sing when we were little… It just kind of came naturally for us to start a band," narrated Lisa in a video featurette for I Can Be Society, an inspiration movement.
The eldest, Christina, rounded her siblings up in 2007 to tour in their home of North California, playing gigs anywhere possible. Soon after in 2008, they released their debut EP Hello There.
However, they struggled. "We tried for two years to build a fan base, to no avail," she ruefully said in the above-mentioned video. Katherine then thought of uploading their covers to YouTube, and the emerging video-sharing community later proved to be the answer to their woes.
In 2009, they posted an a cappella cover of "Party in the U.S.A," after Miley Cyrus dropped the then-fresh track at the Teen Choice Awards. The band saw it as an opportunity – as Christina said in fan magazineTiger Beat, "We were like, 'We have to put this up, everyone is gonna search for it after the Teen Choice Awards!'" The video quickly raked in around 20,000 views overnight, according to Katherine.
Across the Atlantic, a 13-year-old London girl showed it to her mom who coincidentally was an influential music mogul. Sarah Stennett, the manager behind the likes of Sugababes, Jessie J, Ellie Goulding, and (solo) Zayn Malik, brokered a deal for Cimorelli to sign on Universal Music's Island Records in 2010.
Needless to say, YouTube was instrumental to their success. "Because of YouTube we were able to build a worldwide following without actually leaving the country, which is the most incredible exposure opportunity," they told I Can Be Society.
Known for their complex harmonies, the six-piece sister act now has several EPs under their belt: Hello There (2008), CimFam (2011), Believe It (2012), Made in America (2013), Renegade (2014), and Christmas Magic (2014). A full-length album is in the works.
How does the family dynamics work as you perform your covers and write your own songs? What are the advantages and downsides of being a band of sisters?
Cimorelli: The dynamics are interesting. There are definitely arguments and tiffs, but there's also a lot of honesty, heart and a deep respect and appreciation for each other.
If anyone hurts one of us, the rest are all immediately at each other's defense. We are a tightly-knit clan.
With the covers, we usually look at what is popular, or up and coming, what songs we like, and what would work with our morals. We don't choose any music that is inappropriate, or that we believe has a negative message.
For writing our own songs, we sometimes write together, where we'll all pick a topic, write on it, and then usually we turn in our lyrics to Christina and she pieces it all together. Or one of us will start with some lyrics or a melody, and then we'll finish it together. 
As a band practically born on the Internet, you certainly know how things would've been different without YouTube and social media. How have these online platforms empowered you, and what are the challenges that come along with it?
Cimorelli: The empowering part is that we have a voice to connect with so many people around the world. We can share our stories, and hopefully be a positive presence for so many people, and that's an incredible gift.
The challenges are that there is a lot of negativity online, so sometimes it can be hard when people misinterpret something you say, and then use it against you, or people just hate on you and put you down.
You have to be extraordinary, mentally strong if you're gonna really be involved in the Internet scene!
Ryan Higa
For Ryan Higa, being a YouTuber somewhat entails being a jack-of-all-trades. He tells South China Morning Post's 48 Hours magazine, "In making YouTube videos, you can't just be an actor, you have to also know the shots and how to write. I can't say that we're good at everything, but we know how to do a little bit of everything."
Ryan was practically there in the beginning of YouTube, a little more than a decade ago. Better known by his username nigahiga, he started out with lip-synching videos. Today, he's a filmmaker, putting on sizeable productions.
He continues to display his comedic chops through sketches, Vlogs (i.e. his rants), and self-penned songs stretching a variety of subjects – from clever observations about the mundane to wacky (sometimes irreverent) takes on hard-hitting issues. He tells Variety, "I try to keep the topics trendy… If it's a rant, it's something I feel strongly about, and people will watch it because they either agree or disagree."
Ryan has built – around himself – one of the most influential brands that go beyond YouTube. He now even has his own app, Teehee, named after his trademark sign-off snicker.
Fellow YouTubers like KevJumba, Sean Fujiyoshi, Jenna Marbles, and Smosh are some of his guests and collaborators. He has friends in other places who have appeared on his videos, too: the likes of Teen Wolf actress Arden Cho, American Idol alumnus Andrew Garcia, and NBA player Jeremy Lin.
To date, he has a total of around 2.7 billion views on his main channel alone, with an average of 9.5 million views per video.
Tell us about your writing process: how many ideas do you brainstorm about and how many do you get to shoot out of these?
Ryan: I'm always thinking of ideas and keeping up on the trends and writing them down. A lot of what I write doesn't become a produced video.
How do you think has the digital landscape changed? Do you think YouTubers have more clout nowadays?
Ryan: Today, it's still an opportunity but a lot harder to get noticed with so much content being posted on YouTube.  But if you do get noticed, it's definitely advantageous to have the direct connection to your fans.
You've been on YouTube since a year after its creation. What keeps you going at it?
Ryan: I still enjoy making people laugh and like the challenge of improving the video production.

David Choi
Even before the unprecedented rise of YouTube, David Choi was already trying to carve a niche for himself in the music industry. He went the traditional route: doing a studio internship and eventually landing a producing stint at Warner/Chappell, among others.
As a young man working on dozens of tracks and demos, David still came to a point where he started to become uninspired. He wrote on his website, "I became jaded with everything I was doing, but continued to press on, develop relationships, and I really tried to enjoy it. I was able to use the studio I interned at to record vocalists and such for my demos at night, which was a great advantage."
In 2006, David uploaded "YouTube: A Love Song," which was his own game changer. Within a week, the video garnered half a million views. During that time, this was definitely an extraordinary feat.
While the crooner had some apprehensions about the platform at first, it certainly helped pave the way for him to pursue a career as a recording artist. "I actually viewed YouTube as something quite funny because it was all so new," he wrote.
"I never thought that a shy guy like me would be posting videos of himself for the world to see. It actually never really felt like I was playing in front of a global audience. The whole thing felt surreal like it was some sort of a game."
On the other hand, he told lifestyle magazine Mochi, "If it weren't for YouTube, it would have taken a lot longer for Asians – and me – to do music like this."
Eventually, the balladeer got the chance to pen and produce his own records: Only You (2008), By My Side (2010), Forever and Ever (2011), and Stories of You's and Me, released just last February. He has built his clout through music, and soon enough, it has brought him to tour across the globe.
Can you talk a bit about making your new album, Stories of You's and Me? What was your approach? What has changed or stayed since Between Forever and Ever?
David: My new album took me a while to make. I went through a few hardships in the years between "Forever and Ever" and the latest – "Stories of You's and Me."
I wouldn't say that this album is the most bright, or happiest, but it was definitely an album I had to make for myself.
You perform "live" two ways: on YouTube, and as a touring musician. Apart from the obvious differences, tell us your approach to playing music on both these two avenues. 
David:  Performing live is the best way that I can interact with my fans. There's nothing like meeting them in person and giving hugs.
There are ways I also interact with my fans via YouTube like replying to comments and asking the fans for their opinions or feedback.
When you started posting videos on YouTube in its early years, you were already working for a big record company. But you once wrote (on your website) that you initially found the general idea of it "quite funny," yet appreciated the "creative community" side of it.
As someone from this kind of background, what do you think does it mean to be a musician in the age of YouTube? How has it changed, for an artist like you, since it began, and where do you see it heading?
David: Haha I think my viewpoints on YouTube have changed a little since I started almost 10 years ago. I can see why I said it was "quite funny" as I probably saw YouTube as a social experiment.
Now, I see it as a way to interact with my fans and really learn about what they're all about. As a musician, I see it as a platform to share anything my heart desires.
Can you give some words of wisdom for musicians aspiring to get a break in the industry?
David: I live by a couple quotes that I really found to be helpful in my life and career. One is "Just do it" which is the Nike slogan.  It's a way to overcome excuses and really take action.
Another is "Stop it." It goes hand in hand with the former. Excuses keep people in any industry from taking action. Stop making excuses and just do it.
That being said, I think it's important to work on your craft as a musician. This day in age, everyone can do everything so I think it's important to at least learn the basics. Information is free on YouTube!
– Rappler.com
Paolo Abad is a film/television editor and motion graphic designer. He is also a self-confessed concert junkie. Follow his Instagram for live music @outoftunephoto