'There's a relationship between online violence and the way that we're bullied and bashed online and the way that it's done offline,' says sex and gender columnist Ana Santos
It has grown to become a fact that women are often targets of online harassment. A survey by the Web Foundation done earlier this year found that 52% of young women reported experiencing violence online, and when it happens, threats or hate remarks were often sexualized, taking a toll on many victims far beyond their screens. 
On the fifth episode of "Spilling the Tea," a webinar series held by Rappler and SheDecides Philippines, womens rights advocates called this out as they shared their personal experiences and asserted online violence against women should not become a norm.
The discussion, moderated by sex and gender columnist Ana Santos along with TV host and young feminist Hershey Neri, also tackled avenues to address the issue and create safer environments for women on the internet. They were joined by actress and activist Kat Alano, poet and essayist Gian Lao, Young Feminist Collective founder Shebana Alqaseer, and student Hannah Dayug.
Throughout the discussion, the panelists agreed that in combating online violence against women, many productive ways of addressing the problem often started with taking conversations offline.
"Clearly, there's a relationship between online violence and the way that we're bullied and bashed online and the way that it's done offline. There's a correlation and it continues," Santos said.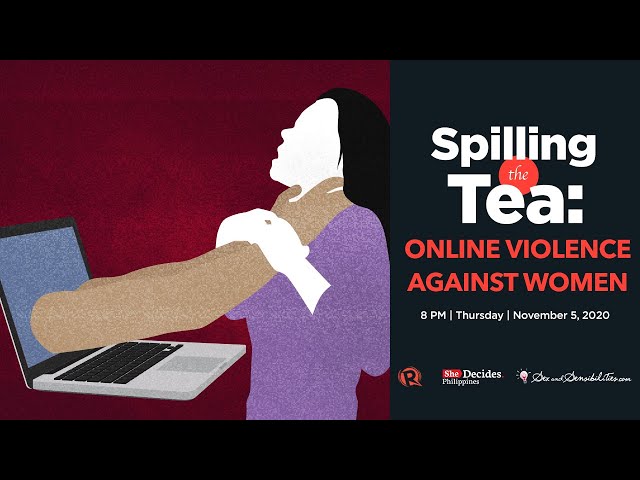 Starting at home
Throughout the discussion, the guests highlighted that many instances of online harassment either mirrored similar experiences they had offline or stemmed from actions done in the real world.
Kat, for one, shared that when she decided to speak out about her story of rape in 2014, the violence extended to insults hurled at her online, and in many cases, from fellow women themselves.
"There's more entitlement online especially because there's no consequences to their actions. Unless you're being censored by Instagram, Facebook, or whatever it is, no one is telling you what you're saying is bad," Kat said.
Over the years, Kat learned to speak out more on this issue to both empower other survivors and question toxic behavior that can translate online. "Where did your ideology come from that you're spouting?" she said, referring to harmful comments online.
Hershey, who told her own story of being harassed near her school, spoke up about the need to have conversations and educate not only boys, but also older generations, about respect for women. In sharing her story, Hershey said while she took the incident leaders in her school, its administration did not want to take up her case as it took place outside campus.
She was left to defend herself in court after the man who harassed her filed his own suit against her.
"It really starts from home, so if you have nephews, sons, it's part of that…. We really need education, we also need to educate the older generations," she said. 
Ana echoed this, saying that while it may be an uncomfortable topic, it is necessary to have everyday discussions that touch on how and what it means to respect women. 
"Education starts at home in small little increments and in everyday conversations…. You can bring these concepts into normal conversations," she said.
Citing an example shared by Hershey, Ana continued: "That example…. You can't touch mommy's body without permission, even if she is your mother. I can imagine that you grow up with the thought that just because you have a relationship with the person, doesn't give you access to their body. You still need permission."
"These conversations need to keep on happening. First of all in some amounts because these are big concepts," Ana said.
Aside from this, Ana and Shebana also shared that these conversations can start by questioning long-held beliefs and practices like teaching girls to be "careful" when they go out, while neglecting to teach boys what is respectful behavior.
Ana said, "I remember growing up like this (and people telling me) 'You need to be careful because you're a girl.' And then when you hear that from people that you trust or people who are supposed to be your guardians…. You find yourself falling into that (thinking) "oh they care about me" but controlling is not caring, and policing me is not the same as protecting me."
Shebana stressed this could also have a negative effect on girls and contributed to a culture of blaming victims of harassment or violence.
"We teach girls about consent like 'Don't let a boy touch you if you don't want' or 'Be careful outside' but what you're actually teaching them too is that when that happens, that's their fault because they didn't do what you told them to do," Shebana said. 
Having men as allies
During the webinar, panelists also pointed out that online gender-based violence was often a reflection of toxic behavior and gender inequalities that have long been present in society.
In this light, it was important that men were taught to become allies.
For Gian, boys should take up the role of helping one another to break away or at least call out harmful behavior against women since oftentimes the burden of educating men to treat women with respect fell on those who have survived abuse themselves.
He said, "Everyone talks about the psychological impact of being a victim, or online violence, or physical violence against women. There's trauma, anxiety, and victims already carry that – why would you add to the burden by expecting them to teach people?"
But while it may be the ideal to have boys start these conversations with one another, Gian noted it was uncommon since boys often worried about being ostracized for calling out toxic behavior.
He shared two ways to address this that could help men become allies, from an interview with developmental psychologist Dr Danielle Ochoa.
"The first is to give them a community," Gian said. "That means allowing them the idea that if you're a good person, you're not going to lose all your friends. Because if you're a good guy and you tell your friends – and you don't even have to say it in a manly way like "Bro, that's harassment" – they will leave you behind. A lot of them will leave you behind because they can't get away with engaging in this toxic behavior while you're around." 
He added, "Second, we need to show the boys that what they do can make a difference. I don't know necessarily how to do it but to start small, talk to one or two friends."
Uplifting women
Kat stressed, however, that this needs to happen hand in hand with ensuring women were "genuinely empowered."
"That's (Having men join conversation) a very big deal because we live in a patriarchy. Unfortunately, it's the truth, and unless men start to agree that women need to be treated equally and fairly, it's going to be a difficult road for just women bashing on the door or equality," Kat said.
"But at the same time we need to work on the empowerment of women…because what happens now is that if you want be a women and get ahead in this country, you have to be like a man or be willing to cater to what men want otherwise you are unacceptable," she added. 
"Absolutely, we need men to join us but we also need real, genuine empowerment of women." – Sofia Tomacruz/Rappler.com