'Tis the season for holiday potluck parties, broken diets, and a whole lotta food!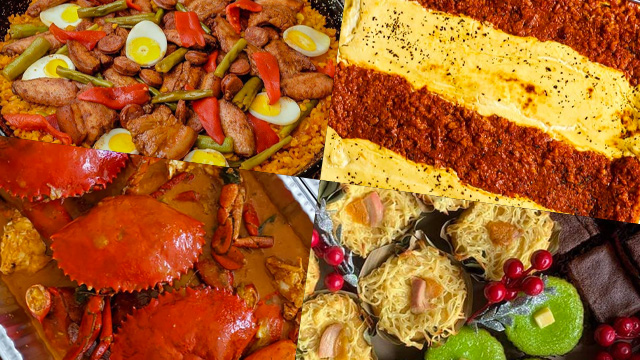 MANILA, Philippines – It's Christmas! The wonderful season of full hearts, full homes, and even fuller tummies (RIP diet). For guests, it's great, but for party hosts… not so much. With the hohoho…liday stress comes party planning, prepping, cooking, and hosting, on top of gift-wrapping, traffic, and the Metro Manila holiday rush.
But with the hassle comes a big help in the form of convenient food tray delivery services. (READ: #HustleEveryday: 5 food delivery services for your next office potluck)
On the way to a high school reunion? Hosting a fam get-together at home? Or is a homemade Noche Buena feast too much for you this year? Don't fear – these 10 food delivery services are here!
KC's Kitchen
You can't go wrong with comfort food for Christmas, especially if KC's Kitchen is hosting for the holidays. A menu made from Nana's hand-me-down family recipes, KC's owners kept the hearty, home-cooked meals of their childhood true to their roots, with just an added gourmet flair.
Here are a few picks:
The Shrimp Mayonesa is perfect for fans of creamy seafood dishes. Well-cooked, medium-sized prawns are tossed in a savory, light, mayo sauce, enhanced with garlic and butter, and then garnished with parsley. That creamy sauce on rice? Yes, please. (P450: small, P750: salu-salo, P1,500: family)
The traditional holiday dish of a whole, roasted, deboned chicken is stuffed with the works: minced meat, eggs, and veggies, served with savory gravy, and all present in their Chicken Galantina. It's a festive addition to your dinner table! (P1,300)
The Pastel De Lengua will change your mind if the idea of eating tongue makes you queasy. It stars super soft ox tongue (no joke, it's like butter) in a creamy, rich, white sauce, made sweeter with yellow corn kernels. (P650: small, P1,200: salu-salo, P1,800: family)
Have the Yema Palitaw for dessert or merienda – who cares? This iconic glutinous rice delicacy coated with shredded coconut and sesame seeds is a treat already on its own: what more stuffed with sweet yema custard inside? (P300: 15 pcs, P600: 30 pcs, P1,000: 60 pcs)
For a beef option, check out the Braised Beef Mechado (P600: small, P1,100: salu-salo, P1,600: family), or moist Baked Salmon (P1,500: salu-salo, P2,000: family) served on buttered veggies. 
KC's Kitchen's small size can feed 3-4 persons, the salu-salo 5-7, and the family size 12-15.
For online orders, check out KC's Instagram account and website. 
Papi's Pinoy Kitchen
In the mood for Pinoy food? Check out Papi's Pinoy's Kitchen, a solid choice for any gathering. Merienda, dinner, pulutan, you name it –  at a reasonable price, you're guaranteed size, quality, taste, and the familiar flavors of home. Here are some of our recos: 
This is it, pancit! I love anything super garlicky with a squeeze of calamansi, so Papi's Garlic Chicken Sotanghon was great – bright in color and big on flavor. Thin vermicelli noodles are mixed with shredded chicken and highland veggies, topped with toasted garlic bits (a fave) and spring onions. (P750: medium, P1000: large) 
Lumpia fans, be careful with these tinapa rolls – they're "appetizers," sure, but I guarantee, one is not enough. These bite-sized, crispy lumpia rolls are packed with smoked milkfish, salted egg, kamatis, and leeks inside. Dipped in Papi's special vinegar sauce? Lump-yaaas! (P750: medium, P1000: large) 
Since I don't eat pork, sisig is a no for me, but Papi's Bangus Dinakdakan comes pretty close – and is definitely less guilty. Usually made from grilled pork parts, this take on the Ilocano delicacy is creamy, savory, sili-spicy, and calamansi-sour, made with milkfish, red onions, and served with Fita crackers. It's mainly meant as a spread, but I enjoyed it just as much with rice! (P900: medium, P1,200: large) 
For orders, you can visit Papi's Pinoy Kitchen's Instagram account.
China Mommy
For good 'ol Filipino-Chinese cuisine, China Mommy's your girl. "Preserving the Filipino-Chinese food heritage" goes China Mommy's Instagram account – and we think it does its brand mission justice. Here are some picks you can't miss:

A best-seller for good reason, these freshly-made Special Curry Crabs are so finger-licking good that one tray may be pretty bitin. Four large crabs at 3.2 kilos are conveniently cut into easy-to-eat pieces, filled with crab meat that's white, tender, and tasty. The slightly spicy curry sauce is creamy and loaded with Asian spices – the best partner to seafood and rice. (P6,900)
The Special Chinese Lumpia is delivered in D-I-Y fashion – China Mommy will send you lumpia wrappers, crunchy nori with fried bihon, minced garlic, fresh lettuce, wansoy, crushed nuts, a special stuffing of pork, shrimp, and veggies, and a sweet hoisin-peanut sauce in separate containers, enough to make 18-20 tasty Chinese lumpia rolls. A vegetarian option is also available. (P2,800) 
Get ready for 24 pieces of "fortune bags" made from tofu skin, stuffed heavy with a minced pork and seafood stuffing, mushrooms, and veggies. A vegetarian option also exists! (P1,600)
You can place your orders via China Mommy's Instagram or Facebook account. 
Elephant Express
Still aboard the Asian train, we make a stop at Elephant Express, a small restaurant that offers all sorts of Asian cuisine – Thai, Vietnamese, Filipino, among others. However, the star of your potluck show should be:
Thick vermicelli noodles mixed in a sweet-spicy tamarind fish sauce, topped with shrimp, nuts, bean sprouts, cilantro, spring onions, ground nuts, and veggies – what's not to love about Pad Thai, a Thai classic? (P1,350)
These make for a light, healthy appetizer, but EE's Vietnamese spring rolls are not the typical kind made with lettuce, pork and shrimp – only cabbage, carrots, cucumbers, and some rice noodles. The peanut sauce was good, though! (P650) 
You can place your orders via Elephant Express' Instagram account.
Mum's Lasagna
Carbs incoming! A mother's labor of love, Mum's Lasagna was born from Mum's special lasagna recipe, which she still makes for her now-adult children, 26 years and counting. This comforting casserole is an all-time childhood fave, IG-prettified to stand out among your table spread. Here's what's on Mum's menu:
The home-baked Mum's Lasagna generously overflows with lasagna's best elements: meaty tomato sauce (hers is more on the sweet side), a creamy-white bechamel sauce, and torched melted cheese. (P450: small, P1,200: medium, P2,300: party)
Pica-pica idea: Mum's crunchy nacho chips in a box, served with a yin-yang dip of sweet tomato meat salsa and a sour cream dip. (P280) 
Or go with the Mum's Pizza Bites, little bread bites are overloaded with tomato sauce and cheese!
Mum's small size can feed 2-4 guests, the medium 8-10, and the party size 16-20 guests.
For orders, just fill up Mum's Lasagna's online form. You can check out their Instagram, too!

Yuan's Paella Plus
Paell-yaaass! For Spanish cuisine, Yuan's Paella Plus will satisfy those paella cravings from the comfort of your own home, but at restaurant-level quality, served large, fresh, and premium. Here's what you can expect from Yuan – and it's not just paella:
The famous, bright-orange Spanish rice dish (with crispy tutong!) is cooked with jumbo prawns, chorizo, pork, roasted peppers, eggs, and veggies – already a filling meal on its own, and a sure crowd-fave. Yuan's Original Paella wasn't dry, nor was it too squishy. The Paella Negra with Aioli is cooked with squid ink, roasted garlic, roasted peppers, and garlic green beans, served with Yuan's addictingly tangy garlic aioli, an apt match to rich paella.
You can indicate your preferred spice level upon ordering. Paella sizes go for P3,500: abundante (6-10 pax), P5,000: Barcada (12-15 pax), and P6,500: Enorme (16-20 pax), even up to 70 pax.
Rich, flavorful, and comforting: the makings of a true Spanish bean stew. Yuan's Fabada soup slow-cooks fava beans for 24 hours until tender, along with morcilla blood sausage and chorizo. An easy fava-rite! (P1,750 for 2 kg)
Who wouldn't want to see a big, juicy slab of glorious medium/medium-rare roast beef on their dinner table this Christmas? The Roast Beef (Wagyu or Angus) goes for P2,320 per kilo.
Say hello to a whole, free-range chicken roasted until golden brown and moist, with a side of roasted garlic and herby potatoes. The Iberian Chicken goes for P1,695. 
Got the greens but lacking some flavor? Get Yuan's Caesar Salad dressing in a jar at P900 for 16 ounces – creamy, tangy, cheesy, and salty (it's made with anchovies!)
Order through Yuan's Paella Plus' Instagram  account. 
The Sexy Chef
Yes, it's possible to stay sexy during the holidays – just ask The Sexy Chef.  A "healthier" approach to the holidays, Sexy Chef's dishes can be made low-carb, keto-friendly, vegan, or vegetarian – just ask.
Panda Express who? Their version of Orange-Flavored Chicken features crunchy bites of chicken, coated in a sticky, citrus-orange sauce. The hint of orange is strong with this one – somewhat like a lighter sweet and sour chicken. It's delish! (P2000: 12 pax, P1,000: 6 pax) 
Keto-friendly alert! Go for large chicken breasts, breaded with herbs and spices, topped with pomodoro sauce and then grated cheese. The Chicken Parmigiana is uper filling. (P2,200: 12 pax, P1,100: 6 pax) 
Even though it's made from Quorn, the meatless meat, Sexy Chef's vegetarian lasagna almost tastes like your average lasagna – only it's made with eggplants instead of noodles, then sandwiched between tomato sauce, bechamel, and cheese. You can get the low-carb keto version, too, which uses real meat, but still no noodles. (P2,800: 10-12 pax, P1,400: 5-6 pax)
For a box worth P850, keto-friendly treats await: bibingka bites, buko pandan puto with cheese, and fudgy brownies, 6 pieces each.
For orders, visit The Sexy Chef's website. 
V Kitchen
Yes, a completely vegan Christmas is possible, thanks to V Kitchen, a Manila-based vegan meal delivery service that's gluten-free, sugar-free, chef-made, and organic. Here are some meat-free options to try:
Who needs wings when you've got Buffalo Cauliflowers? Cauli florets are breaded and fried, tossed in a sour-spicy buffalo sauce that's perfect with blue cheese dip. (P1,500: 30 pcs, P2,900: 60 pcs)
An ode to the famed Indian appetizer, Scarlet's Samosas are packed with potatoes and other veggies, and served with a plum sauce. (P990: 20 pcs, P1900: 40 pcs)
Similar to Chinese restos' peking duck wraps, V Kitchen's Roast Duck Wraps is made with tofu instead. It comes with cucumber and hoisin, too! (P1,200 – 24 pcs, P2,250 – 48 pcs).
Made with vegan cheese, their plant-based Vegan Pizza flavors include Wild Mushroom Truffle (P750), Spinach & Artichoke (P700), and BBQ Tofu (P650).
Gallon Tea
Thirsty? How does a gallon of milk tea sound? 
Gallon Tea will literally deliver gallons of ready-to-drink milk tea to your doorstep, complete with a DIY set of plastic cups, straws, and tubs of sinkers to choose from: tapioca pearls (P100), nata crystals (P100), and egg pudding (P100).
Three flavors are also available: Classic (P500), which surprisingly wasn't overly sweet, Wintermelon (P600), and Chocolate (P600). Each gallon serves around 10-15 guests.
The Naked Patisserie
Good food, naked ingredients. The Naked Patisserie is set to make your sosy holiday spread dreams come true – whether that be in cold cuts and cheese form, as a fruit platter, or a gorgeous cake. 
For 2019, their grazing tables, Naked Spreads, are available in Build-Your-Own format, customizable according to your budget, number of guests, and special add-ons (premium cheese, deli cuts). You can also get them ala celebrity-inspired: The Luxe Celebrity Spreads, which were actual spreads used by stars for their own special occasions (e.x. Julia Barretto, Marian Rivera). 
Other notable orders:
The name alone kills me! This sinfully creamy Baked Brie Mac and Cheese combines pepper jack, sharp cheddar, Parmesan, and whole wheels of baked Brie – a cheese-lover's paradise on earth.
You can also get made-to-order cakes, available in a a variety of flavor combos: Strawberry and Cream (P3,650), Chocolate Chip Calamansi Cheesecake (P2,150), Toasted Coconut Cream Dulce de Leche (P2,150), Chocnut Cheesecake (P1,950), Pick-Me-Up Espresso Chocolate Cheesecake (P2,550), and the signature Red Velvet Cake (P2,150).
Let's eat! – Rappler.com