This Chinese fusion cuisine is a must-try
MANILA, Philippines – That there is a plethora of Chinese restaurants in the Philippines is a given, what with our rich Filipino-Chinese culture.
In the metro, the choices are endless: from well-loved establishments in Greenhills, San Juan, to hotel restaurants in Manila and Makati — there are enough, if not too many, options for those with a hankering for traditional Chinese fare.
But for gourmands who want to try something else aside from the usual cold cuts, crispy fried noodles and steamed fish, there is PF Chang's, the local partner of a US-based chain. PF Chang's menu brings together the traditional ingredients of Chinese dishes with American preparation techniques, producing Chinese-American dishes that are familiar but also new.
Here are the dishes I tried at the launch of PF Chang's new menu offerings in W Global Center, Bonifacio Global City branch:
Ahi Cucumber Salad
This salad was a meal in itself, since it had protein, vegetables and fruits! The sweet and tangy dressing was just right. The cucumber and asparagus provided texture with their crunchiness. The tomatoes and peaches added sourness and sweetness. The seared Ahi tuna on top was very smoky and meaty.
Dim Sum Platter
This platter was dim sum heaven for dim sum lovers like me (I could never say "dim sum" enough!). The platter featured PF Chang's own versions of: xiao long bao (pork soup dumpling); crystal shrimp dumplings with tender pieces of shrimp and slivers of ginger; radish shrimp dumplings with asparagus and a slice of slightly bitter daikon; and a vegetarian dumpling filled with tofu, shiitake mushrooms and ginger wrapped in spinach wrapper.
Grilled Angus Flank Steak
Meat eaters will love the grilled Angus flank steak which is the star of this dish: soft and tender in the middle with a slightly burnt crust from the grill. The meat I had was savory with a hint of sweetness from the caramelization on the grill. The idea of eating meat with peaches seemed weird at first, but once I tried the combination, I wanted to have another…and another. The eggplant added texture to every bite.
Tofu Steak
This Tofu Steak was meant to be a side dish, but for vegetarians and tofu lovers, it can stand on its own with a cup of rice. The breading made it as crunchy as the average breaded meat, making it a delicious alternative to meat.
Choco Buchi
I had always looked forward to having my buchi at the end of a Chinese fest. Buchi are sesame seed-coated rice balls usually filled with a sweet bean paste. PF Chang's replaced the usual bean paste filling with sweet milk chocolate and I got something even sweeter and better. They served the buchi warm, so the melted chocolate oozed out after my first bite — a great contrast in texture and flavor from the crisp coating outside.
If you have never been open to fusion cuisine, maybe it's time you give it a try. Trust me, you won't regret it. – Rappler.com
PF Chang's is located at W Global Center in Bonifacio Global City and Alabang Town Center.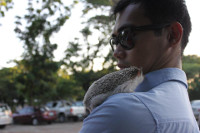 Peter Imbong is a full-time freelance writer, sometimes a stylist, and on some strange nights, a host. After starting his career in a business magazine, he now writes about lifestyle, entertainment, fashion and profiles of different personalities. Check out his blog, Peter Tries to Write.