This is AI generated summarization, which may have errors. For context, always refer to the full article.
Experience delectable dining while enjoying the breathtaking views at Sky Park
MANILA, Philippines – It's difficult to find a place of serenity in a bustling office and commercial district like Bonifacio Global City in Taguig. And while the food options in the area are many and diverse, the view will always be the cold gray hue of the asphalt road or glaring office windows.
However, at the open deck of the newly opened SM Aura Premier, the Sky Park offers some of the best views of the area surrounded by carefully curated restaurants. With a lush landscape of trees, manicured lawns, and reflective pools, it's the perfect place in the area to dine.
Chinese-Taiwanese Delicacies: Lugang Café
Chinese and Taiwanese restaurants are a dime a dozen in Manila. If you have a hankering for some xiao long bao, roasted duck, or some noodles, the options are many. But despite all these, people still go back to Lugang Café.
Known in China as the Bellagio, Lugang Café has many noteworthy dishes like their impeccably roasted duck, the savory Taiwanese omelette with preserved turnip bits, or the three-cup chicken cooked in rice wine, soy sauce, and sesame oil.
But there's one item on their menu that many have hailed the best in the metro: their steamed pork xiao long bao. These plump and soft pork soup filled dumplings have legions of followers and for good reason. With everything made from scratch by trained chefs, each bite and sip is delectable treat. Also noteworthy is their kimchi xiao long bao. It's your more than the usual soup dumpling with a bit of a kick.
Filipino with a Twist: Mesa Filipino Moderne
Many have tried to bring Filipino cuisine to a higher level. Some say it isn't meant to be eaten in a fine dining atmosphere, but Mesa has proven the opposite. Serving traditionally-inspired Filipino cuisine with a modern take, the result, more often than not, is familiar but at the same time, new.
Take their tinapa roll, for example. Far from being a fine-dining ingredient, the working man's dried and smoked fish is combined with salted egg, tomato, onion, and lettuce, wrapped in rice paper wrapper, and then deep-fried and served with a spicy vinegar sauce to produce an addicting appetizer.
For entrees, the baby squid sautéed in olive oil and seasoned with garlic and laurel leaves goes well with their laing fried rice or just with a bottle of beer. Then there's their version of the roasted pig, the appropriately-named crispy crispchon. Served wrapped in a pandan crepe and with a variety of sauces, it's Filipino in every way and a bit more.
Cantonese-Thai Combo: Coca
There aren't many options in Manila when it comes to Thai cuisine. But then there's Coca. With branches in countries like Japan, Singapore, Malaysia, and Indonesia, it was only a matter of time before it reached Philippines shores. And we are thankful they did.
A combination of Thai and Cantonese cuisine, the flavors at Coca are far from feeble. The crispy roasted pork belly, for example, is just as delicious as it sounds. With crackling crispy skin on top, followed by the smooth velvety texture of moist meat and luscious fat below, this is one dish that all meat eaters will love. A side of mustard provides some heat. Other notable dishes are their steamed king crab with egg custard, prawns with garlic and chili, and their very special suki – the Thai version of a hotpot where ingredients like beef, seafood, and vegetables are cooked in a spicy broth.
Caffeine and Milk Tea Kick: Coffee Bean and Tea Leaf, Happy Lemon
After a hearty meal, take a stroll along the landscaped area of the Sky Park and get your dessert fix from several cafes and establishments located on top. For the caffeine addict, Coffee Bean and Tea Leaf has an alfresco area that opens up to magnificent views of Bonifacio Global City. Gaze upon the lights of the surrounding office buildings and residences while sipping your cappuccino or blended ice caramel drink.
For those who prefer to take their drinks in a different form, Happy Lemon has a variety of milk tea drinks that can satisfy any sweet craving. While their rock salt cheese varieties have always been favorites, their matcha with adzuki bean drink is something to try as well, especially for those who like green tea. And for the ultimate dose of vitamin C, their lemon green tea is a sweet drink with a twist. – Rappler.com
Read our other #FoodTrip stories: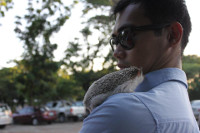 Peter Imbong
Peter Imbong is a full-time freelance writer, sometimes a stylist, and on some strange nights, a host. After starting his career in a business magazine, he now writes about lifestyle, entertainment, fashion, and profiles of different personalities. Check out his blog,Peter Tries to Write.