What's to try at this new buffet?
MANILA, Philippines – From the creators of Vikings and NIU, there's now Four Seasons Hotpot City, another buffet restaurant that offers more affordable prices and specializes in its hotpot concept. (READ: The new buffet at Niu by Vikings: Tips and tricks)
The interior of the restaurant has a modern design but also feels like a higher-end market, where customers can roam around and pick different food and ingredients to mix in their hotpot.
The lighting inside the restaurant is bright and lively, similar to how it is in NIU. What Four Seasons Hotpot City has that its sister restaurant doesn't, however, are tables with views of the gorgeous Manila Bay.  
Located along the SM Mall of Asia bay area, Four Seasons Hotpot City has seven stations: meat, seafood, appetizers, vegetables, Japanese, desserts, and bar. The restaurant is open everyday from 11:00 am to 2:30 pm for lunch, and 5:30 to 10:00 pm for dinner. 
How much is it to eat at Four Seasons Hotpot City?
(Prices are subject to 5% service charge): 
For adults:
Weekday lunch: P588

Weekday dinner: P788

Weekends/Holiday lunch and dinner: P788
For kids below 3 feet: free 
For kids 3′ – 4′:
Weekday lunch: P188

Weekday dinner: P288

Weekends/Holiday lunch and dinner: P288
For kids 4′ – 4'6 inches:
Weekday lunch: P288

Weekday dinner: P388

Weekends/Holiday lunch and dinner: P388
The restaurant also has many promos and other offers, which are viewable here.
One hotpot per table (on top of an electric insulator) is provided to guests. Each one is divided into two that you can fill up from the restaurant's four broth options: pork, chicken, vegetable, and sinigang. After which, guests have the option to add a mix to each of their two broths: tomato paste, Chinese herb, Szechuan mala, sate, or sukiyaki.
Personally, I suggest the sinigang (mixed with tomato paste) and pork broths.
A private room that can hold up to 12 people is also available. In said rooms, each guest will have his or her own hotpot. 
After filling your hotpots, you can roam through the vegetables, seafood, meat, and Japanese stations to choose what you want to cook.  
The vegetables station provides plenty of leafy greens, along with tasty mushrooms, taro, carrots, celery, and much more. The other station gives you a wide variety, ranging from many meatballs, exotic dishes (like pork liver or pork heart), different kinds of noodles, or an assortment of dumplings. 
The meat section also gives you the chance to cook beef short ribs, beef striploin, beef shortplate, pork jowls, pork neck, pork belly, and lamb. 
Food that you don't need to cook in a hotpot are also available. Make sure to try out the ebi and fish tempuras, as well as the spare ribs with orange sauce, Szechuan fish fillet, beef brisket, dong po pork, and crispy fish skin. 
You can get all the sushi, sashimi, and salad (with multiple dressing options) you want. 
Like NIU and Vikings, Four Seasons Hotpot City also has many beverage options. There's a limitless supply of sodas and a number of iced tea choices. My advice: get the honeydew melon agua fresca for a sweet and flavorful drink or the minty lemon lime iced tea for something more refreshing. 
For kids, Milo shake is available. For adults, there are different wine options, draft San Miguel beer, and the delicious Thai beer Chang. For something to help you loosen up after many dishes, there's Twinings tea and coffee.
The dessert station offers many must-tries like the revel bar, white revel bar, halo-halo, white chocolate, crepes, chocolate fondue, and chocolate english pudding. Big Scoop ice cream flavors are there as well, with many topping options present. 
Looking for a healthier way to appease your sweet tooth? Then grab hold of some frozen yogurt or fruits. 
Come hungry! – Rappler.com
Four Seasons Hotpot City is located at Bldg E., By the Bay, SM Mall of Asia Complex, Pasay City. For reservations, call them at 831-7777 or 835-7777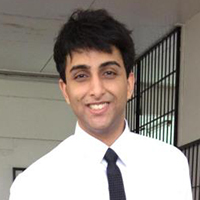 Naveen Ganglani is a correspondent and writer for Rappler.com who spends a lot of his time watching movies, flicking through TV shows, and reading novels when he isn't penning articles and covering events. On most days, he likes to watch re-runs of Friends as he hopes to master Joey Tribbiani's "How you doin'?" pick-up line. Follow him on Twitter: @naveenganglani