This tasty and easy-to-make recipe is a sure-hit for breakfast (or lunch, or dinner)
I have found that the easiest way to get the kids to try something new is by modeling. Modeling is one of the most basic parenting principles that I have followed when it comes to what my kids eat. Kids of parents who eat vegetables, will have kids eat vegetables too.
Conversely, kids of parents who enjoy soda and sugary drinks, will probably drink soda and sugary drinks too. It really is all about modeling behavior AND providing the dietary options that we want them to enjoy. Monkey see, Monkey do.
In addition to modeling, I have also learned a few tricks of the trade when it comes to preparing food in the kitchen and serving it for the dinner – or in this case, the breakfast – table. Lots of times, we can call the kids into the kitchen for help in preparing the meal, so they see what goes into the dish. Other times, I have asked the kids what they would like to eat, and then we prepare a menu built around that one dish so that they feel they have a hand in deciding the weekly menu. One trick of the trade that I learned from my friend, Leslie, while Gia and her daughter Kaitlin were still in kindergarten, was that kids were more likely to eat something, if they could roll it up in a tortilla and pick it up with their hands.
Finger food is king with little ones, and just as fun for the bigger kids. Taco Tuesday is their favorite day of the week, and because of this, we have learned how to make all kinds of tortillas. Through the joys of parenting, I have learned that putting anything inside these round thin pieces of unleavened flatbread, it immediately makes it more appetizing for hungry tummies, and easy to hold, for their little hands.
Purists who enjoy either Korean or Mexican cuisine might scoff at my fusion of these two very different dishes. The truth is, when I was preparing to shoot my video for our upcoming Korean 143 episode, I was inspired with the ingredients and added this to the dishes we prepared, when we were in the Viking Kitchen Showroom.
Taking a very simple piece of whole kasim, I rubbed it with garlic powder and brown sugar. I made this the night before in the crockpot and added all the usual flavors for our Korean dishes. The next day I pulled it out of the slow cooker, fork shredded the meat and mixed in a little Gojuchang.
Slow cooker pulled Korean pork
Ingredients
1 kilo whole kasim, skin removed
2 tablespoons brown sugar
2 tablespoons garlic powder
1 teaspoon black pepper
1 tablespoon premium sesame oil
½ cup premium soy sauce
½ cup fresh leeks
1 tablespoon sesame seeds
2 whole sinigang peppers with stem removed
Gojuchang to taste
Directions
Rub all of the dry ingredients on the pork. Set aside.
In the crockpot mix, the sesame oil and the soy sauce.
Add the pork. Top with leeks and sesame seeds.
Set the timer for 10 hours on low.
When you wake up in the morning, you can shred the pork and pan fry with gojuchang. Add a little bit at a time (about 2 tablespoons at a time), so that you can achieve the level of heat and smoke that suits your taste.
This pork can stay in the ref. It can be mixed with into grilled cheddar with kimchi. It can be a topping on a rice bowl with some veggies sautéed with garlic and sesame oil. But for this particular day, I created these breakfast tacos that were gobbled up in a hot minute.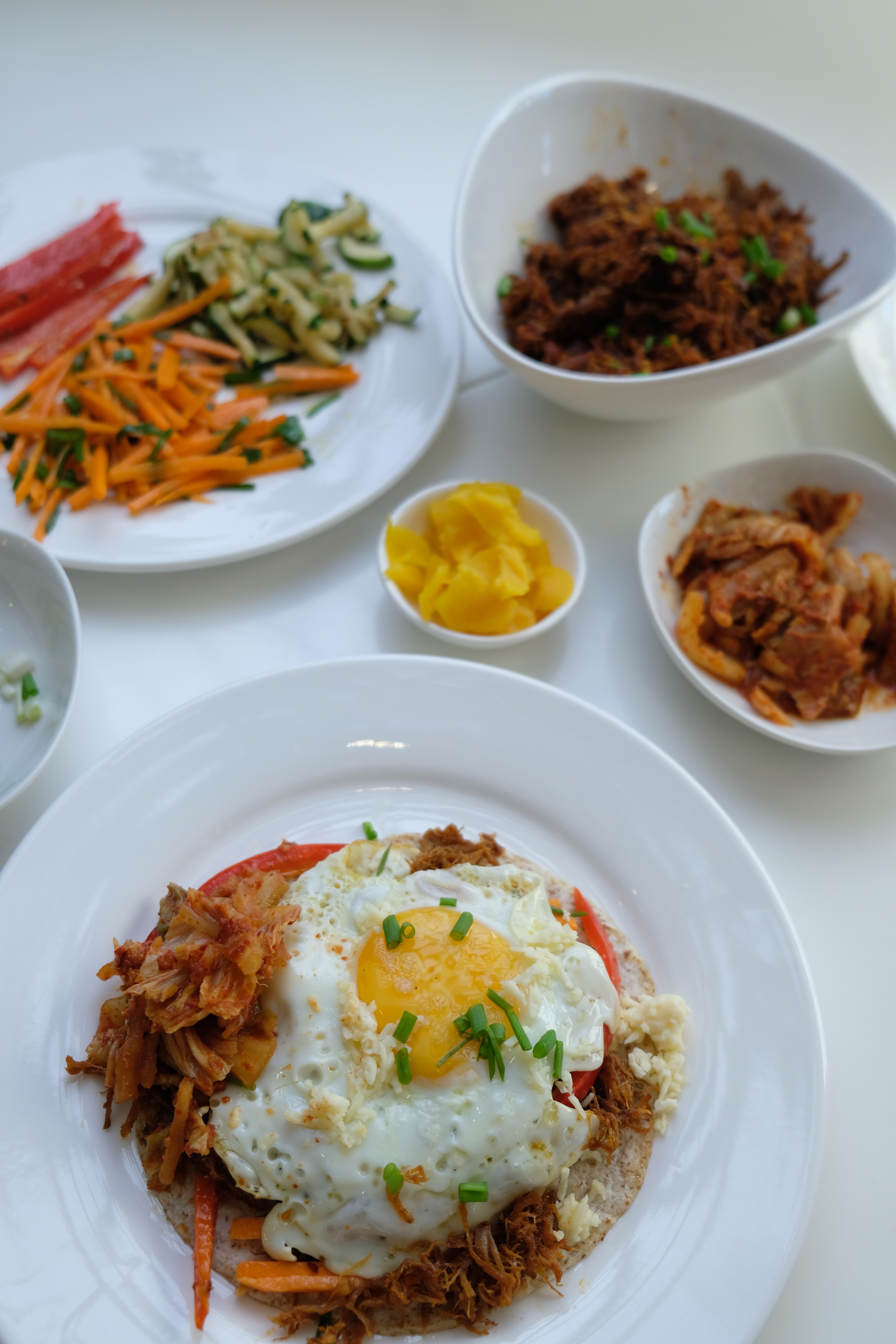 To assemble the breakfast tacos:
Ingredients
Slow cooker Korean pork
Tortillas
Sliced kimchi
Sautéed zucchini, carrots, and bell peppers
Shredded cheese
Store-bought pickled ginger
Fried or poached egg
Directions
On the bed of a warm tortilla, top your Korean pulled pork with kimchi, cheese, and veggies.
Finish with a crispy fried egg and garnish with green onion.
When we have tortillas in the house, the kids are always asking me when we will be having tacos. This new version of our family favorite will definitely be on rotation, because everyone loved it.
In fact, it went perfectly with our doenjang jjigae, or soy bean stew, which was just as easy to make and even more delicious. – Rappler.com
Want to order breakfast tacos instead? Use these GrabFood voucher codes.