My daughter has perfected the fudgiest brownies we have had to date, and since then, we have also played a little with the recipe to level it up with different variations
I started baking when I was still a teenager living at home, because my mother liked to entertain. She could cook meals at the drop of hat, for more than 50 people. In her buffet was always a mix of Pinoy and Italian comfort food that would most likely be wiped out by my cousins and I, who of course would go back for more than one serving.
All of her cooking and service in feeding our large and extended family, did not, however, include desserts. Usually we counted on the relatives who would bring store-bought cakes, treats, and sometimes Italian cookies from the deli down the street. There was always more than enough, and at big family gatherings, there was always room for dessert.
Because I saw that there were so many plates, dishes, and chafing trays of homemade goodness, one of the things that I thought would be a great addition to the buffet would be a homemade dessert. More often than not, I added my cookies to the buffet, but as I grew older and started to have a family of my own, my desserts became more and more adventurous. Some may not have always looked as pretty as they tasted but it was all part of the process and beauty of putting together something homemade.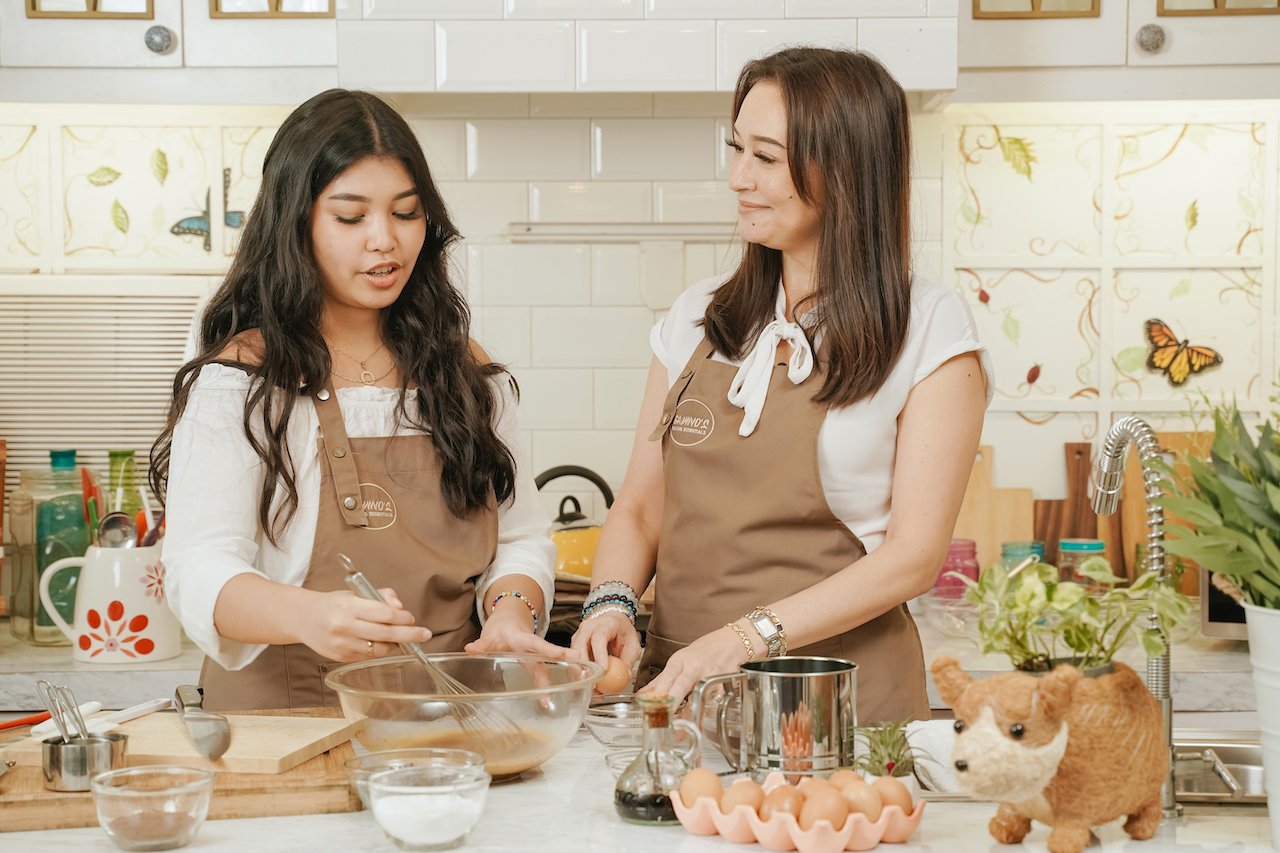 Now that I have a daughter who enjoys baking, we are creating our own kitchen memories together. I have taken on the role of managing most of the meals. We don't entertain so much because of the current situation, and for the most part we plan special celebrations and prepare different dishes as a team. Sometimes the boys get involved, and Gelli and Nino would step into the kitchen for some bonding and meal prep, but for the most part, when Gia and I get in the heart of the home, she enjoys preparing and experimenting with different types of desserts.
She has perfected the fudgiest brownies we have had to date, and since then, we have also played a little with the recipe to level it up with different variations.
Here's how we did it:
Recipe for Gia's Basic Brownie:
INGREDIENTS
3/4 cup unsalted butter
3/4 cup brown sugar
2 tsp vanilla extract
150g melted dark chocolate
1/4 cup cocoa powder
3/4 cup all-purpose flour
150g dark chocolate chunks
PROCEDURE
Melt 3/4 cup butter
Mix in 3/4 c brown sugar
Mix in one egg
Mix in 2 tsp vanilla
Melt 150 g dark chocolate and mix in
Sift 1/4 cup cocoa and 3/4 cup all-purpose flour together
Mix in until just combined
Add 150g dark choco chunks
Bake for 23 minutes at 350 degrees Fahrenheit.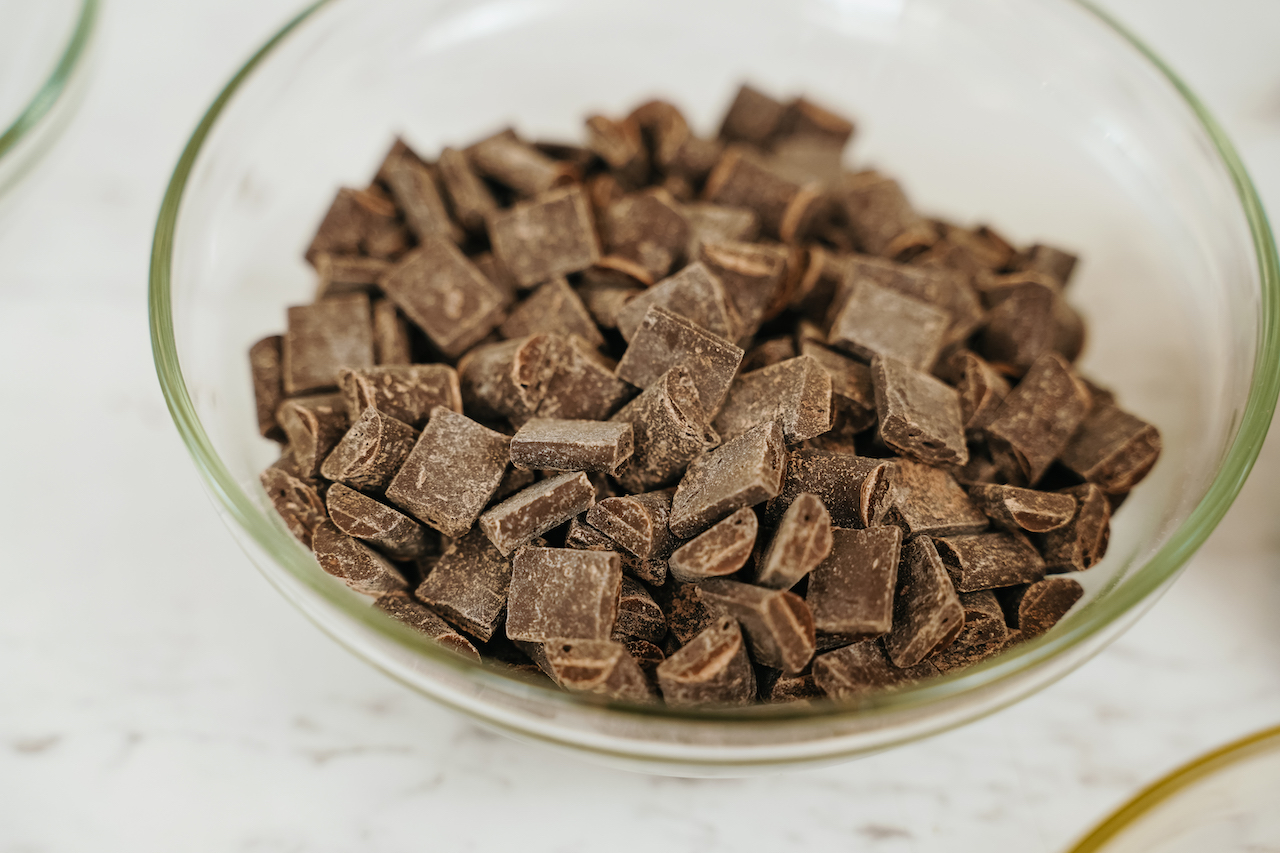 It will be a very wet brownie.
Let it cool completely. You can even refrigerate overnight.
Slice when cool.
And here is how you can level it up:
Oreo Brownies:
Add crushed and broken Oreo cookies to your mix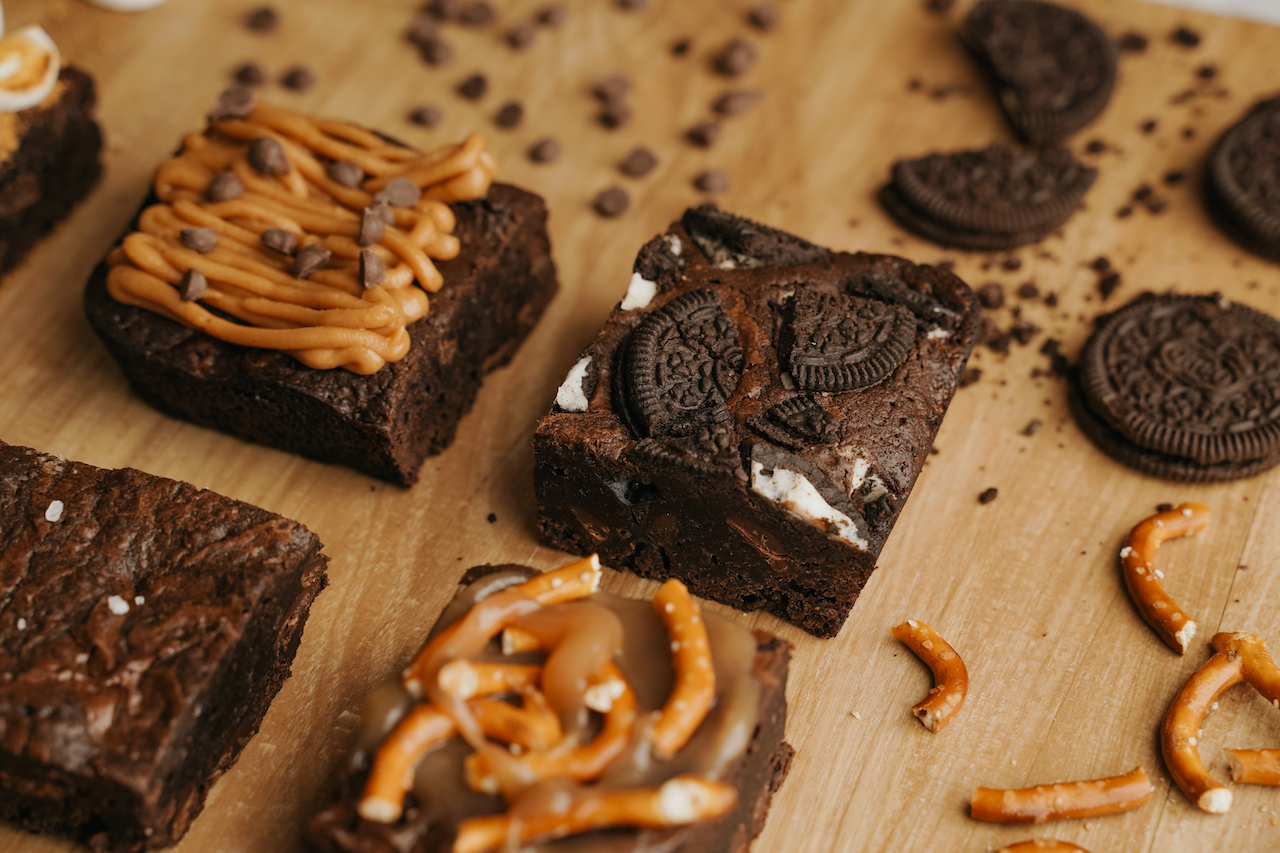 Salted Caramel Crunch Brownies:
Add pretzels to the mix and swirl in homemade salted caramel. Top with salted caramel too.
Recipe for salted caramel:
Boil 200g sugar in 60g water
Bring to a caramel color
Add 200g cream
Whisk thoroughly
Add 50g butter
Mint Chocolate Chunk Brownies:
1/2c powdered sugar
2 drops of peppermint extract
1-2 tsp milk
Sift powdered sugar and add one drop of extract and one tsp of milk. Mix to consistency. Add another tsp of milk to achieve spreadable or drizzling consistency. Taste, and if more peppermint is needed, add the second drop.
Peanut Butter Brownies:
1/2c peanut butter
1 Tbsp butter
1/4c sifted powdered sugar
1/2 tsp vanilla extract
Whip all ingredients together and spread on chocolate chunk brownies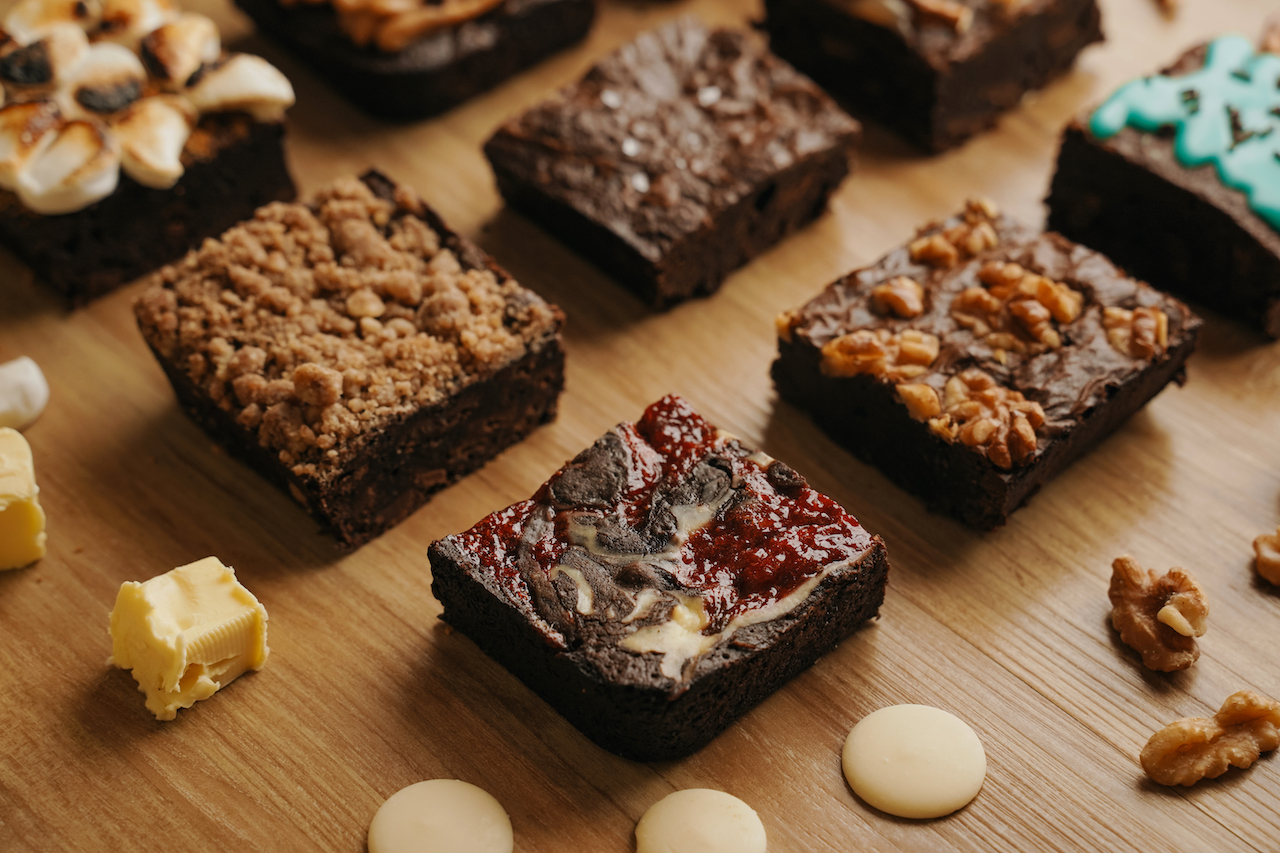 Walnut Brownies:
Add 1 c walnut halves to the mix
S'mores Brownies:
1c graham crackers, crumbs, and crushed
Marshmallows
While brownies are still hot, top with crushed graham cracker bits and crumbs. Cover with marshmallows. Using your kitchen torch, melt your marshmallows or broil in the oven while keeping a close eye so as not to burn.
Brownie Crumble
Making the crumb topping is easy to do, and it sits on top of the Basic Brownie Mix before it goes in the oven.
1/2 c butter
1/2c brown sugar
1/2c all-purpose flour
Using a pastry blender (or a fork) blend all three ingredients until it resembles a crumb-like mixture. If the mixture is too soft you can put it in the ref to firm up the butter crumb.
Strawberry Cream Cheese Brownies:
226g cream cheese
1 XL egg
1/3c sugar
1 tsp vanilla
Whip cream cheese until fluffy
Add sugar and vanilla. Then egg.
Strawberry Compote:
250g frozen strawberries
50g sugar
Splash of water
Juice of half of lemon

Add everything to the saucepan and simmer on low heat until reduces
Swirl cream cheese mixture and strawberries into the raw brownie mix and bake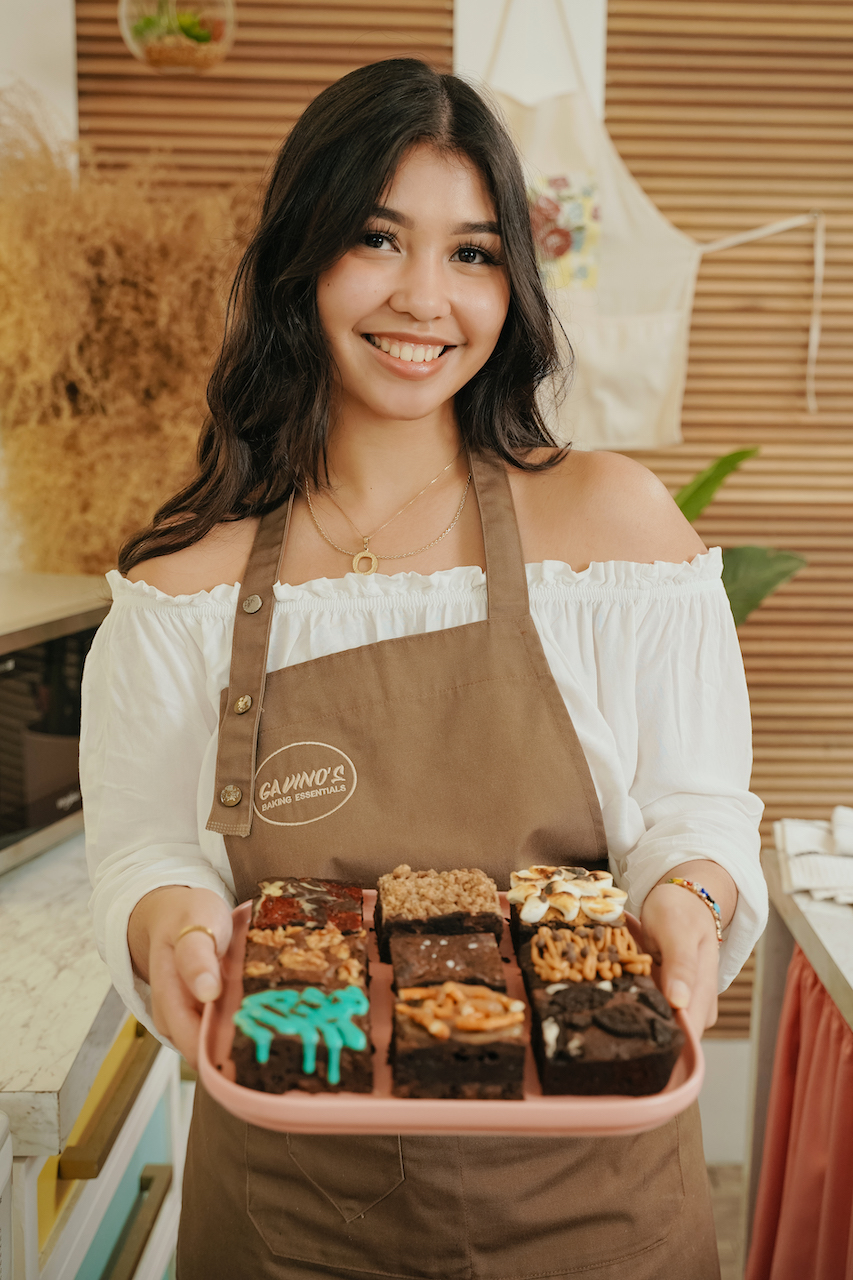 Taking this very basic brownie mix to the next level when you are craving out-of-the-ordinary chocolatey goodness is super easy and fun. In fact, sometimes, we have taken one brownie batch and made two different types in the same pan. Of course, it makes it even easier when we don't have to go out and can have our ingredients delivered right to our door. – Rappler.com
Earn brownie points by availing of discounts from these GrabFood vouchers!