This homemade Chicago-style pizza is stuffed with ooey gooey mozzarella cheese
There's thin crust, thick crust, and then there's deep dish pizza (also known as Chichago-style pizza) – a cake-like pie baked with a tall edge, filled with all the good stuff: meat, sauce, and even more cheese.
If the craving for a high-quality, homemade deep dish pizza calls, check out Pasig City home kitchen Deep End Pizza – this quarantine-born business makes all their deep dish pies made-to-order and from scratch at home.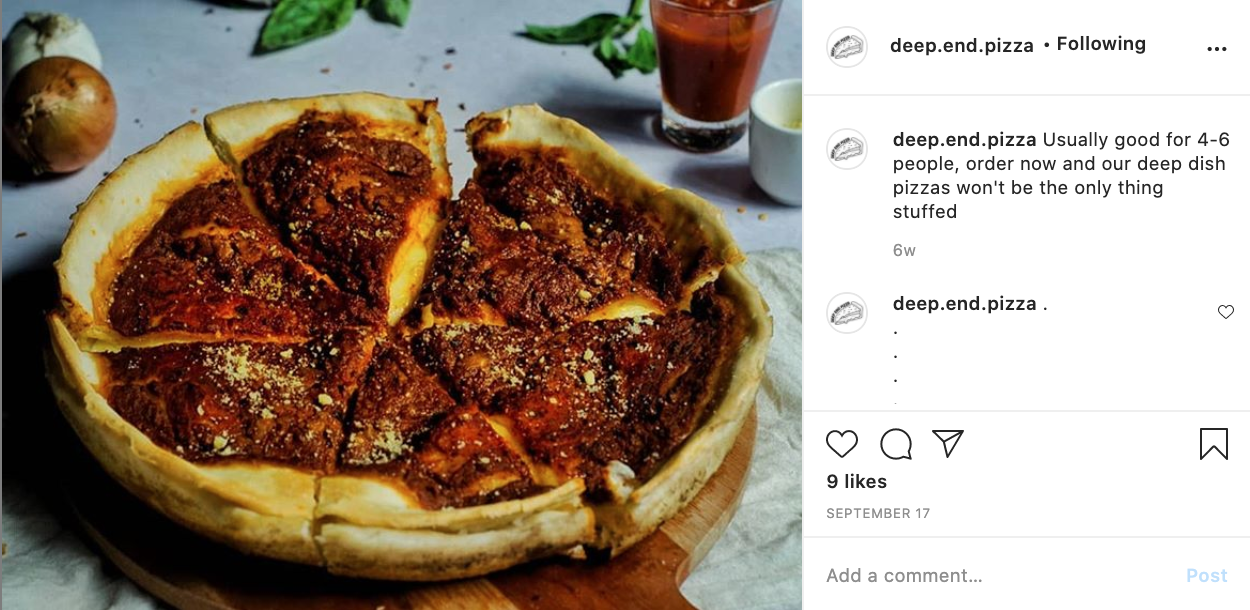 Deep End Pizza was founded by Joaoie Pascual, who was seeking inspiration after his best friend passed away in July. He found solace in his kitchen a few days later, deciding to pursue his love for deep dish pizza. With the help of his best friend's family, Joaoie created logos, branding, and now has them as his partner for sourcing ingredients.
The difference of Deep End's premium deep dish pizza is that the tomato sauce is slathered on the top, rather than in the middle. Its soft pizza crust is filling but not too thick that you can still enjoy it by hand, with no need for a fork and knife.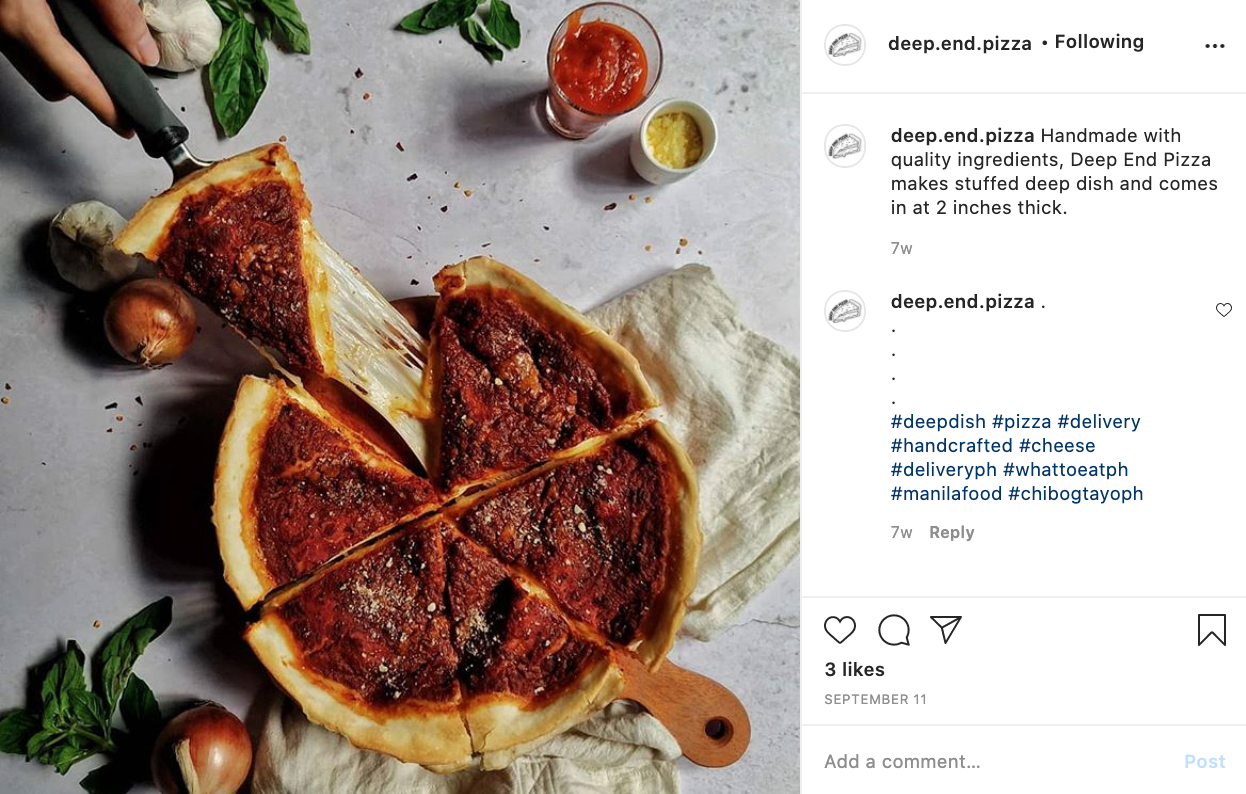 If there's one flavor you must try first, it's Deep End's 10″ Double Cheese (P900) deep dish pizza, with two-inch-thick slices.
The golden brown buttery crust (which is baked with parmesan cheese for a slight, savory crunch) holds up a generously thick filling of different mozzarella cheeses, sourced from Europe and Australia. On top is a chunky, homemade red sauce from tart Italian plum tomatoes, finished off with a sprinkle of Parmesan cheese.
Everything is then baked in a cast iron stove until everything is melted and bubbly – you won't miss out on that stretchy, ooey, gooey cheese pull once you take your first slice and bite!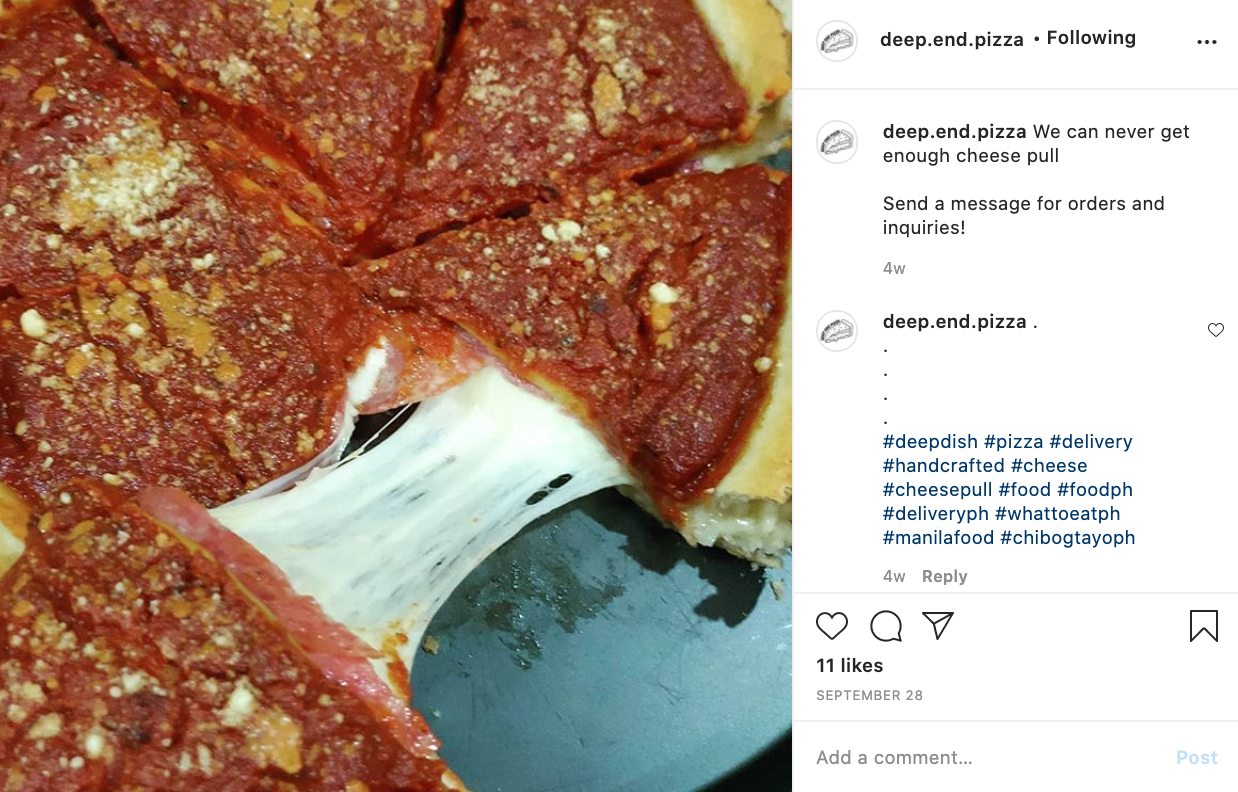 Deep End also has a more filling, plant-based option – the Vegetarian Bean Sausage (P1,000) is stuffed with cheese, crunchy white onions, fresh bell peppers, and a tasty, meatless sausage crumble from Sift Lifestyle (all their veggies are sourced locally).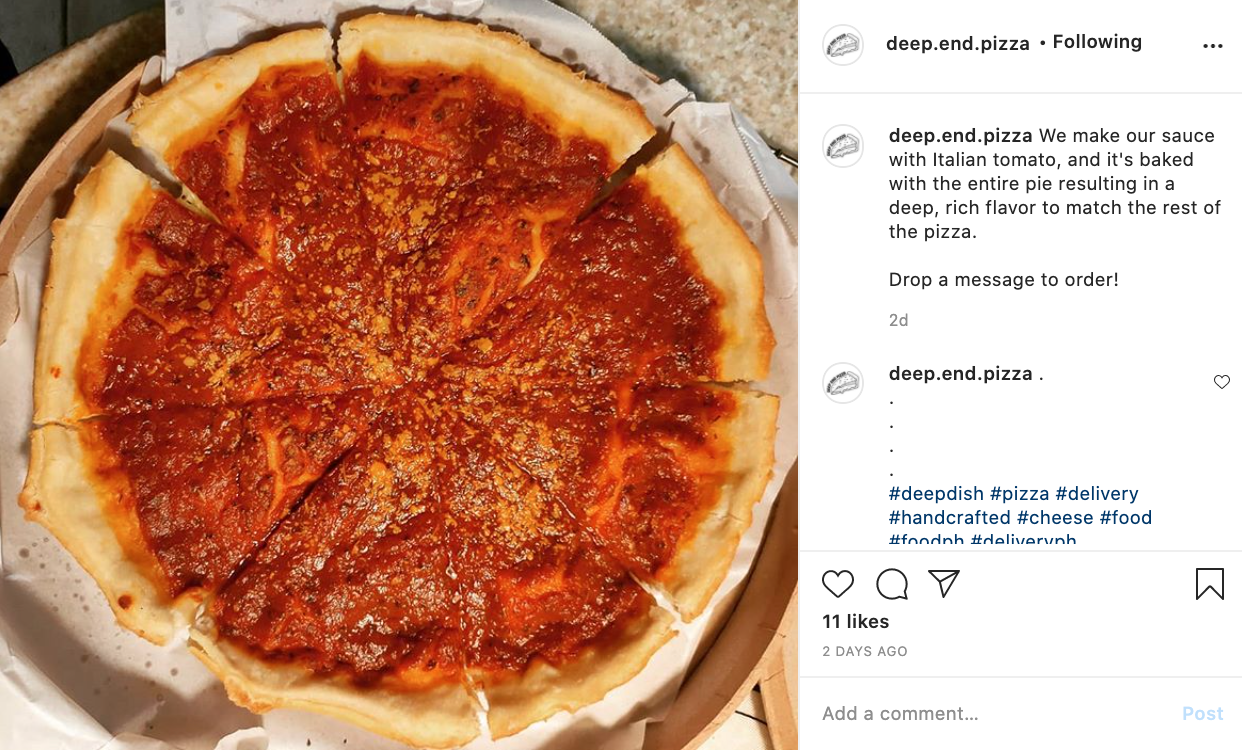 But if it's meat you want, there's also a Salami Milano (P1,100) option, made with slices of the authentic cured ham for an extra salty bite.
Deep End's pizzas also come with a side of red chili flakes and extra Parmesan cheese. You can also request for more tomato sauce on the side (which is never a bad idea)!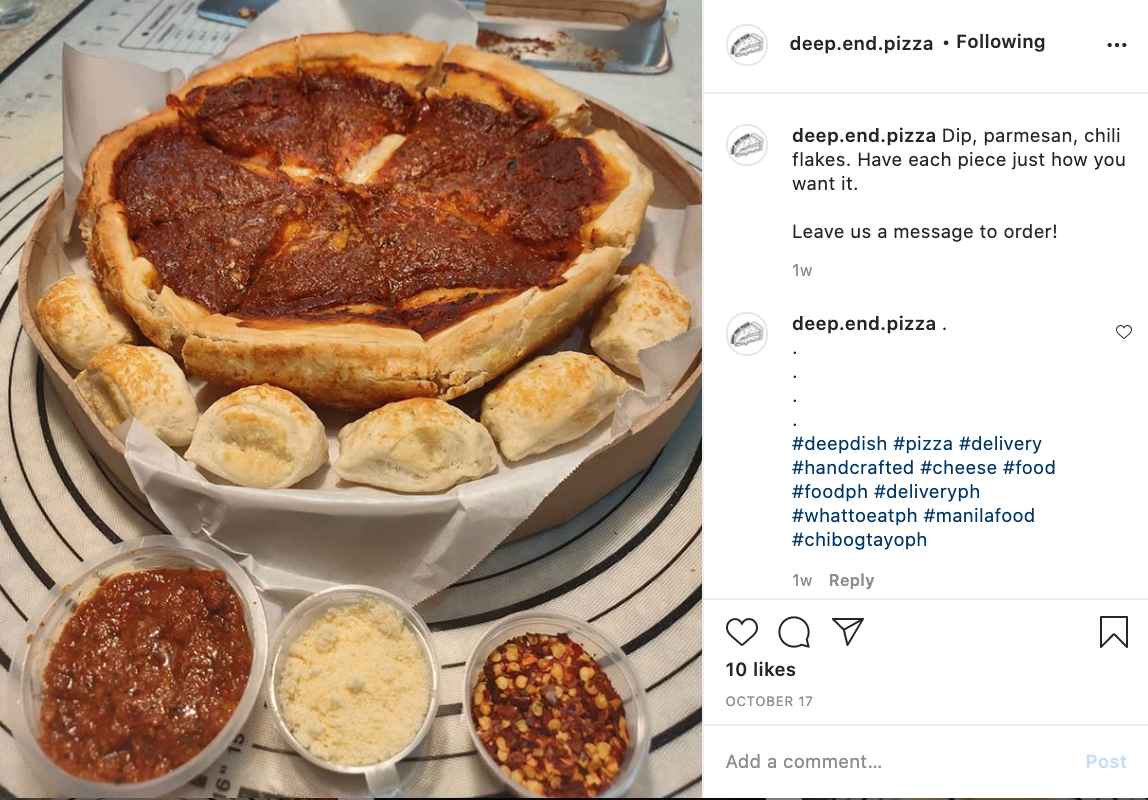 The prices may be steep compared to a regular commercially-made pizza, but this isn't your average kind – aside from its handcrafted quality, every premium ingredient is thoughtfully sourced, and everything is made (and tastes) fresh. Plus, Deep End really doesn't hold back on the cheese at all!
Deep End Pizza is located in Casa Verde, Pasig City. They require a two-day lead time for daily lunch and dinner slots. Each pizza can feed 4 to 6 people.
To order, you can message them on Instagram. – Rappler.com