Nicole Ponseca's pioneering Filipino restaurant and bar in East Village will be open until September 25
One of The Big Apple's pioneering Filipino restaurants, Jeepney, is saying goodbye to its prime location in First Avenue, East Village, after nine years.
Chef Nicole Ponseca, the owner of the famous New York Filipino resto and cocktail bar, said in a September 13 Eater interview that Jeepney would be closing down on September 25. During the last two weeks of service, Jeepney will be open for dinner from 5 pm to 11 pm on Fridays and Saturdays.
According to Ponseca, she could've closed her restaurant a month earlier but she "wanted to stay open so people could get their last meals and [their] staff could take their final bow."
Ponseca said that Jeepney's closure is just the start of planning bigger things for her trailblazing brand. "I want to graduate from being an independent operator into something more formidable with more support. I don't want this to be the end of Jeepney," she said.
Ponseca hopes to partner with a restaurant group in the future to see Jeepney grow into a "fast-fancy" restaurant chain found in multiple cities – "a hybrid of something that is fast-casual and something that is fine-casual."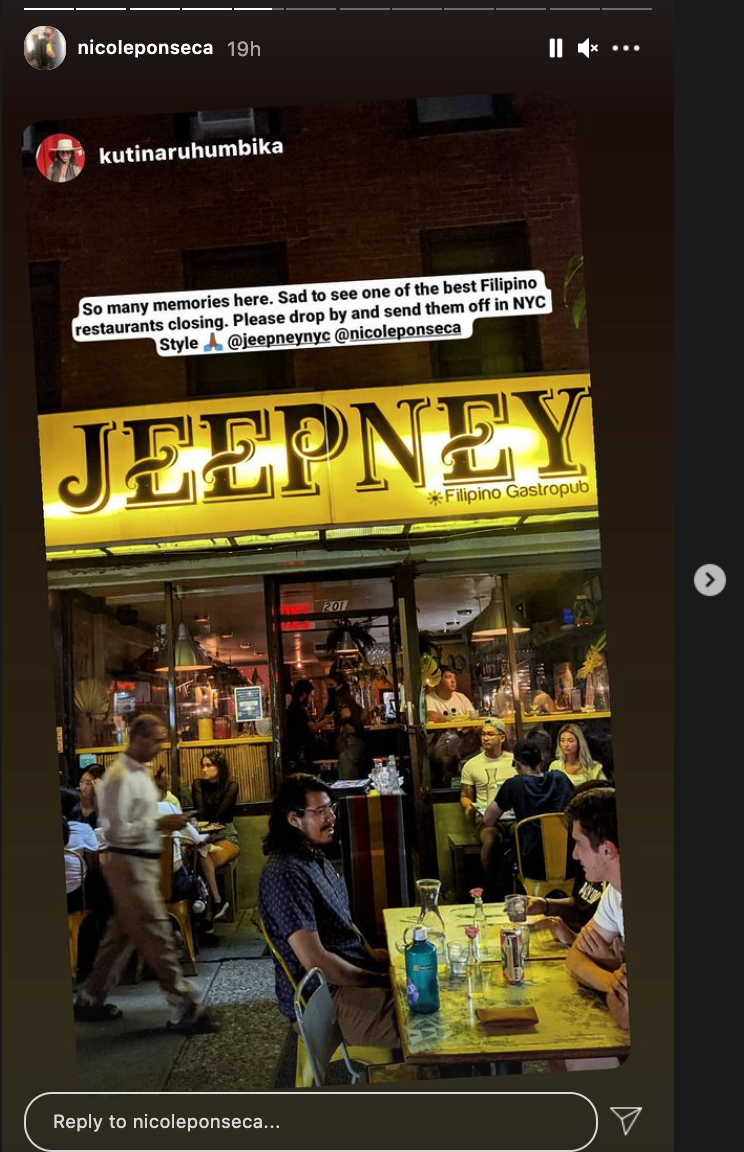 Jeepney and Ponseca reposted several Instagram Stories of loyal patrons bidding their comfort dining spot goodbye, sharing fond memories and their favorite Filipino dishes.
Hungry Post NYC encouraged everyone to try Jeepney's award-winning Chori Burger one last time – a brioche bun sandwiching a beef and longganisa patty, spicy banana ketchup, Maggi aioli, atchara pickles, and egg.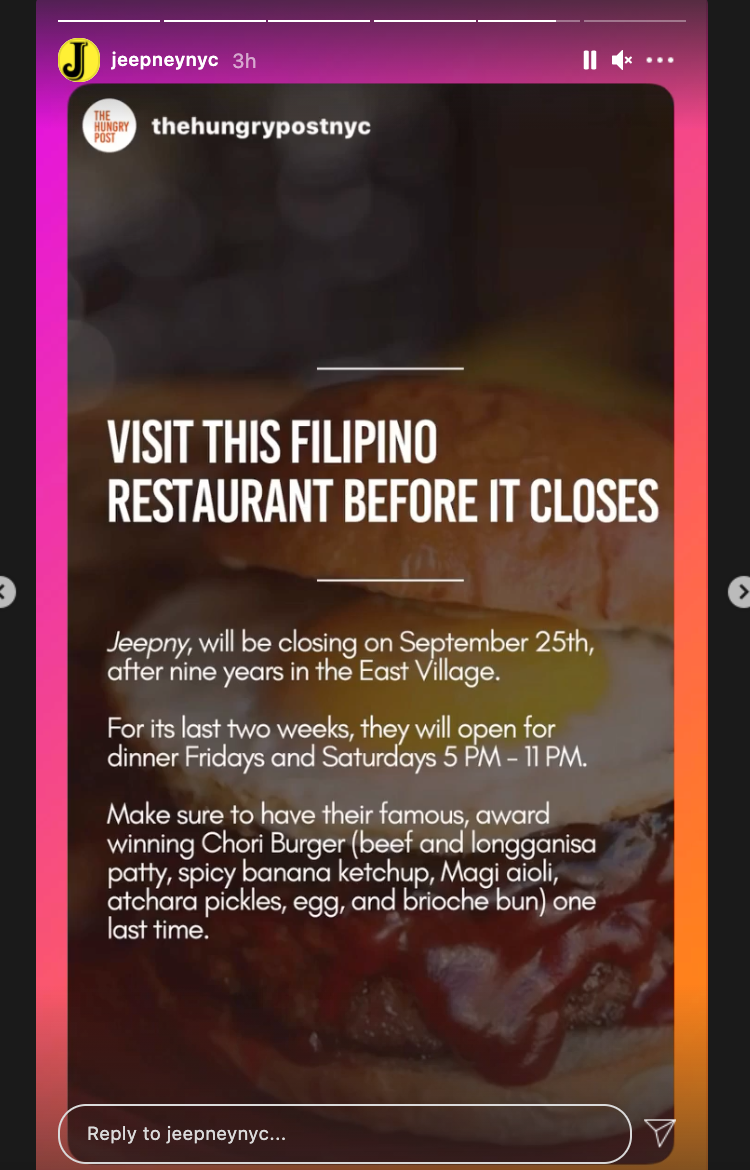 Jeepney is Ponseca's last brick-and-mortar shop in New York, which she founded in 2012. Ponseca opened a second Jeepney branch in early 2021 and a new brand called Tita Baby's (a Filipino barbecue joint), both in Miami.
In December 2019, Ponseca closed down her other popular East Village Filipino restaurant Maharlika after nine years.
Restaurateur Ponseca's recipe book I Am A Filipino was nominated for the prestigious James Beard Award in 2019 – one of the highest honors given in the American culinary and hospitality world. The cookbook, co-written by Miguel Trinidad, was nominated under the International Books category. – Rappler.com