In Dumaguete, we are starved for the old feasts as the food scene collapses – because, admit it, they were all feasts in our pandemic-tinted hindsight
In Dumaguete, we dream of the bibimbap from Kri, and the turkey burger. The samgyeupsal from Soban. The bulalo from Royal Suite Inn. The buttered chicken from Qyosko. The baked salmon from Le Chalet. The Dumaguete Express from Hayahay. The steak and eggs for breakfast fare from Café Alima. The native chicken in spicy coconut broth from Adamo.
A wide-ranging menu of a city fast becoming known as a food mecca in this part of the world – but all so easily shuttered into the current limbo of mere cravings without fulfillment. We had no idea.
There is no recollection of the last good meal we had in the old normal, which was only a few months ago calendar-wise – but in our current consciousness, years and years back in the past. There is only this for pittance: on April 2nd, in the hours before Dumaguete went on full ECQ, we found our way to ChaChaGo, the new milk tea shop housed beside a Star Oil gas station along E.J. Blanco Drive. We thought it would be commemorative – to tell others in the murky future, "We went to get milk tea the night before the lockdown." It had the proper undertone of the mundane to it, enough to buffer the overwhelming uncertainties.
ChaChago had barely opened for business, coming in on the scene just as the pandemic was making its presence felt. There were to be no more dine-ins, and facemasks were de rigueur. That was our first taste of what food would be like in the protocols of lockdown: take-outs, pickups, deliveries, the sight of pink-shirted delivery boys, the mushrooming of neighborhood food stalls, the craving for things that were abruptly denied us.
Perhaps we thought things would quickly go back to the way they were when some semblance of normalcy returned. It could not last months, could it?
We were, by that reasoning, optimistic for normalcy in May, and then June, and then July – and now it's August, and while some of the old robustness has returned to our city streets and business enclaves, we cannot deny the cloud of uncertainty that hovers.
In the meantime, most of us try to stay home as much as we can, ordering for food deliveries without resorting to Food Panda – I have come to know well some of the delivery boys from Chowking and Neva's – and sometime venturing into the familiar confines of old gastronomic haunts when they finally re-opened, a checklist of cravings in mind. Samgyeupsal in Soban [in a week when the craving for Korean food was intense]—checked. Miso ramen from Ichiraku – checked. The barbecue gallows from Why Not? – checked.
It's a long list; we're not done with it.
A new normal
Sometime in the early days of the GCQ in June, we found ourselves having to do chores in Robinson's, and that led to our first real dining-out experience: in Hukad, we ordered lechon kawali and pinakbet. The uyap mixed in with the ampalaya and eggplant and tomato sated a hunger that proved more than physical; it was existential.
But we also noticed how quiet things were still at the mall; you could hear the linoleum in Hukad breathe. "How many customers have you had for today?" we asked. It was already mid-afternoon. "You're the fourth customer we've had," we were told.
A food scene in shambles
Later on we noticed the quiet in Moon Café and Bo's along the arc that makes up the al fresco area of the mall. Later on, we noticed that Sunburst was gone, its signage gone, its interiors a mild flurry of carpenters working over what looked like the remains of the recently evacuated.
We noticed it helped if a food place had some social media presence: barring the limitations of the pandemic, some who have weathered the storm considerably – I could think of Neva's and Chop'd Lechon in this regard – had active Facebook presence, took orders how they could, and did not shy away from going with the flow of the turbulent months.
Most, however, remained quiet or temporarily closed up for one valid reason or other – and soon many were gone for good. Lu Fun, the Chinese eatery right near Cang's downtown, closed up. Kurambo's, Lord Byron's, the original Roti Boss along Calle Sta. Catalina, Victoria's Haven in Sibulan were gone. Scooby's at Portal West remains closed, with no word on its resurrection, although its Calle San Jose branch is open. Some – like Poppy and Bakugo Ramen – abandoned their physical presence, opting for the rent-free option on the internet. Bakugo Ramen didn't even have a chance to open shop for real – a common story of waylaid plans because of COVID-19.
Even Dumaguete culinary institutions like Kri announced the closure of its Silliman Avenue hub, with the caveat that its signature dishes are still available at Esturya along Hibbard Avenue. Which is good, but also not the same: call it voodoo of place, but Kri is not really Kri without the geographic attachments. I still eat Taster's Delight cheese burgers at Howyang – but it's like conjuring a ghost; it isn't the same.
The Dumaguete food scene is in shambles – but it is also the same everywhere else. A story I read in the New York Times Magazine had one restaurateur tell of closing up her popular bistro, with the knowledge that there might not be a re-opening at all. Because take-outs and deliveries can only do so much. Because food ordering apps may be convenient, but they do take away from the "experience" of dining-in – plus the commissions they cut are a bit much. Because even when some kind of normalcy has returned, how do you exactly convince your wary customer-base to come back given the uncertainties?
A collective of food artists
This is not stopping some Dumaguete restaurateurs and chefs from trying something. Let's call it a revolt against the circumstances – Edison Monte de Ramos Manuel of Adamo, Matt Villamil, and Edz Vergara from Beyond Plants, and Howard Wong, Renald Tan, and Grhemy Buenavista from Coffee Collective have joined forces to create a collective of Dumaguete culinary artists and restaurants called Dug-ab, literally "to belch in gastronomic satisfaction," to generate interest in the local dining scene after (or even during) the pandemic via culinary events to be held every two weeks or so in specific restaurants around (and even outside) Dumaguete.
The local lockdown of Negros Oriental also means Dug-ab would also become a showcase of food with ingredients sourced from local growers and farmers.
Dug-ab began as an invitational five-course tasting menu dinner on July 18 at Adamo (at the corner of Tindalo and Molave Streets in Daro), which boasted of specific contributions from the collective's masterminds. The occasion personally marked for me a taste of the old dining thrills – there I was clad in pants for the first time since March, and a glass of red wine in my hand, my first sampling of alcohol since lockdown. The rustic ambience of Adamo, unseen since Valentines night in February, was a welcome change, and a delight of the familiar you thought you would never see again. We asked Edison how the business was – and we got the usual response of downsized staff and changing dining hours: apparently Dumaguete was now a daytime diner, which meant simplifying and consolidating the menu.
"But Dug-ab is our chance to do something," Edison said.
I believe him. Crisis is a chance to re-correct, to be revolutionary, to think out of the box, so to speak. Who's to say Dug-ab is not the revolution?
For starters, we had the pumpkin taquito, an appetizing assemblage of spiced pumpkin, basil leaves, garlic aioli sauce, and edible flowers on top of activated charcoal taquito – the earthiness of the aftertaste quite memorable. It's a vegetarian offering from Beyond Plants, whose two chefs – Matt and Edz – actually used the onset of the pandemic and the lockdown that followed as an excuse to open shop, merrily cooking vegetarian fare in their corner of Hoy! Lugaw along the Rizal Boulevard.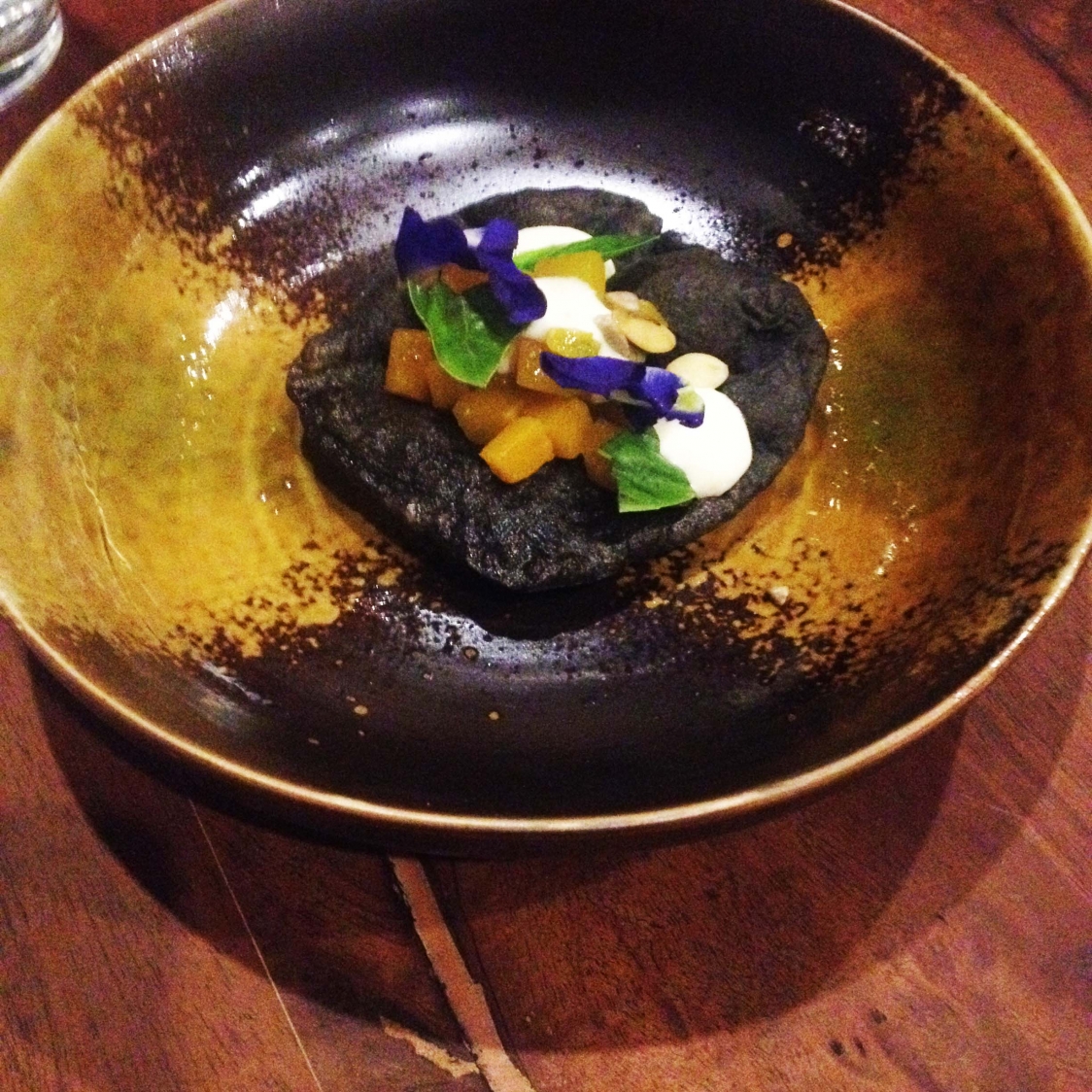 The tuna crudo that followed as appetizer is clearly Adamo's: the ruby-red freshness of the sashimi in the mix of guacamole, microgreens, cucumber, passion fruit, and wasabi presenting a fascinating skirmish of taste—the coolness of the guacamole fighting the heat of the wasabi.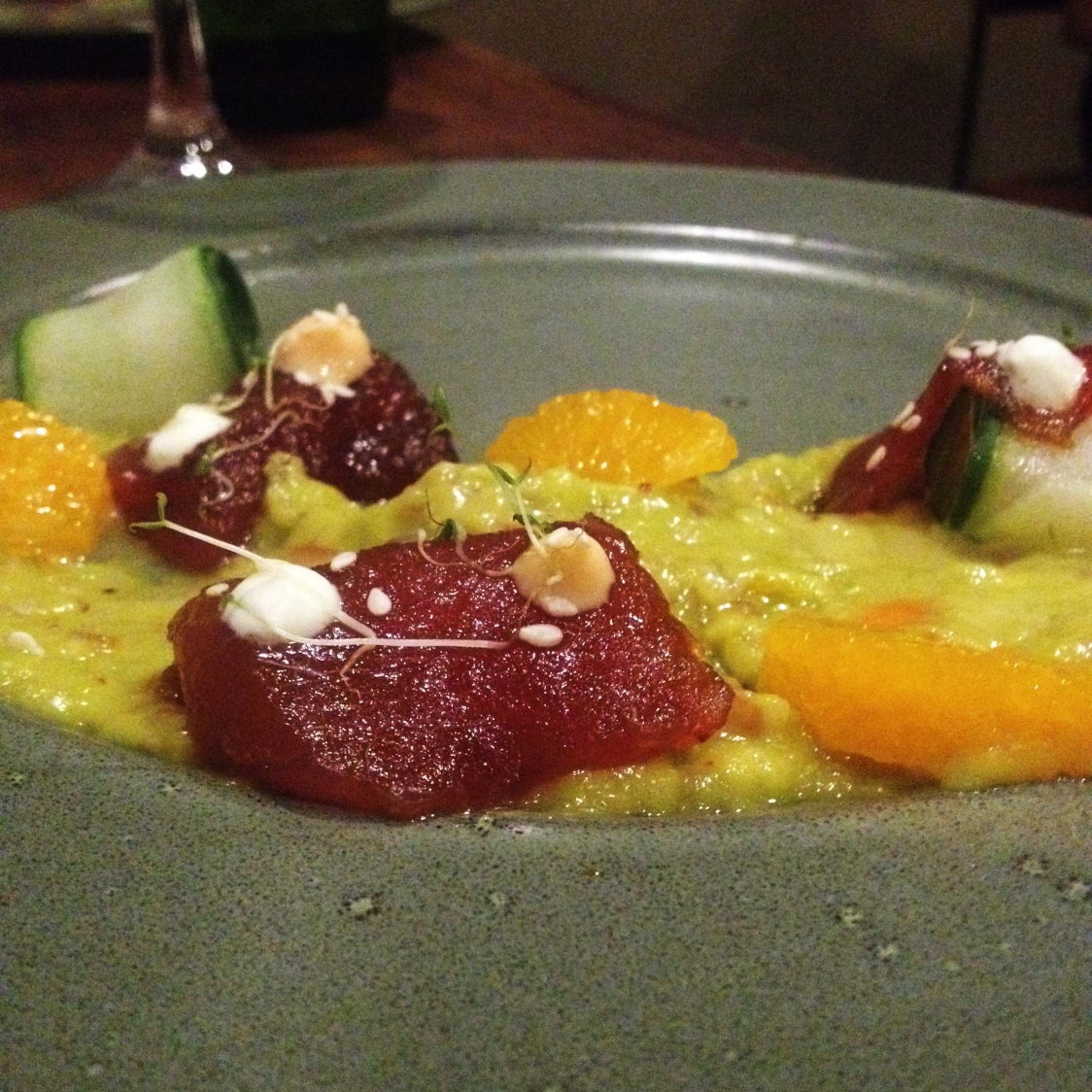 The 3rd course was pasta, from the vegetarian imaginations of Beyond Plants: a twirl of linguini, set with eggplants and tomatoes cooked in a ragu sauce, topped with basil, olive oil, and vegan parmesan, which contained cashews, garlic powder, and oyster mushrooms – a fare that tantalizes with its heat, its sweetness, and its sourness in equal measure.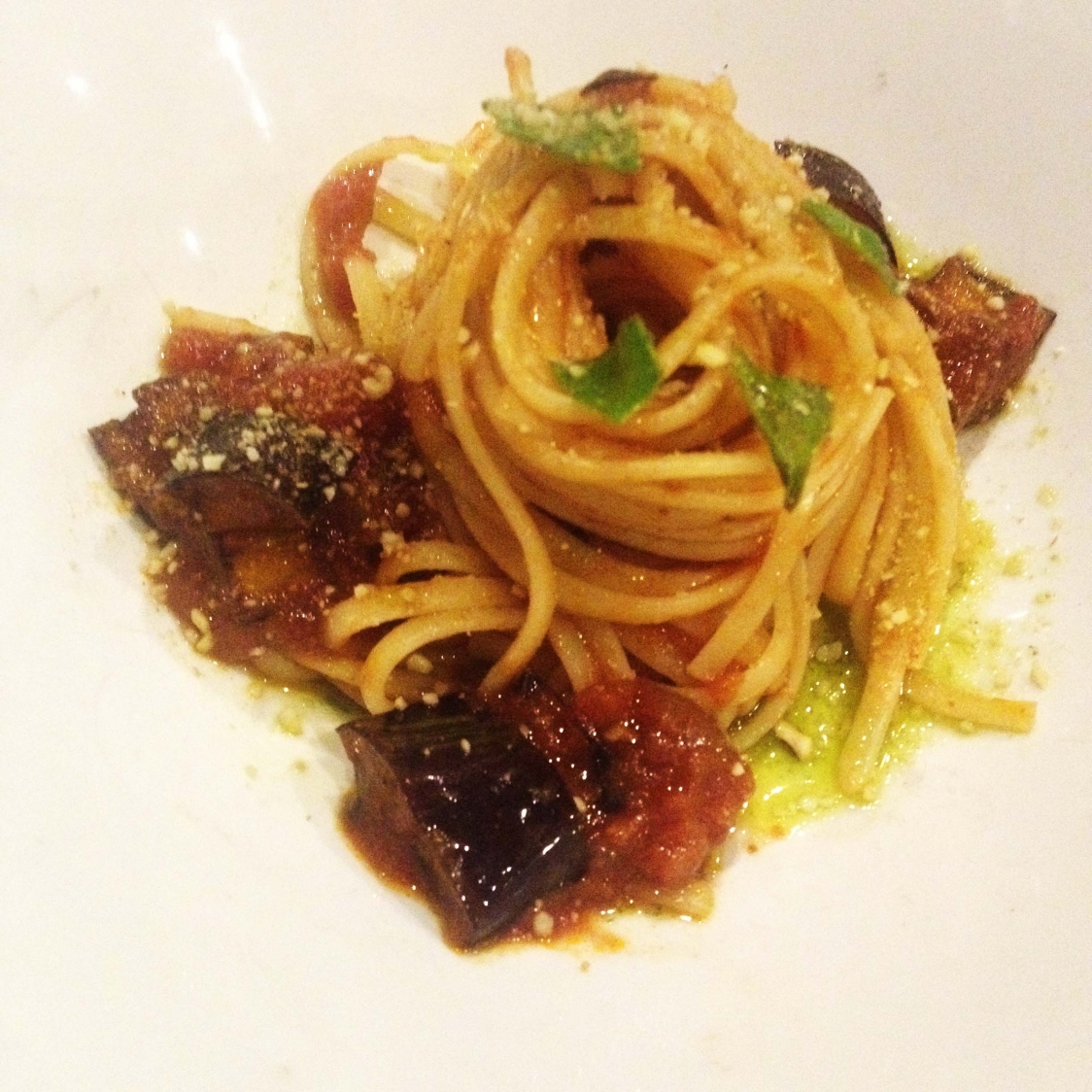 The main dish was a stack of red snapper and beef brisket on a bed of potato puree with tarragon sauce infused with brown butter.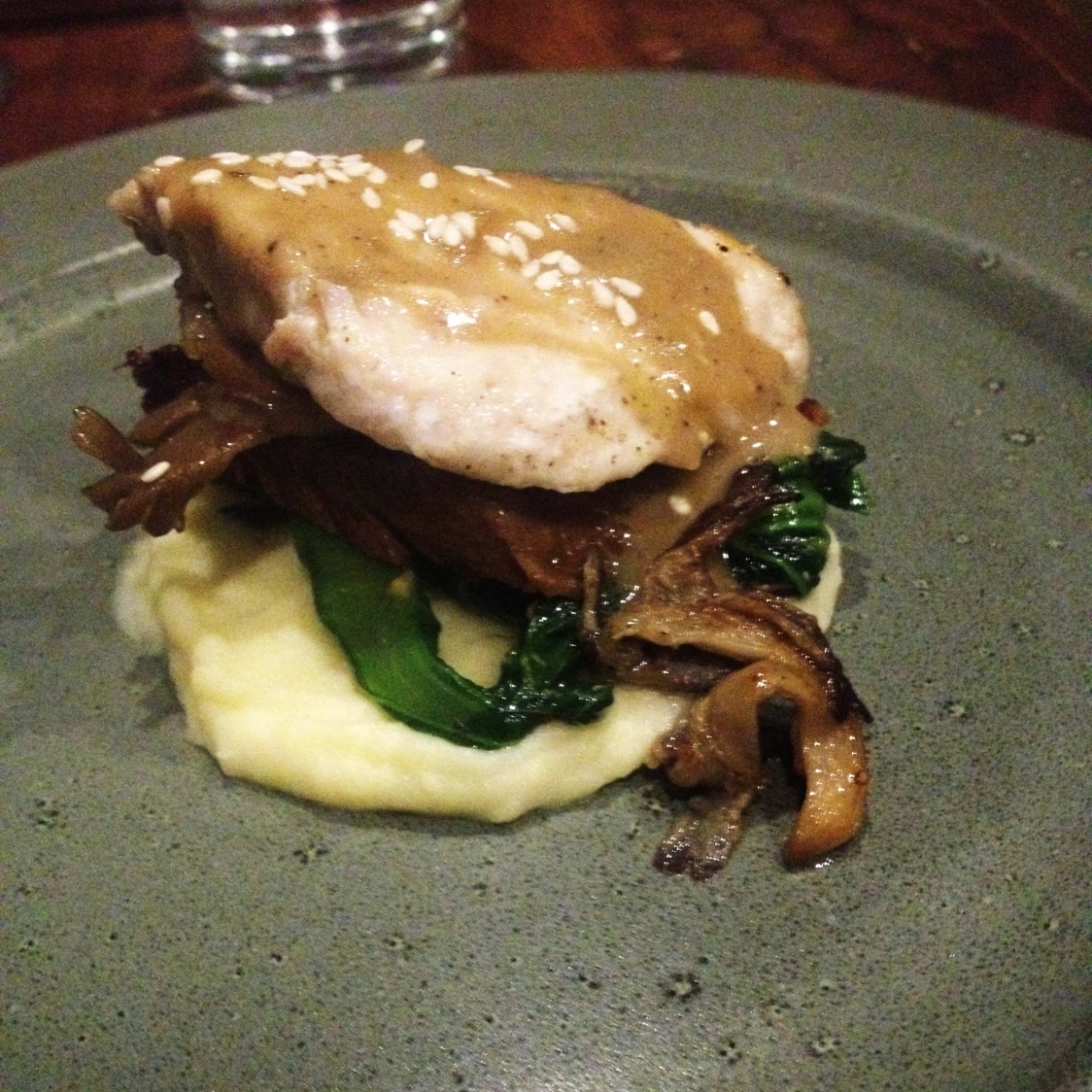 Dessert came courtesy of Coffee Collective, pairing a glass of Ethiopian cold brew of lemongrass and black tea with a slice of chocolate walnut cake covered with chocolate crémeux, and on a spread of coffee mascarpone. It's a great cold, balanced finish to an experience.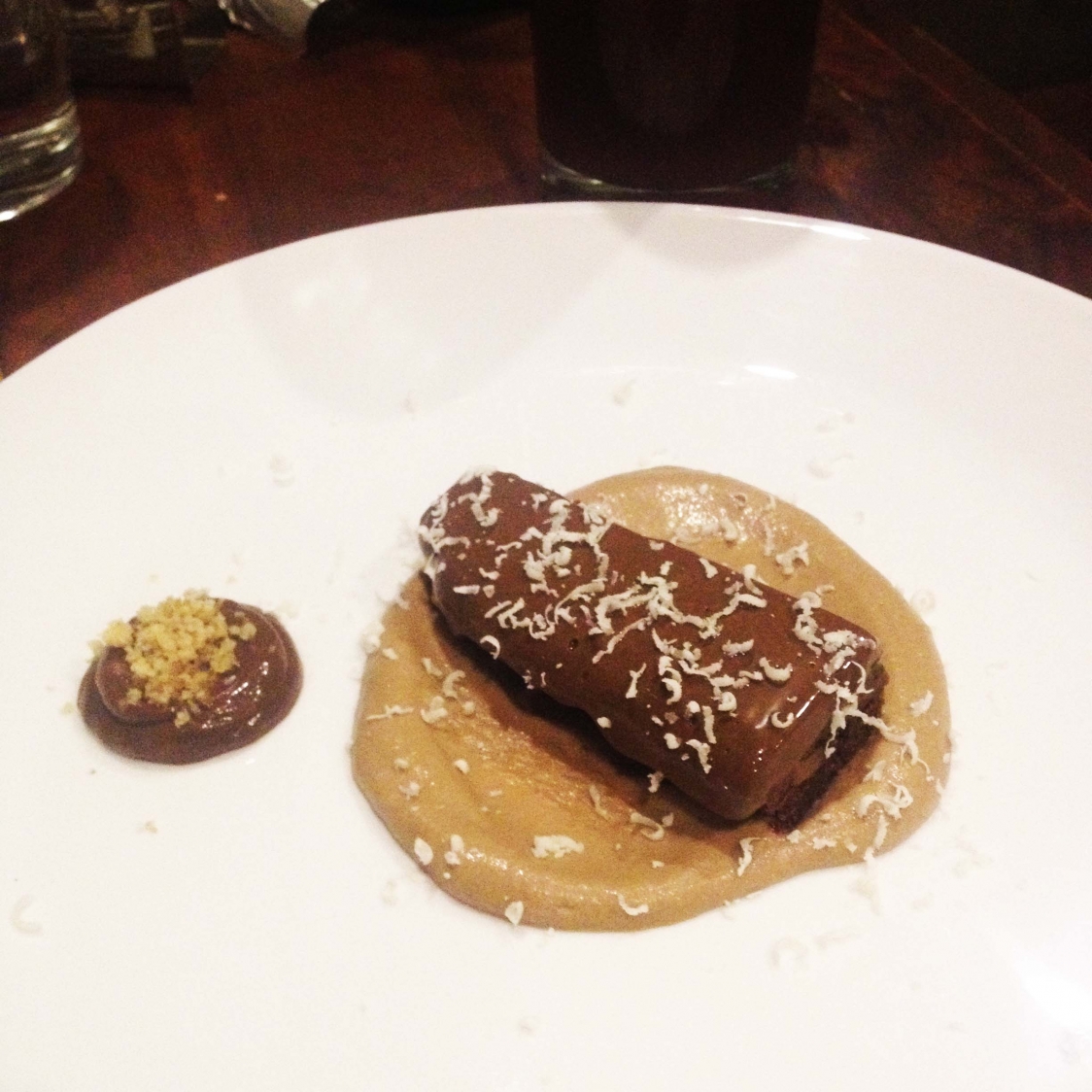 And there's that: an event, a showcase of what you can do with locally sourced ingredients, a willingness to test the murky waters of the times. The only way to respond is wishing Dug-ab well, and the promise of patronage – as we must. – Rappler.com