Roasted corn, caramelized onions, creamy mozzarella, and tangy chorizo are fun and filling!
Handpies. Pasties. Calzones. Empanadas. Turnovers. Piroshki. Pastels. Knishes. Samosas. Bourkas. All of these delicious hand-held treats can be savory or sweet. Each of the fillings and pastry dough used to make these international versions of handpies are as different as their names and origins, but the results are always the same. Hot fillings sandwiched between dough that is fried or baked, easy to enjoy on the go, and perfect for kids of all ages.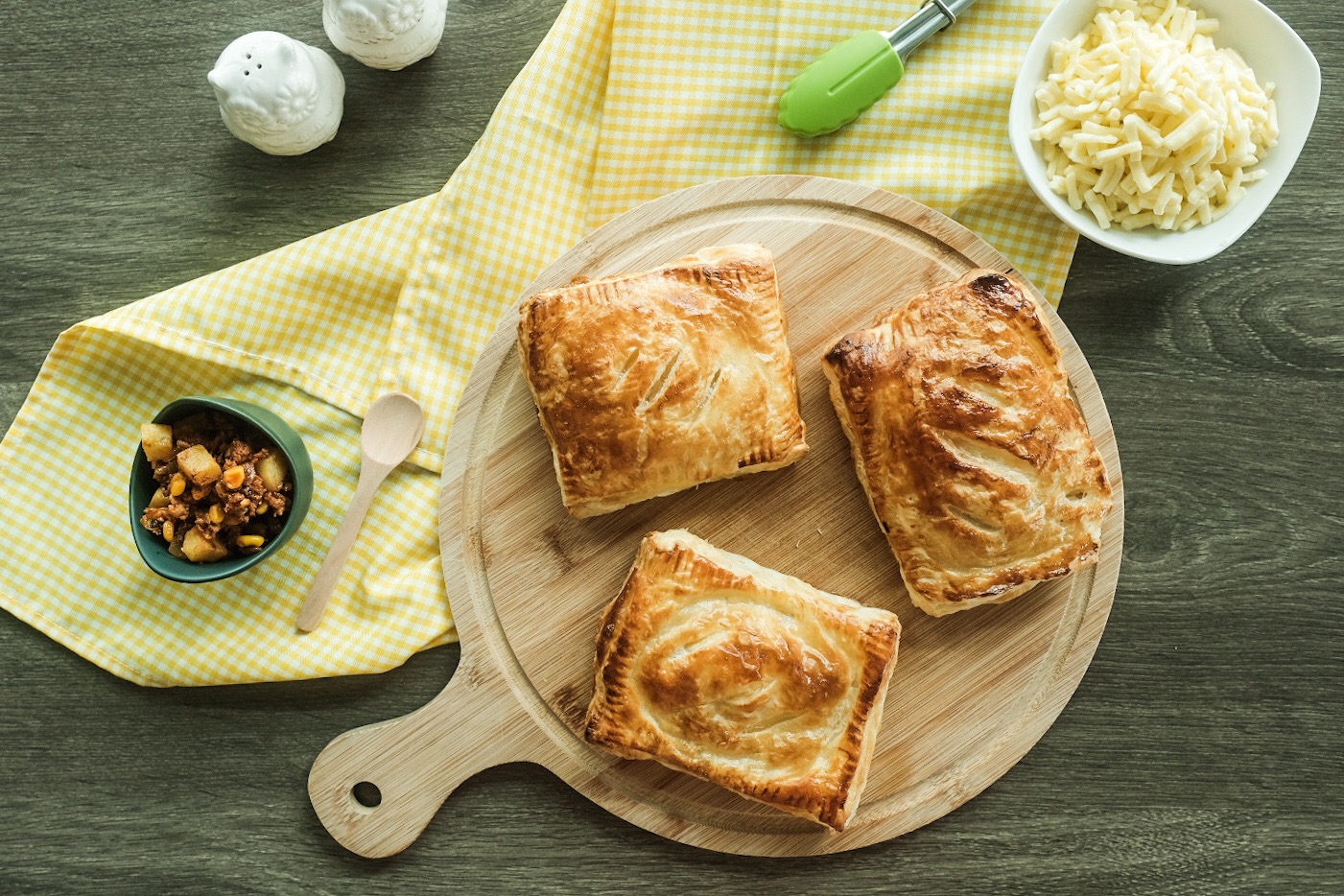 The origins of the "pasty" goes as back as far as 19th century England. The process of creating these portable treats grew out of the necessity to carry lunch for the Cornish miners who would have to eat while keeping lunch free from dirt and debris. Many cultures all have their own version of these crusty hot pockets filled with meat, cheese, vegetables and fruit, all taking their cue on what has been originally available and easy to source.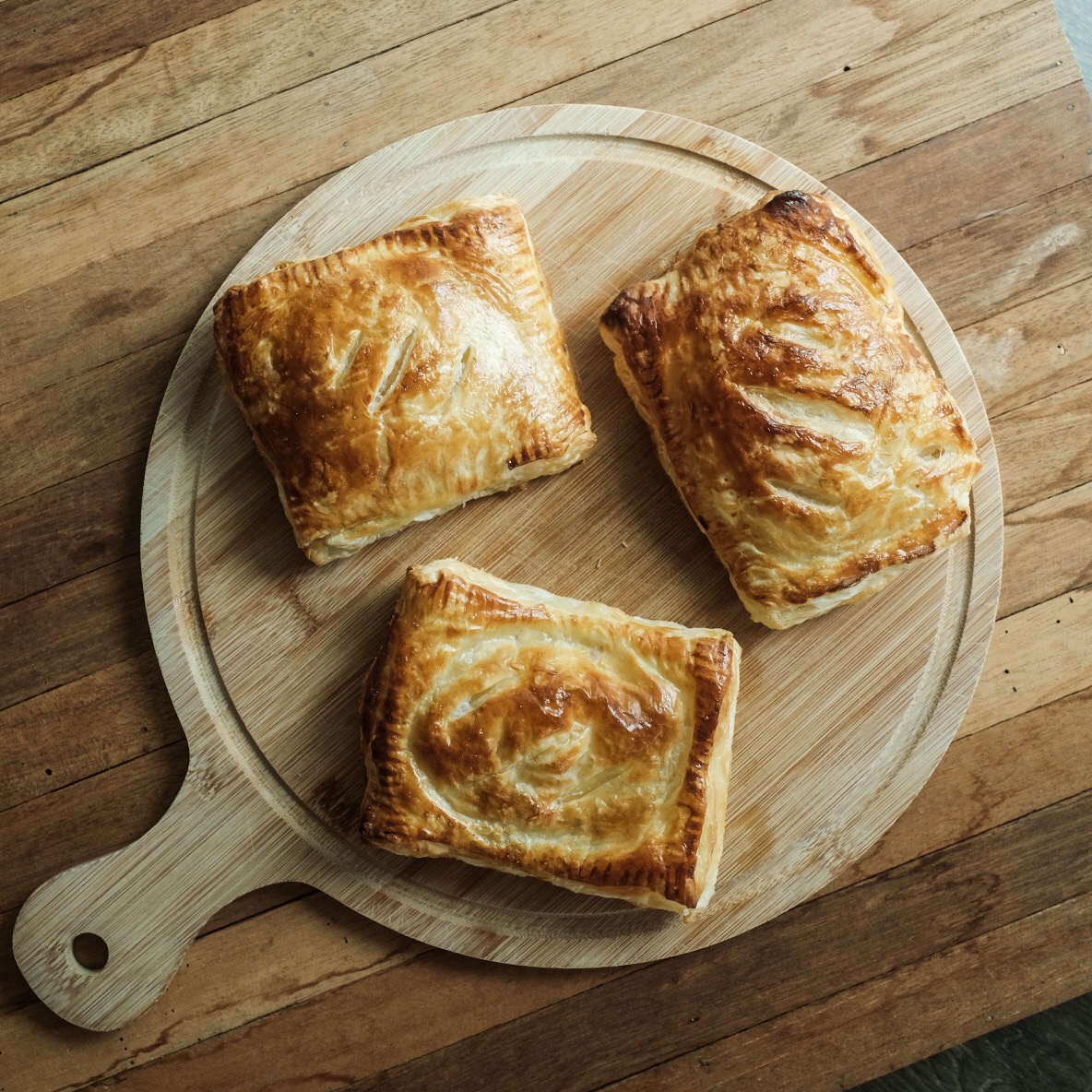 There is a difference in what kind of dough is usually used for these handpies. Traditionally, handpies usually use a flaky, buttery pastry crust dough that is hand-rolled and then filled, fried, or baked. Turnovers differ from their empanada, pasty, and calzone counterparts, because they are made with French puff pastry.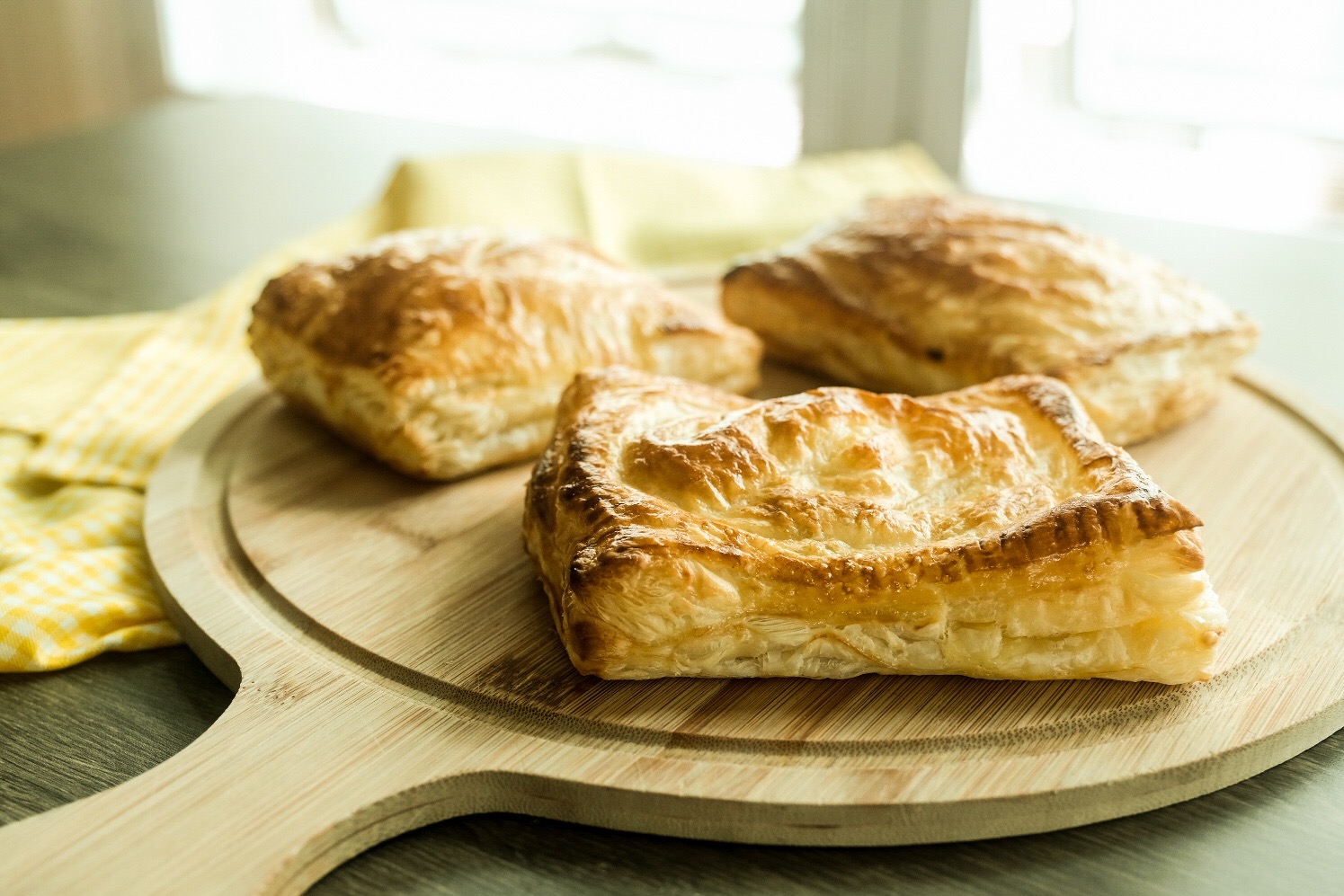 There are so many delectable variations of handpies that one can experiment with. Similar to quiche or fried rice, I find myself looking in the fridge for leftovers or different ways to reinvent a dish that we may have had for dinner the day before.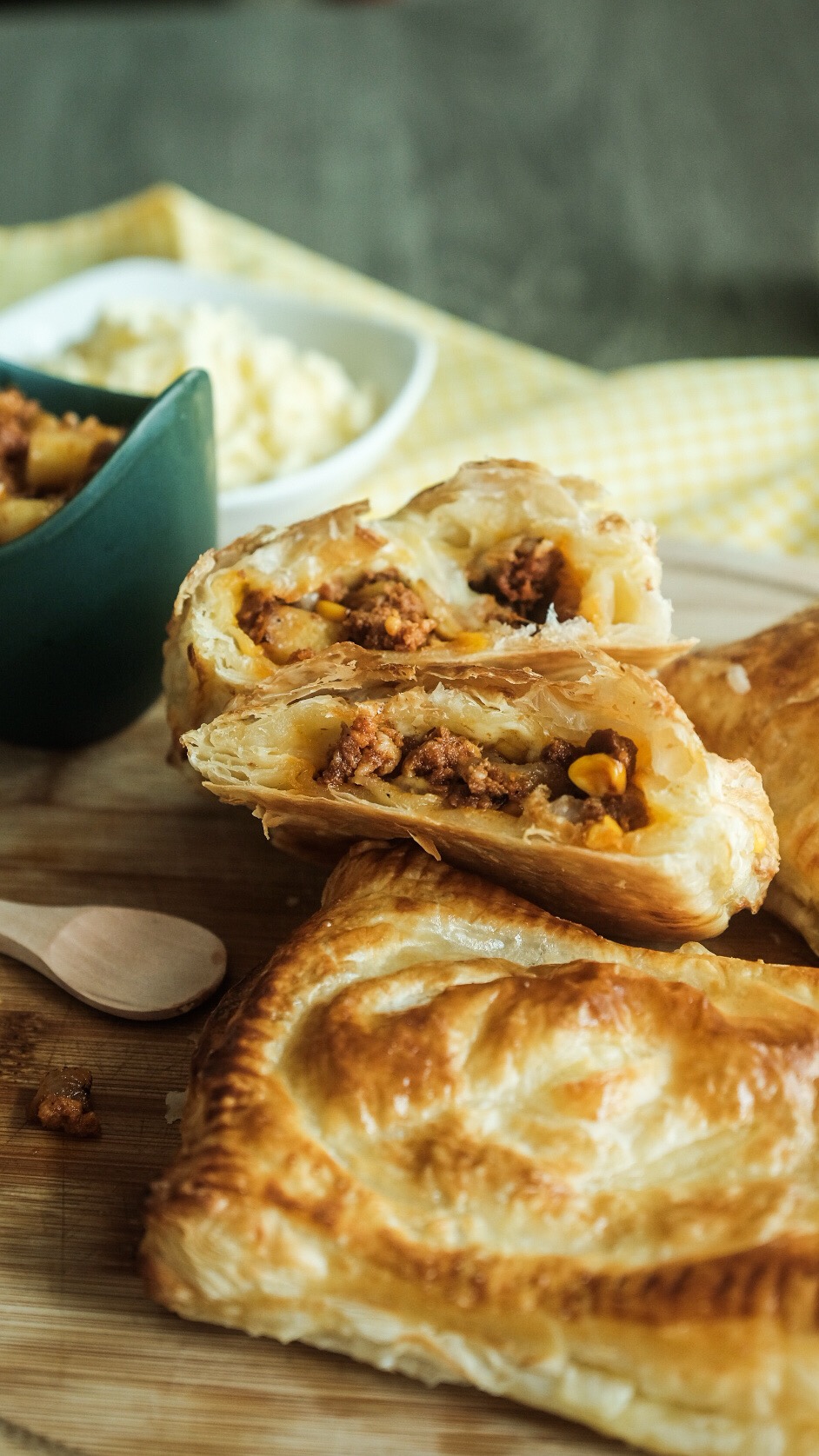 For this particular recipe, I was eyeing a new pack of chorizo from Berry's Deli, and thinking about how that flavor profile would taste with roasted corn and caramelized onions. If you are patient enough to roll out your own dough, you can create smaller empanadas that can be deep fried or baked, but if you are short on time, you can use puff pastry and throw everything together in less than an hour.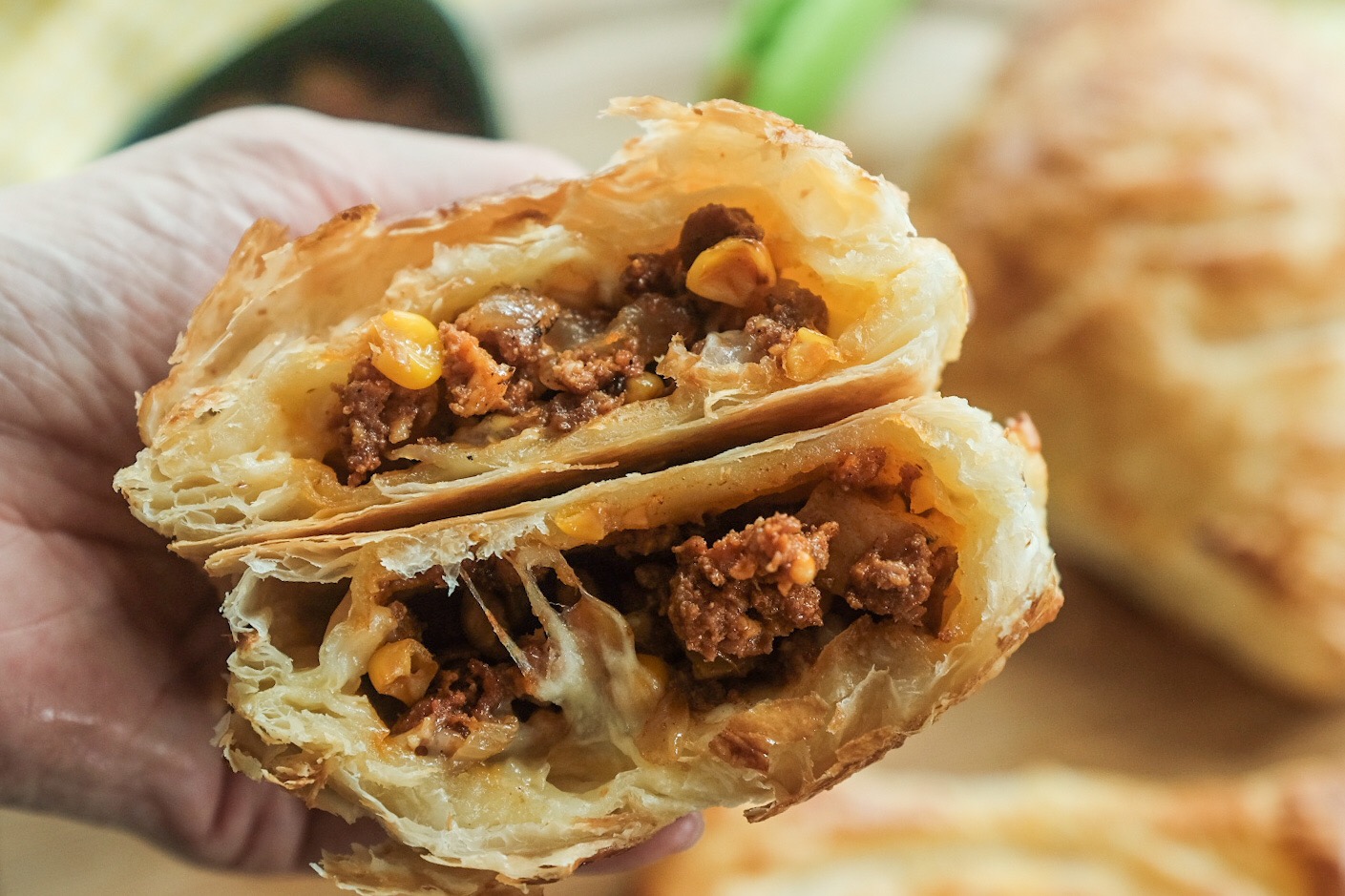 Empanadas and handpies are great to make and freeze in bigger batches, and then, of course, easy to prepare when you are at a loss for what to make for lunch or merienda.
INGREDIENTS:
350 grams Cantimpalo Chorizo 
1 large onion sliced
1 large potato cubed
1 ear of corn roasted and removed from the cob
Shredded mozzarella
1 pack of puff pastry
DIRECTIONS:
Defrost your puff pastry in the refrigerator overnight.
Preheat the oven to 400 degrees Fahrenheit.
Remove the skin from the chorizo and fry on medium high heat. Remove and set aside.
In the same pan, caramelize the onions, being careful not to brown. Do not rush this process. Take your time.
Remove from heat and mix into chorizo crumble.
In the same pan, sauté the cubed potatoes and the roasted corn cut off the cob.
Mix all together and set aside.
Prepare your puff pastry by cutting equal squares on a floured surface for both top and bottom parts of your turnover. Work quickly, because it is important to have cold dough when it gets into the oven.
Center filling on the dough leaving ½ inch edge and top with cheese.
Using egg as your glue, apply all around the edges of both top and bottom dough.
Seal with a fork and brush egg wash on dough.
Cut 3 slits into the tops and bake for 10-12 minutes or until puff dough is browned.
Remove from oven, and serve immediately.
TIPS:
Utilize leftovers for hand pies.
Get creative and think outside the box for fillings, like adobo and cheese.
Make in big batches and freeze on a tray. Once frozen you can transfer to a resealable freezer bag and pull out when you are short on time to prepare a snack.
When using puff pastry, work quickly. If the dough gets too warm, you can refrigerate the turnovers on a tray and put into the oven when it has had time to cool.
With so many ways to encourage kids to eat with their hands, there are endless variations we can present hand pies to our families. These baked and fried pockets can come in fun shapes with kid-friendly flavors that are not only fantastic for prepping a #zerowaste kitchen, but also a great time saver when made in big batches. – Rappler.com