Have the perfect gift delivered straight home this Mother's Day
Even though the pandemic has put a stop to plans of eating out or spending the day outdoors with our mothers and mother figures on Mother's Day, there are still plenty of creative and fun ways to make them feel like the queens they are on Sunday, May 9.
Whether your mom loves receiving thoughtful gifts, enjoys anything sweet (literally) and indulgent, or simply feeling loved and appreciated, here are some Mother's Day gift ideas from various local shops and brands to check out.
Urban Time x Blooms by Agi
Urban Time, a watch distributor established in the 1950s, partnered with local florist Blooms by Agi to curate a special set of treats for Mother's Day.
The beautiful set includes a Cherie Paris watch that is available in 5 designs, along with an Alexis Bouquet – a striking arrangement of hydrangeas, roses, and berries in various shades of purple, pink, and blue.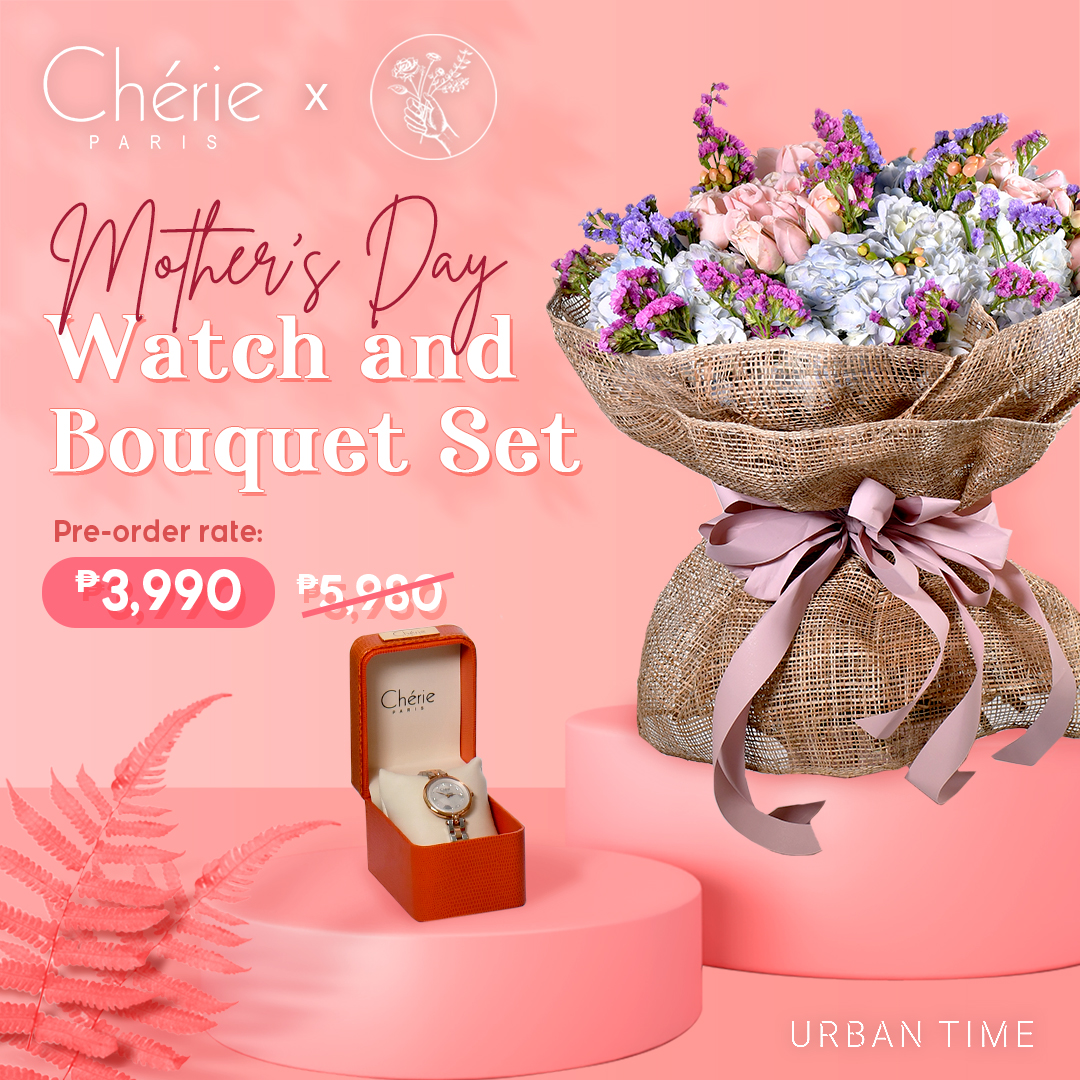 You can pre-order your set through Urban Time's website at a discounted rate and have your package delivered nationwide for free on May 9.
Carlito's Catering
How about a restaurant-quality buffet at home for mom? Local business Carlito's Catering is offering a special Mother's Day 5-course meal good for 4 people (P4,000).
The set starts with their creamy four-cheese spinach dip with crostini, followed by 4 main entrées: moist Tuscan salmon in basil cream with cherry tomatoes; tender, butter-roasted beef tenderloin with vegetables and truffled mushroom confit; flavorful aglio olio pasta with bay scallops and shrimps; and a loaded paella valenciana with fresh seafood.
Cap off your meal with their partner brand Butternut Bakery's beautiful Mother's Day cakes in mocha chiffon, single origin chocolate, and red velvet flavors (P1,500-P1,600).
Carlito's is located in Mandaluyong City. You can place your orders via their website.
Native Manila
If your mom is a fan of locally handcrafted houseware and accessories, check out Marikina-based Native Manila – they have everything you need, from salad bowls, placemats, to coasters. They offer serving and salad bowl tosser sets from P750 to P1,000. 
For a cozy Mother's Day dinner set-up, try their Buri Placemats (P450 for a set of 6) and coasters in Acacia, Capiz, Nito, and Timberwood. Their coasters cost P400 to P450, depending on the type.
Check out Native Manila's Instagram for the whole catalogue.
Pink Bakery by Ange
Our moms deserve only the best – and this includes huge, indulgent chocolate chip cookie pizza by the Pink Bakery by Ange.
From palm-sized chewy chocolate chip cookies to 12-inch cookie pizzas, this Muntinlupa-based bakery offers decadent, soft, and chunky chocolate chip cookies in different sizes and flavors.
Their best-sellers include the 12" cookie pizza in 4 different flavors: Chocolate Chip (P850), Walnut Chocolate Chip (P890), 4 Chocolate (P980), and Salted Caramel Macadamia (P1070).
You can even request a personalized message, shape, theme, or design on your cookie pizza using Pink Bakery's homemade buttercream icing.
To access Pink Bakery by Ange's whole menu, visit their Instagram and website.
La Felipa Homemade Cookies
La Felipa Homemade Cookies, a warm brand built on a charming story, is a Manila-based online cookie shop that is named after the business owner's great grandmother. The business brings on the sweetness (literally and figuratively) and warmth this Mother's Day with their handwritten, personalized letters and comforting (but also unconventional) cookie flavors.
There's The Original Cookie Recipe (P240), Double Cacao (P250), Matcha Green Tea (P250), White Tsokolate (P240), Half & Half (P280), and Cafe Felipa (P240), an espresso-based cookie. Each soft, chewy cookie is packed with chunks of melted chocolate and a whole lot of love.
To order, check out their Instagram page or website.
CASED
CASED is a Marikina-based shop that offers curated gift boxes and charcuterie boards, perfect for all occasions.
Indulge in their Mother's Day selection: the Black Edition Grazing Box (P4000-4,500) and the Black Edition S'mores Box, which contains a bottle of Jack Daniel's, black faux flowers, and a variety of either cheese and cold cuts or cookies and chocolates that are placed inside a black ribboned box.
You can place your orders via their Instagram page.
Sevy's Beignets
Sevy's Beignets offers authentic New Orleans-style beignets made fresh everyday. A beignet is a powdered, deep-fried pastry, similar to a donut.
Does your mom have a sweet tooth? A box of their Original Style (P380 for two dozens) or Hot Chocolate Beignets (P580) would be a perfect treat. Does she prefer something sweet and savory? A box of their bestselling Maple Bacon flavored beignets (P670 for two dozens) will make her day! You can also enjoy all the flavors with Sevy's Sampler, which costs P640 for two-dozens.
Sevy's Beignets also offers a Cream Cheese Dip (P40) and Signature Dulce de Leche Dip (P40) to elevate your beignet experience. This home bakery collects orders via Instagram.
The Drunk Baker
The Drunk Baker's "tipsy," artisanal desserts may make Mother's Day more exciting, with this home baker's line of alcohol-infused pastries and cakes.
On the menu are chunky, chocolatey whisky brownies (P580 per dozen), a moist lemon olive oil cake with a tangy, rum cream cheese frosting (P780), and a dense, coffee-chia olive oil cake loaf (P650 – P870) to pair with tea or dipped in coffee. Mixed fruit toppings (like fresh berries and kiwi), customized designs, and your preferred alcohol level are also available upon request.
To order from The Drunk Baker, visit their Facebook or Instagram page.
Harper & Harlow
Is your mom the tea-ta type or is she a home improvement junkie? Check out Harper & Harlow, a home decor shop that offers cute, unique houseware.
Under their kitchen category is the adorable Kaizo Serving Dish (P395) in different colors. For the doggo mommas out there, their quirky Woof Accent Lamp (P3850) will make your Mother's Day!
For ultimate tea-ta time, get your mom the sophisticated Lalli Tea Set (P4,500), which comes with a teapot, teapot warmer, 6 cups, 6 saucers, and 6 teaspoons.
Shop at their online website or via their app available for iOS and Android.
Hurno by Lola Naya
Hurno by Lola Naya's bestselling Calamansi Cupcakes are a must-try. The products of this online bakeshop are all baked by Lola Naya, a grandmother to 8 grandchildren, and the only person who oversees all the baking, since she's the only one who knows the recipes.
Bestsellers include their famously tart Calamansi Cupcakes, which costs P240 per box of 6 and P360 per box of 9, and Puto, which costs P80 per box of 8 and P240 per box of 24. You can try their Pa-Merienda Box (P220) which includes 3 Calamansi Cupcakes and 10 pieces of Puto Naya.
Hurno by Lola Naya is located in Cainta, Rizal. Visit their Instagram account to place your orders.
Fruits in Bloom
Fruits in Bloom can take care of any edible floral and chocolate arrangement desires, with their creative and colorful centerpieces made with love, candy, fruits, and chocolate.
Make your mom smile with the beautiful Passionate Mom (P2,350), Super Mother (P3,350), Hugs and Kisses (P4,500), and Caring Mama (P1,350), which are all crafted out of an assortment of butter cookies, imported fresh fruits, and premium chocolates placed in mugs or vases. You can also customize a greeting.
You can order through Fruits in Bloom's website and Instagram page.
Olk Candles
Established in 2018, Olk Candles' goal is to comfort their customers through their pretty candles in different sizes. Their Pandora Box Candle (P690) is hand-poured with wax and a variety of calming scents imported from South Korea. Olk Candles also offer their Classic Candles (P680) that come with a wooden wick.
Check out their Instagram account for their entire range of products and scent descriptions. You can also order via their website.
Lowbrow Shop
Lowbrow, the restaurant arm behind casual restaurants like Bad Bird and Fowlbread, have a special Mother's Day kit called the BB Mama Bird Kit (P2,899). The dishes are good for 5-6 people.
The kit includes 8 pieces Umami Fried Chicken, 1 Bad Bird Noodles of your choice, 1 Braised Beef/Pork, 1 Torched Corn and Cream Cheese, 1 Sesame Caesar Salad, 1 Honey Butter Sweet Potatoes, 1 Mac Salad, 2 Large boxes of Dirty Rice, 1.5L of Bad Bird Homebrew Iced Tea, and free Lemon Salt Fried Chicken.
Fowlbread also offers their own kit for 5-6 people with their Fowlbread Mama Bird Kit (P2,899) which has 2 OG Fried Chicken Sandwich, 2 Fowlbread Cheeseburger, 1 Fowlbread Noodles of your choice, 2 Fowlbread Crispers of your choice, 1 Large box of Garlic Fries, 1 Large box of Salted Fries, 9 pieces of Banana Donuts, 1.5L Fowlbread Citrus Iced Tea, and free Fowlbread Crispers of your choice.
Lowbrow accepts same-day orders for delivery and pick-up until 5 pm daily via their website.
Cakes, sweets, and more cakes
Let Bizu Patisserie elevate your Mother's Day experience with their gorgeous cakes and pastries, like the Charlotte Cake (P1,795), alternating layers of Biscuit Cuillere, blackberry mousse, and raspberry gelee topped with assorted fresh berries, marshmallows, and their signature macarons.
For a healthier option, try their sugar-free and gluten-free Marion Cake (P1995), a creamy ganache of sugar-free milk chocolate on top of a gluten-free dacquoise crust, topped with huge, juicy, fresh strawberries.
Bizu's signature Strawberry Shortcake is a soft genoise sponge in between layers of strawberries and chantilly cream. It's available in personal (P590), midi (P1,725), and grande sizes (P3,145). You can also order online via Bizu's website for delivery.
Bakeshop and restaurant Cravings also offers a frozen banoffee cheesecake tin, made with a soft, buttery, graham crust and a creamy cheesecake base that tastes just like banana and toffee combined, topped with chocolate cravings. The banoffee cheesecake is part of Craving's Mother's Day set menu, which also includes main dishes.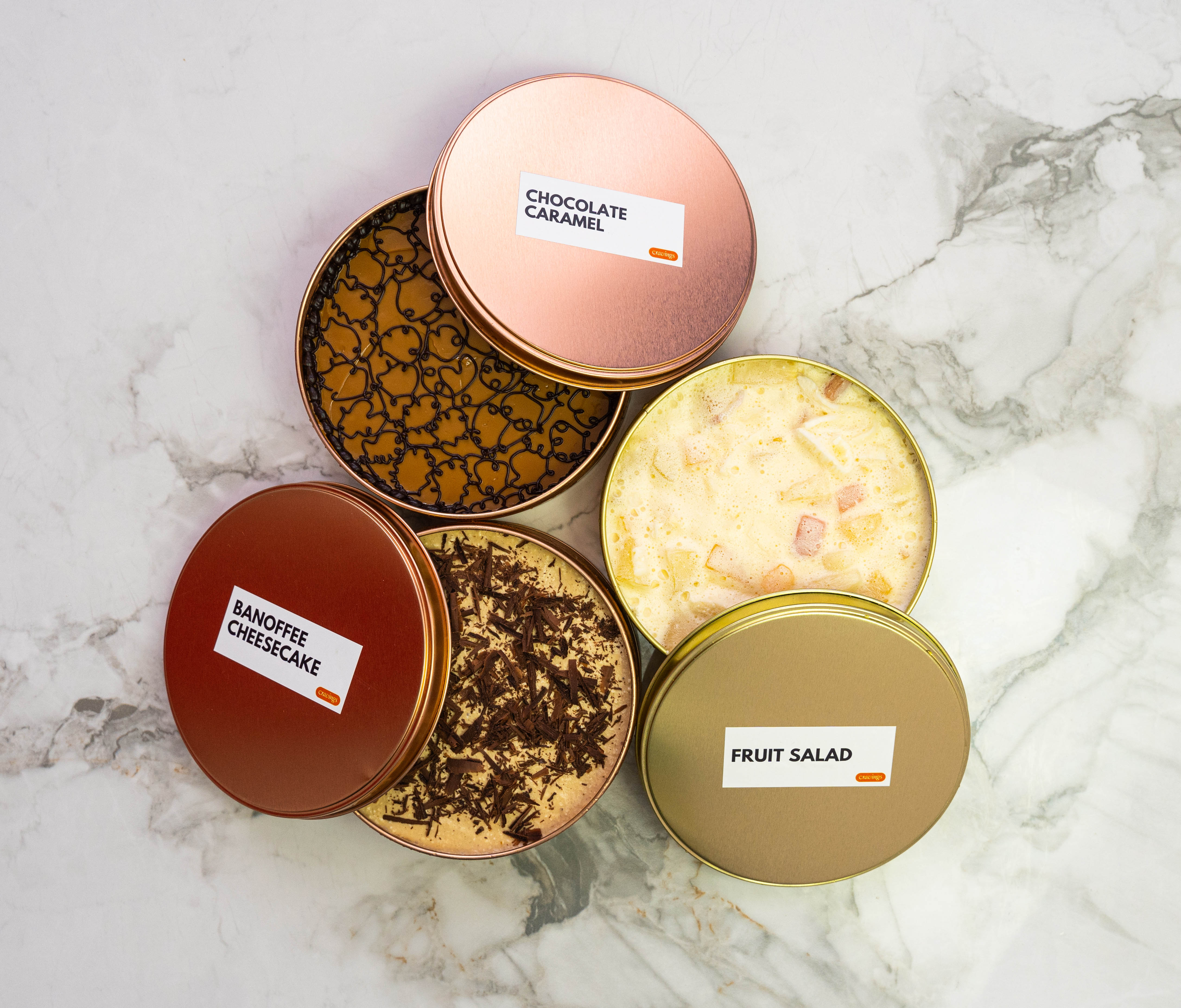 Nono's also has a selection of Mother's Day confections, available in pretty boxes. Their Premium Gift Set (P1,445) includes an adorable bouquet of six sugar floral cookies, Nono's signature almond crunch, chocolate chip shortbread, and edible greeting plaque.
Nono's Deluxe Gift Set (P995) includes their bestselling confections: almond crunch, chocolate-covered cornflakes, Russian Tea Cookies, and a sugar MOM cookie.
Max's Corner Bakery also has a set of Mother's Day cakes that are customizable to the tiniest details – from the size, number of tiers, flavor, colorway, frosting, and to your personalized greeting.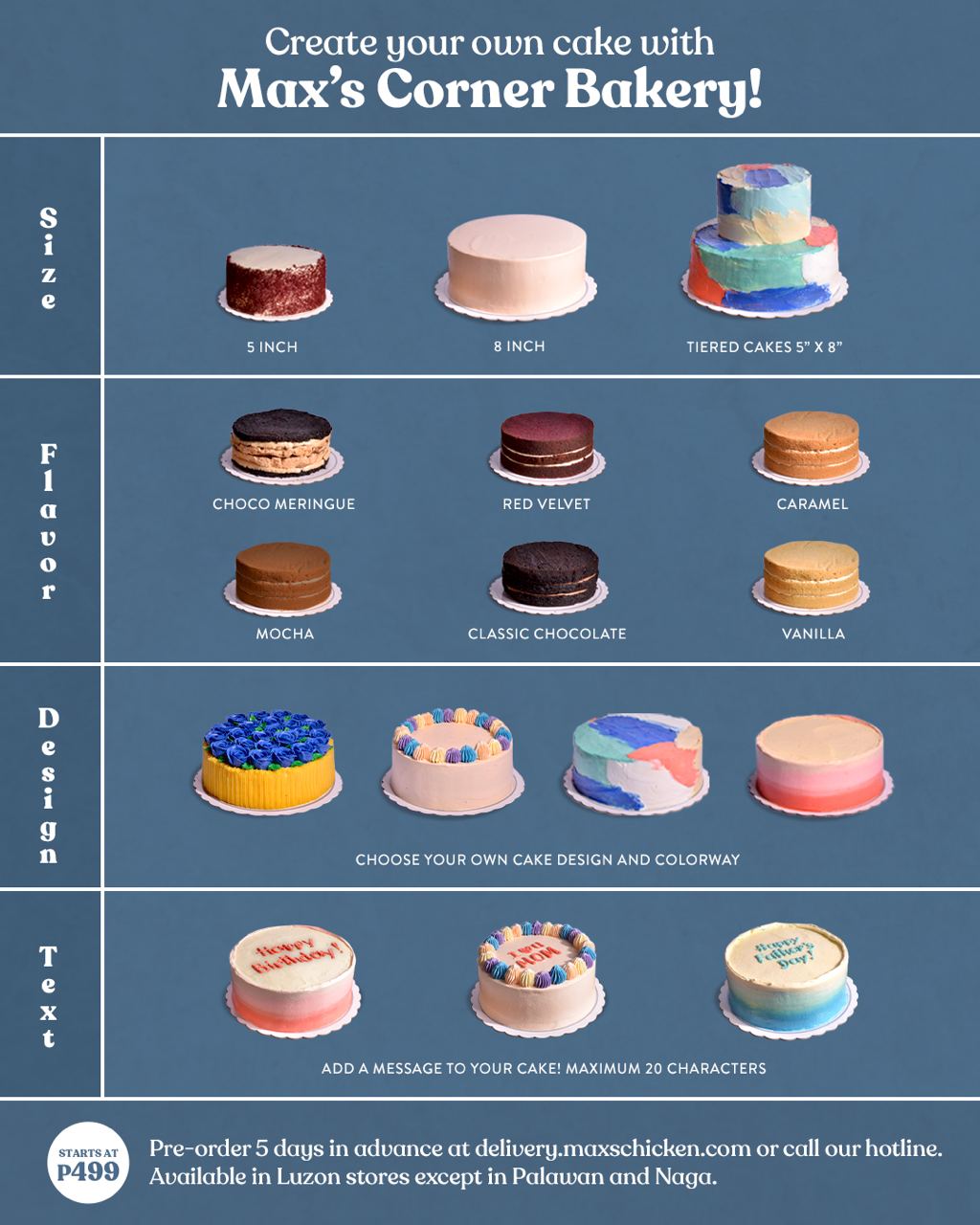 Prices start at P499 for the 5" size, P799 for 8", and P1,899 for the two-tiered round cakes. You can order via Max's website. – Rappler.com
Jewel Camacho and Aloe Ynion are Rappler interns.