Home-based kitchen Mochies delivers their hand-crafted mochi and mochi ice cream from Taguig and Laguna
Filipinos love chewy, glutinous, sweet treats (think palitaw, biko, bilo-bilo, suman), so it's not really a surprise that we're also fans of the sticky, chewy Japanese delicacy mochi.
The Japanese rice cake is usually made from either of two sweet glutinous rice flours – the finer and smoother shiratamako, or the doughier mochiko. Both flours originate from mochigome, a type of short-grain japonica glutinous rice used in Japan.
The rice paste is then mixed in with water, sugar, and sometimes cornstarch (to prevent sticking), pounded meticulously and then molded delicately into its popular round shape, often stuffed and/or topped with fresh fruits, fillings, and other sweet or savory ingredients.
Mochi's uniquely stretchy bite, chewy texture, smooth, powdery feel, and simple yet versatile flavor profile is quite tricky and sticky to master – but local home-based kitchen Mochies is actually pretty good at its mochi game.
Mochies' flavors
Hand-crafted and made fresh every day, Mochies offers their own take on artisanal mochi and mochi ice cream, available in flavors both conventional and unique.
Off the bat, their mochi is perfectly chewy and stretchy, with a balanced ratio of rice cake to generous filling (you're guaranteed flavor in each bite)!
The size of each is worth its price, including the kind of ingredients used, like the juicy strawberries, coconut, and cookies. Their flavorful fillings are also homemade, so nothing tastes fake or overly sweet. Some mochi are more sugary than the others, depending on the flavors you choose.
There are currently 10 mochi flavors on their menu – there's the Adzuki, stuffed with a chunky red bean paste; the subtle Custard flavor; the smooth, creamy milk Chocolate; and for those that prefer it a bit more bitter, the velvety Dark Chocolate, which tastes almost like a rich truffle.
The Oreo Cream Cheese is one of the sweeter ones, topped with a little Oreo cookie, stuffed with cookie bits and an Oreo creme center. For an earthier, stronger flavor, try their Matcha, which tastes just like the grassy green tea. The Kinako Kuromitsu features sprinkled roasted soya powder and a black sugar filling (a balance of nutty and sweet).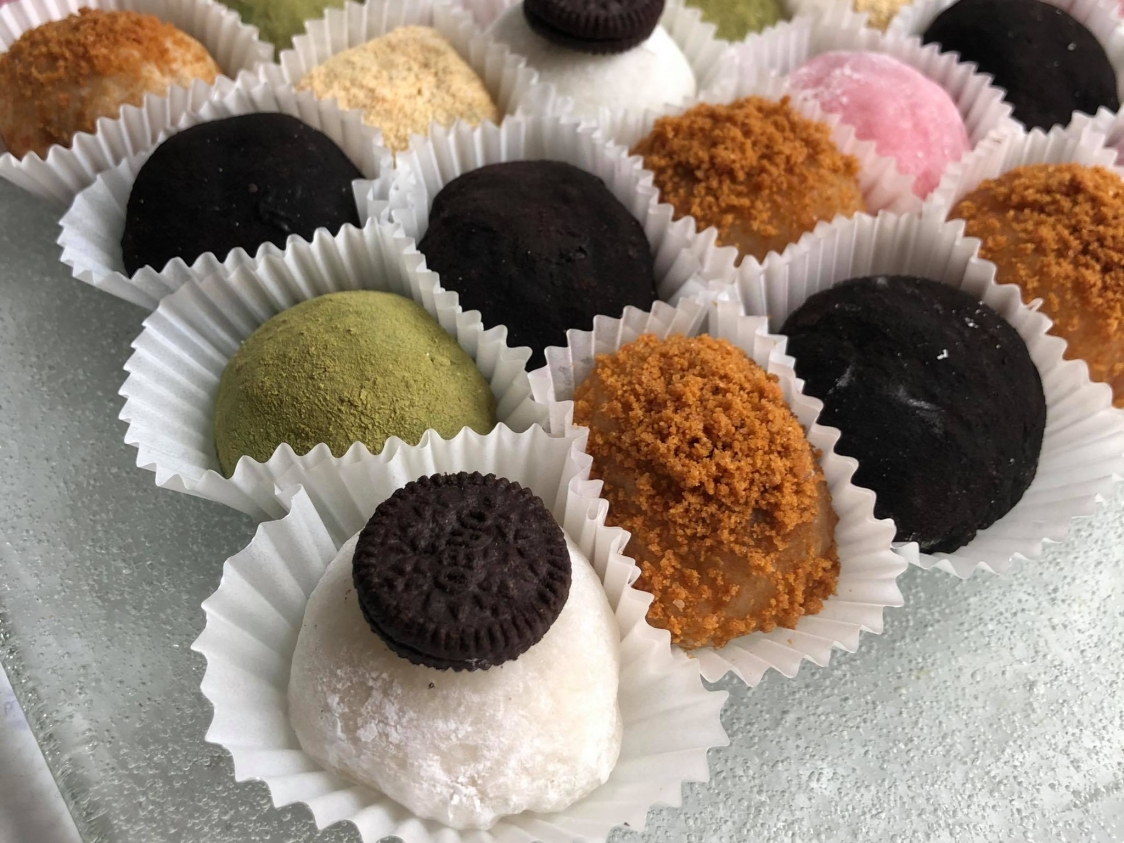 If you're keen on fruity, fresh flavors, go for the berry-filled Strawberry (a personal fave), and the Mango Coconut with mango filling and desiccated coconut on top – options that aren't too sweet.
I would also suggest the seasonal Dark Chocolate with Strawberry ichigo adzuki daifuku (P60), since I'm a fan of both flavors – the acidity of the fresh fruit cuts right through the indulgent bitter dark cocoa.
They also have the Biscoff Nutella (for fans of the two sweet spreads).
You can get a box of 8 pieces in either one or assorted premium flavors for P295 each. You can also get just 8 pieces of the chocolate flavor for P195.
Mochi meets ice cream
Mochies' mochi ice cream is almost a perfect dessert – snack-sized but filled with a hefty scoop of ice cream, covered in a thinner but still chewy mochi exterior. In one bite you get the elasticity of the glutinous rice (even if it's frozen), mixed with cold, creamy ice cream. One is just right to curb a sugary craving (or maybe two)!
For their mochi ice cream, they have a subtly sweet vanilla flavor and a comforting chocolate flavor. The green tea is milder than the matcha, and more palatable for me as an ice cream. The strawberry remains a fave.
One of my top choices is the coffee, which tastes just like it's supposed to – like a cup of a sweet coffee. They also have an Asian-inspired black sesame flavor, which is earthier and more subdued in flavor.
Each piece costs P40.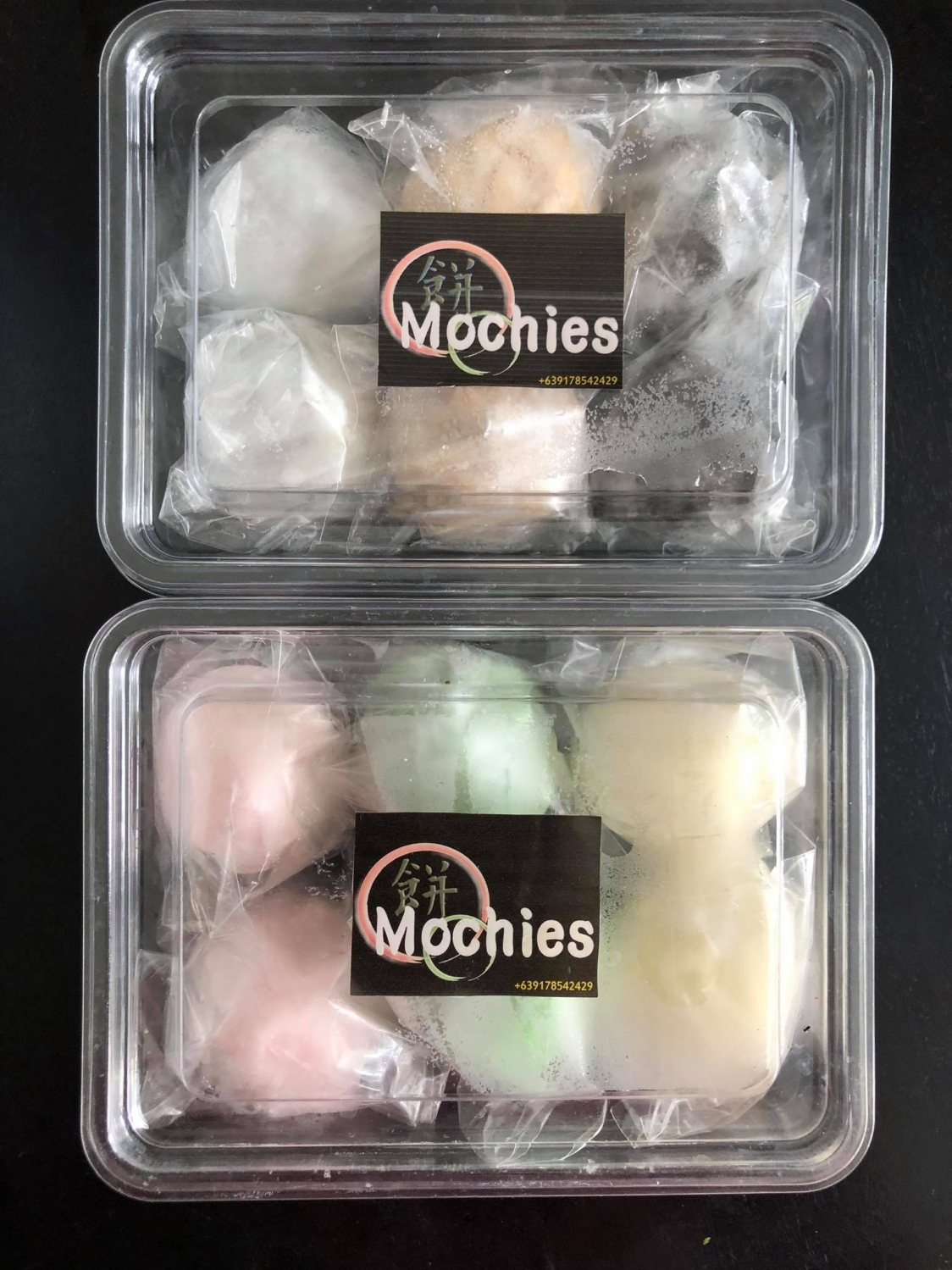 Mochies' kitchen is based in Taguig City, but they can also cater to orders in the Sta. Rosa, Laguna area. Don't forget to pre-order 2-3 days in advance! You can do so via Instagram or via SMS at 09178542429. Payment can be done online. – Rappler.com