Try out this dish that's easy to reheat, keeps well in the fridge, and is perfect for lunch, dinner, or even merienda!
Even if the origins of penne ala vodka have long been disputed, this quick and easy Italian pasta dish has always been a #TeamGellibean favorite.
Using simple ingredients that are fresh elevates this creamy tomato-based pink-sauced pasta dish to something extra special. I usually use whole tomatoes in a can (that come from Italy) but if I have the time, using fresh tomatoes that are blanched and peeled are even better.  
Viands that go really well with this pasta include eggplant parmigiana, chicken cutlets, or sausage and peppers. These are often served family style in our home, and go hand in hand with a fresh green salad, and crispy buttery garlic bread.
In fact, this menu is what we will be serving for Gellibean's 10th Birthday Dinner! By making a casserole of sausage and peppers, and preparing my salad ahead of time, all I have to do is wait for my sister to come by for dinner and throw the pasta in the salted water to get dinner on the table in a timely fashion.
I first learned how to make this dish when I was still in college. I was visiting my friends in London, and they asked if I could make pasta for dinner while we were hanging out in their flat. I was so pleased with myself that I was able to remember how to make the dish from when an Italian boy made it for me weeks prior.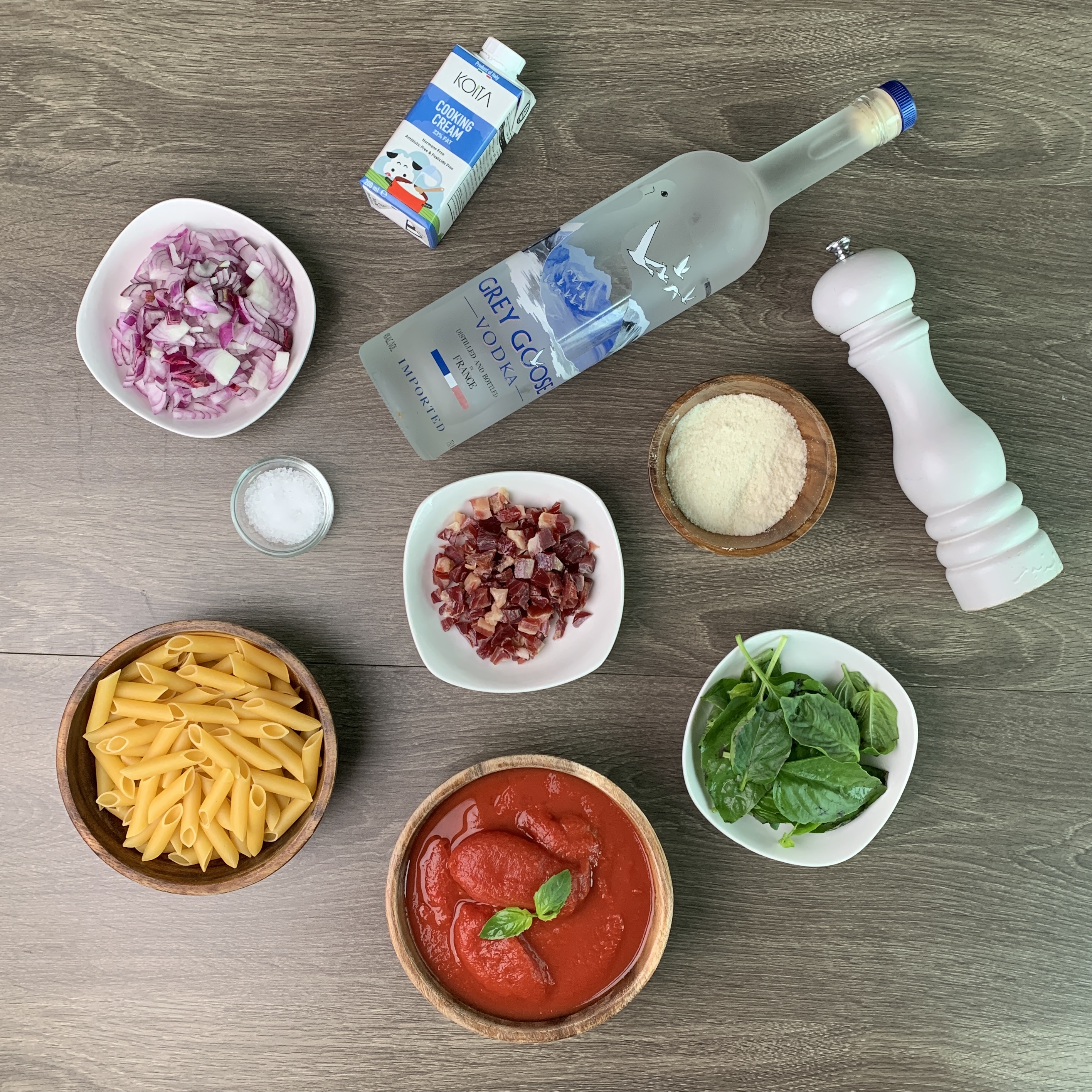 Ingredients
Extra virgin olive oil
2 diced small red onions 
350 grams diced prosciutto 
2 cans, 800 grams whole peeled tomatoes
½ cup of vodka
Handful of fresh basil
400 milliliters of cooking cream
1 cup of grated parmesan cheese
Basil for garnish
500 grams penne pasta
Procedure
In a heavy-bottomed pan, sauté diced onions in extra virgin olive oil.
Add diced prosciutto and reduce heat. Make sure not to burn the mixture.
After 5 to 6 minutes or when the prosciutto has reduced just a bit, add the whole tomatoes.
Throw in fresh basil and add your vodka. (Be careful if you are using an open flame stovetop.)
Add salt and paper.
Simmer on medium heat for about 20 minutes, stirring occasionally, to be sure the prosciutto doesn't stick to the bottom. 
Boil your pasta in salted water, toss in olive oil, and set aside.
Just before serving, add cream and grated parmesan cheese to the tomatoes, stir to incorporate well. 
Simmer for another 5 to 10 minutes, and top penne with sauce and garnish with more grated parmesan and some fresh basil.
Serve immediately.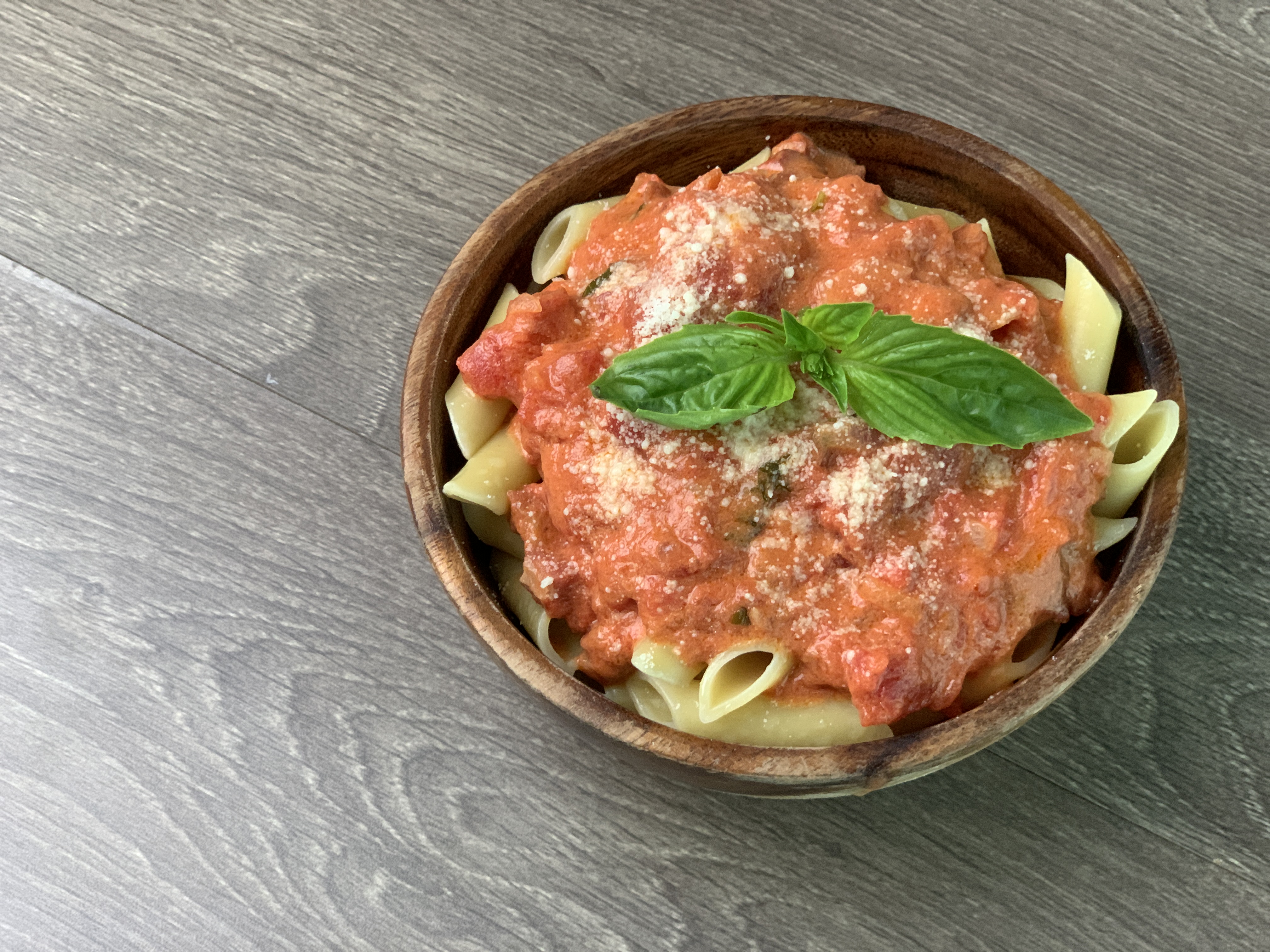 Tips
Swap out prosciutto for smoked bacon.
Add a splash of brandy when adding vodka for another layer of flavor.
Crushed tomatoes in a can works just as well as whole tomatoes. 
Once I mastered this dish, it quickly became the dish my family would ask me to bring to our family pot-lucks. It can be reheated, and if you make a big batch, it can keep in the fridge for about a week. It's delicious for lunch, dinner, and if you enjoy merienda, it's great for that too! – Rappler.com