Get tips on how to play around with puff pastry
When I think of French cuisine, I think of crisp white linens and special occasions. I think of wine pairing, rich buttery sauces, and works of art that come to the table with waiters in dark suits. I think of cafes and bistros overlooking the Seine, and our honeymoon many years ago. But there is also comfort in French food that is simple, with clean flavors and long tradition.
I have fond memories of making quiche after coming home from the ski slopes with Jean Louis, Suzanne, and Patrick. Those memories include their dad, Uncle Louis, teaching us how to make sausage, and Quiche Lorraine at my mother's kitchen table.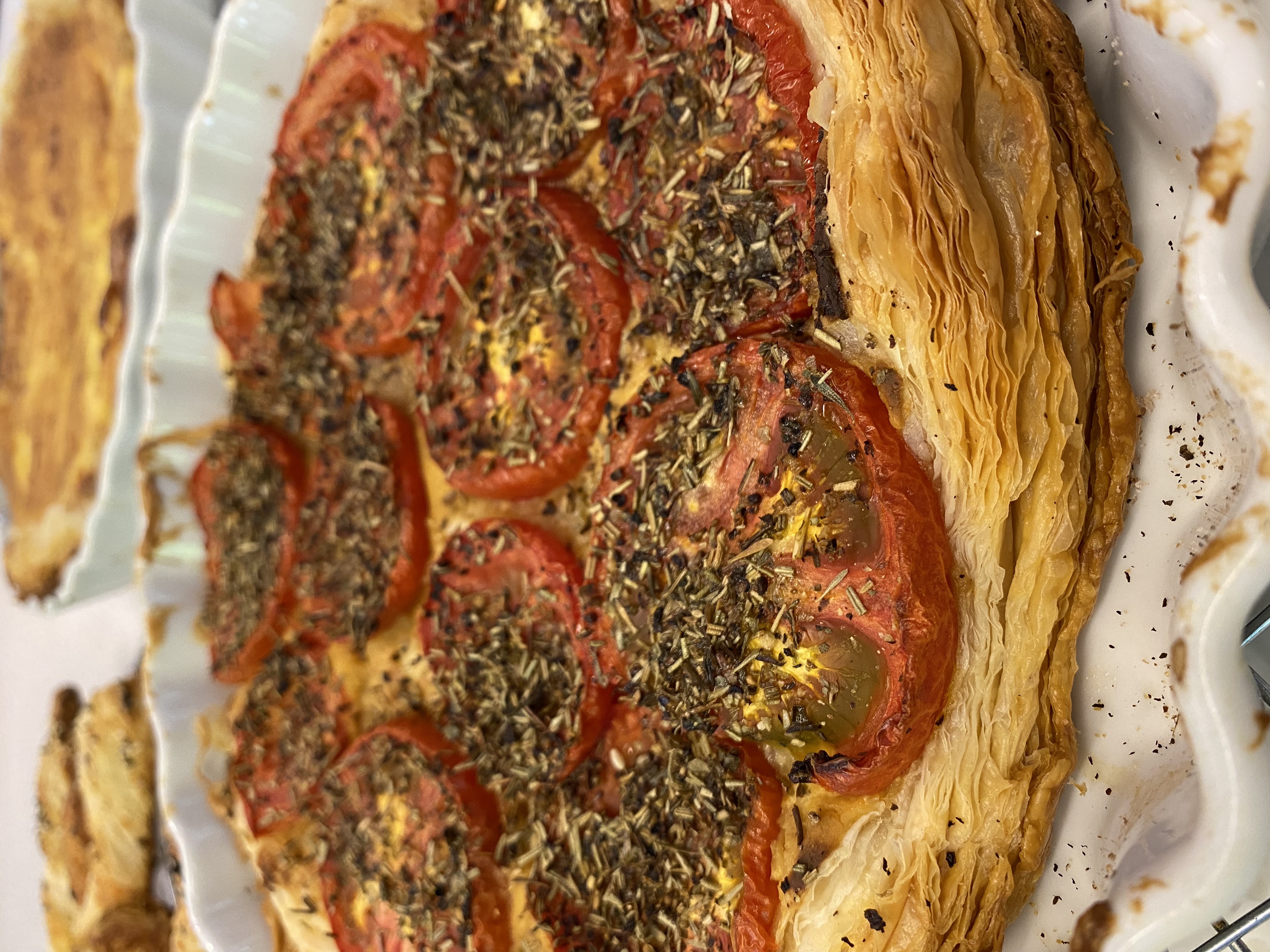 French food is so many things of which I am still enthralled to learn. I am not a food expert, but the exploration and education of all things food has always been a passion and a joy, for me to share with my family and friends.
In the last week, I have learned more about puff pastry, croissants, and its Danish origins – all the while,having fun in the kitchen with my kids peeking in, waiting for when the timer goes off on the oven.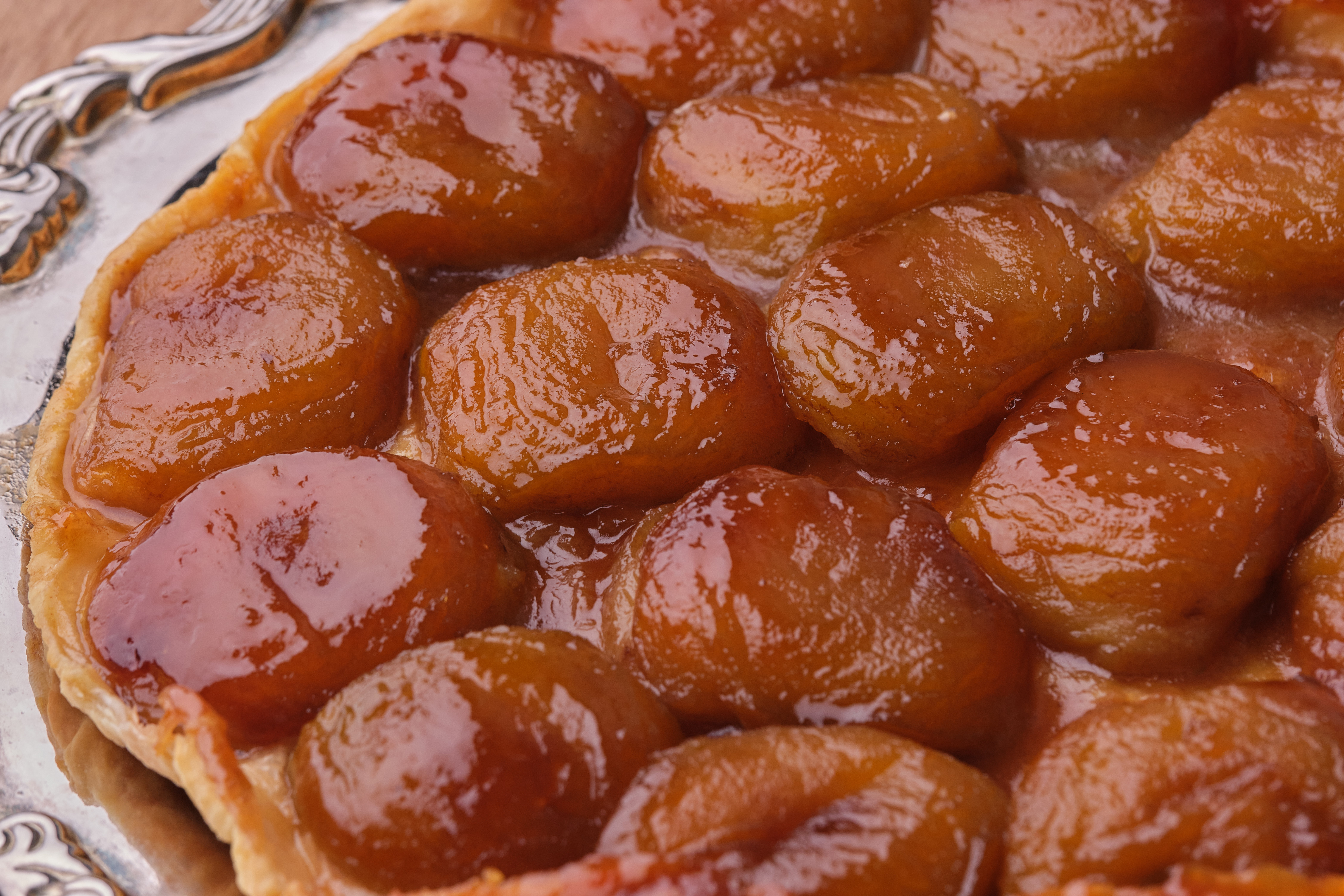 I love spending time in the kitchen with Kaye. And I love that when Kaye wants to try something new, how she dives in and learns all about it. Her Tarte Tatin came so beautifully.
I am joyous and nostalgic, remembering my first encounters with quiche lorraine. I feel accomplished and proud in the kitchen when I make a quiche, and Diego asks for seconds. I am excited to explore different recipes for coq au vin, and I recall Christmas kitchen attempts at boeuf bourguignon with my friends Sabrina and Ginger.
One creative opportunity that I have always taken advantage of is taking inspiration from dishes or ingredients that I have found along the way, and fusing them with local flavors. Taking cue from my friends who have created so many Asian dishes that I have fallen in love with, I wanted to take the beautifully layered French puff pastry and create something that had Pinoy origins and flavors.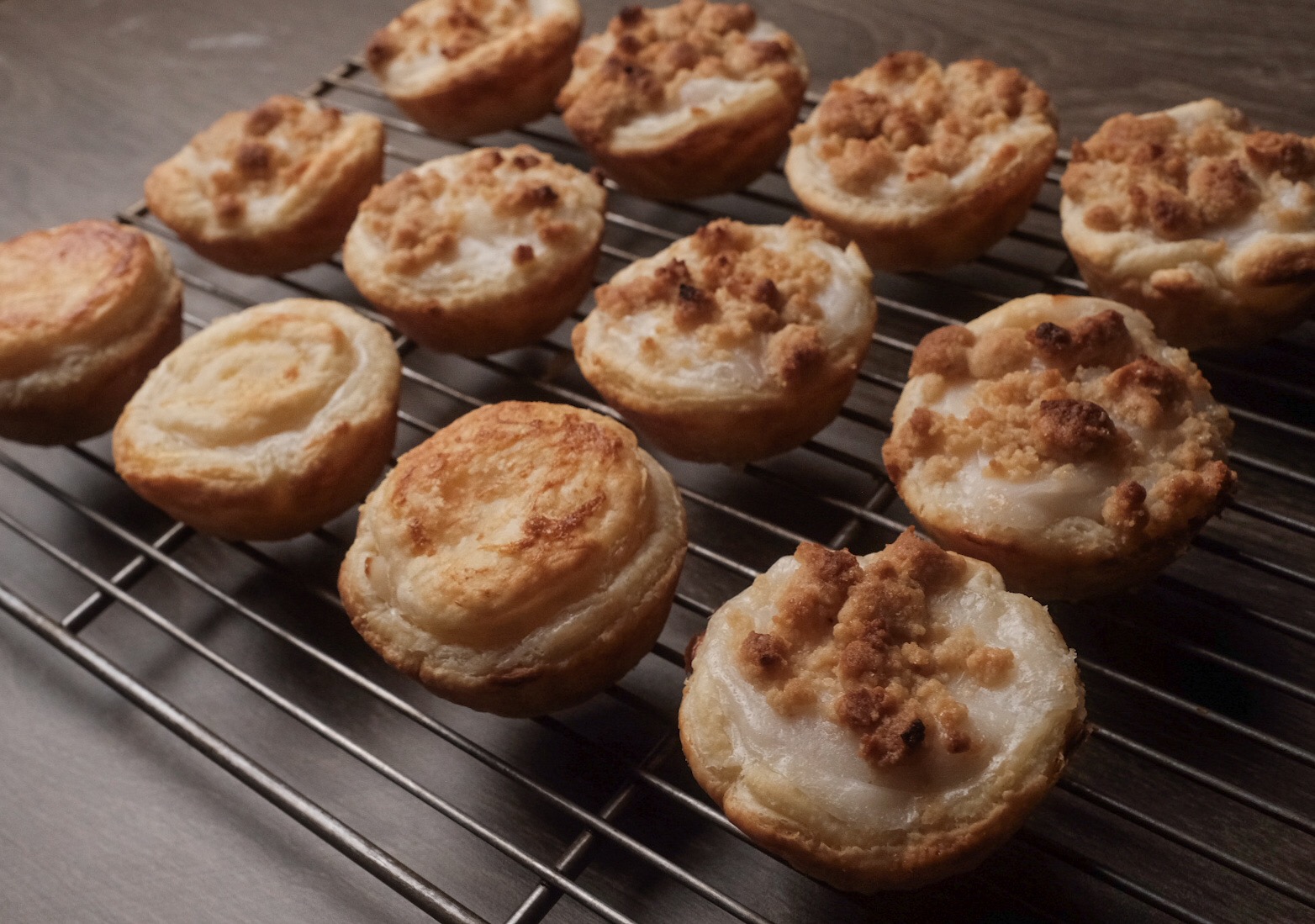 My first stab at using puff pastry was a fail. I didn't defrost it in the refrigerator and left it out on the counter. It became too soft, and was difficult to roll out. And yes, there is a different dough to use for croissants than there is for every other Danish inspired pastry with the puff dough. So be sure to mark that down – you should not make croissants with puff dough.
Tips to working with puff pastry:
Defrost your puff in the ref overnight.
Flour your surface.
Use an egg wash made of an egg yolk and a little cream.
No need to over roll.
Work fast but don't stress. (The dough needs to be cool when you put it in the oven.)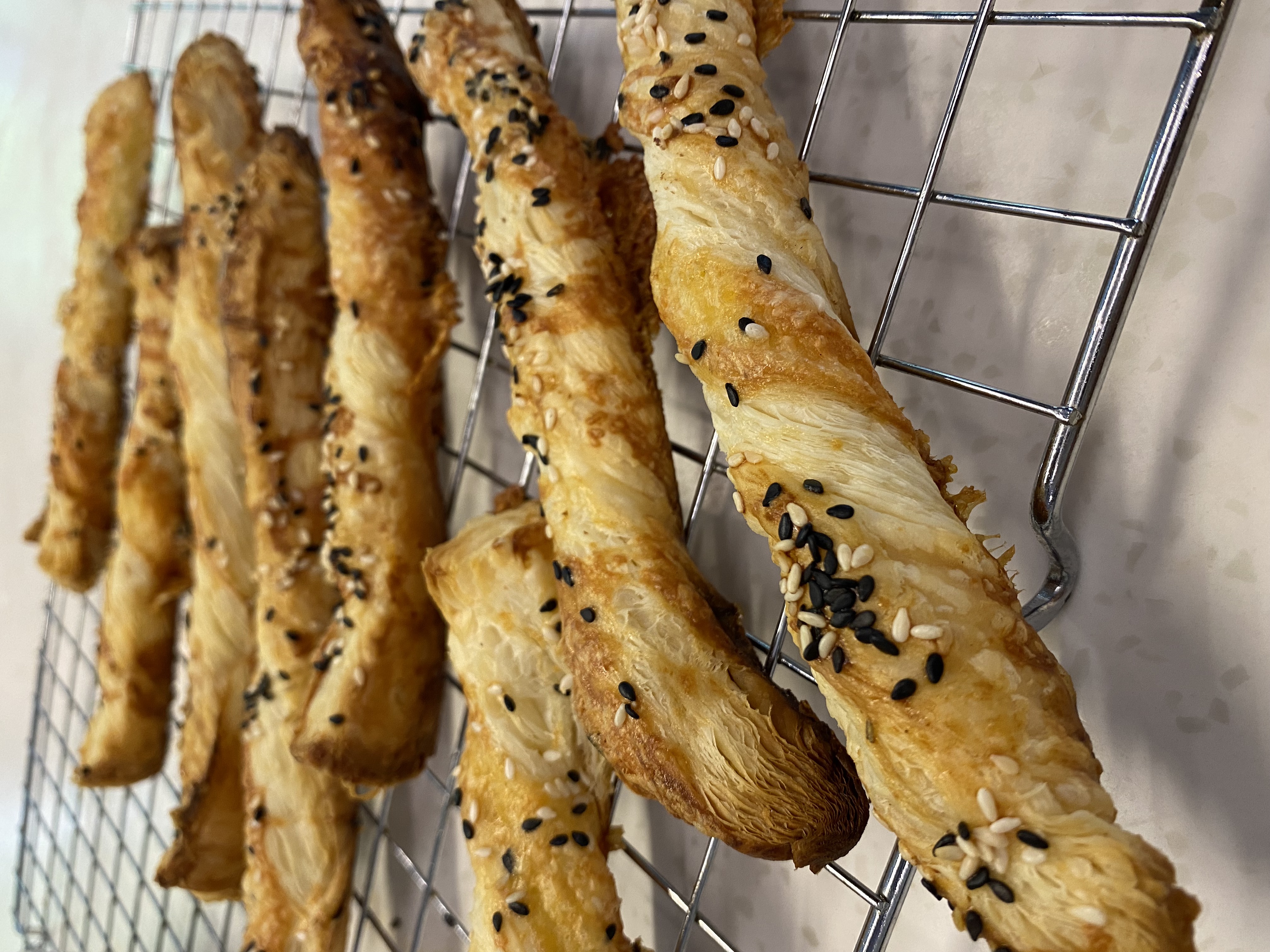 Pinoy flavors of longganisa, kesong puti, mixed with cheeses and spread from Effiegood was actually the perfect grab and go breakfast for my kids while they were studying and in online classes. Utilizing ready-to-eat sauces and spreads just brought all the flavors together while marrying fresh ingredients with pantry staples to create French-inspired pastries with Filipino comfort.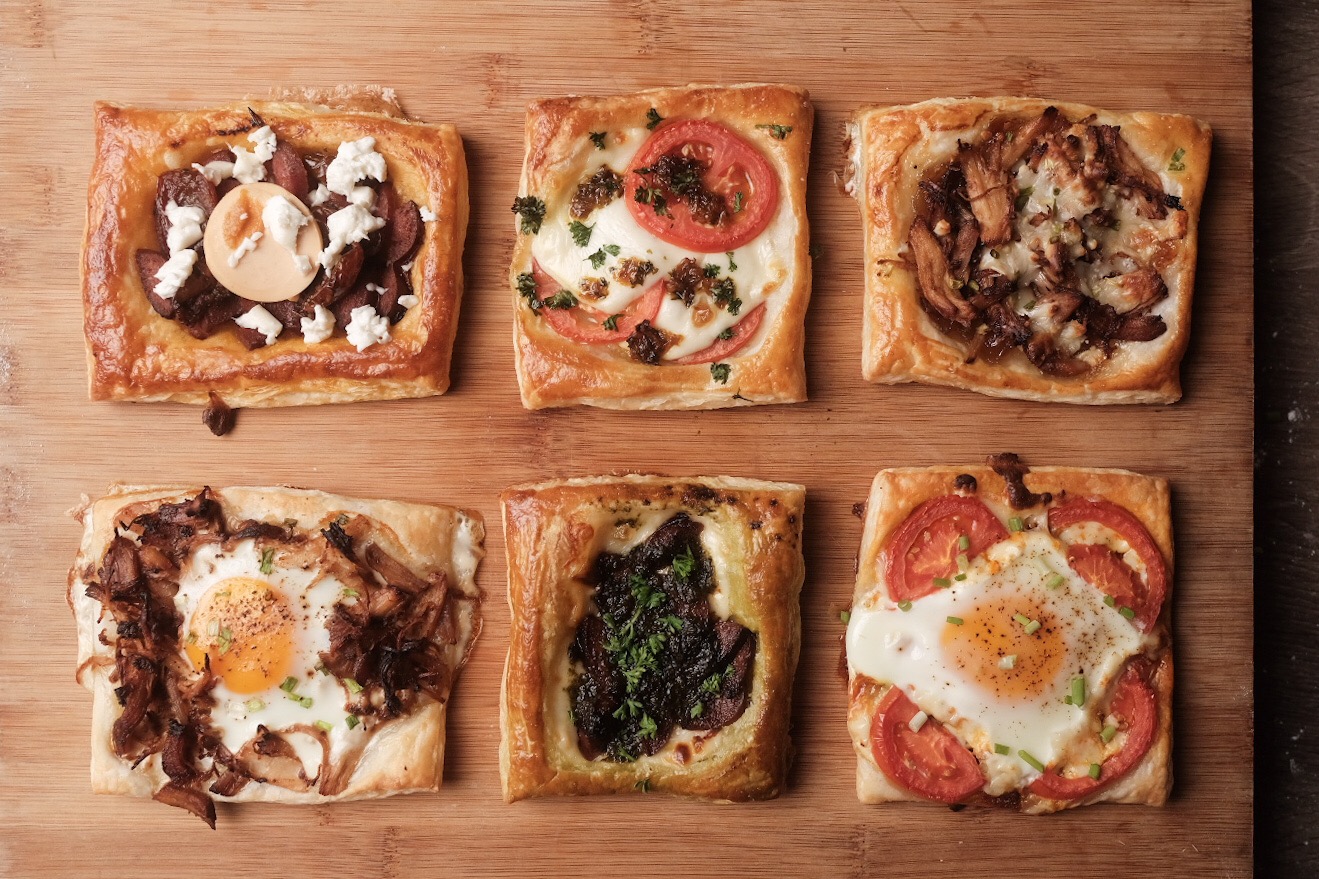 But moving beyond these savory puffs was the bigger challenge. Finding fresh buko in the middle of BGC was another challenge. Testing the recipe while adjusting little parts of the recipes I pulled from the internet was what helped create these tartelettes.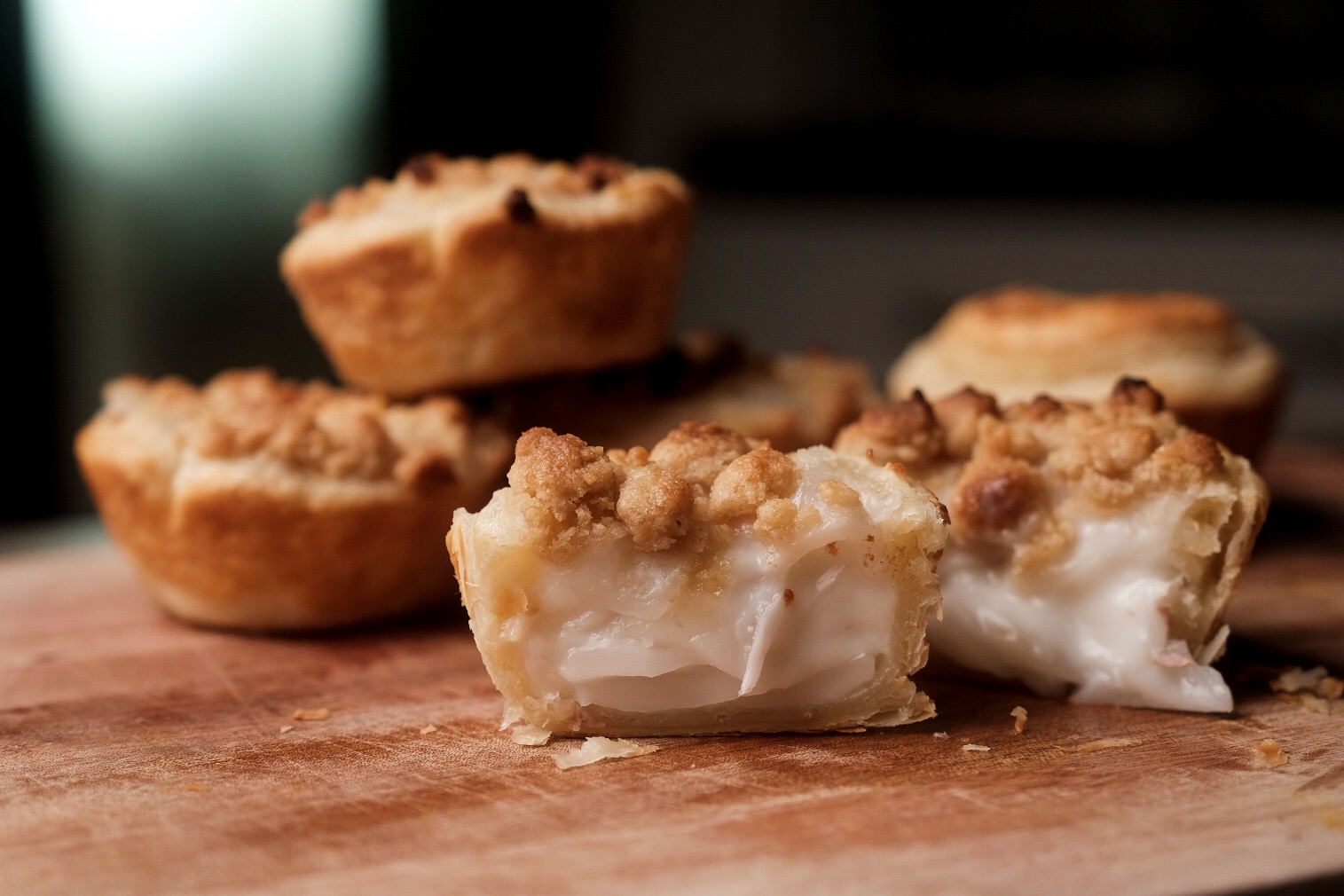 Buko pie is an institution, and with the pie craze that has suddenly hit Manila, we know that everyone is trying their hand at making a super buttery, flaky, sturdy enough pie crust that holds by the slice for the 'gram. These mini buko tarts were gobbled up as fast as the savory pinoy Puffs, and were surprisingly easy to make.
In fact, the hardest part of this entire endeavor was cutting the fresh buko and separating the coconut flesh from the shell.
Buko Tarts
Ingredients
1 sheet of puff pastry
4 young coconuts with the meat and water separated.
1/3 cup cornstarch
1/2 cup coconut water
3/4 cup cooking cream
3/4 cup white sugar
3 tablespoons butter, softened
3 tablespoons all purpose flour
3 tablespoons brown sugar
2 tablespoons melted butter for greasing the muffin tin
Directions
Thaw puff pastry in the refrigerator overnight.
For the streusel topping: Using a fork, blend the softened butter, flour, and brown sugar to a crumb-like consistency. Store in the refrigerator until ready to use.
Preheat your oven to 400 degrees Fahrenheit.
In a heavy-bottomed saucepan, combine your cream and sugar over medium heat. Incorporate all of the sugar until completely melted. Stir often and be sure NOT to burn or bring to a boil.
In a small bowl, combine coconut water and cornstarch to make a slurry, set aside.
Add coarsely chopped coconut meat to the cream and sugar mixture while constantly stirring.
After a few minutes, add the slurry and continue to stir.
Cook this over medium low heat until the mixture has thickened. Set aside to cool.
Using a pastry brush, butter the muffin tins to be ready for the puff pastry.
Measure only sections of the puff pastry dough. Use a large glass or a small bowl to cut circles that are slightly larger than the muffin tins that you are using.
Keep pastry dough that you are not using in the refrigerator, so it stays cool.
Once all the muffin tins are set with dough, add coconut filling.
Top with streusel from the refrigerator.
Bake at 400 degrees Fahrenheit for five minutes.
Rotate pan to adjust for hot spots in the oven.
Bake for another 3 to 5 minutes, or until tops are lightly brown.
Serve warm.
As I continue to explore the less intimidating French dishes, (perhaps with my new found friends Alex and Chef Kevin) I hope that I can pull the kids into the kitchen with me. And when things are better, hopefully, some friends too.
Learning through each episode of Kitchen 143 has given me so much room to grow in what I am willing to experiment and have fun with in one of my favorite rooms in the house, the kitchen. – Rappler.com
Feel like having food delivered instead? Don't forget to use these foodpanda vouchers.