Risoni is easy to prepare and quite versatile
Risoni is a pantry staple in our home. This equivalent of what many call orzo or rice pasta is easy to prepare and quite versatile. It can be served hot or cold, and is not too fancy for everyday eats, but still special enough that it has wow factor when brought to the table.
These three risoni recipes are perfect for pot lucks, or family dinners where you have a little bit more time to prepare.
In fact, for this article, I will share just how easy it is to make this pasta variation in three totally different ways.
Coconut Saffron Risoni with Tender Mango Jalapeño Pork
This risotto-like dish takes a little bit of time to make but is a delicious medley of creamy fruity and tropical flavors that break the monotony of meat and rice. This dish is even better when made with quality choice cuts of meat from Backyard Farms.
Ingredients
For the Coconut Saffron Risoni:
2 cups San Remo risoni
1 small white onion, finely diced
4 cups hot chicken stock
1 cup coconut cream
1 pinch of Saffron threads
Extra virgin olive oil
For the Mango Jalapeño Pork Cubes
500 grams pork cubes, trimmed and cleaned
Marinade
3 tablespoons extra virgin olive oil
2 garlic cloves, minced
2 tablespoons green onion diced
1 tablespoons apple cider vinegar
1 sweet mango, pureed
1 jalapeño, seeded and diced
½ teaspoon salt
½ teaspoon pepper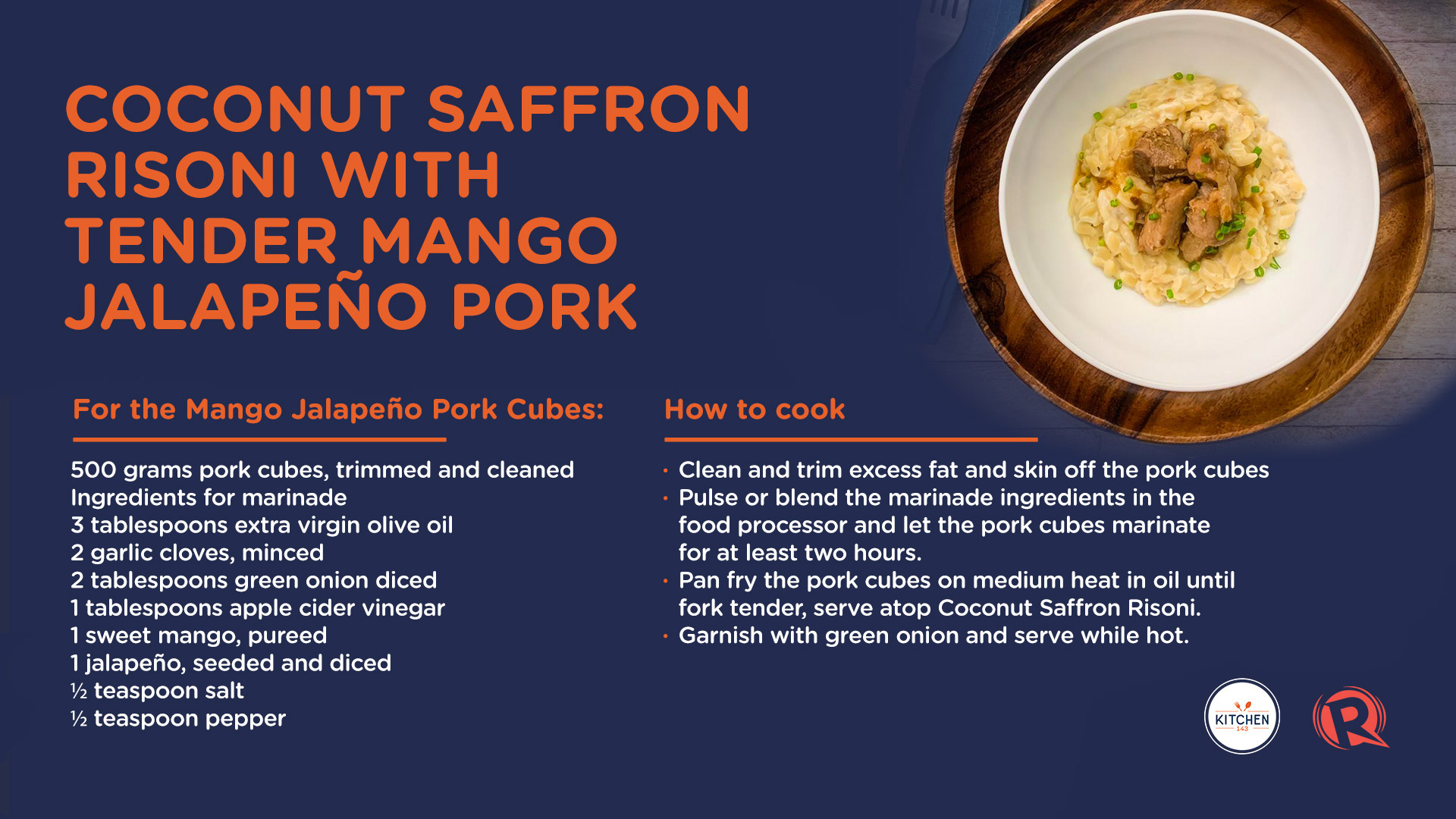 Instructions
Instructions for the Coconut Saffron risoni:
In a heavy bottom sauce pot saute the diced onion in extra virgin olive oil until translucent.
Once onions are translucent, add risoni to the sauce pot and cook until a light brown.
Slowly ladle hot chicken stock over the risoni to just cover and stir lightly so it doesn't stick to the bottom of the pot.
On medium high heat repeat this process until the risoni is tender but not mushy.
Add your strands of saffron and coconut cream.
Stir and remove from heat.
Instructions for the Mango Jalapeño Pork Cubes
Clean and trim excess fat and skin off the Backyard Farms Pork Cubes
Pulse or blend the marinade ingredients in the food processor and let the pork cubes marinate for at least 2 hours.
Pan fry the pork cubes on medium heat in EVOO (be careful not to brown) until fork tender and serve atop Coconut Saffron Risoni.
Garnish with green onion and serve while hot.
---
Seafood Risoni Paella
My friend Sabrina Go and I have always exchanged recipes and inspired one another in the kitchen. Her take on a Seafood Risoni Paella is delicious!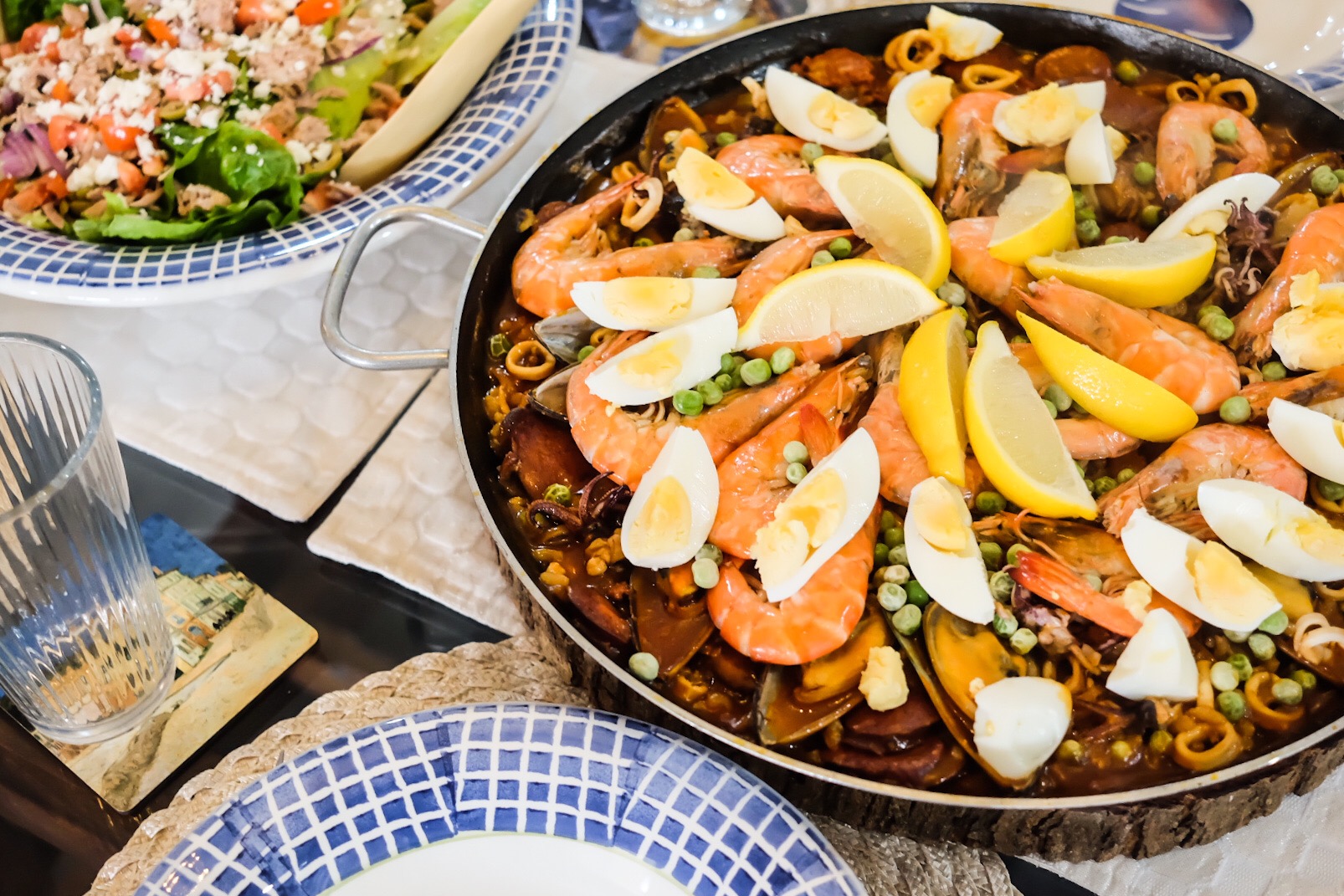 Ingredients
1 pack San Remo risoni
1 large red bell pepper (roasted, peeled, and sliced thinly)
1 large onion, diced
3 cloves of garlic, minced
2 to 3 Chorizo de Bilbao, sliced
2 hard boiled eggs, cut into wedges
A handful of frozen green peas
4 cups hot chicken stock
Half a chicken, chopped into smaller pieces, marinated with lots of paprika, salt, and pepper
250 grams shrimp
500 grams mussels, cleaned and debearded
2 pieces squid, cleaned, peeled and cut into rings
400 ml tomato sauce
2 pinches saffron threads
Lemon wedges
Extra virgin olive oil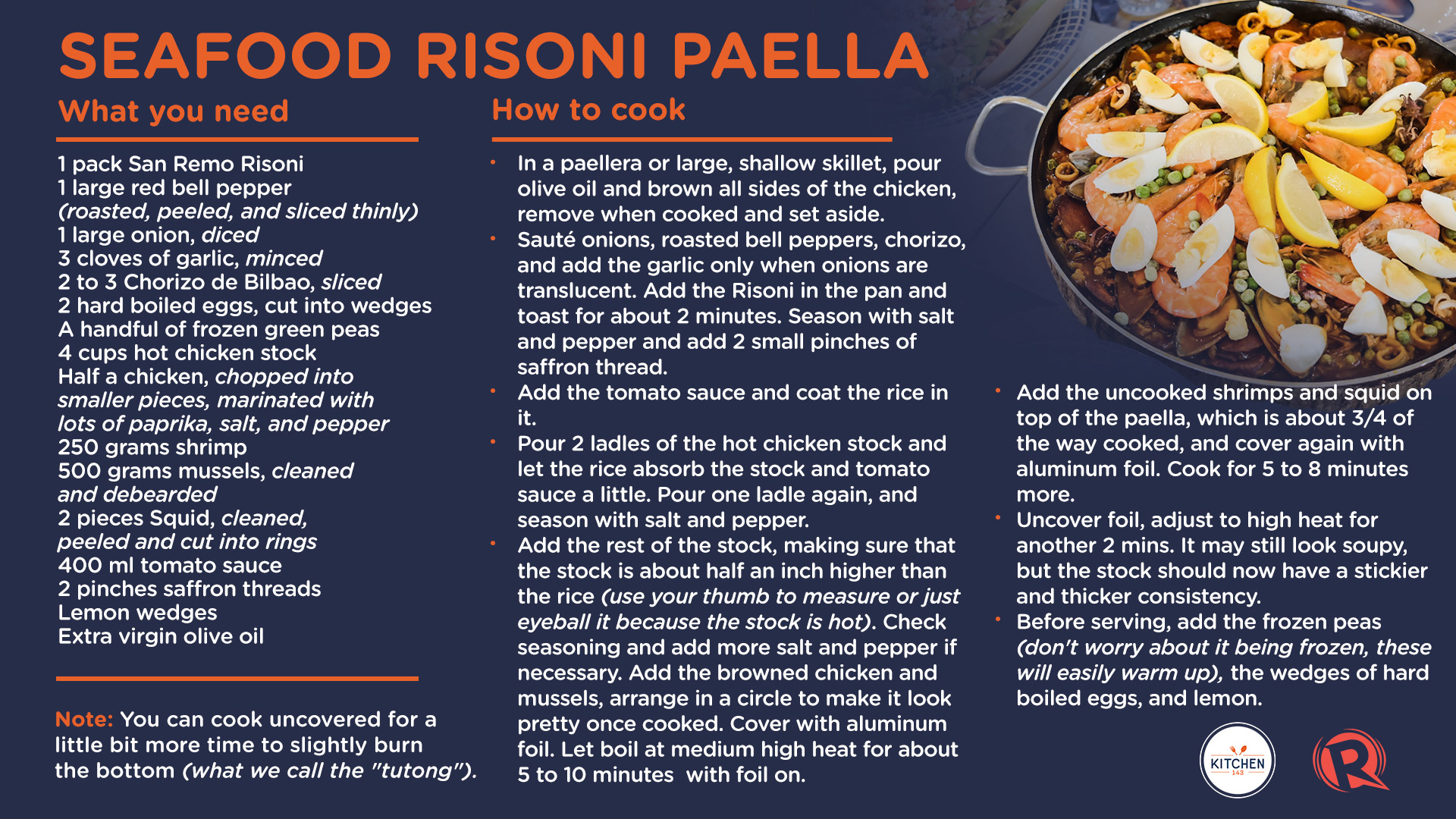 Instructions
In a paellera or large, shallow skillet, pour olive oil and brown all sides of the chicken, remove when cooked and set aside.
Sauté onions, roasted bell peppers, chorizo, and add the garlic only when onions are translucent. Add the risoni in the pan and toast for about 2 minutes. Season with salt and pepper and add 2 small pinches of saffron thread.
Add the tomato sauce and coat the rice in it.
Pour 2 ladles of the hot chicken stock and let the rice absorb the stock and tomato sauce a little. Pour one ladle again, and season with salt and pepper.
Add the rest of the stock, making sure that the stock is about half an inch higher than the rice (use your thumb to measure or just eyeball it because the stock is hot). Check seasoning and add more salt and pepper if necessary. Add the browned chicken and mussels, arrange in a circle to make it look pretty once cooked. Cover with aluminum foil. Let boil at medium high heat for about 5 to 10 minutes with foil on.
Add the uncooked shrimps and squid on top of the paella, which is about 3/4 of the way cooked, and cover again with aluminum foil. Cook for 5 to 8 minutes more.
Uncover foil, adjust to high heat for another 2 mins. It may still look soupy, but the stock should now have a stickier and thicker consistency.
Before serving, add the frozen peas (don't worry about it being frozen, these will easily warm up), the wedges of hard boiled eggs, and lemon.
Note: You can cook uncovered for a little bit more time to slightly burn the bottom (what we call the "tutong").
---
Risoni Shrimp and Feta Salad
I started making Risoni Shrimp Feta Salad many years ago for my baby sister's birthday. She loves shrimp and I just love the fresh flavors of the feta, basil, and tomato and how it vibrant this dish looks on the buffet table.
My mom often requests this dish for her gatherings, and through the years, I realized that using marinated feta cut my prep time in half because I didn't need to cube and cut the blocks of cheese anymore. I try to make this dish ahead of time, so that I can serve it cold the next day, but it's great straight out of the oven, too!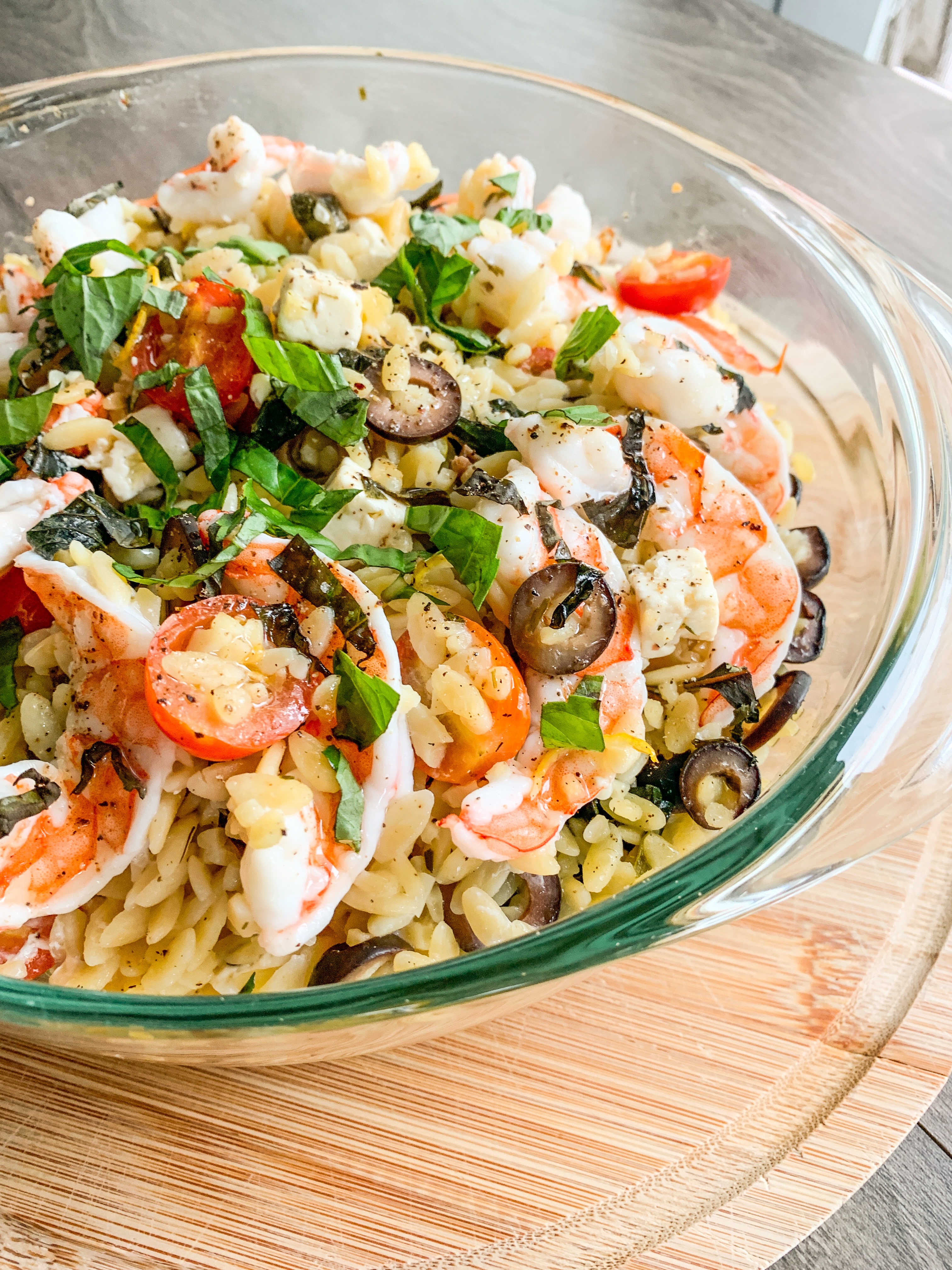 Ingredients
250 grams of San Remo risoni, half cooked and set in a casserole
500 grams shrimp, shelled and deveined
1 cup of sliced tomatoes (cherry tomatoes are great for this recipe)
1 cup fresh basil, chopped
1 cups sliced black olives
2 tablespoons capers, drained
1 jar of marinated feta
½ the juice of a lemon
1 tablespoons slivers of rind of one lemon
Salt and pepper
Extra virgin olive oil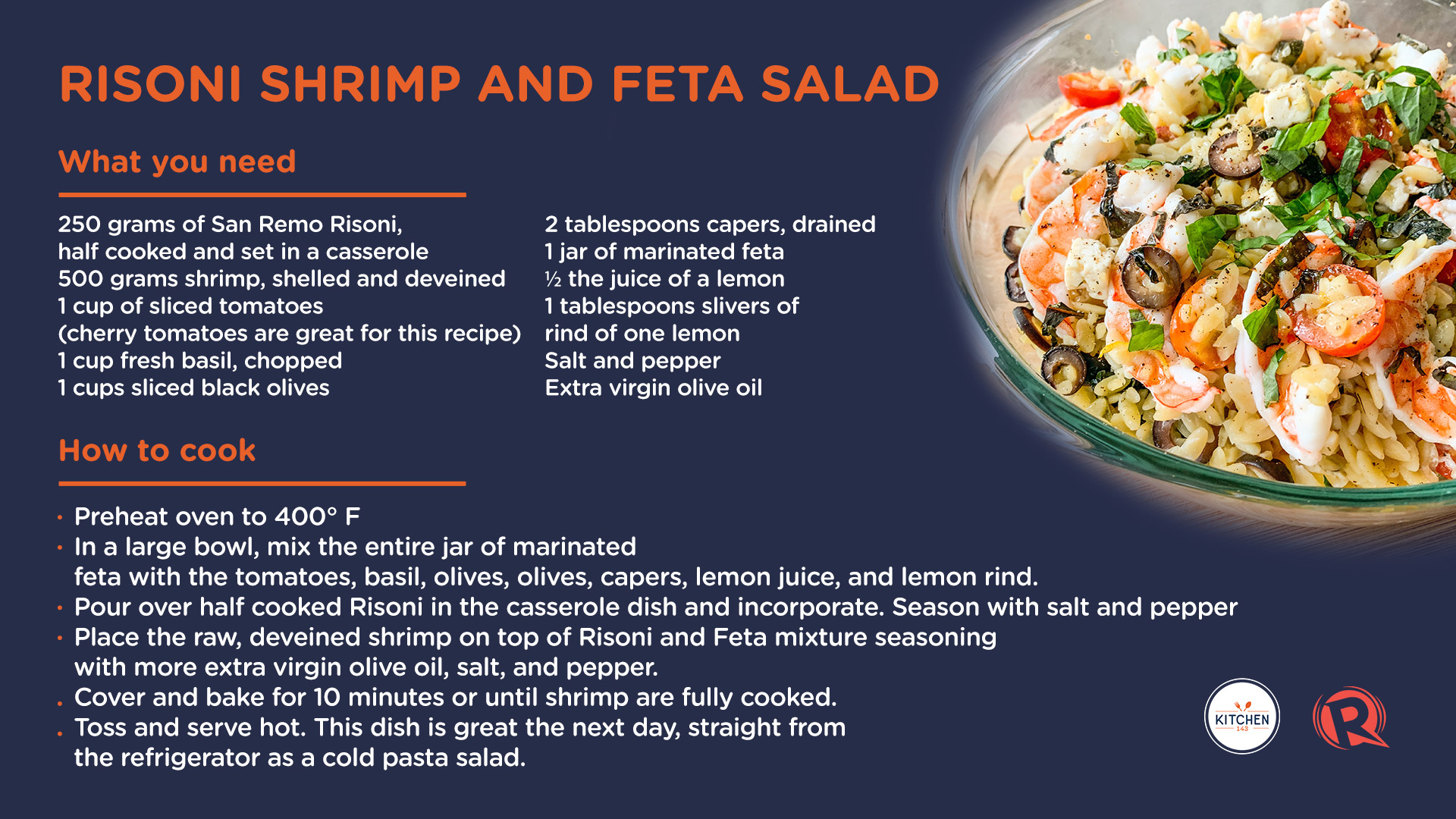 Instructions
Preheat oven to 400° F
In a large bowl, mix the entire jar of marinated feta with the tomatoes, basil, olives, olives, capers, lemon juice, and lemon rind.
Pour over half cooked risoni in the casserole dish and incorporate. Season with salt and pepper
Place the raw, deveined shrimp on top of risoni and feta mixture, seasoning with more extra virgin olive oil, salt, and pepper.
Cover and bake for 10 minutes or until shrimp are fully cooked.
Toss and serve hot. This dish is great the next day, straight from the refrigerator or as a cold pasta salad.
– Rappler.com